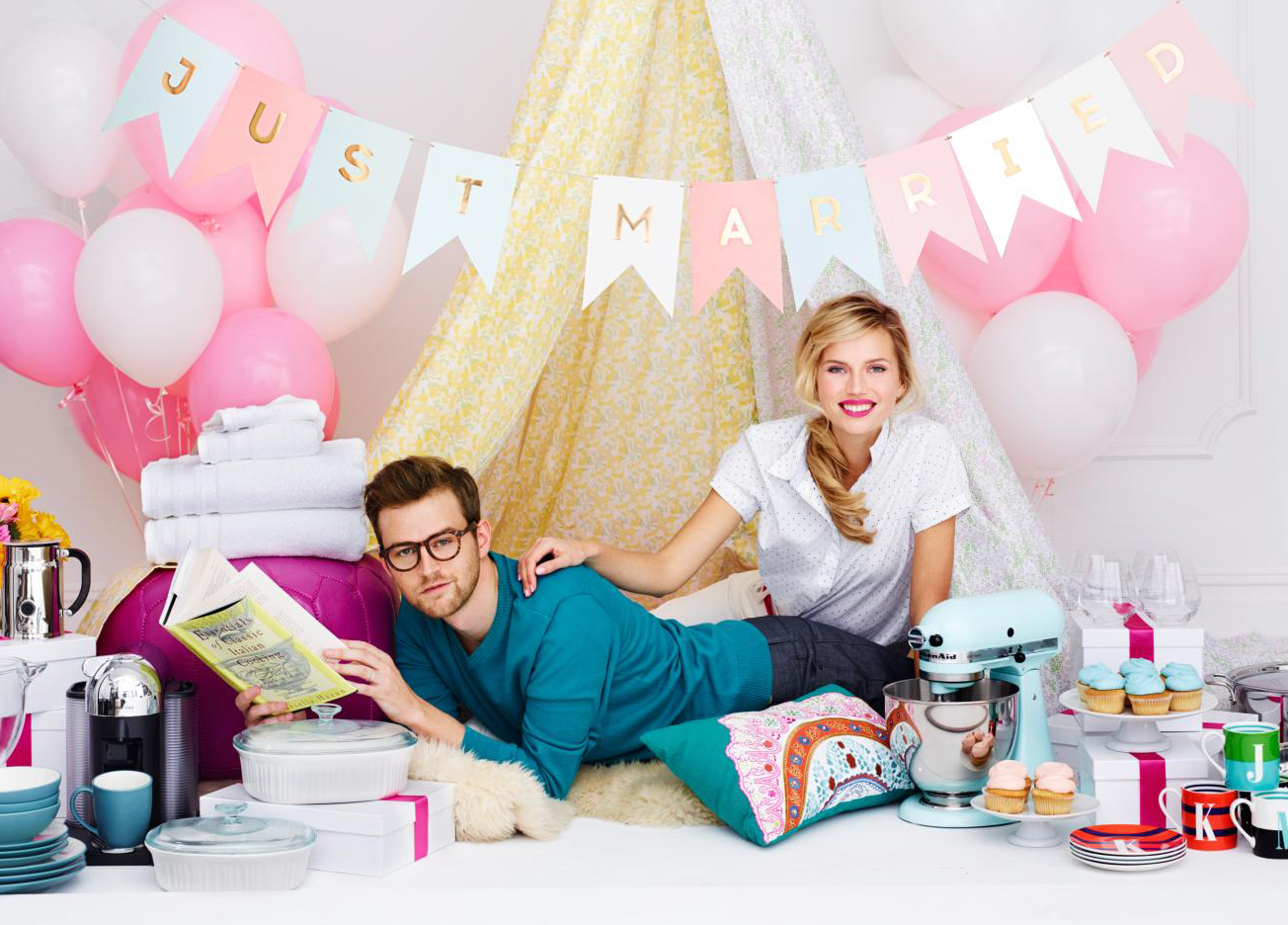 A wedding or bridal gift registry is a great way to let your guests know exactly what you need and want, making it easier for them to buy a gift you will love. There are numerous wedding registry options to choose from and you may already have a few stores in mind, but to get you started, we've created this list of the best places to create your gift registry.
Most couples find it's best to create wedding gift registries at two or more different stores. This week's list highlights department and discount stores that sell a wide range of basic housewares. Next week we'll feature specialty retailers that carry merchandise that is more specific to certain hobbies and interests. We suggest selecting at least one retailer from each list as this allows you to fulfill your wish list and provides your guests with a variety of options to fit all budgets and personalities. Feel free to register with as many stores as you wish, as it will be simple for your guests to find all your gift registries in one place, at RegistryFinder.com.

Amazon.com is the world's largest online retailer and a popular choice for today's tech-savvy couples. With global recognition, Amazon is a favorite among couples that have international family and friends as well as couples that live in a small town with limited access to specialty retailers. Everything available for sale on Amazon can be added to a couple's wedding gift registry, including small appliances, cutlery, cookware, flatware, bedding, electronics and other whimsical items a couple might want.
World's largest selection of merchandise
Read product reviews and recommendations as you create your registry
One-time 10% completion gift that can be used to purchase anything sold by Amazon.com
Quick and easy returns through Amazon's Return Center
Thank You List to track registry purchases

Bed Bath & Beyond is a national retail chain specializing in home goods such as bed and bath linens, kitchen tools, cookware, dinnerware, small appliances lifestyle accessories, cleaning and storage items. With over 1,000 stores across the United States, there is likely to be a store near you (and your wedding guests!). Bed Bath & Beyond is a favorite of many couples because they offer a great selection of house wares at reasonable prices and setting up the registry is easy. Many Bed Bath & Beyond stores also provide gift registry consultants who can help guide you through the store and offer advice to help you select the perfect gifts for you.
Excellent hassle-free return policy
Registry consultants available to assist in setting up your gift registry
Bonus gifts from select brands
10% completion discount for registry items not purchased by guests

Bloomingdale's, one of America's oldest and most famous department stores, has always been synonymous with style and quality. Today, it serves as the only nationwide, full-line, upscale department store with 40 stores in major US cities like New York, San Francisco, Miami, Atlanta, Chicago, and Philadelphia. Bloomingdale's prides itself on its unique wedding registry experience. Aside from offering distinctive, high-quality pieces, Bloomingdale's also offers personal wedding consultants and a Thank You Card Manager tool, which tracks each gift and its sender.
Personal Registry Consultant to assist from registering until last item is purchased
Exclusive savings from 10%-25% on clothing, jewelry, and luggage prior to your wedding date
Free monogramming on most sheets, towels and robes
10% completion discount on home items remaining on your registry, plus receive a $100 splurge card when you spend $500 or more to complete your registry.
Thank You Card Manager tool to track registry purchases
Big Brown Bag App to manage your registry on the go

Crate & Barrel offers an online gift registry and has over 145 store locations across the country. They offer an exclusive collection of contemporary household items and furniture as well as kitchen appliances and tools from famous name brands. The items available are high-quality without being too expensive, and they offer a variety of styles to suit any wedding couple, making Crate & Barrel a definite favorite when it comes to wedding and bridal registries. Attend one of their "Private Registry Events" during which you can check out their merchandise, watch product demos, win prizes and start your gift registry with the help of a registry expert.
Expert Advice at Private Registry Parties
10% discount on merchandise for 6 months after your wedding
Special registry gift from Crate & Barrel, as well as bonus gifts from select brands
Thank You Manager to track registry purchases
Registry App

Macy's is one of the world's largest department stores. With almost 800 stores, Macy's wedding gift registry is always a popular choice for engaged couples. Macy's carries almost everything you need for your home- china, casual dinnerware, flatware, cookware, table linens, small kitchen appliances, bed & bath accessories, home decor, and luggage. You can even register for a few big ticket items like mattresses and furniture!
Extra Perks & Privileges – exclusive discounts on everything from stylish shoes to designer dresses
Registry Star Rewards– 10% back on your eligible purchases, plus 5% back on eligible registry gifts purchased by guests
20% Newlywed Discount available for 6 months after your wedding day, for any items on your list, PLUS anything new you want to add
Thank You Card Manager to track registry purchases
Registry advisors for help and guidance

Target is a national discount retail chain where you can register online or visit one of over 1,800 stores across the country. A Target wedding gift registry is easy to create and is one of the most popular online gift registries available. You can register for a variety of wedding gift items at Target including home furnishings and decor, kitchen supplies, outdoor & sporting goods, electronics, tools, and more. All in all, Target has just about anything you could want to put on a bridal registry- all at affordable prices. Target's attractive, competitively priced merchandise is appealing both to wedding couples and their guests.
Free shipping for online orders over $25
One year return policy on items from your registry for hassle-free returns and exchanges
15% completion discount coupon that can be used towards items on a registry
Target Registry App – access your registry on the go
And all of these stores have additional perks that may be just what you're looking for. We hope this helps get you started on your journey to creating the best wedding gift registry possible. Don't forget to come back next week for Part 2- The Best Place to Create Your Wedding Gift Registry: Specialty Retailers.