At RegistryFinder.com, we love to shop, gift, entertain, and thrive on an adventurous lifestyle full of making memories that leave smiles for years to come. That's why when we came across Zola; it was love at first click.
We knew that we had to partner up. I guess you could say (like many couples today)… it was a match made online!
Zola is the next generation of wedding registry, combining gifts, experiences, and cash funds in one place, with innovative features to make the process simple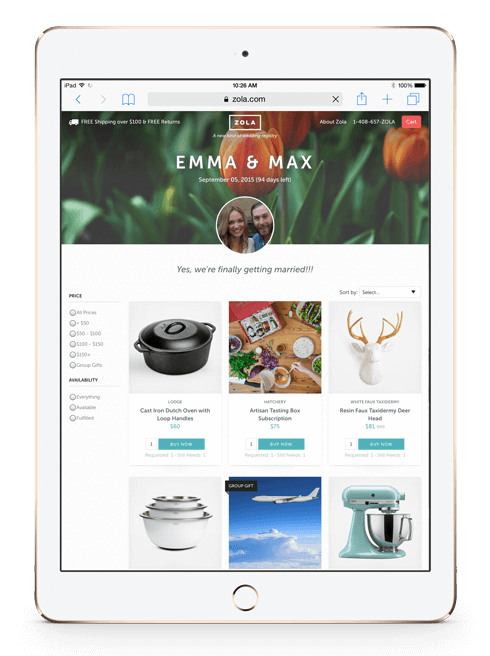 and enjoyable.
Driven by the belief that today's engaged duos should have access to offerings that reflect their current tastes on a platform that can keep up with their daily needs, Zola is reinventing old systems and providing easy to build and easy to manage online registries full of products people actually want.
The site offers couples access to everything a traditional department store would, plus much more! Between the product assortment, innovative features, and the ability to add items from any store with the "Add to Zola" button, Zola has created an unparalleled registry experience.
You can easily combine the brands you love, curated experiences, and cash funds on a single page.
Couples can create a fully customized registry page with photos and a message to their guests.
It's simple for you, simple for your guests.
Zola showcases 200+ coveted brands (from registry mainstays to up-and-coming designers).
You can swap gifts before you even receive them, or convert them into Zola store credit.
Control shipping! Each time you receive a gift, they notify you and give you the choice to ship it now or convert it to Zola store credit to use later. No more box overload!
It features group gifting. Multiple friends can contribute to any item you mark for Group Gifting.
They offer the lowest fee on honeymoon funds.
You can get inspired by other couples' registries. How cute is that!?!
Zola offers great buying guides and registry checklists.
Their app is easy to use!
Have you seen their blog? #Inspiring
Need we go on?
Jump on over to Zola.com now and check them out. You can thank us later.
Get your registry started today!
Zola's modern approach to registries allows users to register for brands they love, curate experiences, cash funds, and they can also shop directly on the website.
This latest addition marks 38 registry partners now shown on RegistryFinder.com, expanding our company footprint to serve our website visitors' needs better than before. Other partners include Bloomingdale's, Macy's, Crate & Barrel, Target, and Bed Bath & Beyond.
by Darcy Sullivan, RegistryFinder.com contributor