The Ultimate Guide to DIY Food Bars: Summer Edition
I recently attended a beautiful bridal shower (in honor of my cousin) thrown by two of my fabulous aunts. All three courses of the meal were set up "bar" style allowing guests to customize their food to suit their individual tastes. We started with a delicious crostini bar featuring bruschetta and cheeses, then enjoyed a pasta bar, and finished the evening off with a strawberry shortcake bar. The food was delicious!
DIY food bars are all the rage at baby and bridal showers this year. We love this trend for several reasons, mostly because the food presentation is simple and easy to do, but looks so appealing! On top of that, the preparation can be done ahead of your event, allowing you to enjoy more time with your guests. And lastly, your guests do some of the "cooking". (Just kidding!) But in all seriousness, a bar gets the guests involved in a fun and relaxed way.
In addition to the ideas mentioned above, we've collected several fun bar themes and included a list of all the toppings you need to make it easy for you to include a food bar at your next event!
Breakfast/Brunch
Bagel Bar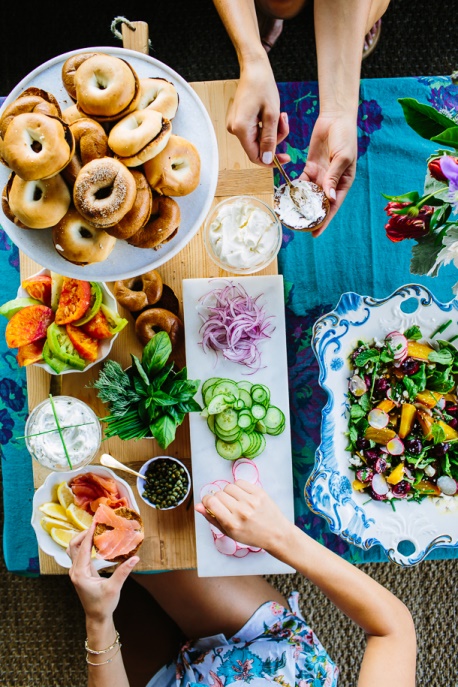 Grab some fresh bagels and add a few toppings for one a super simple breakfast event!
Toppings: A variety of cream cheeses, Nutella, peanut butter, honey, fresh berries, smoked salmon, red onion, fresh herbs, tomatoes, cucumbers and capers
Waffle or Pancake Bar
Don't want to get up before dawn to make waffles or pancakes? Make them a day ahead and reheat right before your event. Think sweet and savory for these toppings.
Toppings: Whipped cream, butter, cinnamon sugar, powdered sugar, maple syrup, a variety of fruit syrups and jams, honey, chocolate sauce, peanut butter, Nutella, berries, bananas, peaches, nuts, chocolate chips, sprinkles, coconut, granola, sausage, bacon, a variety of cheeses
Crepe Bar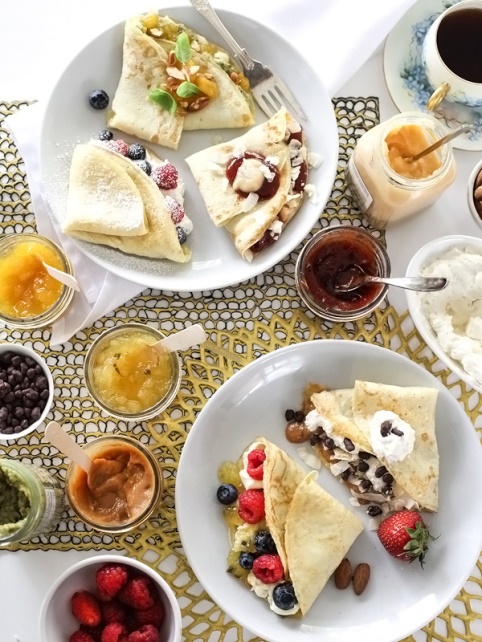 You'll really impress your guests with crepes. They can be made up to a couple days ahead of time and can be served at room temperature.
Toppings: Whipped cream, honey, Nutella, fresh berries, peaches, sliced bananas, chocolate chips, cinnamon sugar, nuts, coconut, sweet and savory jams, cheeses (brie, goat, cream, Boursin) fresh herbs, sautéed vegetables (mushroom, peppers, spinach, onions), ham, bacon, crème fraiche
Biscuit Bar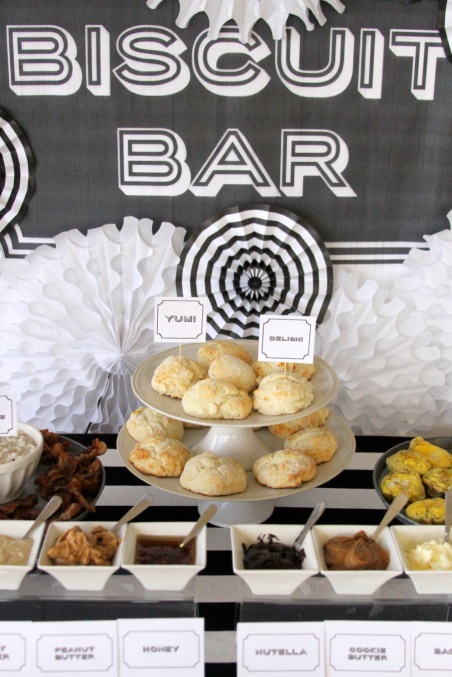 Treat your guests to a Southern specialty with a biscuit bar.
Toppings: Eggs, ham, bacon, sausage, gravy, a variety of jams, butter (honey, apple or cinnamon butter), honey, peanut butter, cookie butter, clotted cream, lemon curd
Greek Yogurt Bar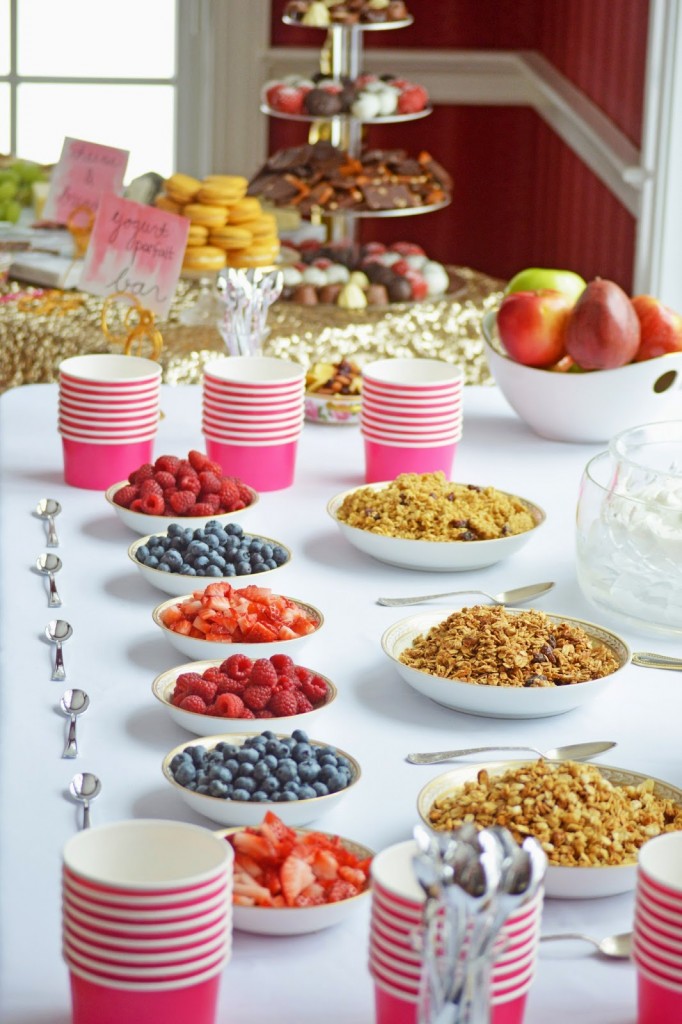 A yogurt bar is a light and healthy option to add to a breakfast of brunch menu that may be stacked with carbs and sugar.
Along with a base of plain and vanilla greek yogurt, your toppings could include: granola, nuts, raisins, other dried fruit, fresh berries, bananas, peaches and honey
Mimosa Bar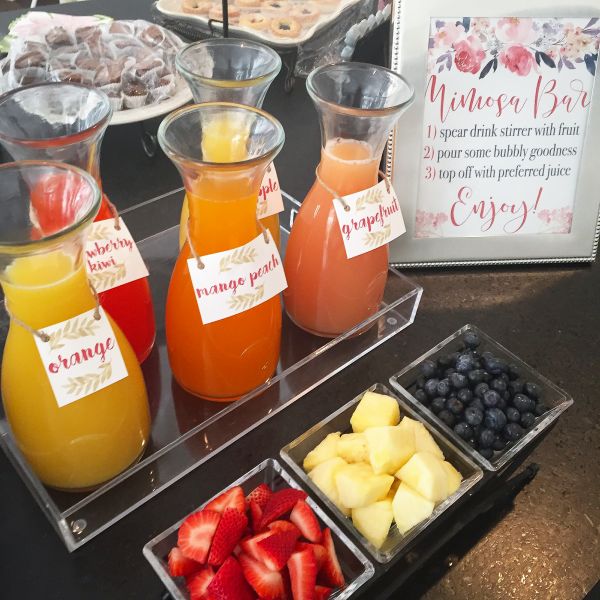 Orange juice mimosas are so last year. Take it to the next level!
Champagne, a variety of juices (orange, grapefruit, pineapple, strawberry kiwi, pomegranate), fruit (Click the photo for a free Mimosa Bar Printable!)
Lunch and Dinner
Crostini Bar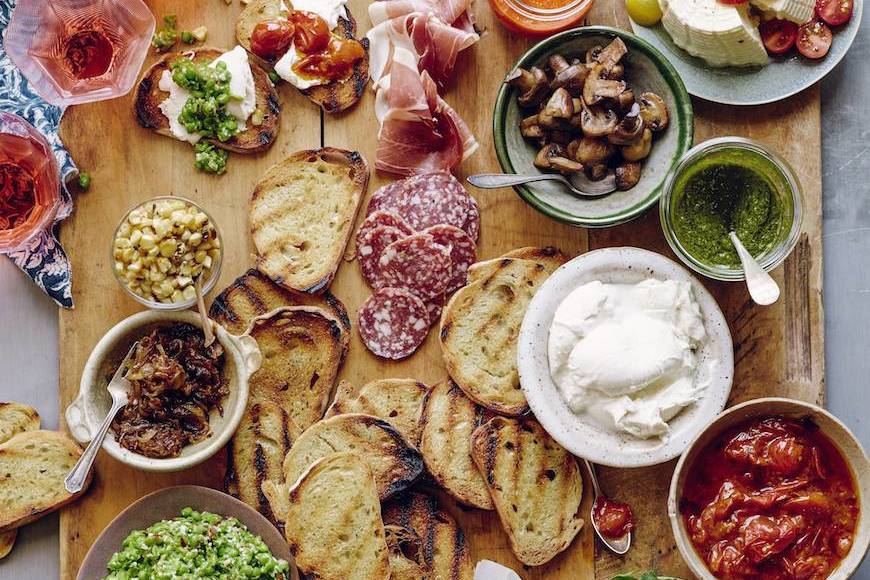 Technically this is an appetizer, but add a few bottles of wine and a crostini bar is perfect for a girl's night in celebrating your guest of honor.
Soft cheese (burrata, brie, goat, Boursin) hummus, olive tapenade, sun-dried tomatoes, roasted red pepper, olives, caramelized onions, dried fruit (fig, craisins, dates), fresh fruit (sliced apples and pears) sweet or savory jams, nuts, cured meats, pesto and other spreads (Click on the photo above for delicious spread ideas and recipes!)
Nacho or Taco Bar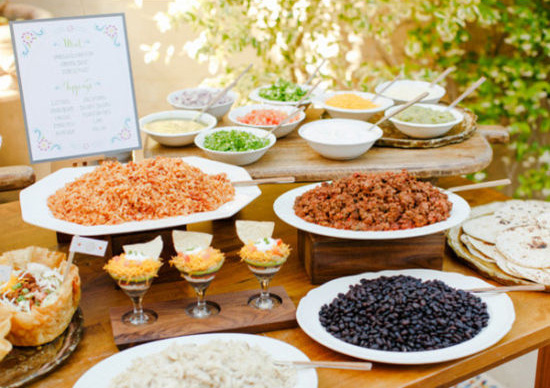 Who doesn't love a good taco or two? Cook your meats ahead of time and reheat closer to your event.
Meats (chicken, pork, steak, beef), black beans, refried beans, tomato, corn, onion, lettuce, jalapenos, avocado, guacamole, olives, a variety of salsas and hot sauces, sour cream, lime
Gourmet Sandwich Bar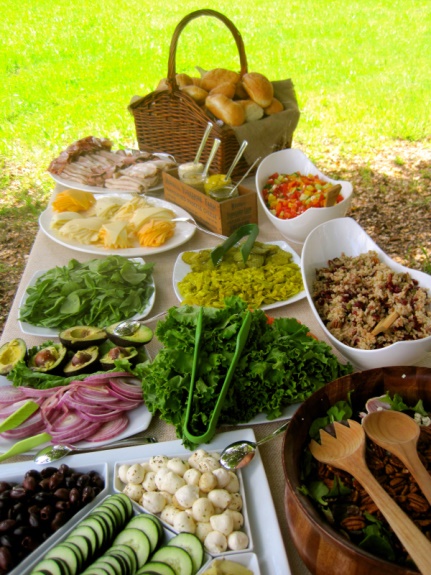 Showers are all about the mini-sandwich, right? Let guests create their own!
Rolls and croissants, sliced meats, sliced cheeses, chicken salad, egg salad, tuna salad, mayonnaise, a variety of mustards, tomatoes, lettuce, onions, jalapenos, banana peppers, pickles
Dessert
Ice Cream Sundae Bar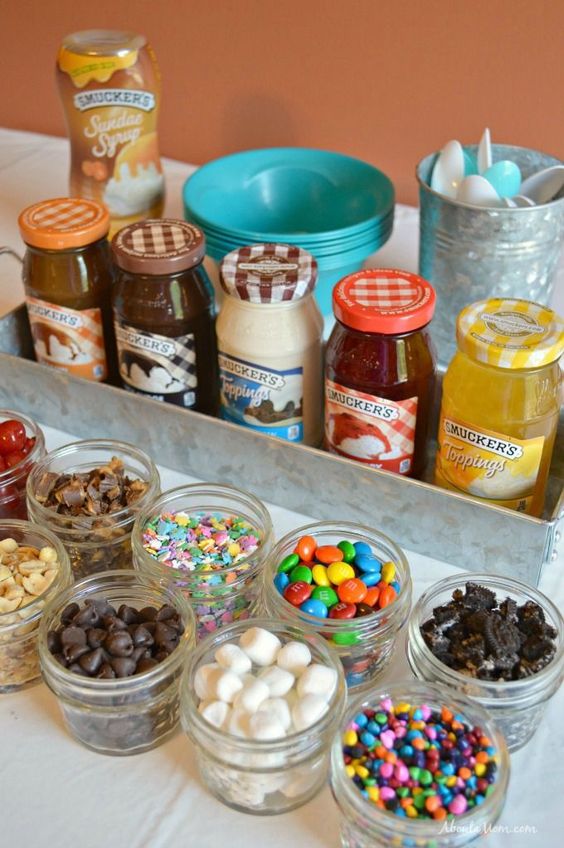 The good ole faithful ice cream sundae never disappoints. Scoop and refreeze ice cream days ahead of your event so that it's easy for guests to build their sundae.
Toppings: Hot fudge, caramel sauce, strawberry sauce, sprinkles, crushed Oreos, chocolate chips, peanut butter chips, assorted candy bars (chopped), mini marshmallows, strawberries, whipped cream, cherries, nuts
Fondue Bar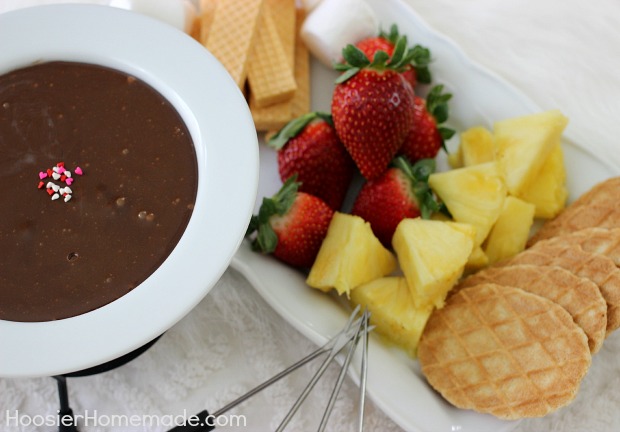 You can't go wrong when you serve chocolate!
Dipping items: strawberries, bananas, pineapple, apples, pound cake, brownie squares, pretzels, large marshmallows, Rice Krispie Treats, cheesecake, sugar wafers, vanilla wafers or shortbread cookies
No-Bake Cheesecake Bar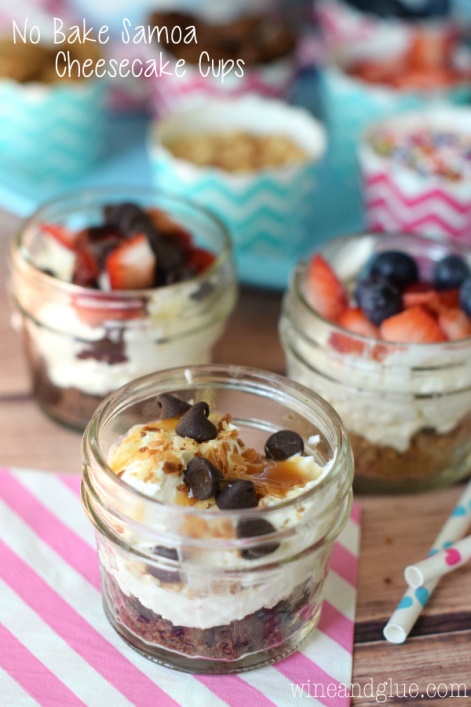 A cool dessert for hot summer days! Cheesecake filling can be made a few days ahead of time and refrigerated until the day of your event.
"Crust" (Crushed graham crackers and crushed chocolate cookies) no-bake cheesecake filling, fresh fruit (berries, kiwi, peaches), chocolate, caramel sauce, toasted coconut
Berry Shortcake Bar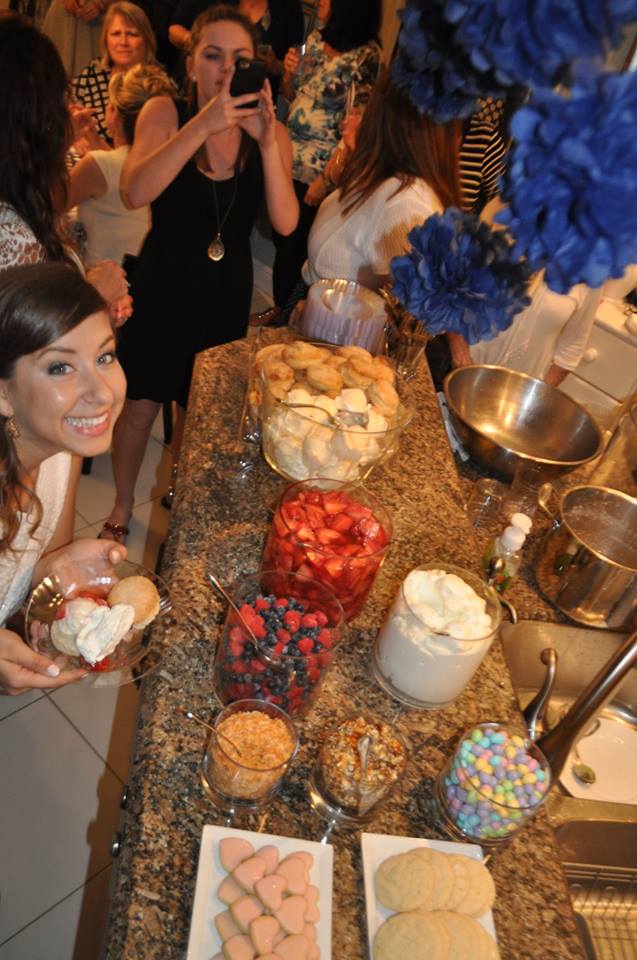 A delicious dessert, perfect for summer entertaining!
Along with a shortbread or cake base, you'll need lots of whipped cream and fresh berries. To that you can add: coconut, chocolate chips, caramel and chocolate sauce, and other fruits.
Get Inspired
We hope this list has given you some great ideas for your next baby or bridal shower. You can include a single bar in your event, or go all out and plan the whole event around food bars. Either way, we're sure that it will be a hit with your guests!
For more ideas and recipes, check out our Pinterest Board: Best Food Bars!