Today's question comes from a mother-of-the-bride that is not sure which expenses for a destination wedding should be covered by the groom's family.
Hi Cheryl,

My daughter is planning a destination wedding in Florence, Italy. Eight people in total are traveling: the bride and groom, both sets of parents, the best man and the maid of honor.

We will be covering the cost of the accommodations for all eight people, plus a few meals during week, as well as the wedding and all related expenses (reception, cake, photographer, etc.). We are also paying for a celebration dinner for approximately 50 guests back in the states.

My question is this: do we (the bride's parents) have to pay for the airline tickets of the groom's parents, best man, and maid of honor? Do the groom's parents pay for any part of the destination wedding?

Any suggestions/advice would be much appreciated. Thank you,

Bernadette
---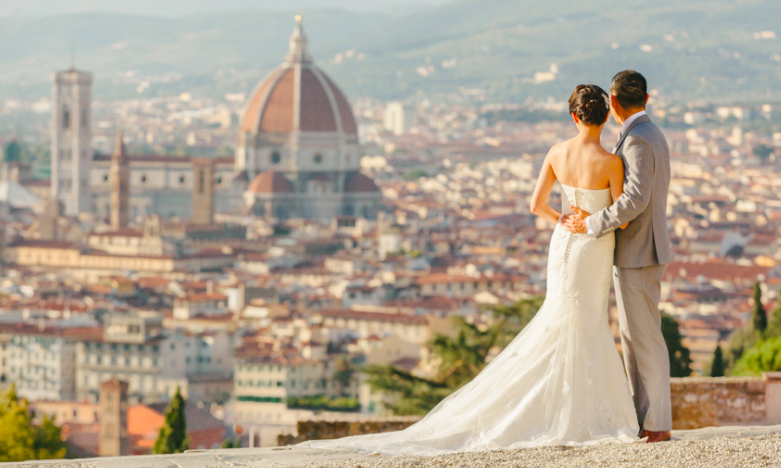 ---
Dear Bernadette,
Thank you for writing. Oh, I love Florence. What a lovely place for a wedding!
The current popularity of destination weddings brings with it many questions, since for many, it's outside our normal traditions. As traditions continually change, sometimes it's hard to know who is supposed to pay for what. I usually recommend that you sit down with the couple and discuss how the financial obligations of the wedding will be divided. There are really no hard and fast rules. However, I can let you know who normally pays for which expenses.
It seems as if you are following tradition and covering the bulk of the wedding expenses for your daughter's wedding. However, you are not expected to pay for the travel expenses for the groom, attendants, or groom's family. Normally, each party is responsible for covering their own cost of travel to the wedding. Occasionally, in the case of a destination wedding, some brides (or parents of the bride) might offer to pay for the maid of honor's travel. But that is totally optional on your part.
The groom's parents traditionally pay for:
the rehearsal dinner,
the bride's bouquet (depending on your region),
Groom's attire, and
Accommodations for groom, groom's parents and groom's attendants.
Therefore, you should not feel any obligation to offer to pay for travel for any of the parties you mentioned. Hopefully, since you are being so generous, the groom's family will offer to pay for something. Or, it could be that they are not in a position to do so. Again, I recommend meeting with all parties involved and laying out a clear plan of who will be covering which expenses. This helps avoid future misunderstandings.
---
If you have questions or comments about gift giving, bridal shower, baby shower, or wedding etiquette, please comment below or email [email protected].
Emails in this column are received from readers. Emails may be edited for spelling, length and grammar, or to remove sensitive information. However, we are careful not to alter the intent or content of the question.
Cheryl Seidel is the founder and President of RegistryFinder.com, an intuitive search engine that helps gift givers quickly and easily find online registries for weddings, baby showers, graduations and more.