Dear Cheryl,
My fiancé and I want to be married at Lake Crescent, Washington. There is a lodge there that has a wedding package that includes lodging. My father has offered to pay for my wedding but on that note I don't want to put the financial burden of a destination wedding all on him, and I thought that other than the immediate attendants, guests could pay for their own rooms. How do I convey to guests that the whole lodge is reserved, while kindly letting them know that I expect them to pay for their own cabins?
Thanks!
BriAnne
---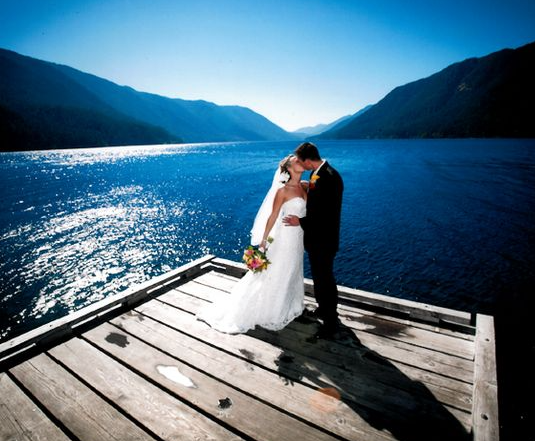 ---
Dear BriAnne,
Destination weddings are increasingly popular with round 25% of all weddings now being destination type weddings. And you are correct, you are not required, nor do guests expect you to pay for their lodging for a destination wedding.
It is very important to inform your guests of your plans as far in advance as possible — well before the traditional mailing of wedding invitations. You should plan to send Save-the-Date notices as soon as your guest list in finalized and the sooner the better. Here is where you can include your travel and lodging suggestions. You can place the information right on your Save-the-Date card, or include a separate card with this information. The wording would read something like this:
 For your convenience, rooms have been reserved at the Lake Crescent Lodge at a special rate for this occasion. To reserve your cabin, please call 800-XXX-XXXX by May 1, 2016. Additional information is available on our wedding website [enter URL].
On your wedding website you can include details such as the room price and a link to the lodge's website. The more information you provide for your guests, the better. However, if there is alternative lodging available in the area, your guests do have the option of staying somewhere else.
I'm so happy that you are planning to cover the cost of lodging for your attendants as it's the appropriate thing to do. I hear from many attendants, and it seems that some couples forget to do this, even for a destination wedding.
---
If you have questions or comments about gift giving, baby shower, or wedding etiquette, please comment below or email [email protected].
Emails in this column are received from readers. Emails may be edited for spelling, length and grammar, or to remove sensitive information, however, we are careful not to alter the intent or content of the question.
Cheryl Seidel is the founder and President of RegistryFinder.com, an intuitive search engine that helps gift givers quickly and easily find online registries for weddings, baby showers, graduations and more.