Graduation is here for the High School class of 2014, and with that comes the next step in life… college! Thoughts lead to discussions of dorm life and how cramming all their stuff in a small room is not an easy task. So whether you are heading off to college or sending your child, you want to make sure you have all the essentials for dorm living. Luckily, Bed Bath & Beyond has got you covered. From XL sheets to storage solutions, the experts at Bed, Bath & Beyond share their top 20 dorm room essentials to make the move to college a breeze.
Dorm Room Kits
These kits make getting ready for college easier than ever. Pictured is the Reagan T/TXL campus collection with Microban® antimicrobial. It includes a comforter, matching sham, pillows, sheets, mattress topper, towels and more.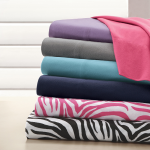 Twin/Twin X-Long Sheet Sets
Most dorm room beds require twin X-long sheets and Bed Bath & Beyond has a wide selection. Pictured are the Mizone Cozy Spun Lightweight All-Season Sheet Sets. These all-climate sheets use 100% microfiber filaments to provide a comfortable bedding experience from Florida to Alaska. Its high-tech fabric is wrinkle free, quick drying and lightly brushed for softness.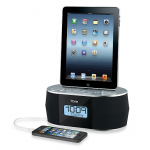 Electronics
Wake up for class, listen to music and charge your devices with a wide selection of electronic accessories from Bed Bath &Beyond. Pictured is the iHome® Dual Charging Stereo FM Radio Alarm Clock w/USB Charge and Play. Charge your iPad, iPhone and iPod all from this FM Clock Radio. A convenient dual alarm feature allows you to set separate wake times, as well choose which iOS source will wake you.
Storage Ottomans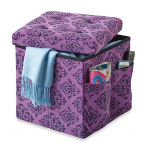 A perfect way to add storage and seating to your room, this Sit and Store Folding Storage Ottoman features two exterior storage pockets for electronics, remote control, magazines and more. Folds when not in use for compact storage. Perfect for college life.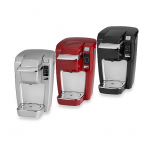 Keurig® K10 Mini-Plus Personal Coffee Makers
These compact, personal brewers from Keurig® will make your favorite coffee, tea or hot cocoa in under two minutes with a simple press of a button. These units use patented disposable K-Cup® single serve packs for a perfect cup every time.

Plastic Cube Grid
Cube grid offers convenient storage and organization for any dorm room. Made using sturdy metal framing with durable plastic panels. Plastic panels are vented for circulation of contents.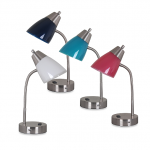 Studio 3B™ USB Desk Lamp
This stylish desk lamp can really multitask, providing reading and working light, as well as a USB outlet for charging MP3 players, smart phones and tablets, plus a polarized socket for charging other electronics.
Mattress Pads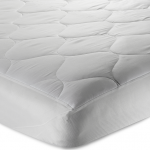 Mattress pads protect your mattress and add an extra level of comfort. Pick the one that's perfect for you and your comfort. All are available in dorm twin X-long.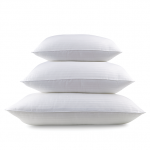 Bedding Essentials® 100% Cotton Pillows
You'll always be comfortable sleeping on this luxuriously soft pillow that offers perfect support for all sleeping positions. The extra lofty polyester fiberfill is hypoallergenic and keeps the pillow fluffy and comfortable.
Dri Soft Cotton Bath Towels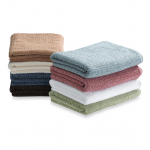 Perfect for college, the Dri Soft Towel Collection features a unique weaving that creates a lightweight feel with plush bulk. These towels dry ultra fast, reducing time in the dryer.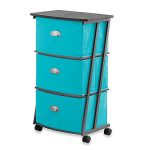 E-Z DO Storage Cart with 3 Drawers
A place for everything, and everything in its place – easier said than done in a tiny dorm room. But with a little ingenuity and the right tools, you can manage to store a lot more in your room than you'd think. Also comes in brown and black.
Mesh Shower Tote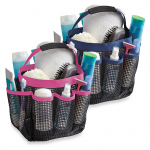 Carry and organize all your shower needs in the convenient and stylish Mesh Shower Tote. It stores all your essentials, including soap, razor, shampoo, body wash, creams, towel, hairbrush, and more.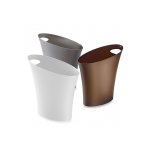 Umbra® Skinny Can Waste Basket
The Umbra Skinny Trash Can has a slim profile so it can fit in even the tightest areas and still has a capacity of two gallons. It features an integrated handle for transporting, is easy to clean and will look stylish in any room.
Under-the-Bed Shoe Chest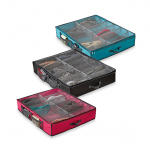 This stylish, collapsible shoe organizer will keep your shoes nicely neat under the bed. It features an attached zippered, clear lid handles and side mesh pockets.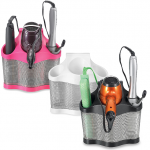 Polder® Style Station™ Hair Care Storage
In a sleek, handsome design, this style station offers a unique solution to all hair-styling-implement storage and organization needs.
Real Simple® Slimline 12-Count Flocked Suit Hangers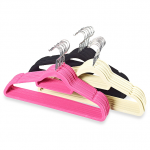 Traditional hangers reach perfection with this space-saving design that includes a handy accessory bar for organizing belts, scarves, or ties. Plus the velvety covering and flocked top keep clothes securely hung.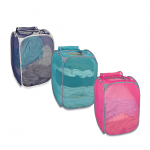 SmartWorks™ 2-In-1 Pop-Up Flip™ Hampers
Pop-Up Flip™ Hamper is a 2-in-1 hamper that goes from hamper to laundry basket for carrying dirty or clean clothes in one unit. Holds up to 3 loads of laundry, 25% more than standard pop-up hampers!
Novelty Laundry Bags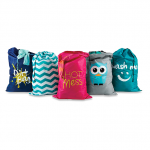 A creative approach to storing your dirty laundry, these novelty laundry bags combine a practical design with fun style to make your chore more enjoyable. These durable bags hold up to two loads of laundry. And at $5.99 each, you can buy more than one.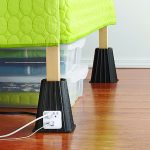 7-Inch Power Bed Riser (Set of 4)
These Power Bed Risers raise beds 7″ off the floor to increase under-the-bed storage space. One riser features twin 110-volt, 15-amp grounded power outlets, as well as twin USB 5-volt DC outlets with charging light for convenient charging of handheld devices.
Bedside Storage Caddy in Black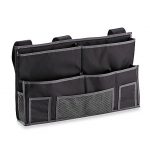 This handy caddy can be attached to a headboard or a bedrail to keep items right at bedside. It features five pockets for lots of storage and is strong enough to hold heavy textbooks and notebooks.
Also, make sure to take advantage of all the handy online tools provided by Bed Bath & Beyond to help you get ready for college.
School Information Sheets. Available for almost every college and university, they tell you what the school provides, what size sheets you need, and what you can and can't bring with you.
College/Dorm Registry. Perfect for graduation and going away gifts. Click here to start your college registry!
Shop Here. Pick Up There. Simplify your college move. You can pick out everything you need in your hometown store and then pick it up at a store near your campus.
Shop Online & Ship Later. Shop online using the Shop for College Tab, and choose a date when you want your gear shipped.
College Checklist
While you're there, take a minute to register to win a $1,000 shopping spree (Sweepstakes ends 6/2/14)!
And remember to tell your friends and family they can always find your most up-to-date registry information at RegistryFinder.com.