A personalized baby gift is an extra special way to welcome a sweet bundle of joy. We've gathered this list of personalized baby gifts that will be loved and treasured by both parents and children alike. Whether you're an expectant mom looking for some distinctive items to add to your baby gift registry or you're just looking for a unique, customized baby gift, we know you'll find something here that's just right for that special little one.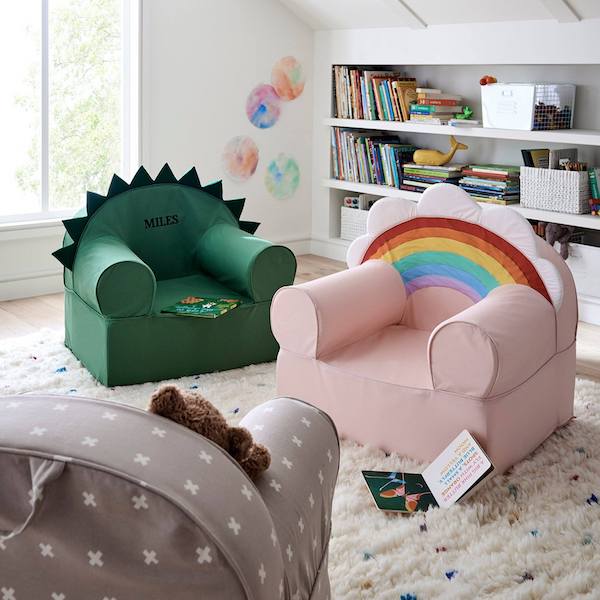 The personalized Nod Chair is the perfect landing spot for any small child. There are many great options to choose from- sweet pastels, bold patterns, and bright animal designs. Each chair cover can be embroidered with a child's name and can be easily removed and washed as needed.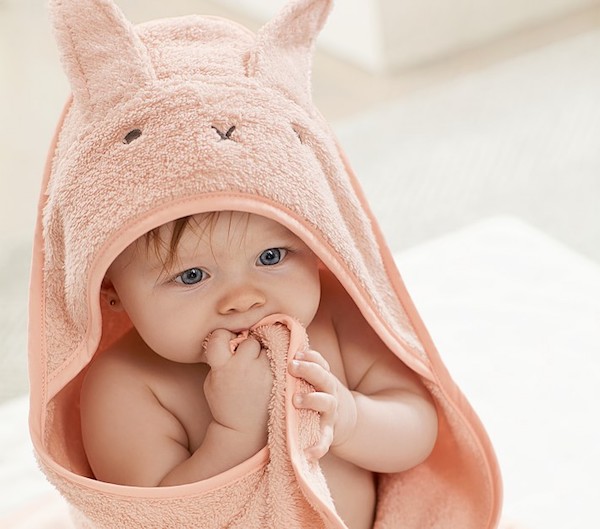 Is there anything cuter than a baby wrapped up after bathtime? These sweet and soft Nursery Wraps from Pottery Barn Kids are available in many different animals and patterns,  so you're sure to find one that's just right for the baby in your life. The wraps are recommended for 0-24 months and are made from 100% cotton or muslin. The baby's name can be embroidered on the back of the towel.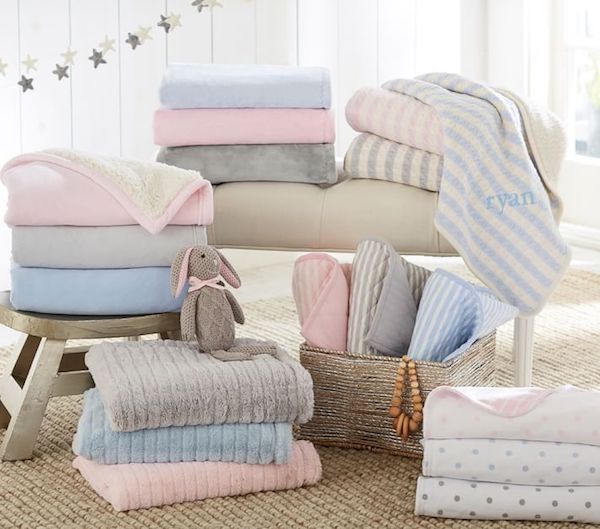 Whether you want to keep baby warm or use this as a play mat, Pottery Barn Kids has a fantastic selection of blankets in a variety of materials, colors and patterns. Blankets may be embroidered with baby's name, initial, or monogram.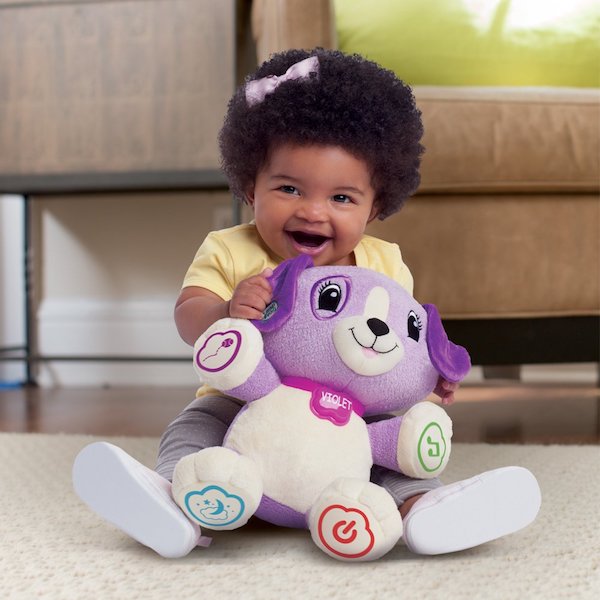 My 7-month-old son lights up at the sound of his own name and the fun songs that come from the LeapFrog My Pal, Scout. This adorable pup comes in a boy version (Scout) or girl version (Violet) and allows the parent to personalize it with the baby's name and favorite things. It also incorporates soothing sounds, first words, and many different activities to make this a fun and cuddly toy that any baby will love.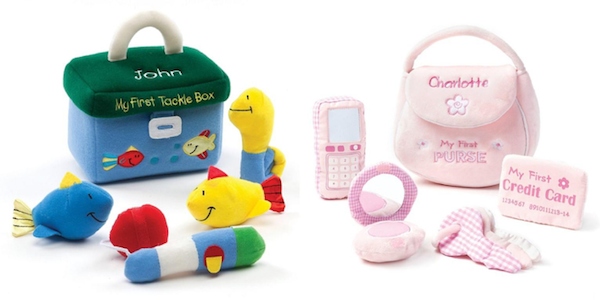 Give the special little one in your life their first purse or tackle box! There are six adorable, plush play sets from buybuyBaby that can be adorned with baby's name. These would make a wonderful gift for a baby's first birthday.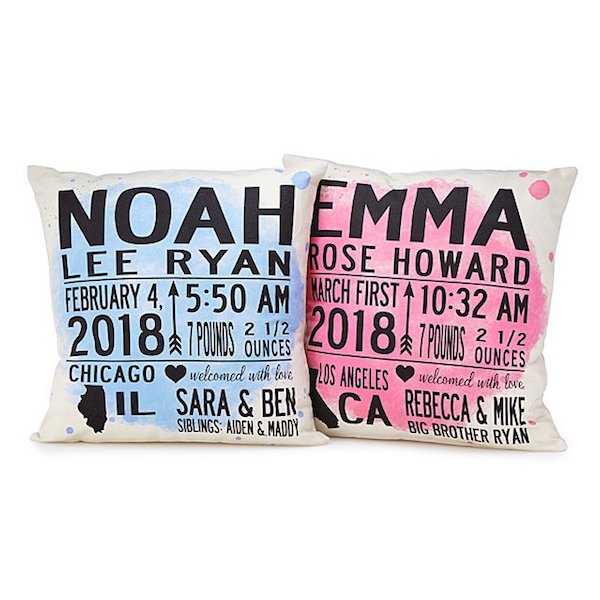 Commemorate the birth of a new bundle of joy with this Birth Announcement Pillow from Uncommon Goods. The handmade watercolor pillows come in 2 bright colors and displays the child's name, birthday, time, location, weight, height, and parent's names.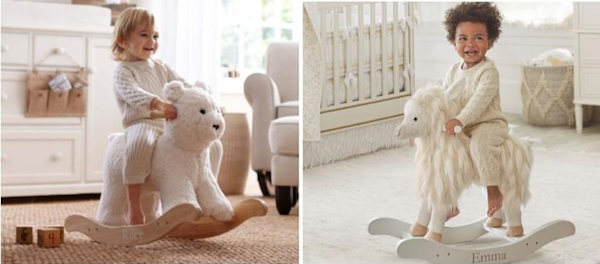 Here's a cute new twist on the old classic rocking horse. The Pottery Barn Kids Plush Rocker comes in 14 cute, endearing animals such as a fawn, elephant, bear, unicorn, dog and even a llama. The rocker is recommended for ages 18-36 months and the frame can be customized with a child's name.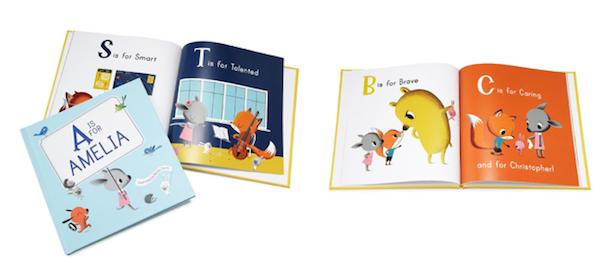 The front cover of the Personalized M is for Me Book from UncommonGoods features the child's initial and name (for example: S is for Sara). Inside of this unique alphabet book you'll find delightful illustrations as well as letters and corresponding positive personality traits, such as brave, smart, and joyful.
I love that this step stool from Shutterfly is natural wood and can be personalized with a name, saying or photos with several different designs. This is a great accessory to help a toddler and/or child learn how to independently wash their hands, brush their teeth, and even help out mom or dad in the kitchen. It also doubles as a nice seat for parents during bath time!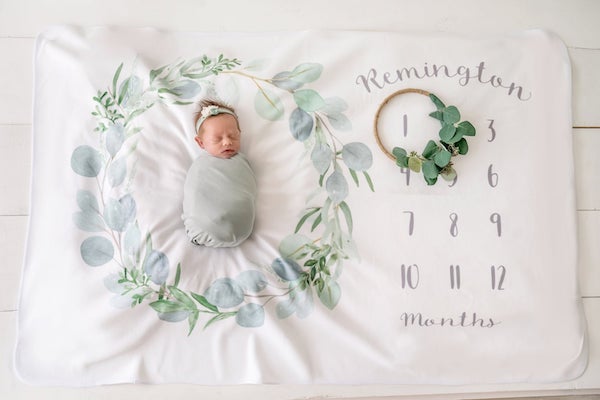 Get baby Instagram ready and watch that sweet one grow with a Personalized Milestone Blanket from Etsy. With several options in size and material for baby boys and girls, it's the perfect way to keep track of growth and milestones. This gift is sure to be used month after month in baby's first year.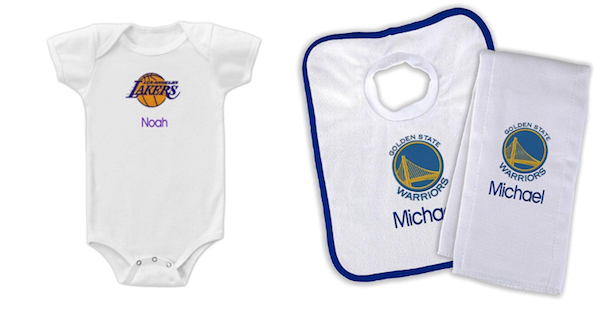 My husband loves any chance he can get to match our little one for the big game. Designs by Chad and Jake offers personalized towels, bibs, burp cloths, and onesies that feature an NBA, MLB, or NHL team logo. An awesome gift for the sports fanatics in your life.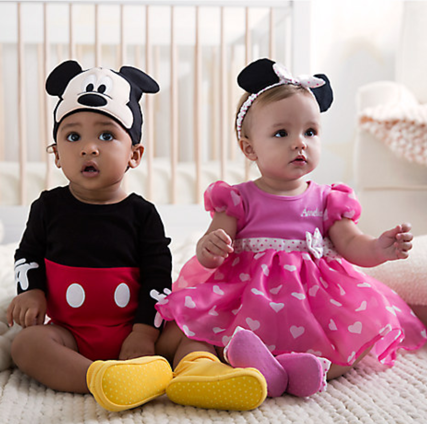 These personalized Mickey Mouse and Minnie Mouse bodysuit costumes would make an adorable gift for your favorite Disney fans and their newest Mousketeer! shopDisney also offers a customizable Tinkerbell and Bullseye costume. 
With many different uses and a washable cotton material, this Fold-and-Go Portable Play Mat will get tons of use in baby's first years. Available in 4 colors, it can be customized with the baby's name. Use it for tummy time, a quick diaper change, or a soft spot for a nap. 
Customize
Whether you want to customize some adorable items for your own bundle of joy, or you are looking for a special gift for someone else, these personalized baby gifts are sure to impress and create lasting memories for years to come. 
For more special, personalized gift ideas, check out our Pinterest Board: Personalized Baby Gifts.
-This article was originally written in 2015 by Rebecca Haar and updated with a few new fabulous finds by RegistryFinder.com contributor Kat Scharmann, new mom of a sweet baby boy.