Hooray! You have a bun in the oven! Now that the news is out and your cravings are in full force, it's time to get prepared to welcome your little bundle of joy into the world. In other words, it's time to register!
After making our big pregnancy announcement with our first child, I couldn't wait to register for all of the adorable baby items I had seen while browsing the internet and scrolling social media. But, the big question was, where should I start and what retailers should I visit?
We know that registering can be fun, exciting and overwhelming all at the same time. The good news is, we've done the research for you! Find the best places to register right here! Go ahead and put up those tired feet, grab that bowl of chocolate chip ice cream (with a side of pickles) and let me help you as you begin your registering adventure.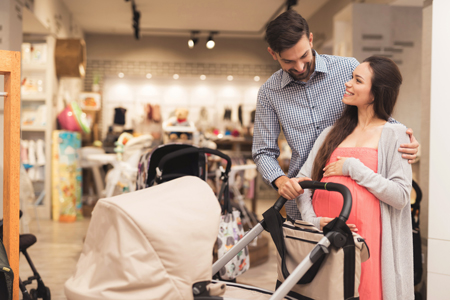 Start by checking out these tips to find the perfect place to register:
Download our new Baby Registry Checklist  and check things off while you're registering in the store or online!
Decide where you're going to register. We compiled this handy registry chart which compares all of the registry perks from our favorite retailers and registry providers. We like to break it down into three types of registries:
Essentials Retailers: everything you need from breakfast to bathtime.
Specialty Retailers: high-end baby gear as well as furniture, bedding and decor for your dream nursery.
All-Inclusive Registry Providers: allow you to combine all types of registries in one place. They also have unique gift options – cash, gifts from the heart, second hand gifts, etc.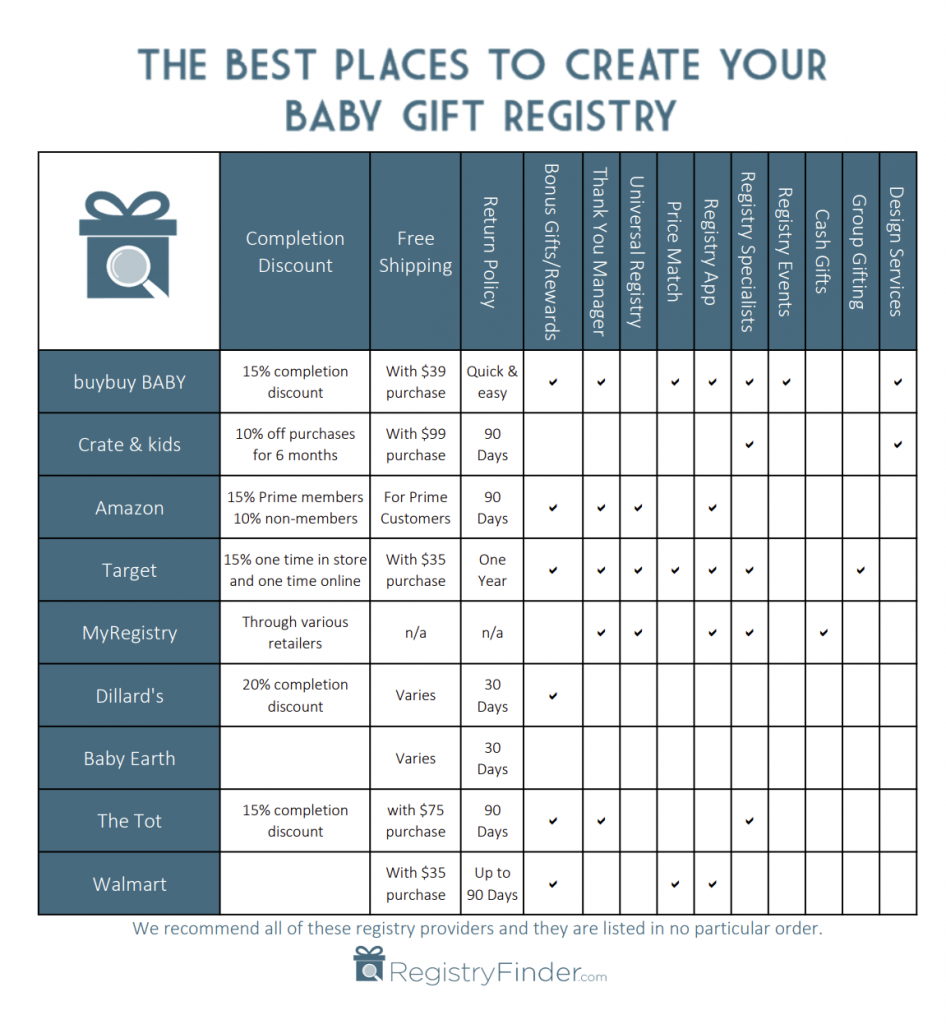 What if you find your favorite "must have" items at different retailers? You're in luck! You can create as many registries as you would like! (We recommend that you register at one essential retailer and one specialty retailer.) Then refer your friends and loved ones to RegistryFinder.com where they can find all of your baby gift registries in one place!
Essential Retailers
Having the right equipment to meet your baby's daily needs is always a top priority! At the following retailers, you will find all of the essential items to keep your baby happy and healthy. Each one offers a wide variety of quality baby products and easy registry apps, as well as my favorites- completion coupons and registry gifts! You heard me right, they give you a gift for just registering. Most of the essential retailers also offer price matching, free shipping, and convenient return policies.
buybuy BABY | Registry consultants, 15% completion discount, bonus rewards and gifts, in-store events and workshops
Target | Universal registry, 15% completion discount, registry app, 1 year return policy
Amazon | Universal baby gift registry, 10% completion discount (15% for Prime members!)
Walmart | Welcome box, price match, registry app, easy returns
Dillard's | 20% completion discount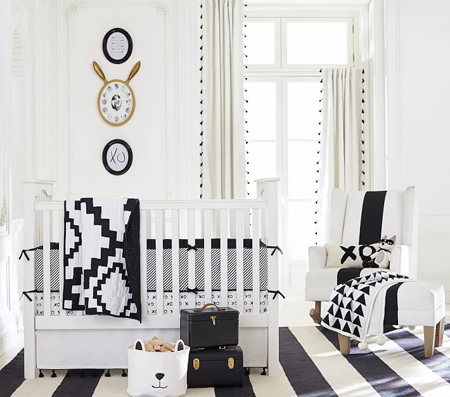 Specialty Retailers
Want to create that Pinterest worthy nursery filled with lush linens and dreamy decor? With help from their incredible design assistants, our specialty retailers are the perfect places to turn those fantasy pins into a reality. From high end furnishings and professional design services to completion coupons, these stores will make your pinning dreams come true.
Crate & Kids | Design services, 10% discount for 6 months, chat with experts live online
Baby Earth | Tried-and-true favorites, unique products and large selection of eco-friendly baby items
The Tot | Natural baby products, 15% completion discount, Tot rewards, starter registries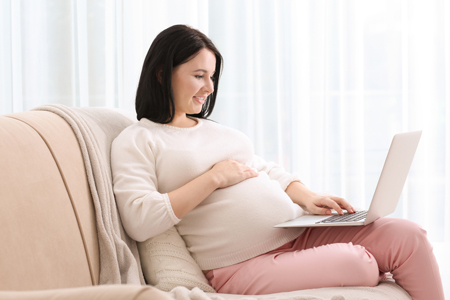 All-Inclusive Registry Providers
Simplicity is key at MyRegistry, our all-Inclusive online baby registry affiliate. At MyRegistry you can create a unique registry that fits all of your needs and wants by selecting products from any store you choose! From wipes and onesies at big box stores, to handmade gifts at one of a kind boutiques, to homemade meals, babysitting coupons and cash for college.
MyRegistry | Add gifts from any store in the world and register for cash gifts
Ready, set, register!
Now that you've finished that delicious ice cream, your pickle jar is empty, and your "registry research homework" is done, you can confidently select the registry providers that best fit your needs and style. Just click on any of the quality retailers above and begin creating your baby registry today! Once your registries are ready to be fulfilled, tell your friends to check out RegistryFinder.com to see all of your registry selections in one place!