There are so many wonderful combinations and flavors that just scream fall: pumpkin, apple, salted caramel, and warm spices. Instead of our typical shower menu, we decided to collect some of our favorite fall themed recipes. Whether you're hosting a baby shower or a bridal shower (or any fall party for that matter) we've got your covered.
Breakfast or brunch? Got it. Appetizers and dessert? Done. Fall beverages? We would never leave out the cider. We've even included a few recipes for mouthwatering party favors that you can send home with your guests!
Breakfast or Brunch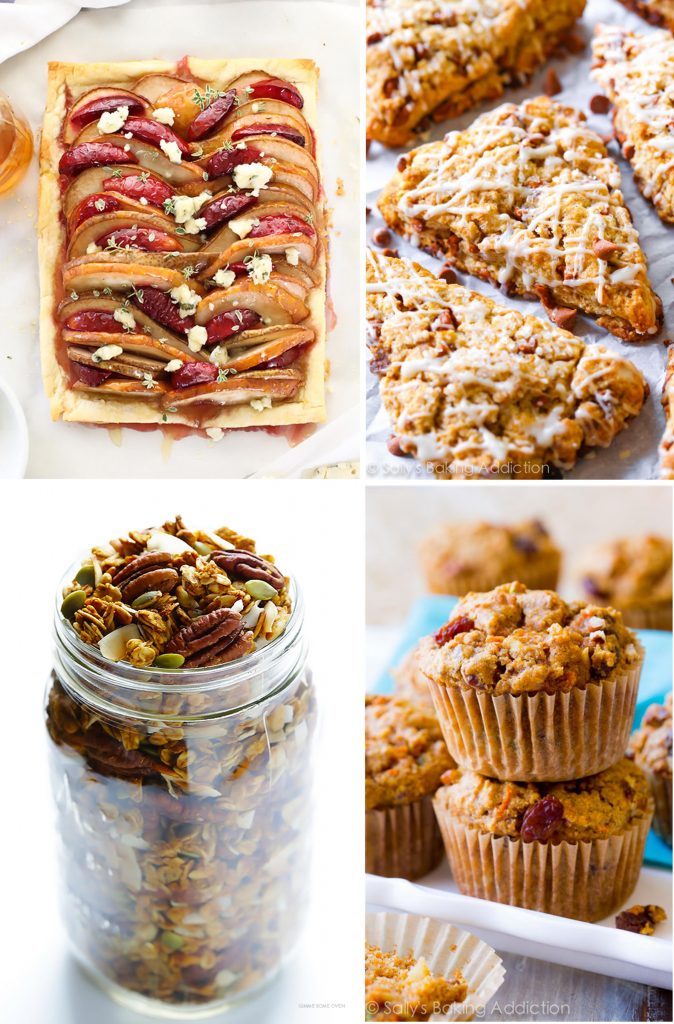 Source: Foodie Crush | Sally's Baking Addiction
Gimme Some Oven | Sally's Baking Addiction
Pear and Plum Tart with Blue Cheese: This simple puff pastry tart is easy to make and a beautiful addition to any table. The sweetness of the fruit is offset by the touches of blue cheese. We think it would be great with a sprinkle of pancetta or bacon.
Cinnamon Chip Scones: Scones are a lovely addition to a morning menu- they seems to fancy things up, and I guarantee you'll impress your guests. You can have this recipe prepped and baked in about 45 minutes, and it can be made ahead and stored in the freezer until your event.
Pumpkin Spice Granola: One of my favorite items on a brunch buffet is a yogurt bar. It's a simple, healthy addition to any menu, and your guests will love it! This Pumpkin Spice Granola would be a perfect topping for a fall yogurt bar. If you've never made granola, trust me, it's very easy!
Morning Glory Muffins: These delicious muffins are chock full of carrots, apples and raisins, and spiced with cinnamon and ginger. The best part is that they can be made ahead and frozen for up to two months.
Appetizers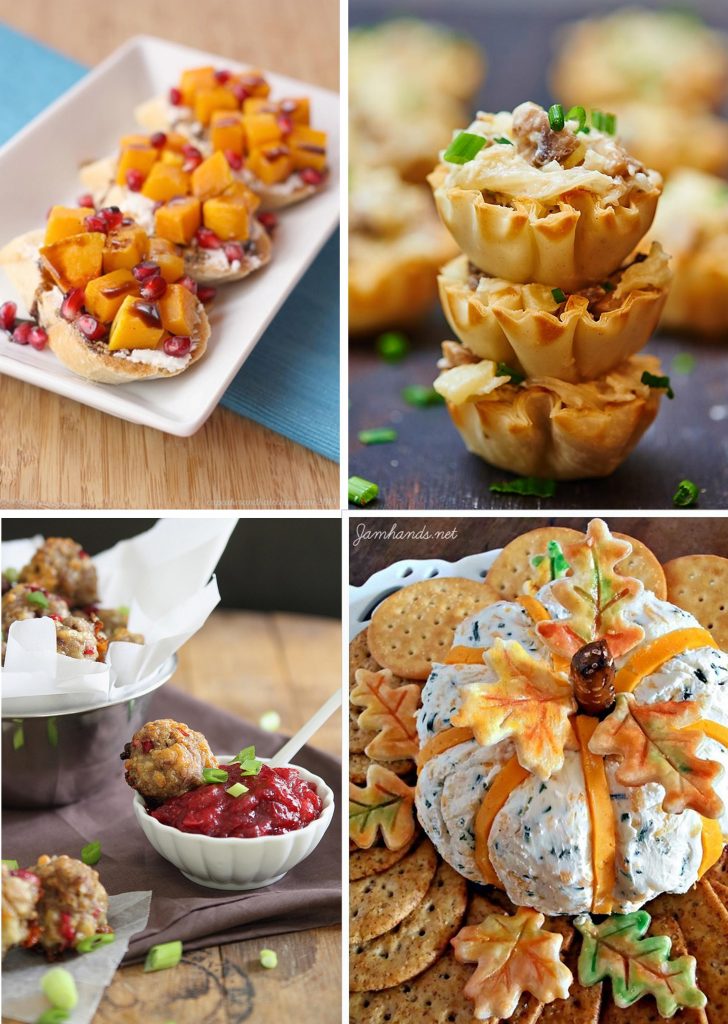 Sources: Cupcakes and Kale Chips | Show Me the Yummy
Running to the Kitchen | Jam Hands
Squash & Pomegranate Crostini: The bright, fall colors of these crostinis are complemented by delicious flavors and finished off with a sprinkle of goat cheese and a drizzle of balsamic.
Mini Caramelized Onion, Mushroom & Apple Tarts: These little treats are filled with caramelized onion, mushroom, apple in a gruyere and goat cheese sauce. With pre-made frozen mini fillo shells and the use of your food processor, they'll come together in no time!
Cranberry Cheddar Sausage Bites: These mini meatballs are served with a side of cranberry sauce and are super easy to make. They can be made ahead and stored in the freezer until your event.
Cheddar & Chive Pumpkin Cheese Ball: This may not exactly taste like fall, but I decided to include it because it definitely looks like fall! Follow the instructions and you'll be well on your way to making your very own show-stopping appetizer.
Dessert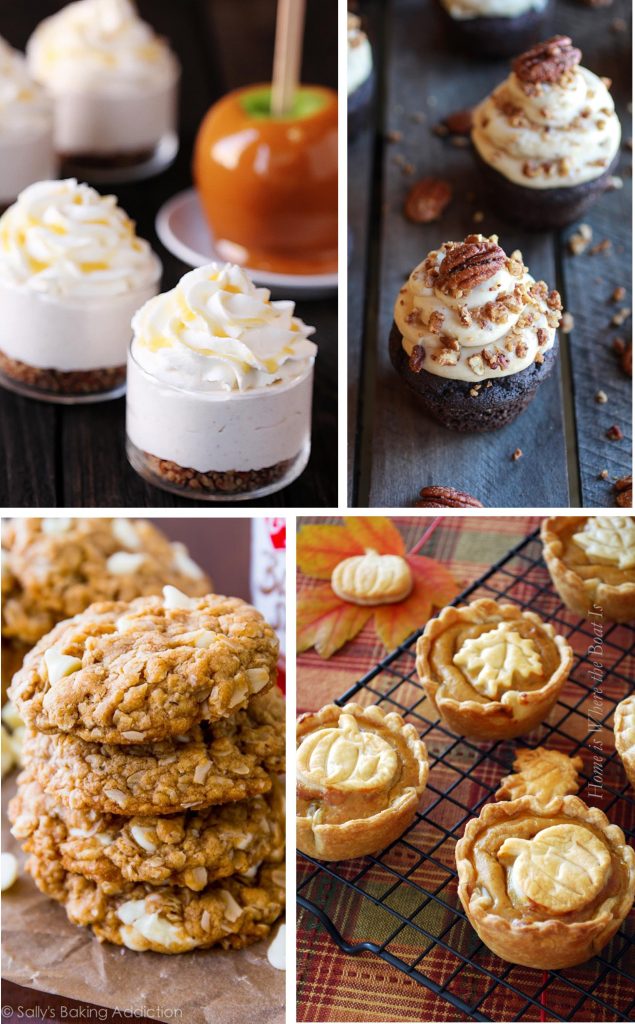 Sources: Gimme Some Oven | Half Baked Harvest
Sally's Baking Addiction | Home is Where the Boat Is
No Bake Caramel Apple Cheesecake: The cuties have an effortless apple cheesecake filling with a butter pecan crust, all topped with whipped cream and caramel. The crust and the filling can be made a day ahead of time and then assembled right before your event.
Chocolate Bourbon Pecan Pie Cupcakes: The only word that comes to mind when I see these cupcakes is indulgent. (Oh and delicious and decadent and…) These cupcakes aren't exactly quick, but they're not complicated either and I know that every last bite of will be savored by your guests.
Biscoff White Chocolate Oatmeal Cookies: You'll love this simple oatmeal cookie with an added twist- white chocolate chips and Biscoff or Speculoos cookie butter. Make the cookie dough, shape into balls and store in the freezer until ready to bake!
Mini Pumpkin Pies: Use your favorite pumpkin pie recipe and these step-by-step instructions to make these delicious mini pumpkin delights. They're easier than they look!
Beverages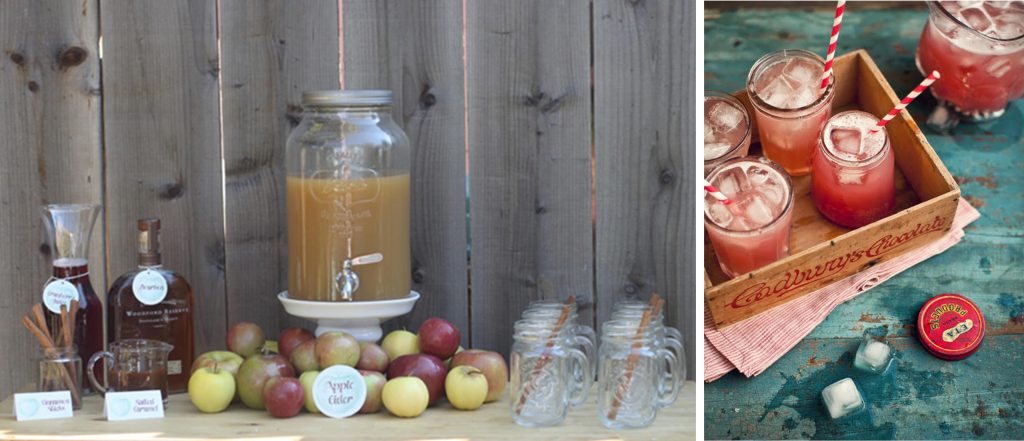 Crate & Barrel Blog | What Katie Ate
Apple Cider Bar I love this idea from one of our favorite retailers: Crate & Barrel Make a large batch of apple cider (or purchase to save some time!) and allow your guests to customize their drinks with cinnamon sticks, salted caramel, rum, or bourbon. The add-in are endless! Click here for some fun, free printables to use on your apple cider bar.
Apple, Ginger, Cranberry Cocktail: This simple, big-batch cocktail can be easily multiplied for any size crowd. Leave out the vodka for an enjoyable and refreshing autumn punch.
Favors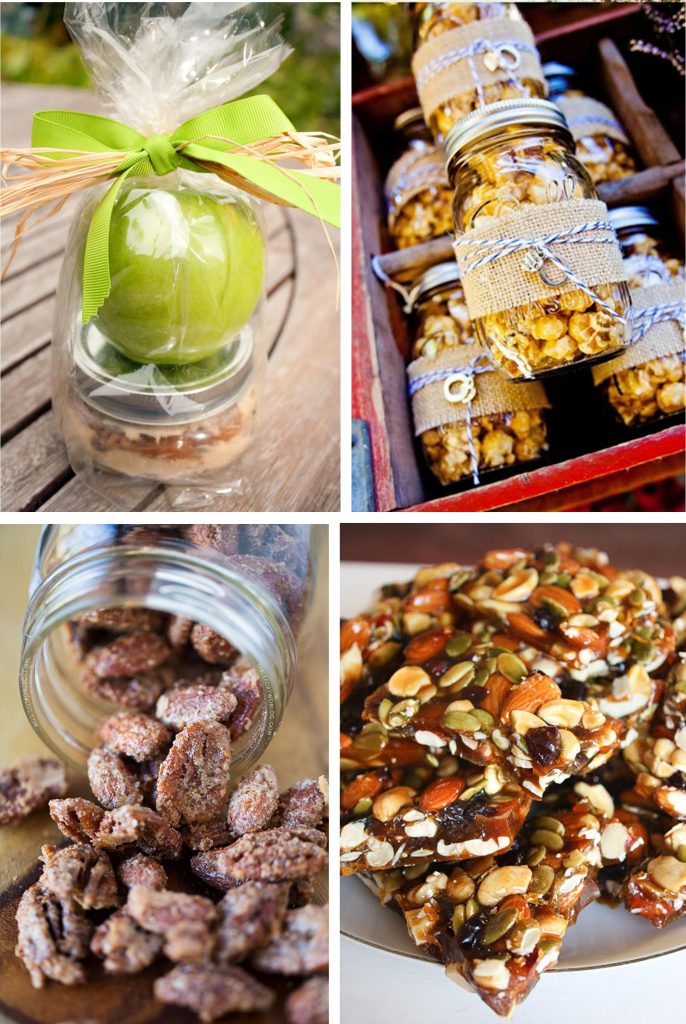 Sources: The Eisenharts | Knotsvilla
Table for Two Blog | Adventures in Cooking
Caramel Apple Dip: This caramel apple dip is easy to make and the apple + mason jar make a super cute favor.
Caramel Popcorn: Whip up some of Paula Deen's famous caramel corn and send your guests home with a delicious treat.
Maple Cinnamon Spiced Nuts: With only 5 minutes prep time you can make a batch of these nuts and have your party favors ready to go on under an hour.
Autumn Brittle: Nuts, cranberries and pumpkin seeds join forces in this scrumptious, buttery brittle.
---
We hope these recipes have inspired your menu as you plan your autumn baby shower or bridal shower. For more mouthwatering fall recipes, check out our Pinterest Board: Fall Shower Recipes.
And don't forget to refer your guests to RegistryFinder.com where they can find all of your guest of honor's gift registries in one place!