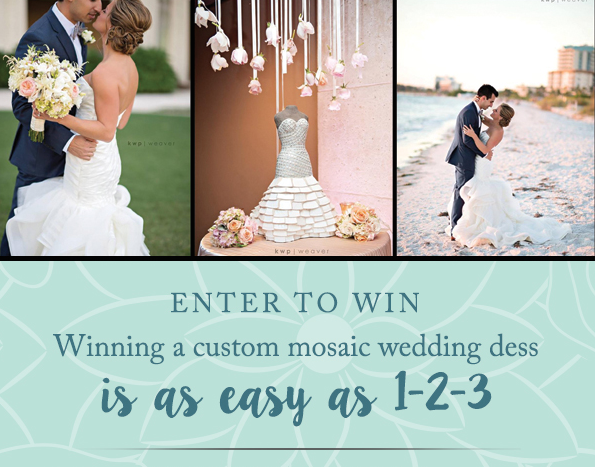 CAPTURE THE BEAUTY OF YOUR WEDDING DRESS IN A PIECE OF ART THAT WILL LAST A LIFETIME
Excitement is stirring here at Registryfinder.com because we are thrilled to be presenting one lucky bride a custom mosaic wedding dress sculpture by Aspen based artist, Shelly Hamill. Using ceramic, glass, and stone, Shelly creates exquisite one-of-a-kind dress sculptures that will ensure that the memories of any wedding last far beyond the ceremony and reception.
To ENTER all you have to do is fill out the form below and you are entered!
Then REFER your guests to RegistryFinder.com's search for additional entries.
For each guest who uses the RegistryFinder.com website to find your gift registries and clicks your name or your fiancé's name, you receive one entry into the contest pool! At the conclusion of the sweepstakes, one (1) winner will be randomly selected from the pool of entries. You can earn additional entries by following @RegistryFinder on Twitter, tweeting about the contest, following RegistryFinder on Pinterest, or "pinning" the contest on Pinterest. Each of these additional entries must be initiated through the original entry form above.*
The sweepstakes runs from May 1 through October 1, 2015.
*Facebook does not allow sweepstakes entries for Liking or posting on Facebook. Having more entries into a contest can increase, but will not guarantee, the likelihood of winning.