A fresh start. A second chance at love and happiness. Finally finding your soulmate. There are many things about an encore wedding that are new, romantic and exciting. But when it comes to the details of planning how you will celebrate the special day, it can become overwhelming and very stressful.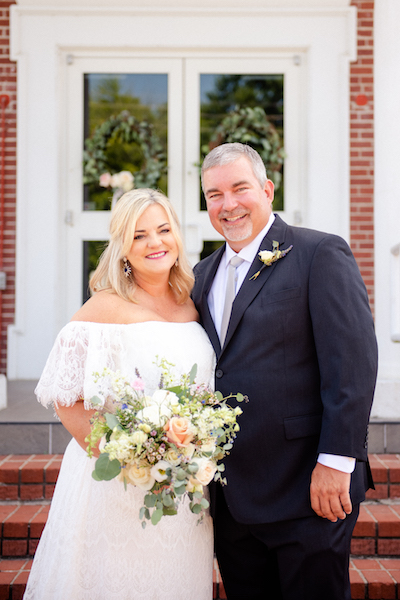 This past June, I was lucky enough to marry my best friend, the man of my dreams. But the early stages of planning the wedding weren't so dreamy.  Even with a two-year engagement, I still wasn't prepared to make decisions when the time to plan finally came. We wrestled with all kinds of ideas and scenarios. From eloping, to a destination wedding with family, only to finally land on a traditional church wedding and backyard reception. After much analyzing and with the help of our two 20-year-old daughters, we were able to pull off what I think was the perfect wedding…for us!
Fortunately, there are no hard and fast rules when it comes to second weddings. There is an advantage to the fact that you've "been there-done that". You have enough experience under your belt to know what you want and what you don't. The best advice I have is to plan your wedding around what is most important to you.  

Who to invite
When we first started planning we thought we should keep it small. After all, it was the second time for both of us and it would be a way to save money. But as we began compiling the guest list, we both felt it was very important to be surrounded by our closest friends and family on our special day. Before we met, Alan and I had a lot of support as we were going through some difficult times in our lives. It seemed only natural that we would want these same people to be with us on one of the happiest days of our lives. We had a final count of 185 guests celebrating with us.

Location
With a lot of guests coming from out of town, we wanted to them to be able to visit the town we live in and see our new home. We decided to have the ceremony at our church, which took care of any worries about the weather and provided a cool spot for our parents and other guests to comfortably enjoy the wedding. The reception was held in our backyard under a 60' x 100' white tent glowing with Edison lights and filled with music played by a D.J. and laughter from our favorite people. The best decision we made was to hire a rental company that was a one-stop shop for providing everything we needed for an outdoor reception. It took the pressure off of worrying about gathering these things ourselves.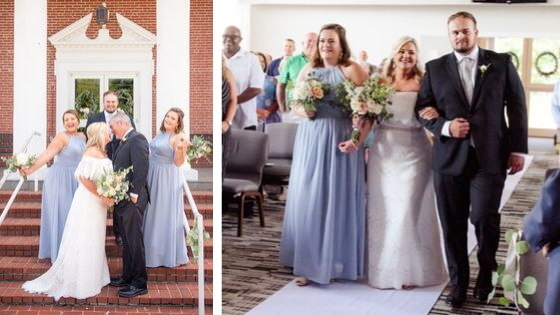 What to wear
I struggled with this one! At first, I thought that I would want to stray from a white dress and go for more of a formal evening gown type look. I ordered at least 15, tried them on, and sent them back. Nothing really spoke to me. Nothing stood out. Feeling frustrated and totally out of my comfort zone, I decided to head to a local bridal shop by myself to see if anything caught my eye.
It just so happened that the lady working had years of experience helping second time brides and was very understanding and knowledgeable in helping me find something that was perfect for me. I decided to go with a white off the shoulder dress made of eyelash lace. It was just my style and fit, and I was thrilled. It felt very liberating to have gone alone to pick out my dress.
The attendants' attire was a much easier decision: We wanted our three adult children to stand with us on our special day. (My son and daughter actually walked me down the aisle!)  Picking out the bridesmaids' dresses was simple. I gave our daughters my credit card and sent them out to find dresses they loved in their favorite color. The funny thing is, they picked out the same one! The guys wore matching suits that were purchased so they could wear them again and they wore their own shoes that were the most comfortable for them.
As much as I tried to think through every detail, there were a few things that came up that I wasn't sure how to handle.
Registering
At first, it felt a little awkward registering for items because we were established in our home and already had many things that most couples don't when they start their lives together. A lot of our guests requested it, so we decided to put just a few items on a gift registry. I was excited to get anything personalized or monogrammed with my new last name initial on it like these beautiful wine glasses. Two gifts we enjoy and use frequently are our Instant Pot and Air Fryer. And one of the gifts we appreciated most was a donation made to our favorite charity, the Juvenile Diabetes Research Foundation, which works toward a cure for Type 1 diabetes; as my daughter and mother both have the disease. In this day and age, it couldn't be easier for my guests to find out where I was registered. By using Registryfinder.com they were able to find all my registries in one place!
Encore bridal showers
I had so many sweet friends offer to show their excitement by having a shower for me. At my age, it was another situation that made me feel uncomfortable and unsure as to how to deal with it. So, I kept politely saying "no thank you", but they kept persisting, and I'm so glad they did. Not because I wanted more gifts, but because it was so fun to take a moment in time to be with all of my friends and celebrate a happy occasion.
I realized it's ok to let my friends and family shower me with love just like I would want to do for them in the same situation. The week before my wedding my sister hosted a bridal luncheon which was such a nice way to visit with family before the festivities began.

One of my favorite things about the day was getting ready. Alan arranged a day of golf with the guys in the family, and the girls made a day of getting our hair and make-up done. As a gift, my friends hired someone to come to my house to do hair and make-up for us. My soon to be step-daughter ordered matching robes for us to wear and asked her cousin to take pictures of the day. We had great food, fun music playing, and everyone enjoyed being together getting ready. Alan and I decided to do our "first look" at our house prior to heading to the church. I have to say I appreciate this new tradition as it takes the pressure off of trying to hurry to take pictures after the ceremony.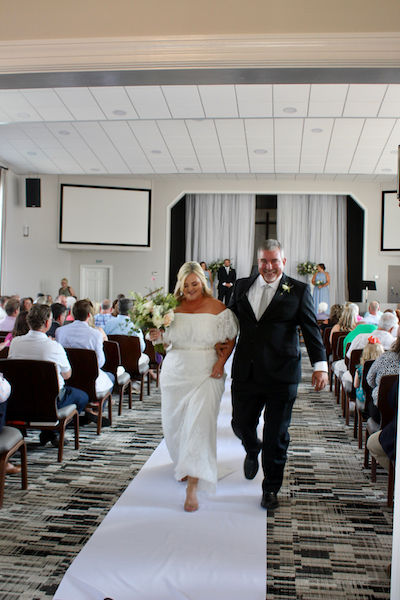 If I could, I would go back and relive every moment of our special day. It was everything I had dreamt of and more. Our goal was for everyone that came to the wedding to feel the love and joy that we felt. At the end of the day, all I really hoped for was to enjoy every second of the day, with all the people I love, and have the person I am going to spend forever with celebrating with me, right by my side.