Your engagement was everything you dreamed of: the romantic proposal, the beautiful ring shining on your finger and the excitement your friends and family shared as you told them the good news. But now that the thrill has worn off, you're starting to feel sheer panic. How will you be able to do everything that needs to happen before the big day? You've got weight to lose. There are student loans to pay. The stress continues to build as you think about your future. How will you buy a house or pay for your kids' college? What if your dress doesn't fit? It can all be so overwhelming!
Our advice? Slow down, take a deep breath and let us help you manage this stress by breaking down ways for you to reduce your anxiety and get F.I.T. (Fully In Tune) for your wedding and the wonderful days that follow.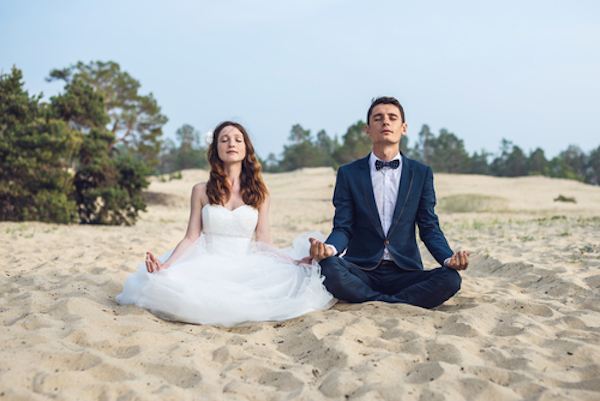 Spiritually/Mentally FIT:
The first step in managing anxiety and worry is to practice mindfulness or staying in the present moment. You may wonder how that's possible when all you can think about is planning your wedding. Practicing mindfulness can help you 'think before you act" and make you become more aware of your thoughts. It also helps you focus and keeps you from overreacting to future situations. Here are some other ways to become mentally strong and fully present for your wedding day:
Yoga/ Meditation:
There are many benefits to practicing yoga before your wedding. Yoga helps you become aware of your physical capabilities and manage your emotions. It can relieve stress and worries that accompany you leading up to your wedding. Incorporating yoga into your weekly routine will benefit your body, mind and spirit. Come time for your wedding, you will feel grounded and emotionally stable so that you can enjoy every moment of your special day. You can research yoga studios in your area or you can subscribe to a yoga channel where you can enjoy yoga anywhere at any time.
Pre-marital Counseling:
There can be so much focus on the wedding day that couples sometimes seem to fail at thinking about the days beyond and how they will get along. Don't let the word "counseling" scare you into thinking that it's something that will take forever and that you don't have time for. Look at it more as an opportunity for you and your future spouse to talk to a professional, usually a pastor or a licensed counselor, to prepare you for a long term commitment and a healthier marriage. Counseling gives you a chance to discuss difficult topics and helps with ways to communicate more effectively. Recommendations from friends or family are the best way to find a counselor suited for you. When you find a good one, their words and advice will resonate with you for years to come. If you know for sure that counseling won't work for you then you could agree to finding a book written specifically to help you work together on having a happier, healthier marriage.
Practice Gratitude:
Commit to keeping a journal and write down 10 things every day that you are grateful for. Practicing gratitude helps you experience more positive emotions, sleep better, express kindness and compassion. It even boosts your immune system! Think about what it will mean to you years down the road when you look back through your journal and read all of the wonderful things you were thankful for leading up to your wedding.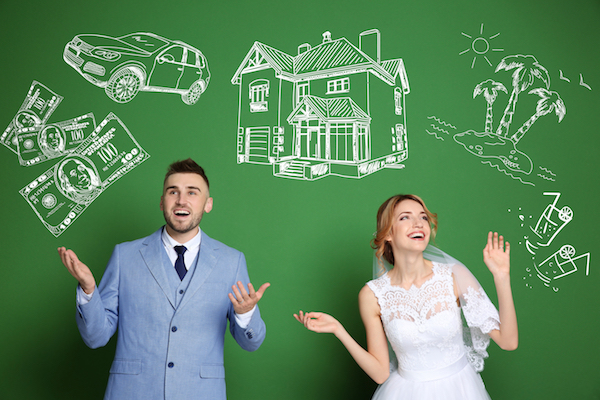 Financially FIT
Some of the hardest conversations you will have with your spouse will probably pertain to money. As a matter of fact, money is the number one thing couples fight about. But don't fret, with a little planning and a lot of clear communication the two of you can work together to come up with a financial plan that will support your plans for the future.
There are a few ways you can prepare:
Establish your financial goals. You each will enter the marriage with ideas about the way you would like to start a family, buy a home, plan for retirement and build a future. It's best to get a lot of this figured out before marriage. You and your partner should talk about your shared goals, individual goals, and a plan for how you can get there together.
Expose yourself- financially that is! It can be very uncomfortable but very beneficial when both partners are willing to do it. By revealing your savings and checking account balance and how much you owe on bills, you can get the full picture on where you stand financially and together set goals for financial wellness. Trouble can come to couples who choose not to communicate about finances, but with commitment, planning and open communication, you can actually make it an enjoyable part of your marriage. You could add to your efforts by taking a budgeting class which will be a great way for you to enter your marriage- knowing you are both ready and prepared for your financial future.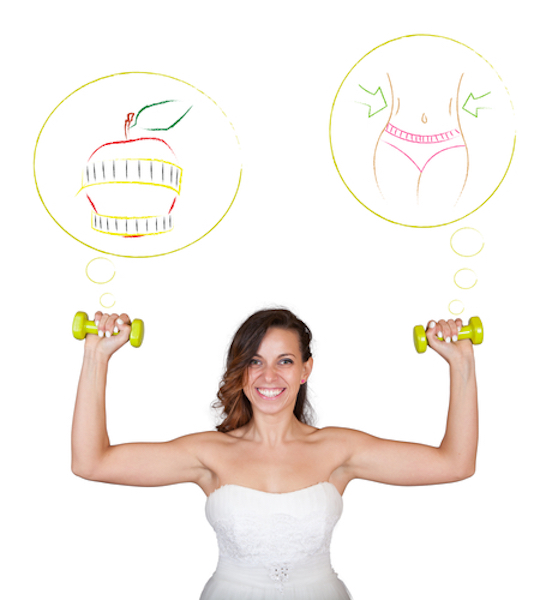 Nutritionally FIT
Now might be a good time to hit the "restart" button on what you're eating. You may be used to eating on the go but as your enter into marriage and you're thinking of dinner for two, you may find it easier to get back to the basics. Gut health is one of the first things that should be addressed when working on eating healthy. Taking a high property probiotic can help get your gut in shape as well as eating a ⅔ vegan diet.
Intermittent fasting has gone from a trend to a mainstay when it comes to best practices for a healthy life. There are many benefits of IF including digestive rest, hormone balance, and possible weight loss. If you're looking for a plan that covers all of the bases with macro balance, carb cycling and intermittent fasting then check out Faster Way to Fat Loss for a strategic plan to help you hit your wedding goals and develop habits to last you a lifetime.
Physically FIT
Our blogger and recent bride Brittney shares her plan to get wedding ready.
If you're looking for variety in your home workouts then this is the place to land! Depending on your mood you can choose from 400 workouts, beginner to advanced and dance to kickboxing, all in the privacy of your own home.
Joanna So brings a personal trainer to your living room via her best workout videos. The fitness pro provides some kick butt circuits that burn 400+ calories, strength challenges that call for 1,000 squats and lunges, and more. Your legs will be sore but happy when you walk down the aisle!
Walking:
Getting in a good walking routine will prepare you to look your best when you take that walk down the aisle. Make it a part of your daily routine by walking to the store or around your neighborhood. Choose to walk instead of driving whenever possible. Take the stairs whenever you're given the option and park as far away from the store as you can. For extra steps, wear a step counter such as a fitbit or apple watch. Challenge yourself to get 8,000-10,000 steps everyday. You'll be surprised how you will push yourself to get them in when your numbers are so close to reaching your daily goal. Here are a few more creative ways to get your steps in daily.
Wedding Planning
If you have questions about planning your wedding, wedding etiquette, or just need some general tips to get through your wedding day, be sure to check out all the wedding topics on our Give It blog! If you have specific etiquette questions, be sure to browse past Ask Cheryl questions, and if you don't see the answer, feel free to email us at AskCheryl(at)registryfinder.com.
RegistryFinder.com also provides a stress free way for your guests to quickly and easily find your all of gift registries in one place.
Disclaimer: Please have your doctor's approval before beginning any exercise or diet program.