Thinking of popping the question sometime in the near future? If you're in the market for an engagement ring (or think you'll be the recipient of one), you may be overwhelmed by the many different styles and terms. To help, we've listed and explained some of the hottest ENGAGMENT ring design elements. We hope they inspire you to choose the perfect ring to fit your individual style.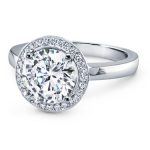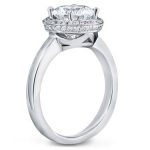 A diamond HALO is a ring of gemstones, typically diamond, that surrounds a center stone. These gems can be pave, prong or channel set. In addition to being a BEAUTIFUL & FEMININE touch, a diamond halo makes your center diamond look BIGGER.
Image Credit: Adiamor – www.adiamor.com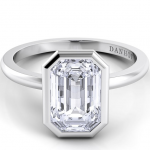 A BEZEL is a frame of gold or platinum surrounding the center stone. This SIMPLE and SLEEK design element adds a touch of MODERNITY to the ring. A bezel visually expands how wide the diamond appears and is also a very secure setting that protects the edges from chipping.
Image Credit: Danhov – www.danhov.com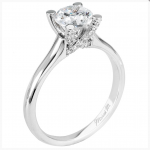 A diamond SOLITAIRE, what many refer to as a "Tiffany" setting, has traditionally been a single diamond in a four or six prong setting. Designers have given the simple solitaire a modern makeover with UNIQUE twists, curves and embellishments.
Image Credit: Michael M. – www.michaelmcollection.com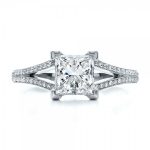 A SPLIT SHANK is a ring with an opening between two bands of gold or platinum. A split shank gives a ring a wider appearance without appearing chunky. It gives a DELICATE & open feel to a wide ring.
Image Credit: Joseph Jewelry – www.josephjewelry.com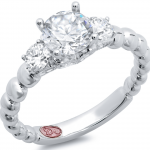 A BEADED ring has rounded segments that add visual interest to an otherwise plan metal band. This is ideal if you want the look of an ETERNITY band but don't have the budget for a BLINGED out ring.
Image Credit: DeMarco Bridal Jewelry – www.demarcojewelry.com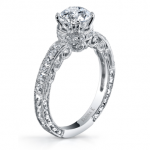 A VINTAGE ring has details that make it look ANTIQUE including engraving, filigree & milgrain edges. A vintage style ring is perfect if you don't have a family HEIRLOOM but want your ring to look like one.
Image Credit: Vanna K – www.vannak.com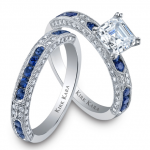 SAPPHIRES have long been a popular choice of ROYALTY and have made a comeback as accent stones. The rich blue of sapphire symbolizes TRUTH, SINCERITY and FAITHFULNESS, making it an ideal choice.
Image Credit: Kirk Kara – www.kirkkara.com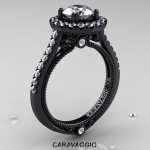 ALTERNATIVE METAL colors have made a huge debut. No longer just yellow gold, white gold or platinum, designers have introduced black gold, red gold, cobalt gold & just about any other color your HEART desires. The only drawback is that these finishes typically wear off & will require refinishing.
Image Credit: Art Masters Jewelry on Etsy.com – www.etsy.com

ROSE GOLD is yellow gold with the addition of copper. Whether the design is SWEET & DELICATE or BOLD & CONTEMPORARY, the PINK hue of rose gold adds WARMTH & ROMANCE.
Image Credit: Tycoon – www.tycooncut.com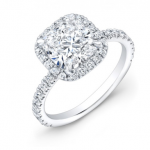 The CUSHION cut diamond was THE cut in the 1800s through the turn of the century & has made a grand comeback. So named because its SOFT lines & rounded corners resemble a pillow, the cushion cut has a ROMANCE & FEMININITY all its own.
Image Credit Cut Carat
By Stacey Kravitz, G.G.
Stacey is a Graduate Gemologist and founder of Diamond Girl Consulting. Her insider tips help you purchase like an expert and avoid costly mistakes when buying diamonds. Diamond Girl Consulting can be your secret weapon! Visit her website today, www.DiamondGirlConsulting.com.
To see more styles or for more information on the rings shown above, check out our board on Pinterest, Hottest Engagement Ring Styles.