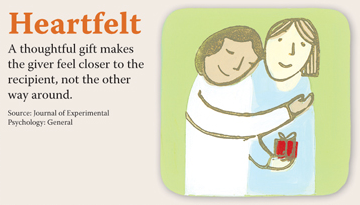 When it comes to the giving and receiving of gifts, we've all heard the old adage, it's the thought that counts. In my case, I heard it often from my mother or my friend's mothers. It was usually said after someone received a gift that they weren't particularly excited about.
I imagine good manners and good hearts brought about this saying. After all, gratitude is a virtue. We should be grateful when someone gives of their time and hard-earned money to give a gift. Unfortunately, studies indicate that our level of gratitude is more influenced by how much we like or need the gift.
Some gift givers spend time and energy trying to find just the right gift. But thoughtful gifts don't necessarily lead to greater appreciation, according to a study published in November in the Journal of Experimental Psychology: General. The benefit of a thoughtful gift actually accrues mainly to the giver, who derives a feeling of closeness to the other person, the study found.
People are more appreciative when they receive a gift they have explicitly requested, according to a similar study published last year in a separate publication called the Journal of Experimental Social Psychology. From Sumathi Reddy "The Science Behind Gifting." The Wall Street Journal 3 Dec. 2012
How much thought you put into the gift apparently only serves to make you excited about the gift and make you feel closer to the gift recipient, not the other way around.
 "It turns out it's not the thought that counts, it's the gift that counts," says Nicholas Epley, a professor of behavioral science at the University of Chicago who co-authored the study.
What we can learn from these studies is that when we get anxious about buying a gift and invest a lot of time into thinking about it, we may be misdirecting our energies. Being a good gift giver starts with being a good listener and knowing what the gift recipient wants.
However, its not always possible to know exactly what gift your gift-tee will appreciate. That may be one of the reasons that gift registries are more popular than ever. They definitely reduce the stress of gift giving.
The website RegistryFinder.com further simplifies the process of gift giving by allowing you to search online for any gift registry. You can enter your gift recipient's name, and it will link you directly to their corresponding gift registries.
So, if you want your gift recipient to truly love the gift you give, know what they really want, or buy from their gift registry.
Give a gift you know they'll love… quickly and easily find any gift registry @ RegistryFinder.com