Recently Wedding Paper Divas contacted me to contribute to a new feature of their website — the Wedding Registry Guide. It's called Wed the Way You Live, The Modern Couple's Guide to Creating a Wedding Registry. It was a pleasure to collaborate with them and I wanted to share an excerpt from the guide here on our blog.
---
THE MODERN GIFT REGISTRY
Couples aren't just using registries to stock the kitchen and linen closet anymore—their registries help them build a unique lifestyle that's fully customized for their specific needs and wants. To better understand the evolution of the bridal registry tradition, we've spoken with wedding experts and newlyweds about what today's couples want. Whether you're beginning the process of creating your own or simply searching for the perfect gift, consider this your guide to navigating a registry with style.

THE EVOLUTION OF WEDDING REGISTRIES
In America, more than 90 percent of couples register for gifts, and guests spend $19 billion each year on registries. The wedding registry tradition is now deeply ingrained in the American culture, yet it's been around for less than a century.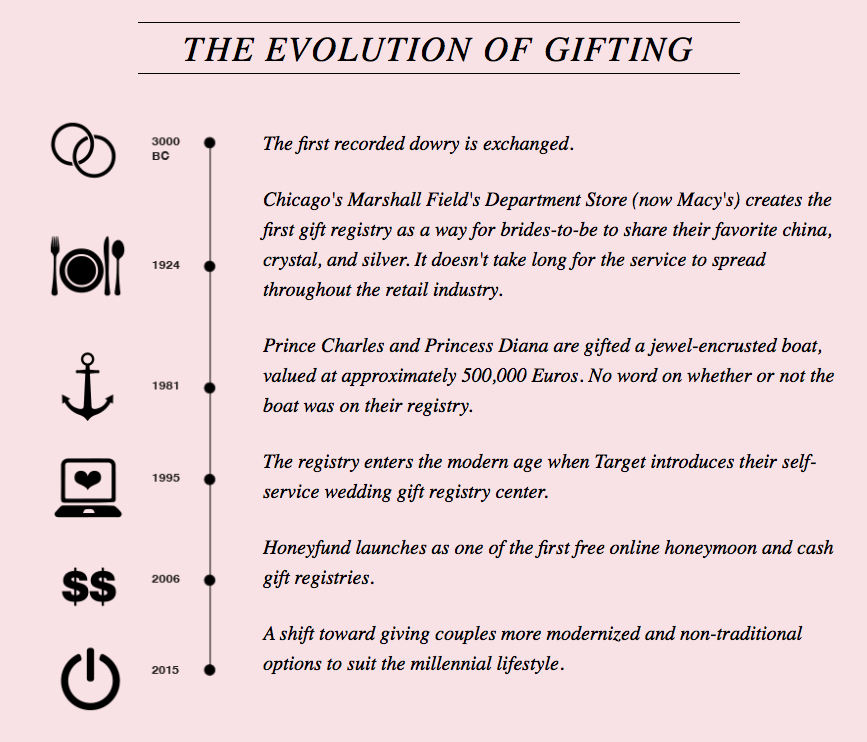 While the goal of wedding registries remains the same—to help guests give couples exactly what they need—the ways we use them have shifted dramatically in the last few years.
. . . Registries may have changed, but one thing has remained the same: How we spread the word about them. It's still considered a faux pas to list bridal registry information on or with a wedding invitation. Some more polite approaches:
By word of mouth
On a wedding website
On an enclosure card with the bridal shower invitation, or it's now become common practice to print the wedding registry information at the bottom of the shower invitation.
No matter what approach you take, keep it simple. The emphasis should be on the event itself, not the gifts you hope to receive.
---
There's much more . . . click here to view the full guide on the Wedding Paper Divas website. You'll find more information on what's changing in gift registries, how to go about creating your wedding gift registry, and helpful tips from experts and brides.
I also wanted to share the bridal shower invitation I recently created and ordered for my niece's shower from Wedding Paper Divas. Check the back of the invitation  — I added that you could find her registries at RegistryFinder.com.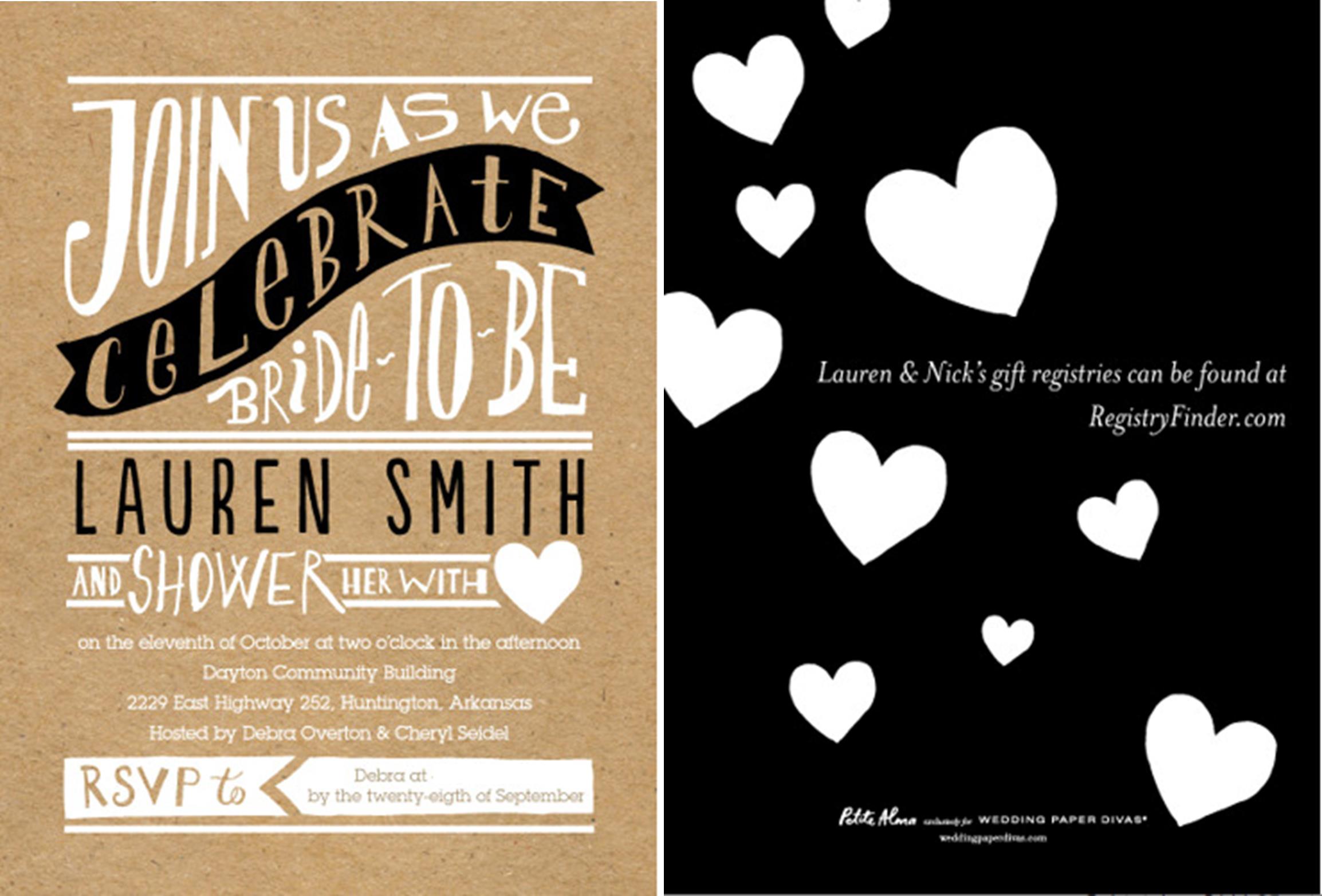 This is not a sponsored post, but I have to tell you that it was so easy to create this invitation. Wedding Paper Divas has great designs. My niece's wedding has a fall/barn theme and she's using kraft paper in her invitations, so I picked this design to compliment her theme. And free of charge, a designer looked over my creation and emailed me with suggestions. I was impressed! I just received them and they look awesome. The computer image doesn't do it justice. Right now Wedding Paper Divas is offering 10% off any order. Just use the code 2015WED10 at checkout.  And you can also use the code FREESHIP15 for free shipping. Yes, they let you use two promo codes!
Don't forget to tell your guests (but only if they ask) that they can find all of your registries at RegistryFinder.com!
from Cheryl Seidel, etiquette columnist and President of RegistryFinder.com