Colleen Garland is a certified infant & child sleep consultant with Love Sleep Grow. As a sleep consultant, Colleen works with families to create good sleep habits and trouble-shoot sleep difficulties. She creates personalized sleep plans and coaches parents through the process while providing support, knowledge, and advice. Today, Colleen is sharing her advice and top picks for a baby gift registry that will have your little one "sleeping like a baby" in no time!
My sister-in-law is expecting a baby this summer and I started having flashbacks to those exciting days of creating a baby registry. I remember entering a big retailer and feeling overwhelmed.
I thought my husband and I would just "learn as we go" but looking back, it would have been much more helpful to have some real recommendations and insight.
These are a few items that proved really helpful with my two daughters. I've also seen great success with them as a sleep consultant.

DockATot
The DockATot is the perfect spot to park your 0-8 month old for changing, tummy time, napping and playing. It's lightweight and makes travelling a cinch. Its design is purposeful and offers a snug and supportive spot for your baby to feel comforted, just as they did in the womb.

Your newborn will be very sleepy and very portable. Take advantage of the snuggles and wear them around during the day. This is also a great way for mom to get out of the house and socialize. My personal favorites are the Tula, Boba, and Ergo.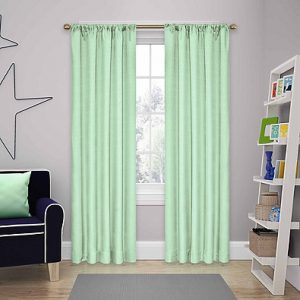 You'll want to invest in really good blackout curtains for baby's room. This is so important because it will help your baby understand that dark times are for sleeping and light times are awake periods. As a newborn, they will be able to sleep through lots of stimuli, however as they get older they will need a very dark, cave-like environment. The less light peeking through in the early morning hours means fewer early mornings for you!

The book is pretty much my newborn sleep bible; however, I often recommend the DVD version to expectant parents because it's excellent at really demonstrating proper soothing techniques, plus you can't beat Dr. Harvey Karp's soothing voice. He really lets you feel at ease when you're dealing with a fussy newborn. (We've linked to an online version, but the book and DVD are also available to purchase or add to your registry in store at buybuy Baby.)

A sound machine that plays continuous white noise is a must-have. Many parents make the mistake of buying a machine that automatically shuts off after 30 minutes or plays sounds like ocean waves or a babbling stream. You want to look for a machine that runs for the duration of the sleep period and plays just white noise. Why? White noise is comparable to the constant loud, shushing noise babies hear in the womb. This Homedics Sound Spa is only $20 and will do the trick for you!

I'm a swaddle-lover. Newborns have an innate reflex called the Moro Reflex, where they frequently flail their arms and disrupt their sleep. (Hence the need to swaddle them up tight, just like they were in the womb!) For the first couple of weeks, you can swaddle baby easily in those large, stretchy muslin blankets. As they get older, they become stronger and start stretching their arms and legs more. And many of them start resembling escape artists. The Miracle Blanket was created to combat this problem. It takes some time to get used to the process of putting baby's feet in the pouch, and wrapping the long pieces of fabric around the arms and tummy. However, once you master the method, your little one will certainly sleep longer stretches.
A Baby Feeding/Sleeping App
How awesome is it that we can track our newborn's feeding and sleeping with an app?! This is great for breastfeeding moms who lose track of what side they last fed baby on and great for bottle-fed babies so mom or dad can keep track of the ounces consumed. Most importantly, since newborns can only handle a period of 45 mins-1 hour of awake time, parents can keep track of baby's sleep and alleviate fussiness from being overtired.
What better way to say "congratulations" than giving the gift of sleep! A sleep consultant educates expectant parents about what to realistically expect during the newborn period. A certified sleep consultant will be knowledgeable about milestones, regressions, schedules, sleep environments, and more! The most common response from my clients is "I wish I had done this sooner!"
Make sure you don't forget about these awesome baby items that will help you and your baby get the best sleep possible. Why not add them to your registry now? Head on over to buybuyBaby to get started on a registry today!