You're not alone if the words awkward and tricky come to mind when you think about baby shower games. When it's your chance to host a shower, you have options that won't make your guests cringe — no, seriously.
The activities below will help you get people mingling and having fun without sacrificing your party's cool factor. All of the games on this list are a perfect fit for a traditional baby shower or a trendy co-ed shower, and they don't require you to spend too much time or money.
But first, some helpful dos and don'ts.
Do:
Keep games short and simple: If it takes more than 2 minutes to explain or more than 15 minutes to play, pass! Your guests will lose interest.
Be sensitive to childless guests: If winning the game relies on knowledge of baby products/prices, your friends without kids might feel left out.
Give the winner a prize! Think of small items anyone would enjoy: a cute mug, stationery set, or candle are great options.
Have fun with it! All of the games on this list have a relaxed, festive feel allowing guests to participate or pass with zero pressure.
Don't:
Limit your guests' conversation. (I've never understood not being allowed to say an utterly relevant word like "baby" at a baby shower.)
Force your guests to consume mystery items from a diaper or drink from baby bottles.
Actually, don't force your guests to do anything. Participation in activities and games should always be optional.
Download printable templates from oh happy printables Etsy shop
Game #1: Name That Tune
Bring a portable speaker, save this Spotify playlist before the party, and then queue it up for a fun guessing game! Play the first few seconds of each song with "baby" in the title, then give players a minute to write down the title and artist. If you don't have access to a speaker, you can have guests fill in the blanks for the song titles on their game cards. Either way, you'll have people dancing and singing along the whole time.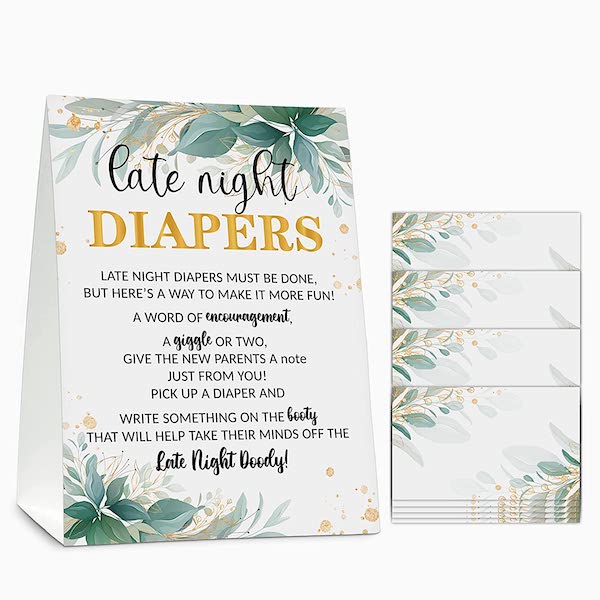 Game #2: Late-Night Diapers
The first few weeks after bringing a baby home can be…intense. Getting into the groove of new routines, running on minimal sleep, and living in a world of all things baby are a new parent's reality. Set up a big stack of newborn diapers with some permanent markers and a sign directing guests to write a fun joke or message of encouragement for whoever's on midnight changing duty.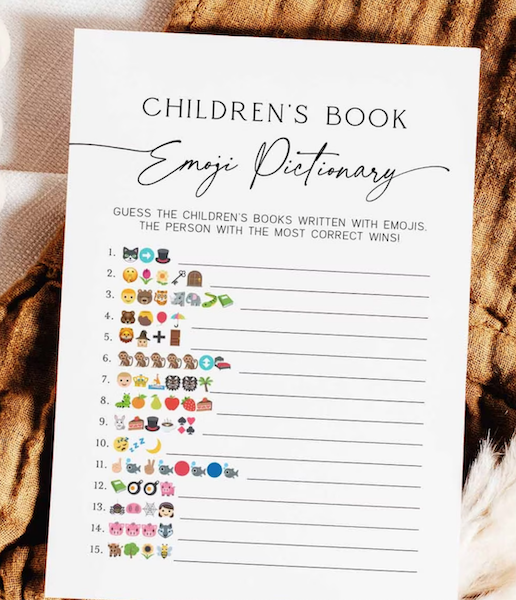 Download a printable template from AfterLunaStudio Etsy shop
Game #3: Children's Book Emoji Pictionary
I love a game that actually gets people thinking, and this one tests your shower guests' abilities to get creative. Set a timer for 5–7 minutes while guests take their time translating each set of emojis into the baby or children's book title it represents. The guest with the most correct answers wins!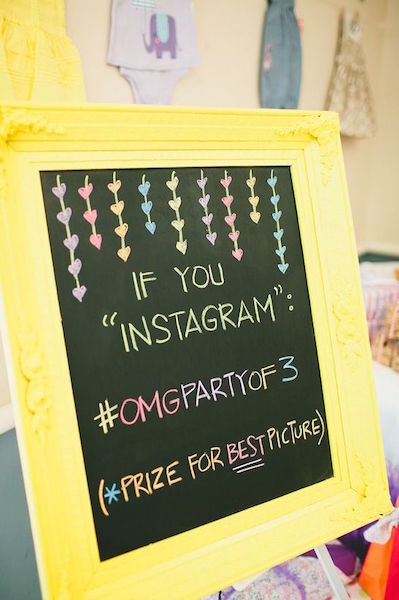 Photo from The Little Umbrella
Game #4: Photo Contest
Instagram hashtags make it so easy to collect guest photos without having to ask — especially when you attach a prize to the best photo! Set up a sign letting guests know that their snapshots could make them a winner, with instructions on how to share their photos. If you prefer to keep them off social media, add a phone number so guests can text their photos to that number. Whoever is responsible for collecting them can also set up a real-time slideshow of all the party's special moments!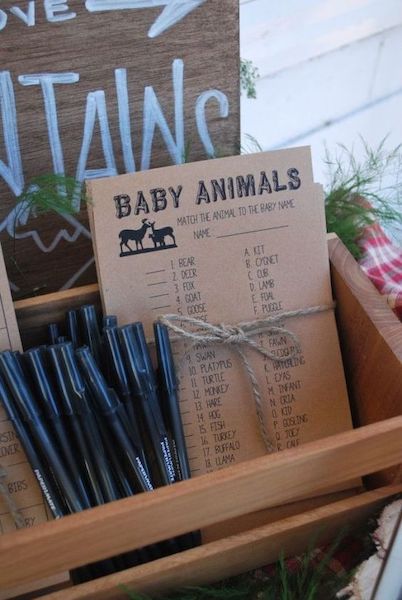 Game #5: Baby Animal Matching
Who doesn't love a little bit of trivia? This game is on theme without being too on the nose and tests guests' knowledge of the animal kingdom. Pass out game cards, set a timer, and see who knows which baby animal terms correspond with their more familiar adult names before time is up.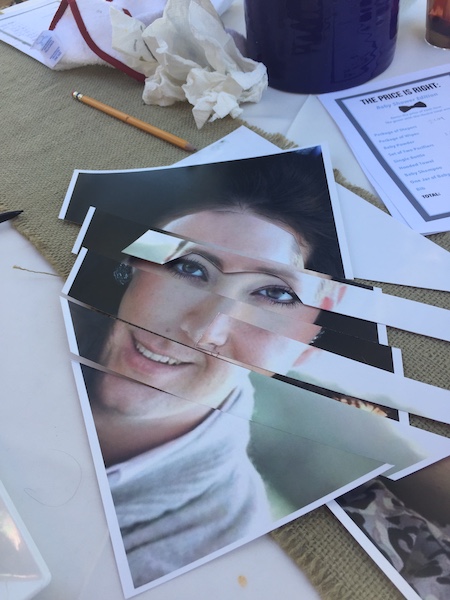 Photo Courtesy of Ashley Roberson
Game #6: Baby Face
This game is a surefire way to get everyone laughing. Before the party, print out a photo of each of the parent-to-be's faces (enough for every guest to have one of each) and cut it into strips that divide up their features. Have guests "build" their predictions of what the baby might look like and wait for hilarity to ensue.
Start Planning!
Now that you know it's possible for baby shower activities to be fun, you can plan the rest of the party. Explore all the great tips and ideas on the RegistryFinder GiveIt blog, where you can find baby shower menus and theme inspiration, plus plenty of baby gift ideas and baby registry tips. (P.S., new moms, you'll want to read this and this.)
One simple tip that works no matter the theme or style of your baby shower: direct guests to RegistryFinder.com, where they can easily find all of your registries in one place! Just put it right on the invite!