Looking for an alternative to toilet paper wedding dresses and bridal bingo? Check out these fun, cringe-free bridal shower activities everyone will enjoy.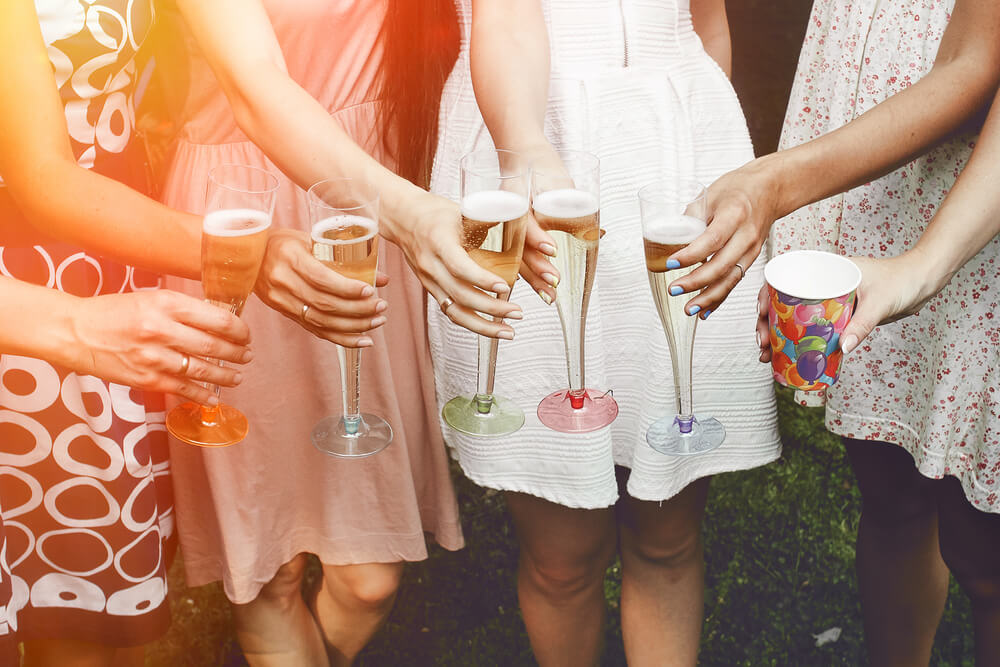 Let's be honest — there are plenty of bridal shower games that we'd rather do without. While there's nothing wrong with Don't Say "Bride", Match the Song to the Disney Movie, and Bridal Bingo, there are so many refreshing games and activities for hosts looking for alternatives.
Whether you're looking for games that won't make everyone cringe, or you simply want to add more unconventional games and activities to your bridal shower itinerary, we've got you covered. We've also included great prizes to give to the winners, along with some unique venues to host a bridal shower that you may not have thought of!
Unique Bridal Shower Games and Activities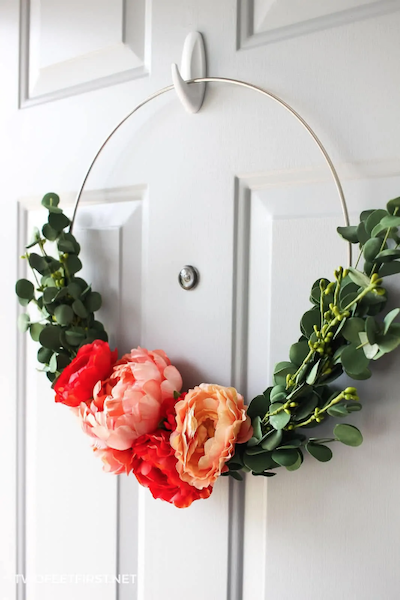 DIY Floral Wreaths
Set up a flower bar for your guests and provide instructions for making DIY floral wreaths — this YouTube video is super helpful to get you started! While you might be tempted to buy real flowers, I'd recommend opting for fakes so the wreaths can last the years. You'll also need metal hoops or a basic wreath base, floral wire, scissors, and a hot glue gun (or a few), and ribbon to keep the creativity flowing. Another helpful tip: leave out some photos as inspiration so everyone can make a creation they're proud of.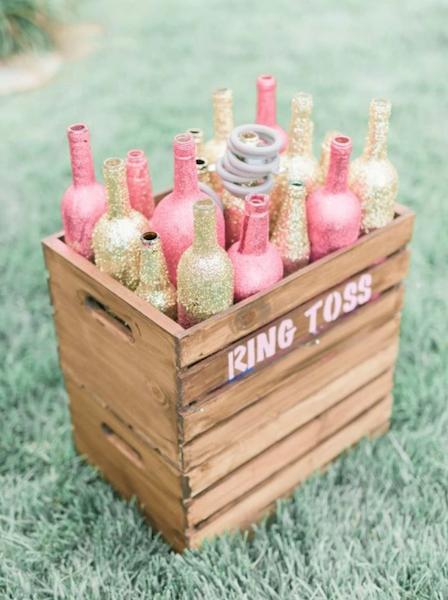 Ring Toss
Swap engagement rings for plastic rings in this fun twist on a classic carnival game! For this game, you'll need a wooden crate that can fit 12–16 wine bottles (you can find these at your local craft store), empty bottles, wooden rings, and spray paint. On a protected surface (a drop cloth or newspaper set up someplace outdoors works great), spray the bottles with paint and allow them to dry fully before bringing inside. Place all the bottles in the crate and have guests stand 10 feet away as they aim to land as many rings as possible around the bottles' necks.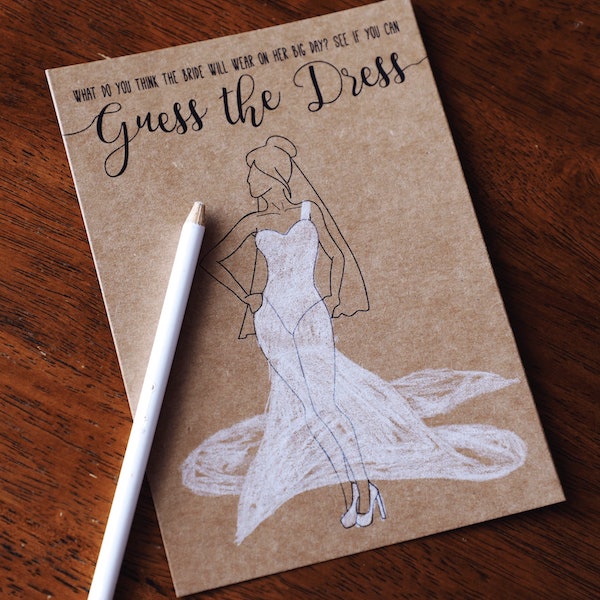 Guess the Dress
I love this alternative to the typical toilet paper wedding dress game. Download printable cards from Etsy and grab a pack of brown cardstock and white coloring pencils, then pass them out during the shower. Have guests draw their best guesses at what the bride's wedding dress will look like on her big day. Whoever's guess is closest (without cheating, of course) wins! Keep in mind, this game may require the bride to reveal her choice, and if she'd rather keep it under wraps, feel free to skip this game.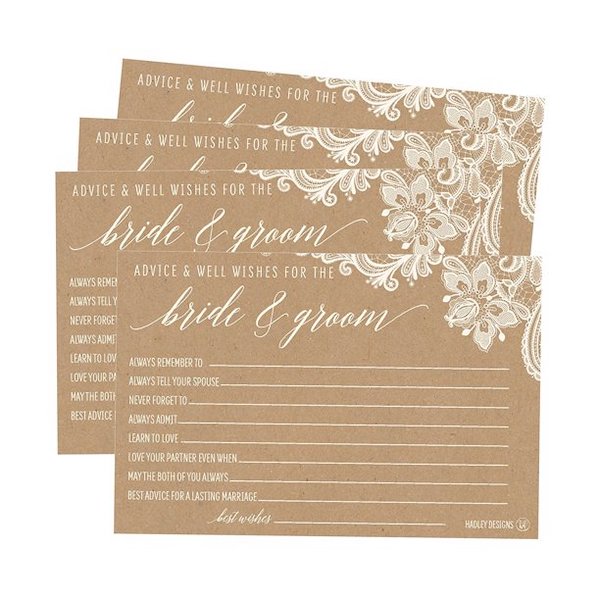 Marriage Advice Cards
Okay, so this may not be an out-of-the-box game idea, but it is definitely a cringe-free activity that the bride and groom will appreciate. For guests who don't know what to say, these advice cards provide helpful prompts on one side and is left blank on the other for longer messages. Toward the end of the bridal shower, bring the card collection to the bride and have her read the advice out loud. Who knows, your guests may provide insights that are helpful to more than just the happy couple!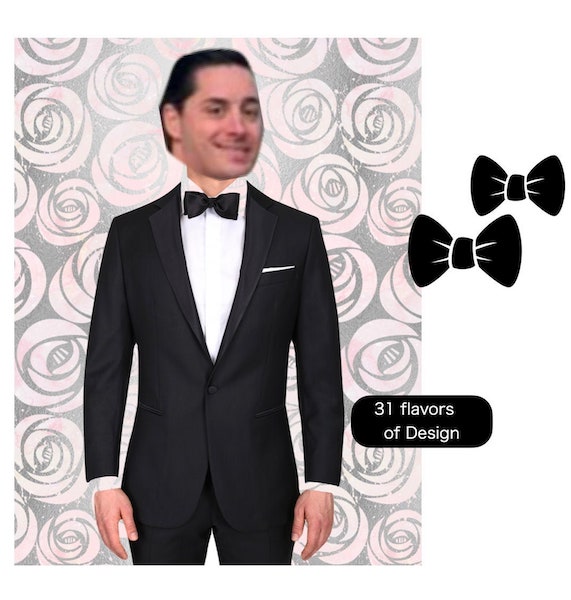 Pin the Bowtie on the Groom
We're all familiar with pin the tail on the donkey, and this game will keep everyone laughing as they watch other blindfolded guests do their best to pin the bowtie on the groom. You can order a custom poster of the groom off of Etsy with bowties included, and hang it up on a central wall so everyone can get in on the fun. Don't forget the blindfold!
Cupcake or Cookie Decorating Contest
Who doesn't love sweets? For this activity, you'll first need to bake ahead — for cookies, go with a shortbread or simple sugar cookie recipe (bonus if you use themed cookie cutters!), and if you're going with cupcakes, stick with a crowd-pleasing flavor assortment like chocolate and vanilla. Put out frosting dyed with food coloring, sprinkles, and other fun toppings, then have the bride judge everyone's creations!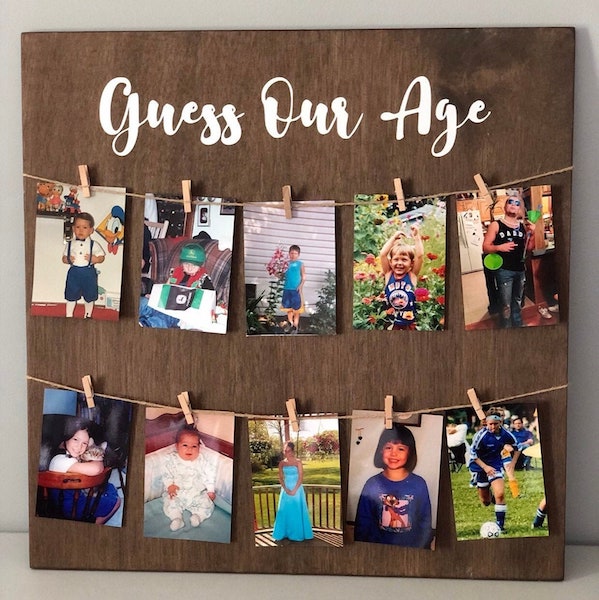 Guess the Bride & Groom's Ages
For some guests, guessing games like Who Said It and Bride or Groom can be alienating, especially for out-of-town family members or friends who haven't had the chance to spend a lot of time with the couple. This activity lets everyone in on the fun: print out photos of the bride and groom at different ages throughout their lives, hang them up with clothespins, and paperclip corresponding numbers to each one. Then, have guests write down their age guesses for each photo — whoever gets the most right wins!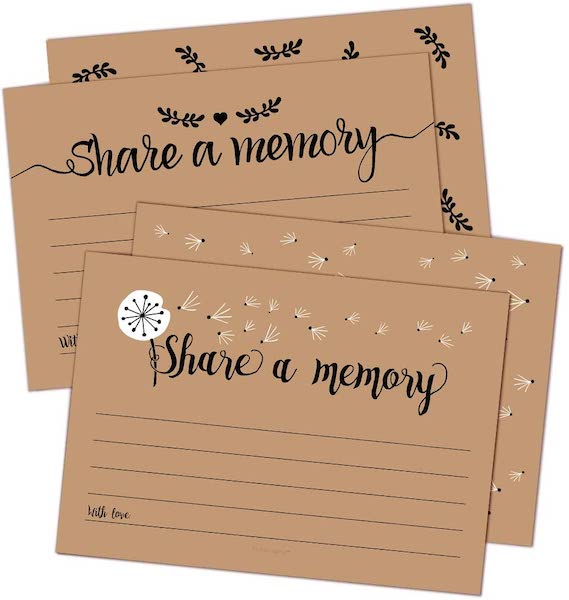 Memory Cards
This game requires a little preparation ahead of time — as in, when you're sending out the bridal shower invitations. Include a small card in the envelope that asks guests to write down a favorite memory with the bride and have them bring it to the shower. During the party, have the bride read the cards out loud and guess who wrote each one.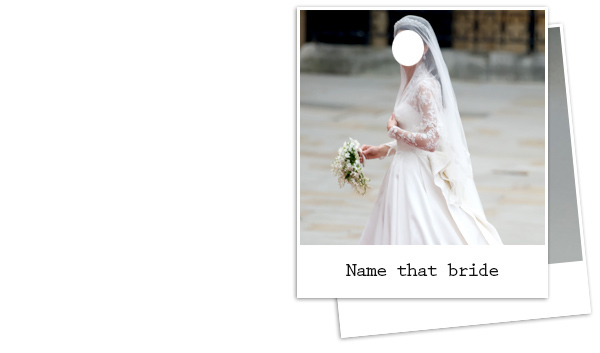 Guess the Celebrity Bride
Think you can match a celebrity bride to her wedding dress? Test your guests' memories with this challenging game. Print out photos of famous brides on their wedding day and cut out their faces to obscure their identities. Whoever identifies the most brides correctly is clearly up to speed on their celebrity bridal knowledge — and wins, of course!
Lawn Games
If you're throwing an outdoor bridal shower, keep the fun alive with some classic lawn games. From cornhole and croquet to bocce and horseshoes, everyone will have a blast getting competitive without playing cringey bridal shower games. You can even throw in a set of giant Jenga and have guests write their well-wishes on the wooden blocks!
Prizes
While the notoriety of winning any of the games listed above should be enough for your bridal shower guests, it's always more fun to walk away with a prize. A good rule of thumb is to keep the prizes around or under $20. Here are a few fun ideas the game winners can go home with:
Unique Bridal Shower Venues that Include Activities
Don't think you need to limit your bridal shower to a house or a restaurant — think outside the box with these unique and fun venues where activities are already built into the venue!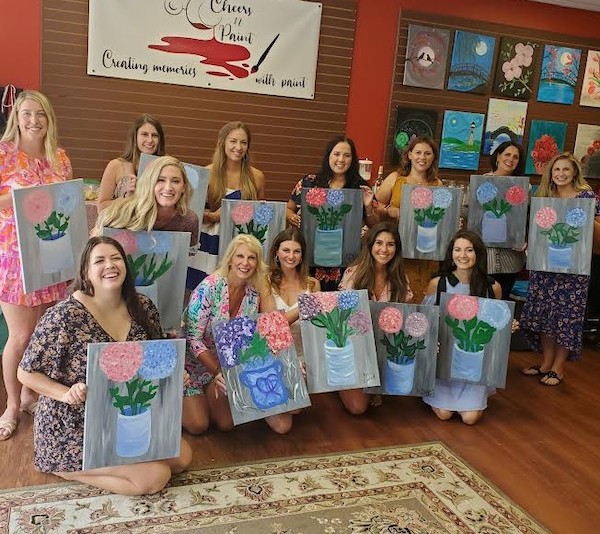 Paint and Pour Studio
If there's a paint and pour studio in your area, call and see if they host private parties (most of them are more than happy to). You'll get to choose the design that everyone will paint while they enjoy sipping on wine, Champagne, and any other drinks you'd like to offer. Most studios also allow guests to bring in their own food — a charcuterie board is a perfect accompaniment!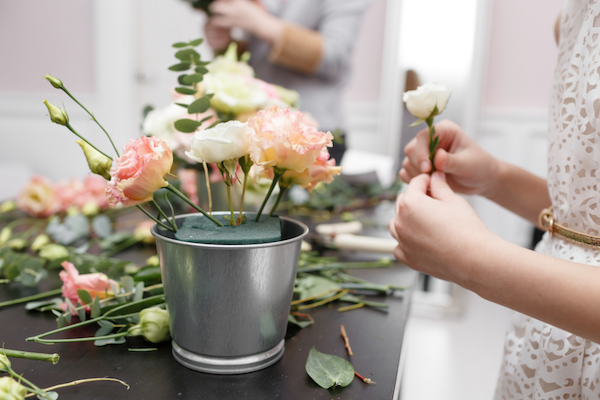 Floral Shop
If the DIY floral wreath activity sounded like a fun idea, but you're not so sure about your abilities, hosting your bridal shower at a floral shop can be a great alternative. Call around and see if any local shops will do a private instructional session to make custom floral arrangements. Everyone will be able to leave the party with a beautiful bouquet to remember the fun.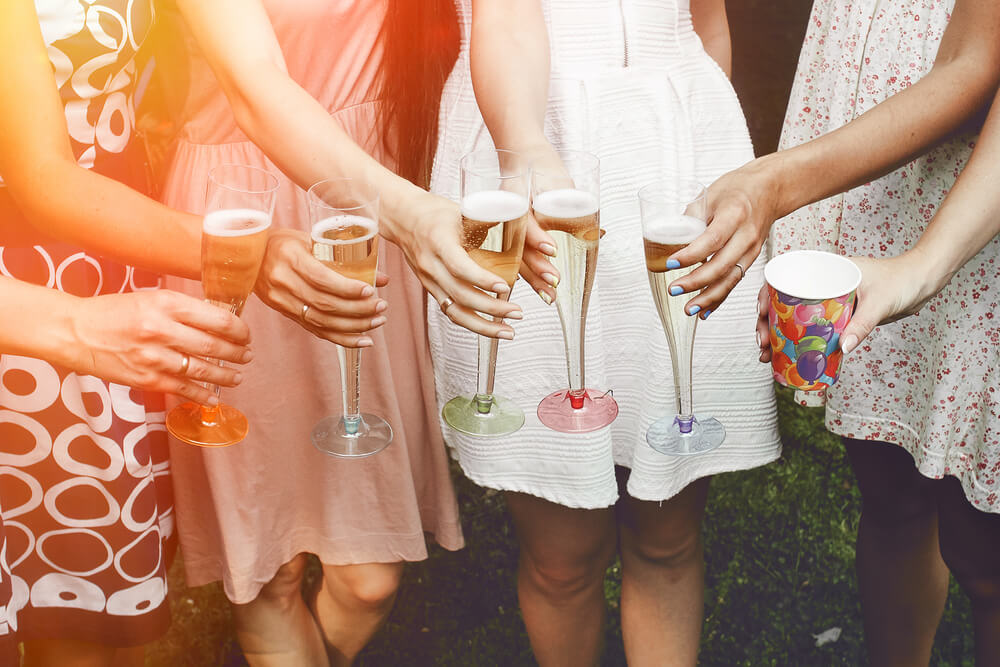 Wine Tasting
Where there's a winery, there's an opportunity to host a wine tasting! Set up a private tasting at a local winery or restaurant that specializes in wine pairings, making sure to provide plenty of food to soak it all up. A baguette with cheese and honey, a veggie plate with dips, and pita chips with hummus are always a good idea.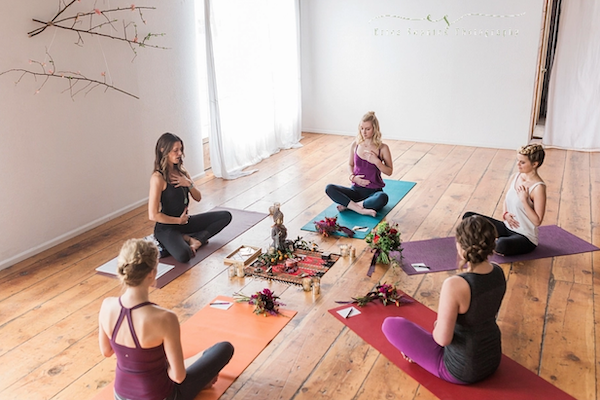 Yoga Studio
See how flexible your bridal shower guests can get with a private yoga session at a local studio or at your home! Make sure to let guests know what they're in for on the invitation, and follow it up with a fun brunch buffet complete with pancakes, fresh fruit, eggs, and mimosas to replenish everyone's energy.