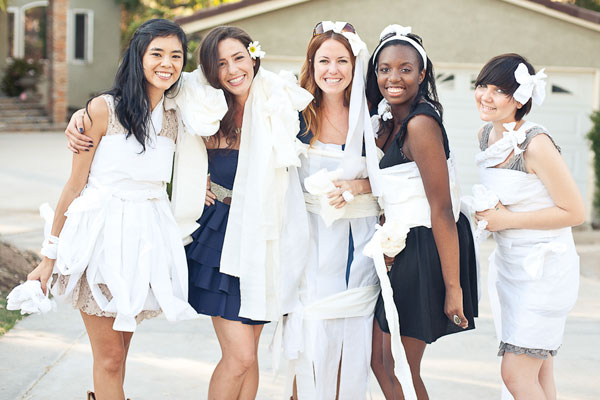 Hi Cheryl,

I am getting married in May and have a total of eight bridesmaids including a Matron of Honor. My parents are living on a fixed income and financially strapped so I am paying for the majority of the wedding.

My parents threw us and paid for the engagement party back in September. I have not asked my bridesmaids for any help in terms of money, time, or labor to help with the wedding. Now that it's time to plan my bridal shower, I want to know if it's OK to ask my bridal party to split the cost of the shower amongst everyone, including my mother, so the burden does not fall solely on my her. I want to mention that my bachelorette was originally supposed to be in Miami but the majority of bridesmaids said they couldn't go so we made alternate plans to go out in NYC which is much more feasible for everyone (I live in CT).  Financially speaking, my bridesmaids will be responsible for their dress, hair and makeup (if they choose to get it done professionally), shoes and jewelry on the day of the wedding. I will be paying for transportation and all other things wedding related. Please let me know your thoughts.

Leila
---
Dear Leila,
Thank you for writing! It seems that bridal shower etiquette is a frequently discussed topic these days. So… I'm glad you asked!
Money, and who pays for what, is often a cause of stress and can sometimes lead to damaged relationships. It seems that brides have developed new expectations regarding the financial responsibilities of their attendants. I have researched this extensively; and bridesmaids are traditionally expected to pay for:
1. their bridesmaid dress,
2. their shoes and accessories (unless the bride choses specific matching accessories),
3. their travel to the wedding city, and
To answer your question fully I need to back up a bit —
Etiquette suggests that neither the couple nor their immediately family should host a bridal shower. Why? The purpose of the shower is to give gifts to the bride and it can seem as if the family is "asking" for gifts. While it's still considered a faux pas for the bride to be involved, there are some circumstances where it's fine for family members to host. 
You said, "Now that it's time to plan the bridal shower…," which leads me to believe that you are involved in the planning. If so, you can take that off of your list of things to do, and really, so should your mother. From an etiquette point of view, you should wait until someone else offers to host. Maybe an aunt, cousin, or your bridesmaids will step up to the plate. If you or your mother take it on, you're not giving anyone else a chance to offer.
And, contrary to popular belief, the maid of honor and bridesmaids are not required to host a shower as part of their responsibilities, though many choose to do so. It would not be appropriate to ask your bridesmaids to share in the expenses, but give them a chance, they may surprise you and offer to host or contribute. While it would be nice if they shared the expenses of a bridal shower, you should not, and cannot dictate that. 
Think about it this way — you would basically be asking them to throw a party in your honor. Wouldn't you think it rude if someone asked you to throw a party for them? It's something you might offer, but not something they should assume you would want or be able to do.
In another Huffington Post article, "Why Won't my Bridesmaids Help Me?", I cover in detail the responsibilities of a bridesmaid. I've heard from many bridesmaids that they are stressed about the money they spend when asked to be an attendant. Some girls are participating in multiple weddings a year, and the costs can add up.
I know this may not have been the answer you were hoping for, but I hope it was helpful.