Making Sure Your Bridesmaids Are Still Your Friends After the Big Day
Dear Bride,
Congratulations! We know you've always dreamed of your wedding day, and part of that dream is having your best friends stand by your side as you marry the love of your life! I'm here to make sure that those best friends remain your best friends long after the wedding day is over!
Where do these tips come from? Some come from traditional wedding etiquette, but most come from real life: I've been a bridesmaid TEN times (and counting), and my own wedding was eight years ago. So know that I get what it's like to be in either spot, and I've pretty much seen and heard it all.
So without further ado, here are the tips. Your friends adore you—let's make sure they always do!
1. Choose wisely:
The first step in making sure your bridesmaids are still your friends after the wedding is making sure they're your true friends before the wedding. I know this is a tough choice, and often full of pressure.
Asking ladies you're no longer close to, simply out of obligation, can lead to misunderstandings and unnecessary drama in the months leading up to your wedding. So go with the girls who support you, who will make you laugh when the nerves set in, and who will share in the fun of the big day!
2. Manage your expectations:
There is a lot of confusion regarding the duties of a bridesmaid, so let me clear things up: the only requirements are purchasing their dress and attending the rehearsal and wedding. You can read a few more details on bridesmaid duties here, but I'm going to address the two biggest misconceptions: your bridesmaids are not obligated to plan a bridal shower and bachelorette trip. While it's never wrong for a bridesmaid to plan those events, it is wrong for a bride to require those things.
Your bridesmaids are your closest friends, so they will most likely offer to plan events and pitch in with the details out of love. Allow these gestures to flow from the heart. Don't send your bridesmaids elaborate "to-do" lists and overwhelming calendar requests—leave room for thoughtfulness and generosity. And even though Pinterest and Instagram might make it seem like you have to have a picture-perfect bridal shower and elaborate bachelorette weekend, you simply do not. Never ask someone to plan these events in your honor; wait for it to happen, and if it doesn't, move on! You might even get better wedding gifts with no pre-wedding gift-giving events!
3. Respect their budgets:
Be mindful of your girls and their budgets. If most are still in college or beginning their careers, try to choose an affordable dress (read: under $300) that they might possibly get to wear again. If you're asking them to splurge on the dress, consider giving them freedom to choose their own shoes (you can guide them in terms of color).
So who pays for all of the "extras?" It depends. Do you want them to wear matching floral robes the morning of the wedding? Then that should be a gift from you to them. Considering professional hair and makeup? You can't require your girls to foot the bill: it MUST be your treat or optional.
Did your maid of honor plan a bachelorette weekend in a far-away city? Fabulous, but attendance is optional. No bridesmaid should feel pressured in any way to assume those expenses. When it comes to the "extras," be crystal clear in reassuring your girls that they are optional expenses (practice saying it in the mirror if you have to): "I totally understand! Please don't worry about it–you are my friend and I am so glad you'll be standing with me on my wedding day!"
Also, if you're having multiple showers, no need to invite your bridesmaids to all of them—your girls may feel obligated to give a gift each time. Two exceptions: your sisters/future sisters-in-law may be invited to more than one shower, and all bridesmaids may be invited to a traditional bridal shower and a lingerie shower. More on who to invite to your bridal shower here.
4. Release control:
So your bridesmaids are throwing you a shower and bachelorette party? Yay! The only items you need to approve for these events are the date and the guest list. That's it. Really.
I know what you're thinking: what about my Pinterest boards? Those ideas are meant for the hostess, not the bride. Log off and focus on being the gracious guest of honor; I've got a few ideas on how you can enjoy your own bridal shower here!
Are you finding incredible ideas for bridal showers and bachelorette parties? Cute party favors and ways to set up a mimosa bar? Adorable matching tank tops? Save those ideas for when your BFF is the bride. Don't overwhelm the girls hosting your bridal shower and planning your bachelorette unless they ask for your input—it will only lead to them feeling pressured and you feeling disappointed.
Allow your bridal shower and bachelorette party to be gifts from your friends—meaning they are sweet surprises, not custom orders.
5. Give a meaningful gift:
Your bridesmaids should receive something that they can cherish beyond your big day, without the word "bridesmaid," "bride's crew," or your wedding date emblazoned on it.
A popular choice is often jewelry; earrings or a bracelet that your girls wear on the wedding day, and can continue to enjoy afterward. But not all meaningful gifts have to be expensive—I've received beautiful picture frames, gorgeous stationery, and monogrammed coffee cups as bridesmaid gifts. All were small but incredibly thoughtful, and whenever I see them, I recall my sweet friends and what fun it was to share in their special days. Be sure to include a heartfelt handwritten note with each gift.
6. It's only ONE day:
I know that your wedding day consumes your every waking thought. But for your bridesmaids, "normal life" is moving right along. So in those months leading up to your wedding, try to move the conversation beyond your guest list, photographer search, and the latest family drama. Stay up-to-date and involved in what's going on in your friends' lives: their jobs, families, and relationships. If all you talk about is your wedding, your friendship will only survive that event.
The bottom line: while your wedding is definitely all about you, remember that life will go on after that day ends. Considering your bridesmaids' schedules, budgets, and feelings will ensure that you stay close after you're a Mrs., and that you even get asked to stand by their sides as they say "I do," one day.
Enjoy this season of life with your best friends!
Christina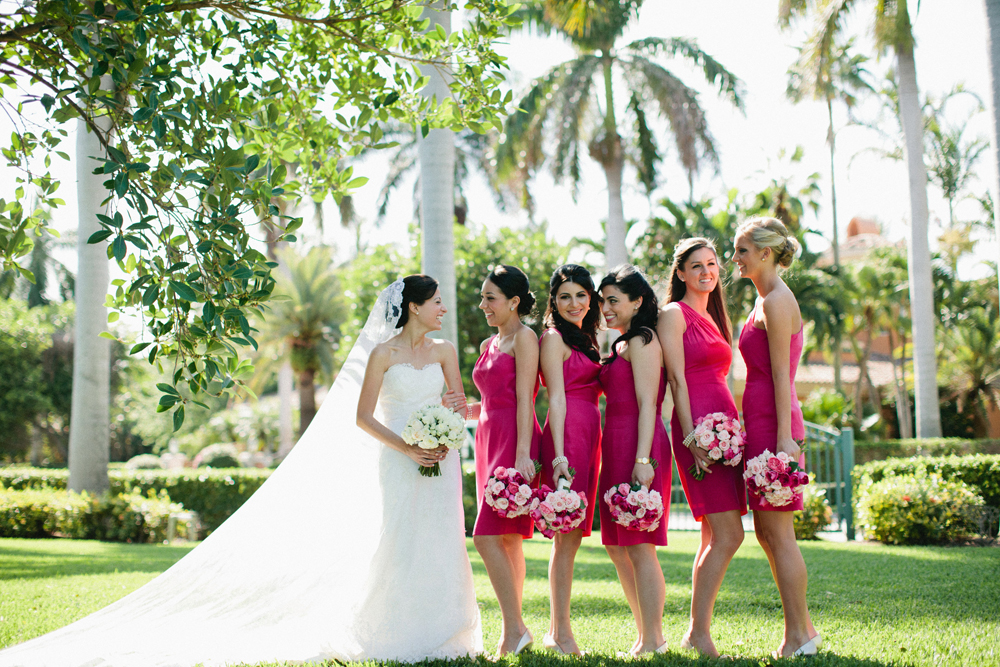 My bridesmaids and I. We're all still friends. Photo Courtesy of Kallima Photography