By the time my wedding rolled around in the summer of 2015, I'd  been in enough weddings to know I didn't want a run of the mill bridesmaid dress. There was nothing inherently wrong with the brightly colored chiffon party dresses I'd worn as a bridesmaid, but I didn't necessarily love the experience either. Putting a down payment on a dress seemed a bit much for my taste and I wasn't a fan of the fittings and alterations either.
So, I turned to one of my favorite pastimes–online shopping–and vowed to find a dress that was affordable, comfortable and well, normal. My bridesmaids wore blush pink maxi dresses from the unlikeliest of places: the Kohls' website clearance section. Paired with gold wedges and fabulous dangling earrings, they looked like a million bucks—without having to spend near that amount.
Feeling disenchanted by bridal shop offerings? Looking for dresses that haven't been worn in every other wedding this year? Not wanting your girls to have to spend their next 3 paychecks on a dress we ALL KNOW they will only wear this one time? Look no further, my bridal friends. Your guide to affordable (and fabulous) bridesmaid dresses has finally arrived:
Affordable Bridesmaid Dresses from Mod Cloth
If you haven't seen the adorable vintage style dresses ModCloth's online shop has to offer, you are missing out!  With categories like "Quirky Dresses" and "Dresses with Pockets", there's something for every bride and bridesmaid!  Here are a few of our favorite classically fun pieces: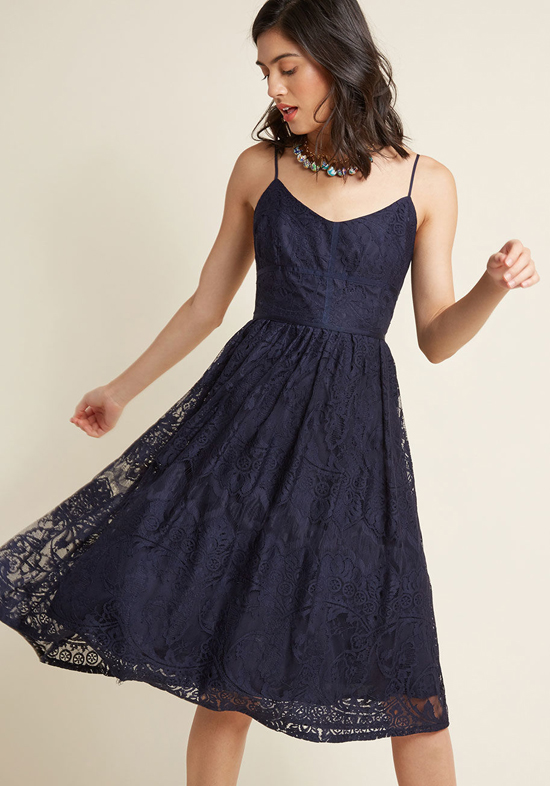 I will forever be drawn to lace dresses. I think they're timeless, elegant and just flirty enough to be fabulous. Combine lace with this gorgeous deep navy and your bridesmaids will be knockouts. Price point: $89.99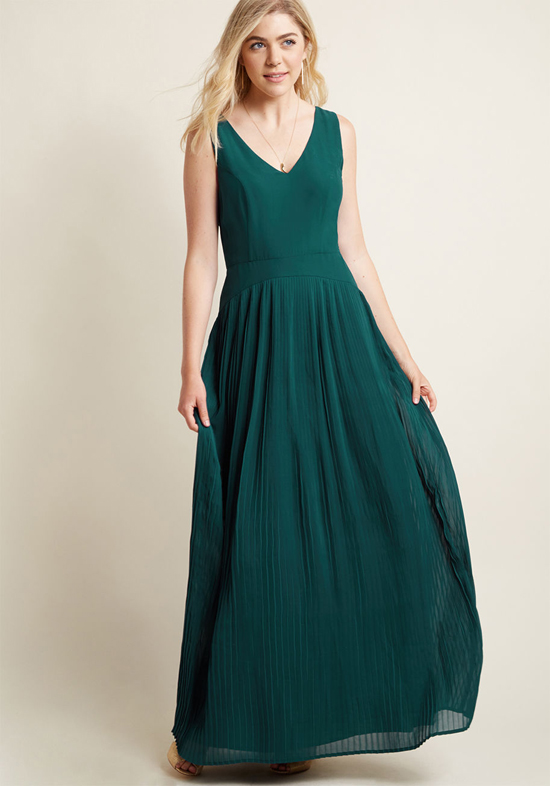 A long dress doesn't have to be fancy. Take this maxi dress for example. With its deep v-neck, drop waist and simple chiffon, it can be dressed up or dressed down.  Add a blingy statement necklace and gold cuff for an evening occasion or lighten it up with stud earrings and sandals for a daytime look. Price point: $99.99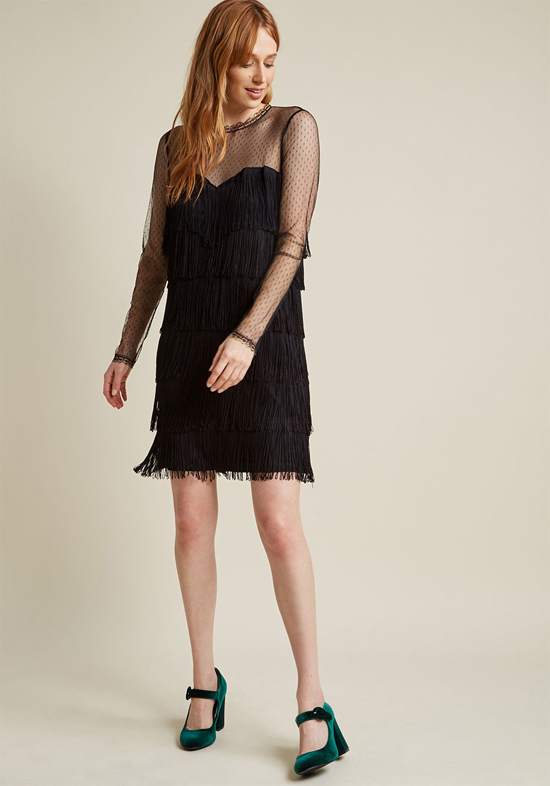 Whoever said black had to be boring never had the chance to wear this dress! Modcloth's take on the Little Black Dress would be the perfect accoutrement for a 1920s or Gatsby inspired wedding day. Plus, imagine how fun your girls will look on the dance floor twirling around in this! Price Point: $89.99
Affordable Designer Bridesmaid Dress Rentals from Rent the Runway
Where have rented clothes been my whole life? Have your bridesmaids order a dress from Rent the Runway then return it when they're done with no guilt involved! I searched RTR for dresses available in quantities of 8 so the below styles would have enough dresses for your bridal party. Still not sure about rentable clothes? Check out our recent blog post packed with all you need to know about Rent the Runway!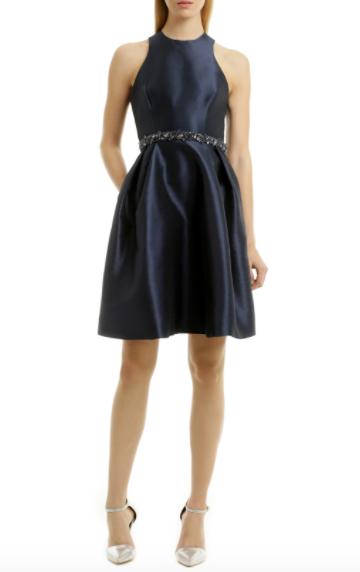 This Monique Lluhier navy number is the perfect party dress. The round skirt and buttery satin will make your girls shine on the dance floor. And there are pockets which sounds to me like a definite yes. Price point: $40-50 rental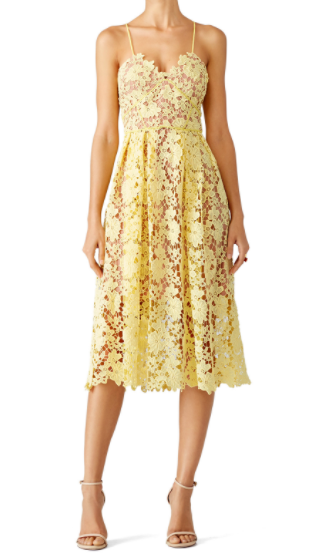 Imagine how stunning your springtime maids would look floating down the aisle in this floral lace dress. The cutout silhouette will keep your girls trendy and the pastel yellow will mix perfectly with your springy florals. Price point: $30-55 rental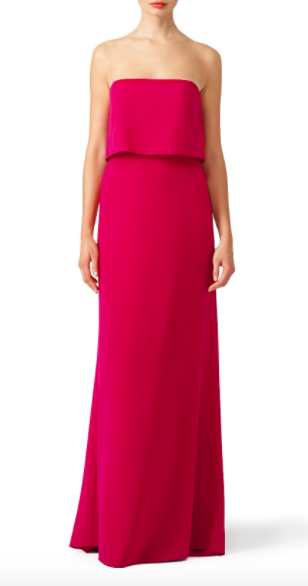 A bold pop of color is the perfect way to make sure your bridal party stands out. They'll feel glamorous, look chic and be so happy they spent under $100 to look this good.  Price point: $60-70 rental
Affordable Handmade Bridesmaid Dresses from Etsy
One of the cutest bridesmaid dresses I saw in 2016 turned out to be from Etsy. It's a place I never thought to look and it turns out, there is so much to choose from. Check out these adorable dresses you could pick for your besties.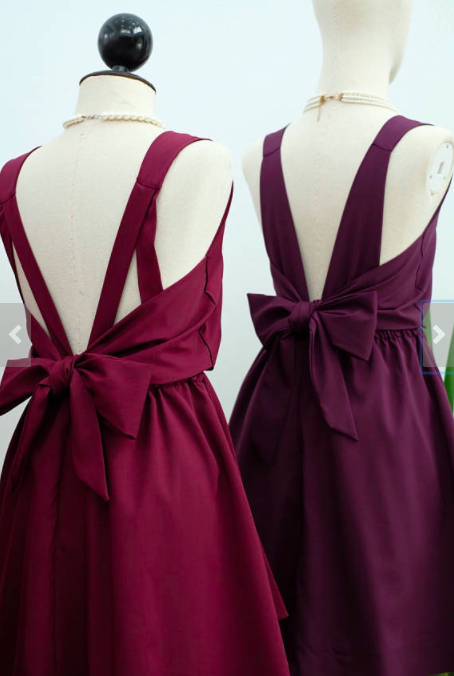 I can't get enough of the bows on the back of these jewel toned dresses. They come in a few shades of purple and they would be perfect for a multi-colored bridal party look. Price point: $43 + shipping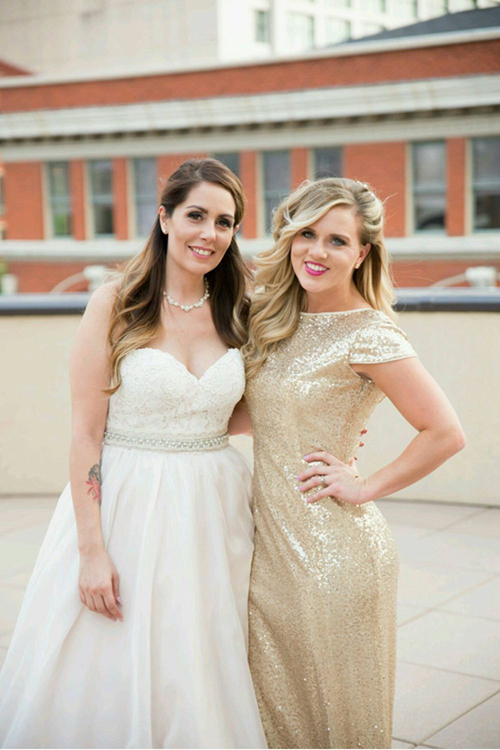 Let your bridesmaids shimmer down the aisle in these gold sequin gowns. Add pops of color like a bold lipstick and bright bouquets to make them really shine. Price point: $98 + shipping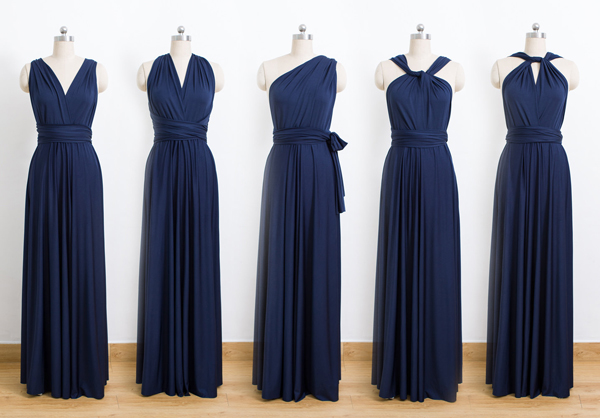 A great way to achieve the mismatched bridal party look without hunting down a million different dresses is to choose an infinity dress. Etsy is rife with color options and instructions about how to turn the same dress into a variety of styles. Price point: $39.99+ shipping
Affordable Bridesmaid Dresses from Amazon
You use Amazon for everything else in life, so why would you leave them out of your wedding? If you're a Prime member, you already know you'll find some of these Prime eligible styles at your door within two days of ordering which is perfect for trying out a few dresses at a time. A few Amazon tips: read the reviews religiously and keep return policies in mind.
I think there are few things better than a neutral wedding so I'm all for this fairy-like chiffon gown. It will go with all your other wedding color choices and the dress itself comes in a variety of other colors so you can mix and match a few of them. Price point: $59.99  + shipping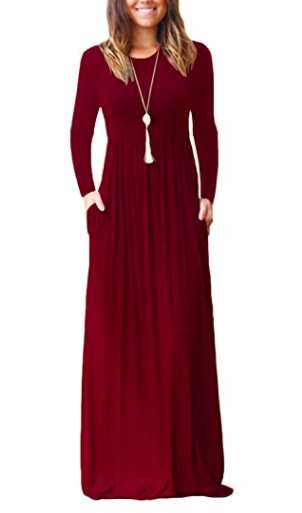 If yours will be a winter wedding, might I suggest this classic long sleeve maxi? It's comfortable, stylish and comes in multiple colors. Gift your bridesmaids with long necklace or large festive scarf to complete the look and you'll have the perfect wintry 'maids. Price point: $21.99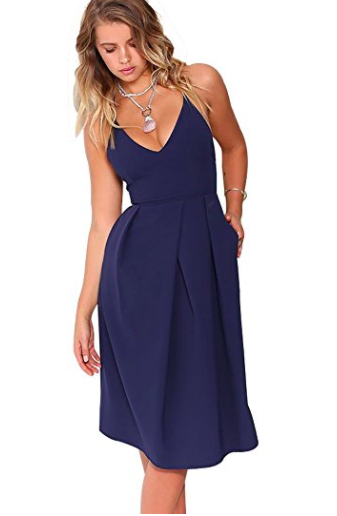 The length of this classic spaghetti strap dress makes it the ideal bridesmaid dress. It's not too long or too short and it's a great backdrop for any of the big, bold bouquets on your wedding Pinterest board. And when will pockets cease to be a selling point? I submit: never. Price point: $23.87
In addition to selecting affordable bridesmaid dresses here are a few other ways to make your bridesmaids' jobs even easier:
1- Be a great (kind, thoughtful, appreciative) bride! Check out recent blogs: a Bride's Guide to Bridesmaids and Say Good Bye to Bridezilla for helpful tips on making sure you and your 'maids remain friends after your wedding day.
2- Tell your bridesmaids about RegistryFinder. Instead of listing every single one of your registries on your bridal shower invitations, have them point your guests to RegistryFinder.com, where guests can locate all your gift registries in one place.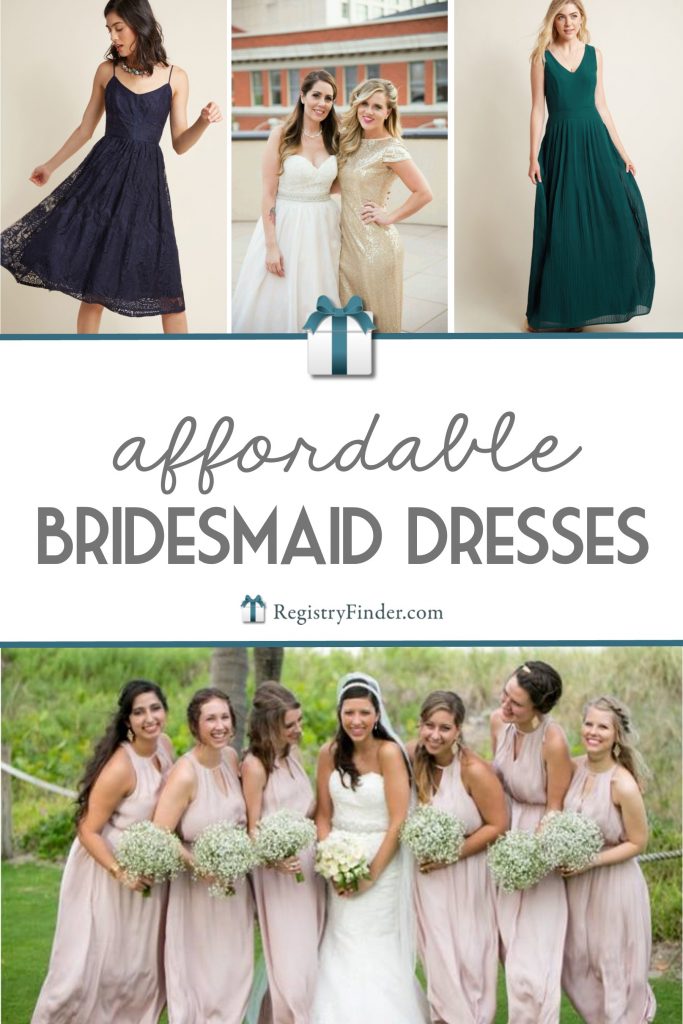 This post contains affiliate links. We may be compensated if you make a purchase by clicking on one of the links. Thanks for your support!
Written by Sami Moss, who wishes she'd kept one of the bridesmaid dresses from her wedding for herself.