Whether you're planning your baby registry or shopping for baby gifts, it's easy to get to a point where every option feels like more of the same thing. And while we can't escape the everyday essentials and nursery must-haves — and why would we want to? — there's something special about a gift that's unique to the baby.
From monogrammed gifts to personalized goodies, we've scoured the web for the coolest customizable and sentimental baby gifts out there. Below, you'll find our top picks, but beware: the possibilities are truly endless. Have fun finding the perfect gift for your little recipient!
1. Personalized Story Book
What kid wouldn't love a story that features them right in it? Amazon has a huge collection of children's books that can be customized to include any name not just in the book's title, but within the pages themselves. As they grow and learn to read it on their own, they'll find new ways to love being part of the story.
2. Monogrammed Baby Blanket
Looking for a blanket that will stand out from the rest of your everyday baby throws? Buy Buy Baby's assortment of monogrammable blankets has just the thing! No matter your nursery theme or color scheme, you're guaranteed to find the perfect design to personalize with your baby's name or initials.
3. Terry Cloth Bath Time Set
Make bath time a whole lot cuter with an embroidered towel set! This terry cloth bath time set comes with a hooded towel, washcloth, bear mitt, and waterproof travel case. With 15 thread colors to choose from, you'll have no trouble putting together the perfect personalized baby gift.
4. Milestone Blanket
We've all seen those adorable baby milestone photos on social media and in shared photo albums — which gives you all the reason to snag a completely custom version for your own pictures! Bed Bath & Beyond has over 30 customizable blankets that range in style from simple neutrals to wild patterns, so you're guaranteed to find the perfect backdrop.
5. Growth Chart
I don't know about you, but as a kid, I loved tracking my height on the laundry room walls. Wayfair takes it a few steps further and lets you personalize any one of their wall-mounted growth charts with any name. Not only is it a completely unique baby gift, it'll also travel through moves (you can't take a laundry room wall with you after all) and hold up as a sweet keepsake in later years.
6. Personalized Memory Book
Baby memory books make it so easy to track baby's progress and milestones in a single spot, and it's always so fun to look back on the early years once they're all grown up. This book can be personalized with up to three lines of text, making it extra-special — after all, it's going to last a lifetime.
7. Nursery Name Sign
Every parent feels attached to their baby's name in some way, whether it's a family name or holds a special meaning. A custom nursery name sign is a beautiful way to honor that meaning and also doubles as an artistic piece of wall decor. Made from solid maple, you can choose from a variety of colors and customize this sign to match any nursery.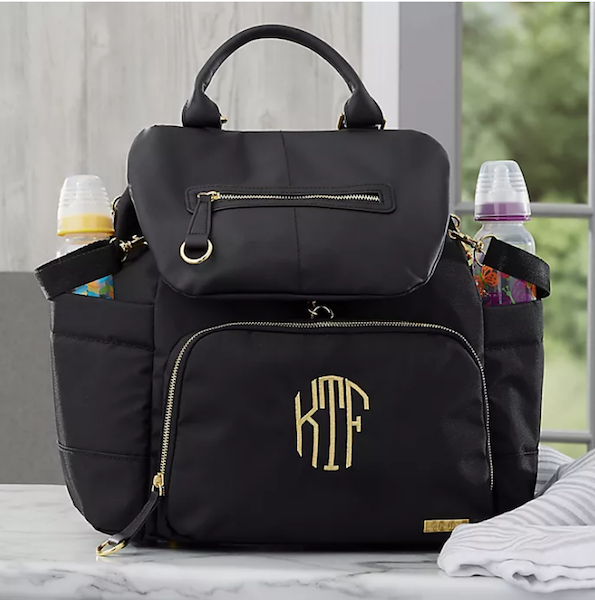 8. Diaper Bag
Okay, this one might be more for mom, but it still makes the cut on our list of worthy personalized baby gifts. This stylish monogrammed backpack is a perfect hands-free option with plenty of compartments to keep everything in place and includes a changing pad so you're prepared for just about anything.
9. Keepsake Box
Just like a baby memory book keeps track of important milestones, a keepsake box serves the same purpose for things that don't fit so neatly between pages. Store hospital bracelets, first pairs of shoes, and other precious mementos in a box personalized with baby's name.
10. Sports Jersey Onesie
Seeing babies in sports gear never gets old, but this gift is a hands-down winner. Add any name to the back of this sports-themed onesie so you can ditch your favorite team or player and create a brand-new one! Who knows? It could inspire even the most sports-averse parent to watch a game or two.
11. Engraved Piggy Bank
It's never too early to start saving, and an engraved piggy bank is a great reminder of why you're doing it. This ceramic elephant is an adorable addition to any nursery and can be customized with any name, initials, or special message — a great baby gift if you're looking for something unique!
12. Personalized Wooden Rattle
You don't have to worry when you're gifting this wooden heirloom rattle! Made by real parents of young children, they're crafted from solid beech and maple hardwood and sealed with organic coconut and beeswax for a smooth, non-toxic finish. Engrave it with any name and you've got a perfect baby gift.
13. Embroidered Plush Bunny Blanket
Not just a blanket, not just a stuffed animal, this bunny blanket is an adorable comfort that makes a great addition to your baby registry. Make it a completely unique gift by customizing it with your choice of message, font, and thread color.
14. Sleeper Gown Set
The only thing better than a cozy baby is a cozy baby who knows how loved they are. This three-piece sleeper gown set is the perfect gift that makes a statement! Add up to two lines of custom text so everyone knows whose heart has been stolen by their adorable arrival.
Let's be honest:
You can't go wrong if you're gifting a personalized baby gift. From monograms to custom messages, there really is no limit when it comes to finding something unique, and the gesture is always so appreciated. For even more baby gifting ideas, check out the Give It blog, and as always, be sure to search RegistryFinder.com to find all your registries in one convenient place. Happy gifting!