Whether you're hosting a shower for a special friend, or just attending one, summertime parties are so much fun. They give everyone a chance to wear their cute summer dresses, enjoy the gorgeous weather and celebrate a special friend who is either expecting a precious baby or planning to marry the love of their life. From finger sandwiches to refreshing drinks, everyone looks forward to the food served on those beautiful, sunshiny days, and there's no better time to prepare a menu full of fresh items from the garden.
We have put together a light menu of some refreshing recipes for summer bridal & baby showers that will help any host impress the guest of honor and friends.
Refreshing Watermelon Salad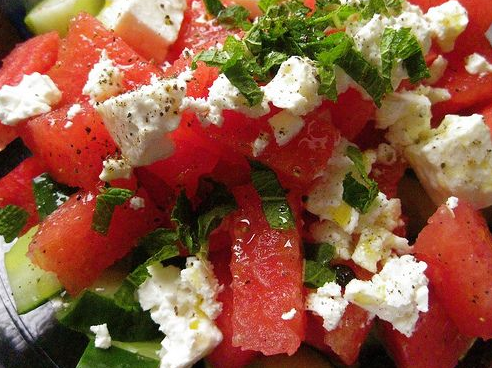 With a fresh twist on the traditional watermelon balls, guests will enjoy the blend of fresh mint, feta cheese and watermelon.
Ingredients:
3 cups chopped watermelon (3/4-inch chunks)
1 cup chopped cucumbers (1/4-inch chunks)
½ cup crumbled feta cheese
2 Tbsp. chopped fresh mint
2 Tbsp. Kraft Balsamic Vinaigrette Dressing
Preparation:
Combine ingredients and toss together.
Recipe originally featured on Kraftrecipes.com.
Southern Cucumber Sandwiches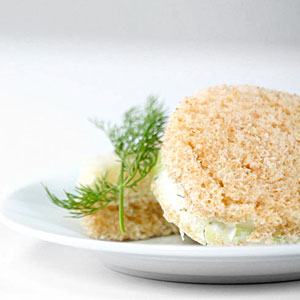 These bite-size finger sandwiches are delicious for a baby shower or dainty enough for a bridal luncheon.
Ingredients:
1 (8-ounce) package cream cheese, softened
1/3 cup mayonnaise
1 medium cucumber, peeled, seeded, and finely chopped
1/4 teaspoon garlic salt
1/2 teaspoon chopped fresh dillweed
20 sandwich bread slices
20 thin wheat bread slices
Preparation:
Process cream cheese and mayonnaise in a blender or food processor until smooth, stopping once to scrape down sides.
Combine cream cheese mixture, cucumber, garlic salt, and dillweed.
Spread cucumber mixture evenly onto white bread slices, and top with wheat bread. Using a 2- to 3-inch round cutter, cut sandwiches, discarding edges. Or cut crusts from bread, discarding crusts, and cut sandwiches into quarters. Store cucumber sandwiches in an airtight container for up to 1 hour before serving.
Recipe originally featured in Southern Living Magazine.
Five Star Chicken Salad Croissant Sandwiches

There are a variety of ways to make this delicious "tried and true" sandwich, which is a staple at every baby and bridal shower. The combination of grapes and sour cream is the perfect fit when paired with a buttery croissant.
Ingredients:
6 split (3 whole) chicken breasts, bone-in, skin-on
Good Olive oil
Kosher salt and freshly ground black pepper
1½ tablespoons chopped fresh tarragon leaves
1 cup chopped celery, small-dice
1 ½ cups red or green grape halves
½ cup good mayonnaise
½ cup sour cream
1 cup walnut or pecan halves (lightly toasted and roughly chopped)
½ cup chopped green apple (optional)
8 to 12 Croissant rolls
Preparation:
Preheat the oven to 350°F. Place the chicken breasts, skin side up, on a sheet pan and rub them with olive oil. Sprinkle generously with salt and pepper. Roast for 35 to 40 minutes, until the chicken is cooked through. Set aside until cool.
When chicken is cool, remove the meat from the bones and discard the skin and bones. Cut the chicken into 1/2–inch dice.
For the dressing, mix together the mayonnaise, sour cream, 2 teaspoons salt and ½ teaspoon black pepper. Fold in the tarragon leaves.
Add the chicken, celery, grapes and nuts to a large bowl. Pour the dressing over the chicken and toss well. Taste for seasoning.
Cover and refrigerate 6 hours or overnight.
Slice each croissant roll in half. Spread 1/2 cup of chicken salad over bottom half. Top with the other half. (To make smaller sandwiches, cut in half or serve on mini-croissants.)
Serve and enjoy!
Serves 8 to 12.
Note: Roasting the chicken breasts with the skin on creates a more flavorful and moist cooked chicken breast for any chicken salad.
Recipe adapted by Cheryl Seidel from Chicken Salad Contessa, by Ina Garten.
Raspberry-Swirl Cupcakes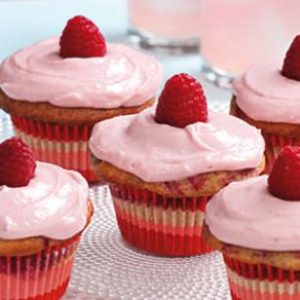 It's hard to resist a pink cupcake, especially when it's topped with cream cheese icing. These raspberry cupcakes are the perfect dessert to finish off a baby or bridal shower.
Ingredients:
Cupcakes
2 cups raspberries, fresh or frozen (thawed and drained), plus 12 fresh berries for garnish (about 12 ounces total)
1 tablespoon plus 3/4 cup granulated sugar, divided
3/4 cup whole-wheat pastry flour (see Note)
3/4 cup cake flour
1 1/2 teaspoons baking powder
1/2 teaspoon baking soda
1/2 teaspoon salt
1/4 cup canola oil
2 large eggs
1 teaspoon vanilla extract
1 teaspoon freshly grated lemon zest
1/2 cup low-fat or nonfat buttermilk (see Tip)
Frosting
8 ounces reduced-fat cream cheese (Neufchâtel), at room temperature
1 cup packed confectioners' sugar
1/2 teaspoon freshly grated lemon zest
Preparation:
To prepare cupcakes: Preheat oven to 350°F. Line 12 (1/2-cup) muffin cups with paper liners; coat the liners with cooking spray.
Puree 2 cups raspberries and 1 tablespoon granulated sugar in a blender or food processor until smooth. Strain through a fine-mesh sieve into a small bowl, pressing with a rubber spatula to extract all the puree; discard seeds. Reserve 4 teaspoons of the puree for the frosting.
Whisk whole-wheat flour, cake flour, baking powder, baking soda and salt in a medium bowl.
Beat 3/4 cup granulated sugar and oil in a large mixing bowl with an electric mixer on medium speed until combined. Beat in eggs, vanilla and 1 teaspoon lemon zest until well combined. With the mixer on low, alternately mix in the dry ingredients and buttermilk, starting and ending with dry ingredients and scraping the sides of the bowl as needed, until just combined.
Fill the prepared cups half full of batter. Place a scant tablespoon of raspberry puree on each cup (you may have some left over). Divide the remaining batter evenly among the cups. Use a wooden skewer or toothpick to swirl and fold the puree into the batter.
Bake the cupcakes until a toothpick inserted into the center comes out clean, 22 to 24 minutes. Transfer to a wire rack and let cool completely.
To prepare frosting: Meanwhile, beat cream cheese, confectioners' sugar, 1/2 teaspoon lemon zest and the reserved 4 teaspoons raspberry puree with an electric mixer until smooth. Refrigerate the frosting until very cold, at least 2 hours. Spread the frosting on the cooled cupcakes and decorate with a raspberry on top, if desired.
Tip: No buttermilk? You can make "sour milk" as a substitute: mix 1½ teaspoons lemon juice or vinegar to ½ cup nonfat milk.
Recipe originally featured in EatingWell
Elderflower Sparklers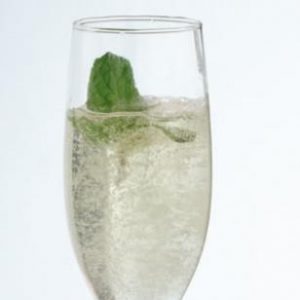 Because we believe a shower is not complete unless champagne is served, we have picked out this refreshing drink made with Elderflower syrup which has floral and honey flavor.
Ingredients:
8 tablespoons elderflower concentrate, or syrup (see Shopping Tip)
2 cups brut or extra-dry Champagne
2 cups seltzer
Edible flowers, or mint sprigs for garnish
Preparation:
Place 1 tablespoon elderflower concentrate (or syrup) in each of 8 Champagne glasses; add 1/4 cup Champagne to each glass, then top off with 1/4 cup seltzer.
Garnish with flowers (or mint), if desired.
Serve immediately.
Tips & Notes
Shopping Tip: Elderflower concentrate or syrup, made from the blossom of the elder tree, has a delicate, lightly floral aroma and mild honey flavor. Popular as a drink ingredient throughout northern Europe, it's thought to help fight fevers and colds. Look for it in specialty shops that feature northern European foods (such as Ikea) or at lepicerie.com. Apricot nectar can be used as a substitute.
Recipe originally featured in EatingWell.