Hosting a baby shower can sometimes feel extremely overwhelming! You want everything to feel personal and chic and often that can lead to a skyrocketing budget – but it doesn't have to! DIY to the rescue!! Whether you're using a more traditional theme, playing off colors, or going with something a little more unique, DIY-ing gives you freedom to add personal touches with the added benefit of saving a little money that can be put towards other details! Use these fabulous DIYs to take your shower to the next level – and have no fear, these are extra easy – no PHD in crafting required!
Centerpieces
Simple Florals
Greenery and baby's breath make the perfect quaint, gender neutral centerpieces. You can find these florals at any grocery store and they are hearty enough to be put together several days before the event! Use different size and shape jars to add height and interest, and add a ribbon around the mouth of the jar for a pop of color!
Dip Dyed Vases
How gorgeous are these?! Dollar store (or thrifted) vases and acrylic paint make for the easiest DIY with so much bang for your buck! If you're hosting a baby boy shower, swap the pink paint for a navy, baby blue or sage green to fit your theme. Add a simple country rose, or peony if they're in season, and you have a super striking centerpiece!
DIY Brass Figurines
Animal themes are so adorable, but they can get a little cheesy sometimes. These DIY brass figurines can make an animal theme more polished looking! If you don't already have some figurines that you're willing to part with, Amazon sells sets. Grab a bottle of metallic brass spray paint, a well-ventilated area, and BAM! Super cute centerpiece. To style: stack a few books or use small cake plates to elevate the figurines on the table and pair with a simple plant or greenery arrangement!
Decorations
Faux Vine Backdrop
I love a backdrop to decorate a party. It creates focus and a dramatic flare, and this one does that without breaking the bank – or breaking a sweat! Check out this tutorial, then, snag some faux vines from Amazon and use invisible hanging wire to attach them to a dowel. If you're going for a more rustic look you can find faux tree branches at a local craft store. Pro tip – use a 3M Command Hook for damage free wall hanging!
Blooming Monogram
This is one of the sweetest DIYs I've ever seen, and it's quick, easy, and 100% customizable. Use the floral monogram to display baby's first name, initials, or if the name isn't being shared yet, the word B-A-B-Y would look so charming. Prop the letters up on a dessert or gift table, or add a hook to the back and hang on a wall. Faux flowers can get pricey, so look out for a sale or scour your local dollar stores for good finds! As an added bonus, if you coordinate with mom-to-be, you can use colors that coordinate with the nursery and this DIY could live on as the cutest wall art!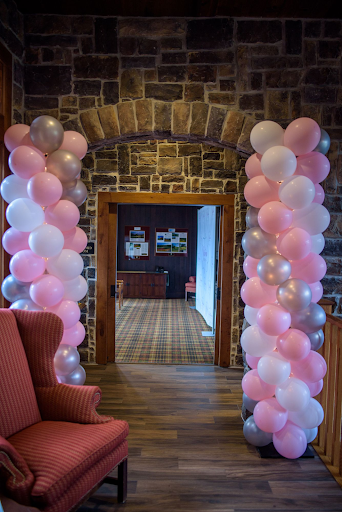 Balloon columns
Balloon arches and decorations can get complicated and frustrating, but even if you don't have any experience with balloon decor, columns are super easy and have a really fun impact! You don't need a structure to make columns, but I suggest buying some like these to make your life easier. This tutorial has step by step directions, pictures and a YouTube tutorial linked! Coordinate your balloon colors to your theme, and then feel free to get even more creative and add florals or greenery, small filler balloons or a fun foil balloon to top off the column!
Food & Drinks
Mom-osa Bar
This DIY bubbly bar is a favorite of mine! You don't have to mix up a batch cocktail or try to decide how much (or little) booze to include to match everyone's preferences! And the setup is so cute that it doubles as decor! Pour some juice into carafes, prepare some fruit garnish, put some champagne or prosecco on ice, and print out some cute signs, like these and you're good to go!
Salad Bar
No matter what time you're hosting your shower, a salad always fits on the menu. A salad bar is the perfect DIY because all the toppings can be chopped and prepped ahead of time and can be put out right as guests are arriving! My favorite way to stay organized is to put a little sticky note where each bowl or serving dish will be so nothing gets left in the fridge!
Semi-DIY cake
Decorated cake prices are no joke these days, and unless you're a seasoned baker, a cake is not a project to take on. So this is my semi-DIY hack for getting a beautiful cake for a fraction of the price! Decide on your favorite grocery store cake, and ask the decorator to do a simple, white frosted, round cake. You could ask them to texture the sides, and some will even do the "naked cake" look if that's more your style. Use leftover greenery and florals from your decorations, and simply place a few on the cake – you don't need a lot! For a final touch, buy a topper from Etsy, like this, or a personalized one, like this and I promise, your cake will wow!
Favors
Potted Herb
This is a great favor because it can match a ton of different themes! You could really give any small plant, but I love the idea of a herb because it's useful and easy to take care of! Basil and rosemary are two of my favs, but pick whatever you love! You can often pick up bulk herbs at a local nursery. You can paint mini terracotta pots to match the theme, or leave them plain! Tie twine around the pot and add a simple "thank you" tag for a low-effort, high-impact favor!
Oreo Pops
You have to love a non-recipe recipe! And that's exactly what this sweet treat is! This super easy to follow step-by-step will have you looking like a pro with minimal effort! Cover with cellophane treat bags and pop on a ribbon and you're set. To make a super easy pop stand, buy a block of floral foam and wrap it in wrapping or craft paper and just push the pop sticks through!
Celebratory Champagne
This isn't the most budget friendly DIY, but it's a fun one! Gift your guests mini bottles of champagne to pop and toast for when baby arrives! Create or buy "Pop it when she pops" tags to tie on to each bottle for a super cute and festive favor!
Special Touches
A little creative time spent on DIYs for the shower your hosting will truly go a long way in creating special touches! Pick a few that feel easy enough to take on, and maybe recruit a few friends or family members to help out!
Don't forget to tell your guests to head to RegistryFinder.com to find all of mom's registries in one place!