Gift registries used to be exclusively for brides-to-be and parents-to-be, but high school seniors are now getting in on the action and creating registries at popular "off-to-college" retailers like The Container Store®. These graduation and dorm registries help family and friends give them gifts they can really use.
For many first year college students, this may be the first time they share a room.  While dorm rooms have certainly become fancier over the years, they remain quite small.  How will you fit everything you need into a glorified walk-in-closet-sized room, especially if you're sharing it with a roommate?  To help ease your anxiety, we've selected 20 of The Container Store's best space-saving and organization products – perfect for college students and perfect for adding to your graduation or college gift registry.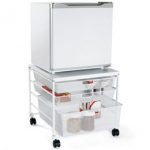 This cart makes a perfect accessory for a mini fridge. With two shallow drawers and one deep drawer, this cart can easily serve as a dorm pantry. Exclusive to The Container Store, comes in platinum or white.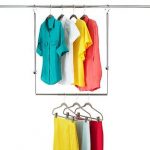 Dublet Adjustable Closet Rod Expander by Umbra®
This adjustable closet rod expander instantly creates more room for hanging clothes. It installs in seconds without tools or additional hardware and removes quickly when it's time to move.
The Flexible Shower Tote is a fashionable and functional accessory for trips to the shower. There's an integrated divider inside to help organize toiletries, and drain holes to allow water to escape.
Keep track of class assignments and important events with this Magnetic Monthly Planner.  It features a dry erase surface for monthly calendar customization and a magnetic surface perfect for posting notes, messages, reminders and photos.
These bed risers are a dorm room essential!  They instantly create additional storage space under the bed so you can stow more drawers, boxes, bins or crates. Each Bed Riser has a recessed "well" on top to hold the foot or caster of the bed frame securely.
This 3-Drawer Desktop Organizer can be used for a multitude of things, especially, studying supplies. It features a top storage compartment with two open spaces as well as an extra storage space with hinged top.
This portable Personal Safe with Lock is ideal for dorm living.  It's sized for items such as a wallet, jewelry, mobile phone, passport or cash, and can be tethered to any stationary object with the security cable or mounted to a permanent location.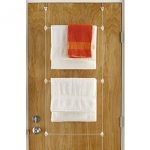 Bungee Overdoor Towel Rack by Umbra®
You'll have more room for hanging towels with this innovative Bungee Overdoor Towel Rack by Umbra®.  The bungee cords are secured on top and below the door to keep it in place.
The Style Station, exclusive to The Container Store, can be stored in a cabinet, placed on a counter, or hung from a towel bar.  It has three compartments to hold a hair dryer, curling iron, flat iron, hairbrushes or other styling tools, and two additional compartments and three notches on the back to keep cords neat.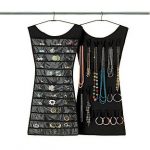 Little Black Dress Hanging Jewelry Organizer by Umbra®
Everyone should have an LBD in their closet – even one for their jewelry! The Little Black Dress by Umbra® is a stylish way to store earrings, necklaces and bracelets. This two-sided organizer hangs on a rod or hook to maximize space and swivels so you can see your jewelry collection easily, with clear pockets on one side and hanging loops on the other.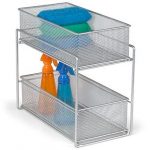 Silver 2-Drawer Mesh Organizer
The 2-Drawer Mesh Organizer is perfect for keeping toiletries in order. The tight-weave silver mesh provides visibility of the contents while preventing small items from falling through.  Each basket slides out completely so you can take it where you need it.
The Large Tint Stacking Drawers are available in seven colors.  Talk about stylish storage options!  Each drawer provides exceptional visibility while adding a dash of style to the dorm.  The drawers are large enough to accommodate T-shirts, jeans, sweaters or accessories.
Sophisticated and stylish, the multifunctional Rugby Stripe Bins are just right for corralling books, magazines, or towels.  The handles on each end make carrying them convenient and comfortable.

White 2-Tier Stackable Mesh Shoe Shelf
Create a customized solution for storing shoes with the 2-Tier Mesh Shoe Shelf. Oversized mesh shelves accommodate larger size shoes and high heels. Increase your shoe storage space by stacking two or more racks.
Eco-friendly organization gets a boost from the durable Rectangular Neo Bin.  Made completely from recycled content, it can store everything from crafts and writing supplies to magazines and workbooks.
Your laundry will be colorfully contained with the Large Round Circles Hamper!  The circular pattern allows for airflow, a must when storing damp or soiled items.
The Container Store's sleek Bungee Office Chair offers a great-looking design and incredible comfort.  The bungee cords provide super support while you're working at your desk.  It features a wheeled base and an adjustable lift.  Available in blue, black, green, chocolate and berry pink.
The Grid Totes is one of The Container Store's best solutions for organizing bath essentials. An imperative for the dorm-dweller, a Grid Tote ensures the trip down the hall to the showers is hassle-free. Small drain holes allow water to escape, keeping your toiletries dry. To conserve on storage space, the totes stack securely and two small totes will stack on top of a large. Comes in four additional colors.
The Zig-Zag Cork Board is sure to make waves anywhere you use it. The generous square size and zigzag design are ideal for posting everything from photos to invitations to flyers. Hang one individually or group a few together for a chic display.
30-Pair Overdoor Shoe Organizer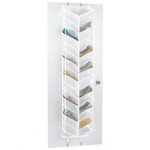 The 30-Pair Overdoor Shoe Organizer accommodates 30 pairs of women's shoes or 15 pairs of men's. It features elastic bands to adjust the height to fit most doors. The hooks adjust to use on residential or commercial doors. It features a tie strap to tether it to a doorknob for added stability.
The Italian-designed and manufactured Sapien Bookcase turns traditional book storage on end. Ten shelves hold stacks of books horizontally to occupy a minimum of floor space. When fully loaded, the bookcase virtually disappears behind the books for the ultimate expression of minimalism.
Your dorm room or apartment can be organized and stylish with a few (or several) of these items from The Container Store. Click here to start your registry, and take a minute to enter for a chance to win a $1,000 dorm room makeover! (ends July 31st)  Also, remember to tell your friends and family they can always find your most up-to-date registry information at RegistryFinder.com.