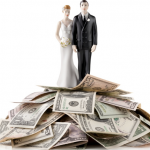 Weddings can be expensive. The average cost of a wedding in 2013 was around $28,000. If figuring out where to trim the budget is important to you, we want to give you information on which cost-cutting strategies can save you money and which can be budget busters. We're separating fact from fiction so you can make the most informed decisions.
MYTH: If I want a beautiful wedding dress, I'll need to spend thousands.
FACT: There are so many options with so many price points in bridal gowns these days that, regardless of your budget, I can guarantee you'll find the right dress for you. Designers like Alfred Angelo and Dessy both offer beautifully affordable designs. And retail stores like J Crew, Anthropology and BCBG have also started reasonably priced wedding lines.
MYTH: On a small budget, we can only afford a buffet.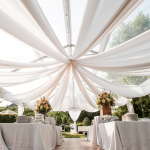 FACT: Forgoing a sit down dinner for a buffet or food stations is not going to save you money. A wedding buffet requires more tables, linens and more food choices. Plus, the tables will have to be decorated, which will mean more flowers or other decorative pieces.
If a dinner proves to be cost-prohibitive, consider a wedding brunch. You'll save on everything from liquor to entertainment since most people drink less during daytime events and a string quartet may be more appropriate than a full band or an elaborate DJ set-up.
MYTH: I've heard vendors immediately raise their prices as soon as they hear the word "wedding" so I'm having them quote a family gathering.
FACT: There's a reason why industry professionals charge a higher fee for a weddings versus family reunions or retirement parties. A wedding requires more preparation for a more elegant or sometimes extravagant result. How many lavishly decorated cakes have you seen at family reunions? And how many photographers need to set-up at several different locations for a corporate meeting? Not many. A wedding is an event that cannot be compared to any other. It requires a certain amount of attention, care, time and service that must be factored into the cost.
Be truthful with your vendors, especially the ones who will be present. What type of service do you think you'll receive from the photographer, DJ and venue owners once they realize they've been mislead for months? If you can't afford the services quoted, ask the vendors where you can reduce costs. Maybe there are some extras they can shave-off that you didn't want or can live without.
MYTH: A backyard reception will save us tons since we'll be saving on the venue cost.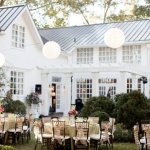 FACT: People who have big properties with lush backyards often think they can host a backyard wedding at a low cost. You may be saving on the venue, but there is a laundry list of other expenses you need to factor in, including tents, tables, linens and chairs, dishes and cutlery, and parking attendants. In the end, it can cost much more than renting a venue where some of these items are included.
MYTH: Crafting and DIY-ing my favors and place settings will help the budget.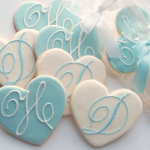 FACT: In theory, this is probably true. But when you're determining DIY vs. outsourcing, it's not just about the cost of the materials. Don't forget about the time and aptitude. It takes more than a Pinterest account and a trip to the craft store to create something beautiful. If you're not crafty, your wedding may not be the best time to hone your skills. Trial and error may prove more costly than you expected. There are professionals in every field for a reason. Just because you have access to the tools doesn't mean you'll produce the same results as a pro. And some savings are just not worth the aggravation. Honestly, guests don't come to your wedding for the favors. If you need to trim the budget, you can probably eliminate them.
TRUE STORY: A friend decided to create her own wedding favors in the form of elaborately decorated cookies she had seen in a Martha Stewart magazine. Not only were they difficult to make, she was allergic to the food coloring and ended up in the emergency room the night before her wedding. DIY-ing can be fun, just don't bite off more than you can chew… pun intended.
There are many big decisions to be made when planning a wedding … the dress, the attendants, the venue, the menu, the size. Determining your budget and staying within it is certainly at the top of the list; and the best way to do that is to be armed with the best information.
Do you have any budget trimming stories to share, good or bad? Share them with us at [email protected]. We'd love to hear from you and might use them in future blogs to help other brides.