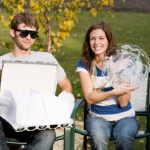 Yes, you do need to send a gift if you are invited to a wedding — even if you don't plan to attend. What should you buy? Of-course this depends on how much you want to spend and how close you are to the couple. Obviously, you want to get them something they will enjoy and/or find useful. EmilyPost.com states:
Most guests find registries a very efficient way to select a gift that the couple would like, would need, and that wouldn't be duplicated by other guests. From EmilyPost.com/The Etiquette of Wedding Gifts
What makes it difficult is that it is considered in bad taste to mention where the couple is registered on the wedding invitation.
It's never okay to include registry information on or with any invitation to the wedding or reception, or with any announcement. Why? Because the emphasis shifts from "we want you to be with us on our special day" to "you need to buy us a gift and here's what we want." From EmilyPost.com/Taming the Wedding Registry/Step away from the invitation!
In the past, almost everyone invited to a wedding was from the same town and everyone registered at the same place or two, so this was not a problem.  The bride and groom relied on close friends and family to spread the word about where they were registered. As our society has become more mobile and the age of marriage has increased, invited guests include friends and relatives from all over the country.
Many of us invitees have no idea what the couple wants or needs. That is why shopping from the couple's registry is the most convenient solution. Almost all wedding registries are now online and the gift is shipped directly to the recipient. This makes shopping for a wedding gift quick and painless, while at the same time thoughtful.
How do you find these online gift registries? Use RegistryFinder.com. It is a simple registry finding service. Just enter the name of your gift recipient and RegistryFinder.com will show you where they are registered. Even better, it will link you directly with their gift registries.
In the end, giving a gift is always a personal choice. With that said, a gift giver's intent should be to give something that will be useful and valued by the recipient. Although you may think what they registered for is unnecessary, silly, or even ridiculous, it is something the couple feels will enhance their lifestyle. Don't judge what they register for, just support them and everyone will be happy.