From pumpkin spice lattes to changing leaves, Instagram and Facebook are filled with declarations of love for the autumn season. Fall fashion can be tricky, though: we all love boots and scarves, but what to wear when an autumn occasion calls for something formal?
We've raked in a few of our favorites, but before we get specific, a few fall fashion guidelines:
Heavier fabrics—While summer calls for light and breezy material, cooling temperatures call for more substantial textures.
Moodier Prints—Don't leave floral behind for fall! Instead, go with a darker palette.
Jewel Tones—Instead of bright and light, think deep and rich.
Longer lengths—Now is the time to go to "great lengths:" move your "mini's" to the back of the closet, and make room for the "midi!"
You'll see a mix of all the guidelines in our picks, plus tried-and-true favorites like classic lace and basic black. We hope you'll "fall" for these autumn looks!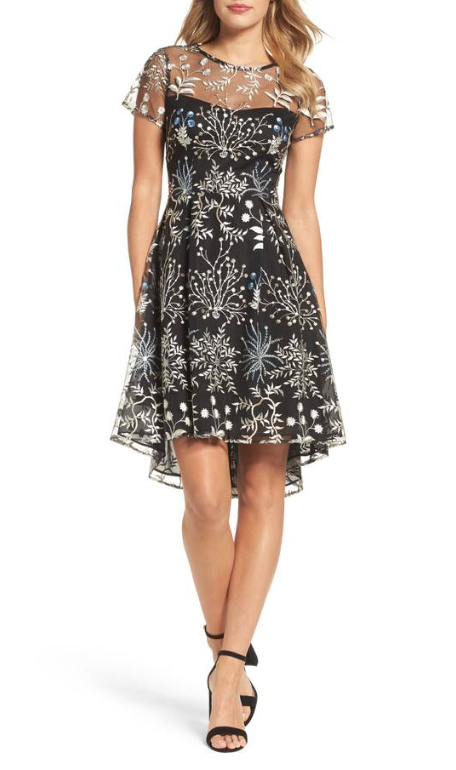 This dress from Adrianna Papell strikes a balance between classically sweet and ethereal in floral-embroidered mesh with a playfully flared skirt.  Nordstrom, $149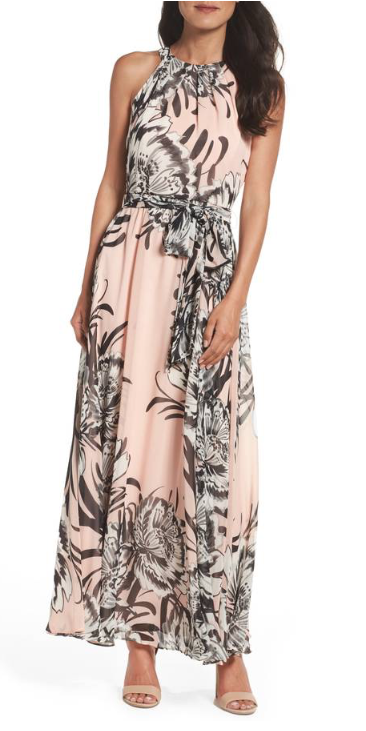 Feminine and flowing, this comfortable maxi from Eliza J is the perfect choice for any fall wedding.  Nordstrom, $158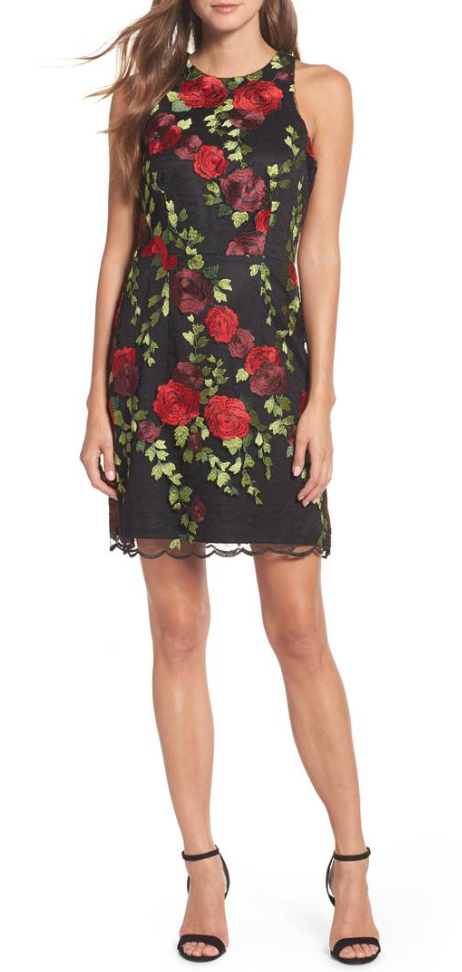 Look as fresh and lovely as a red rose in this figure-skimming lace sheath dress by Betsey Johnson.  Nordstrom, $148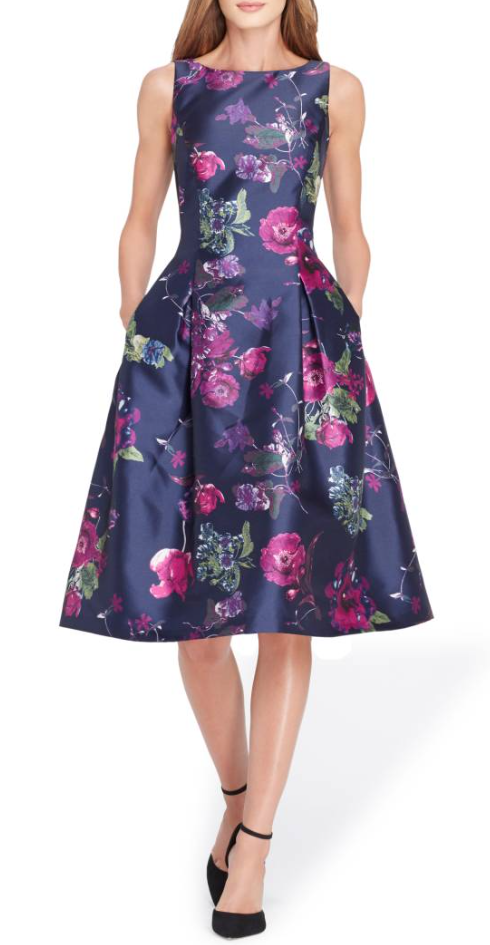 Jacquard blooms with a metallic sheen splash color over a dress that's ready for parties, weddings and more. The classic fit-and-flare silhouette of this Tahari floral tea-length dress creates an hourglass figure. Trust us, you'll love it!   Nordstrom, $138
Sophisticated and stylish, this Tadashi Shoji dress is sure to be a showstopper! My mom has chosen Tadashi for three weddings as "mother of the bride," and this dress is a classic example of the brand's timeless elegance.  Nordstrom, $398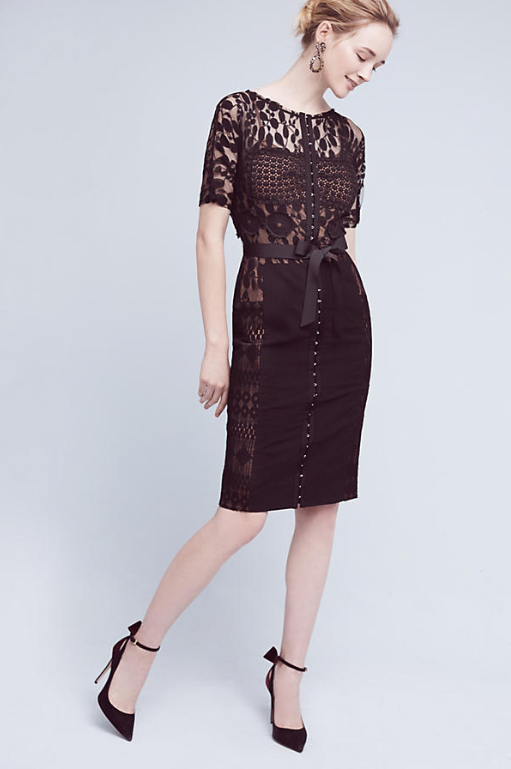 Whenever my mailbox holds an Anthropologie catalog, I tuck it away until I know I have time to savor each page—the clothes are THAT beautiful. So when I turned to this Anthropologie-exclusive with lace and appliqued flowers, I couldn't help but dog-ear the page and put it on my wish list! Make room for it on yours, too!  Anthropologie, $258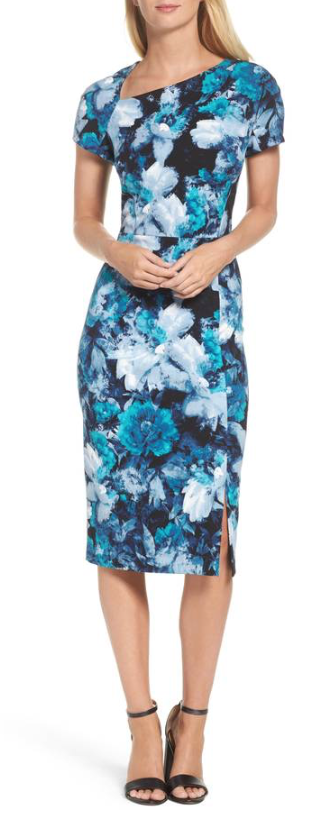 This Maggy London dress is cut with an asymmetrical neckline and has a tailored, slim silhouette. It's the perfect dress for any weekend event.  Nordstrom, $138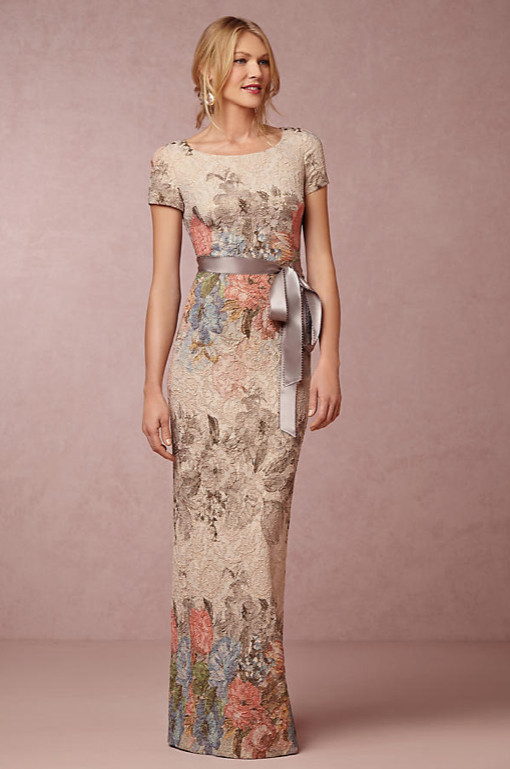 This Adrianna Papell maxi dress dress has received rave reviews from customers. Featuring a painterly pattern in textured crepe with a subtle metallic gleam, it is both unexpected and lovely. Anthropologie, $220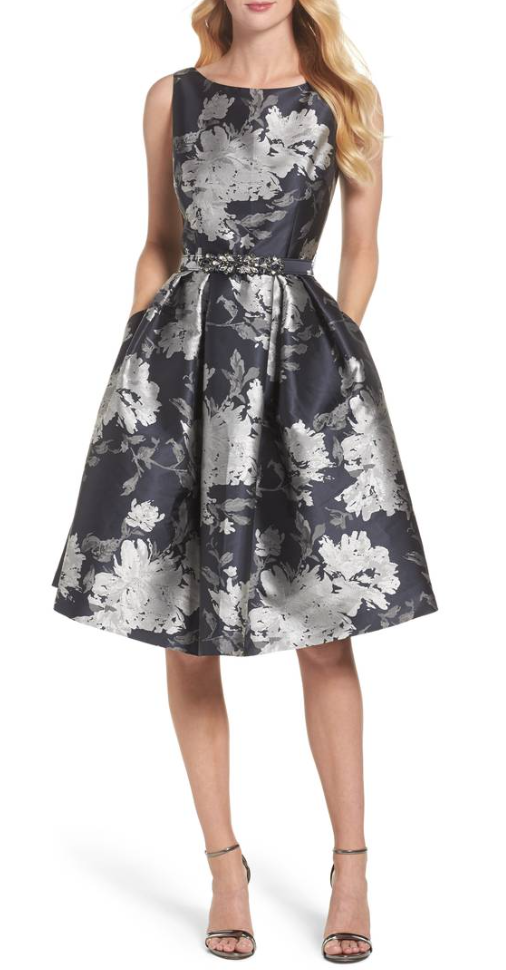 I saw this dress a few days ago while shopping in Nordstrom and it is beautiful and elegant! Rich flowers pattern this pleat-flared party dress by Eliza J. It's also embellished with jewels at the belted waist. The picture does not do it justice.  Nordstrom $248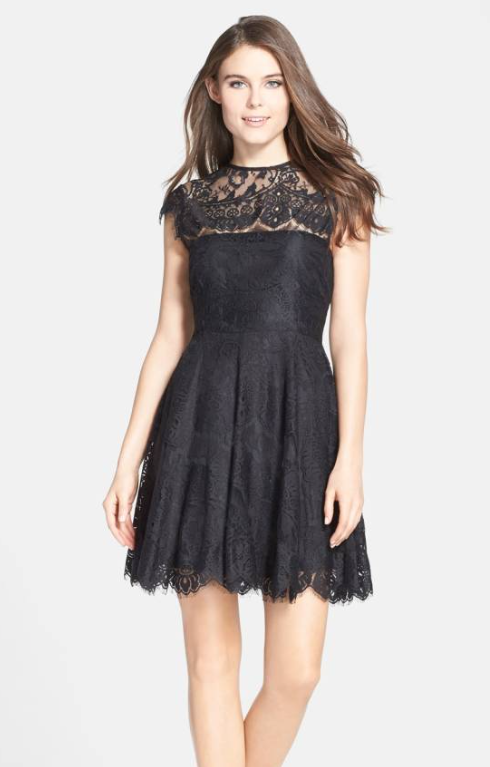 So many sweet details in one lacy dress: an illusion neckline, flutter sleeves, and intricate hem make this dress one to try!  Nordstrom, $98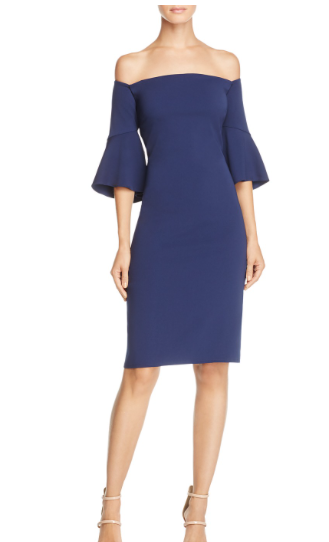 This Laundry by Shelli Segal's dress is on trend with an off-the-shoulder neckline and dramatic bell sleeves. Choose from navy, red or black. Bloomingdales, $295 $177
Heads will turn as you walk into the room in this LBD. Black makes it feel classic, and bold straps and "midi" length make it fresh.  Nordstrom, $194
One more thing before you go: pick up a pashmina, like the ones pictured below, to throw on for those chilly autumn nights. They not only look elegant, but we guarantee that your date will be grateful that you won't have to steal his jacket!
Comes in 10 great colors. Only at Macy's $36
Love these looks? Check out our Pinterest page for even more formal fall fashion inspiration!
by Christina Peterson, RegistryFinder GiveIt blog contributor