One of the best parts of moving from South Florida to the Midwest when I was 18 was how much my wardrobe expanded. It was summer year round when I lived as a native South Floridian and there was little need for scarves or fleece jackets. I could get away with my color palette of bright pinks, turquoises and white all year long. Now I've learned to pack up my summer clothes and break out all my favorite pieces for fall as soon as the calendar turns to September.
If I'm headed to a wedding in the fall–which I will be doing twice this year–I've learned that the secret is layering. I'm always looking for pieces that lend well to jackets, cardigans, wraps and tights. This season, burnt orange and mustard yellow are all the rage and I'm paying close attention to those colors when I choose what to wear to the upcoming weddings.
Thankfully, Macy's always has my back when it comes to seasonal wardrobe needs. If you're going to be a wedding guest this fall, take a look at a few of these beautiful, seasonally appropriate looks.
Daytime Church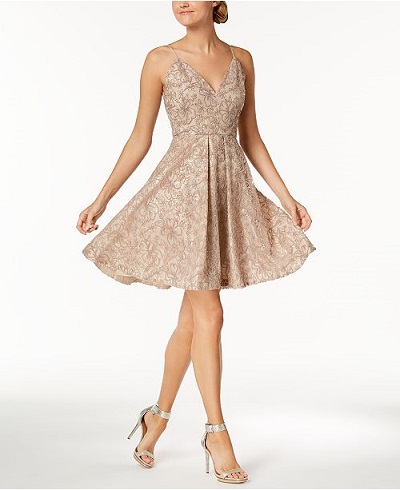 Warm neutrals are a great go-to for a fall wedding. This fit and flare v-neck dress from Calvin Klein elevates the neutral with a stunning combination of sequins and lace. Add a pop of color in your shoes and statement earrings.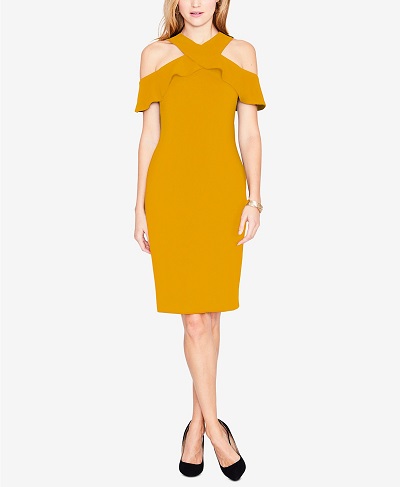 Like I said earlier, mustard yellow is going to be quite the show stopper this season. Choose this ruffled halter for an early fall wedding and pair with tassel earrings and a neutral shoe for a great look.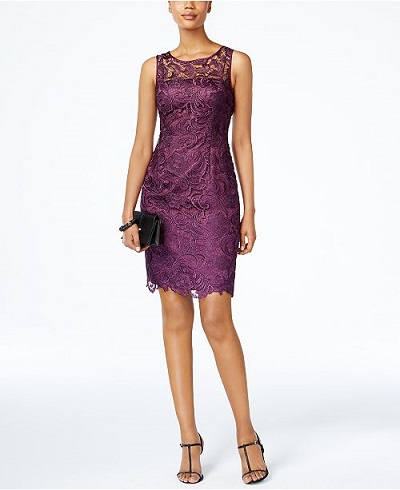 For a daytime church or country club wedding, this lace sheath dress from Adrianna Papell is a stunning choice. The plum color will fit nicely against the fall backdrop of the big day.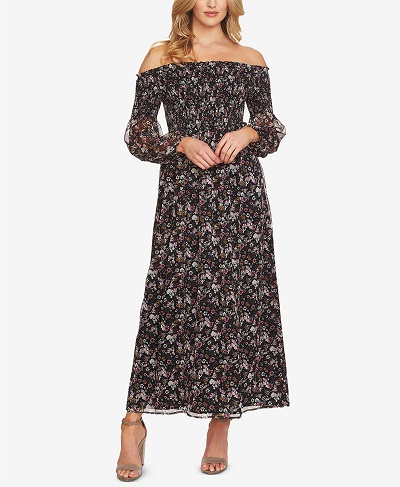 A peasant blouse is always a must-have for any fall wardrobe and this piece turns the peasant blouse into an adorable maxi dress. Off-the-shoulder is a trend that's sticking around and the long sleeves on this one will transition perfectly into fall.
Cocktail
If the wedding you're attending calls for semi-formal or cocktail attire, you might choose this Calvin Klein mixed-media dress. The black chiffon top keeps it fancy and the sequined bottom makes it fun for dancing the night away.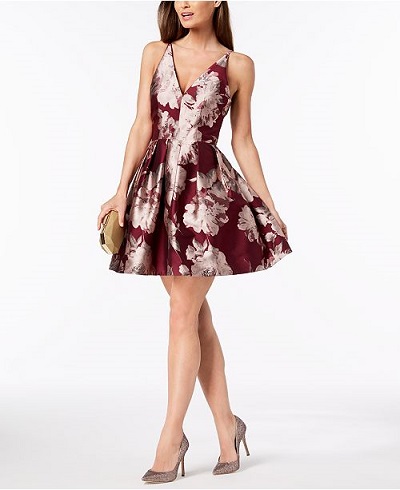 I'm always drawn to burgundy and maroon clothes in the fall. It's the quintessential fall color and this dress fits the bill for a nice evening wedding.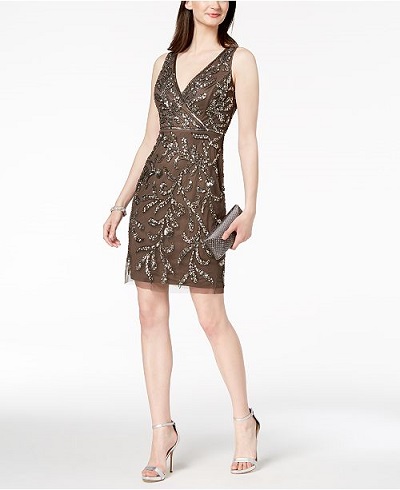 Want a little sparkle, but don't need a full length gown? This v-neck sequined dress gives you everything you need!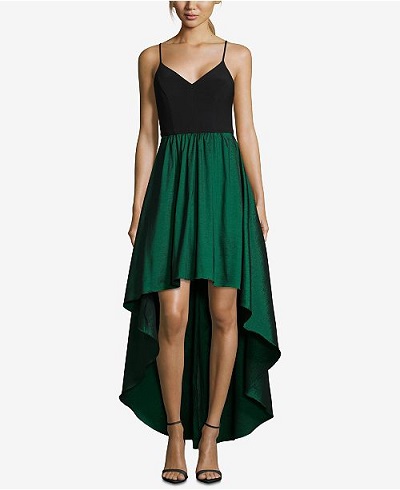 A high low gown fits perfectly at an evening wedding.  Pair this Betsy Adam colorblocked gown with a black wrap and dangly earrings and you'll be ready for any fall wedding.
Evening Country Club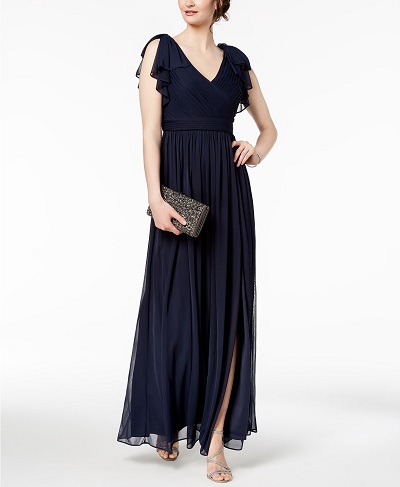 For the fancier fall wedding you're invited to this year, navy is the way to go. This simple gown allows you to dress it up with statement necklaces and earrings and flowy skirt makes it easy to dance the night away!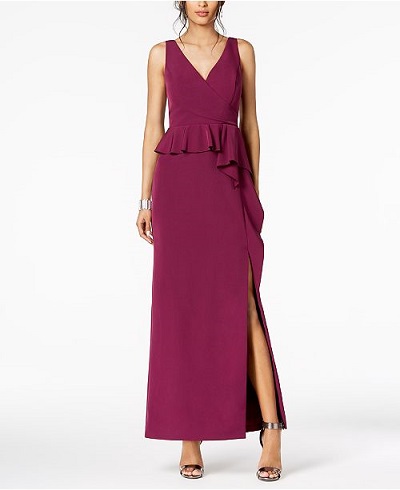 If I could only choose one style to wear for the rest of time, it would be peplum. Mix peplum with this gorgeous berry color and I'm sold. It's fancy enough for an evening wedding with all the fun necessary for partying into the night.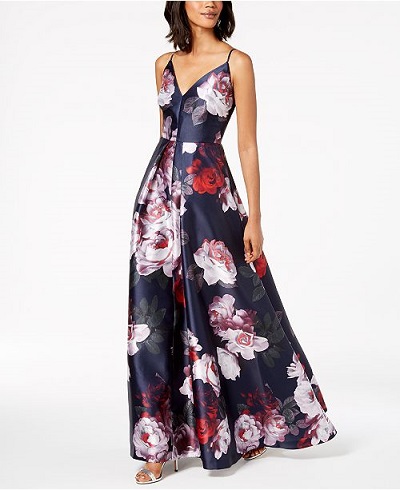 Fall florals are unexpected and bold. The gown length on this dress makes it fit for an evening wedding.
Black Tie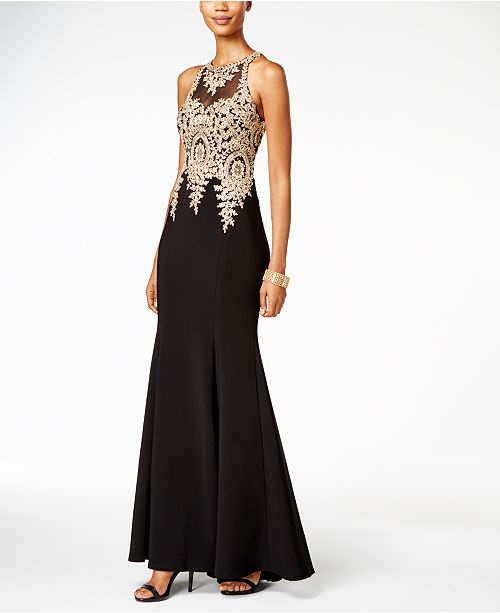 For the fancier, black tie weddings on your fall agenda, this Xscape lace mermaid gown is a must-have.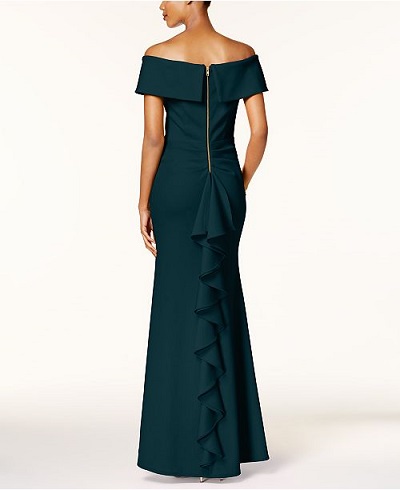 Off-the-shoulder gowns can take you through all seasons. This hunter green gown is a classic silhouette and will make a statement wherever you go.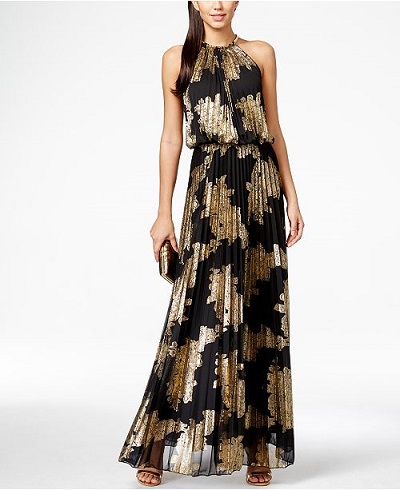 A fully printed dress is the perfect choice for a black tie optional wedding. Dress it up even more with gold heels, a stack of gold bangles and a messy up do.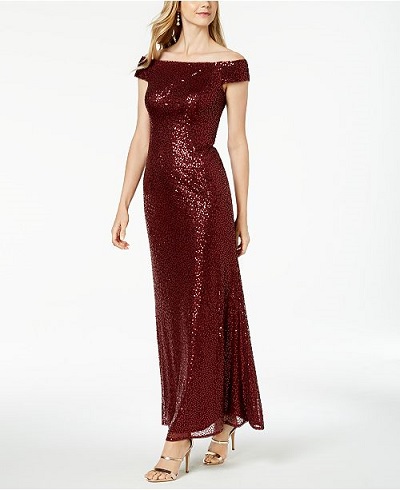 Burgundy sequins are a great way to make your fall sparkle. This Adrianna Papell gown will have you feeling like a million dollars!
Fall Wedding Shoes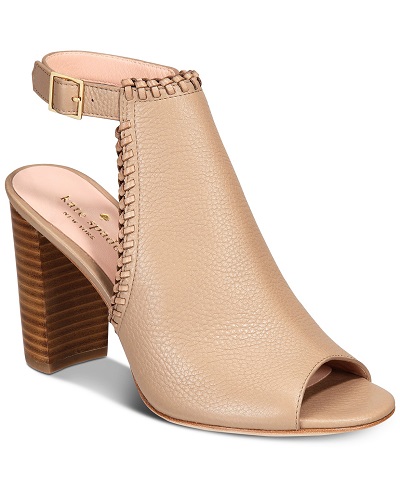 The open-toed bootie isn't leaving the style scene anytime soon so run out and grab a pair this season! The taupe color and gorgeous ankle strap will make this shoe the best accessory for any dress this fall.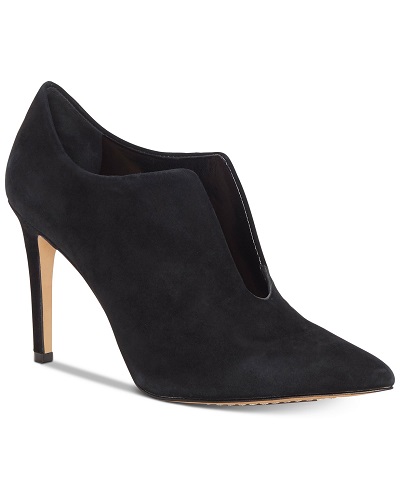 These gorgeous suede Vince Camuto "shooties" will look beautiful with a dress and tights this fall wedding season. They're elegant, stylish and classic.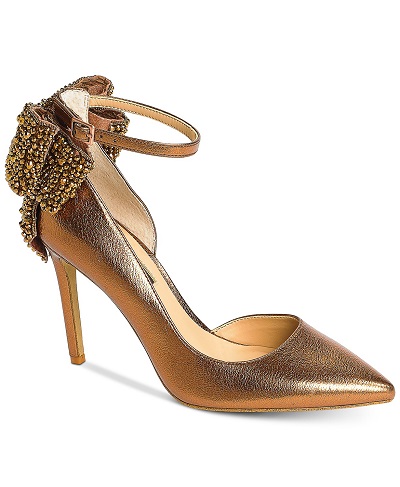 The copper sheen of these INC pumps will have you standing out in a crowd. They're great for an evening fall wedding and the touch of glitz on the bow detailing keeps them fun!
Fall Wedding Accessories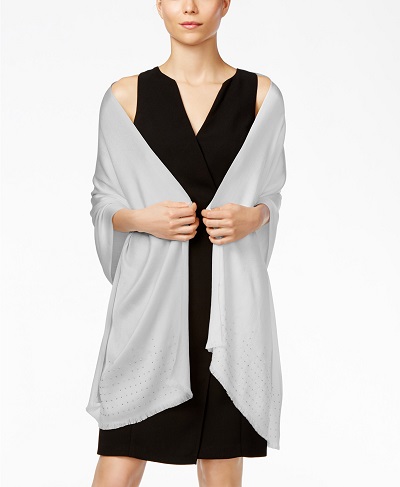 This wrap is not only a beloved neutral gray, but it also has the sweetest gems along the bottom to bring a little sparkle with you wherever you go. You'll be glad you brought this along to any of your fall weddings this year!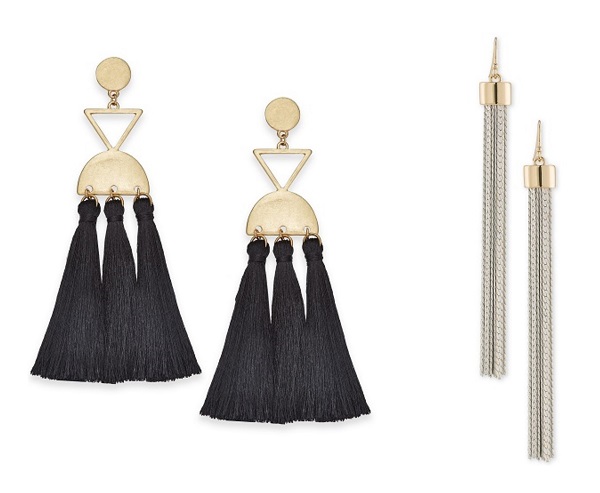 The simple lines and floral prints of fall will pair beautifully with a pair of tassel earrings. Pick up a few different pairs that vary in material and color and you'll be set for an entire season of weddings!
Let your wedding wardrobe flourish this fall by investing in a few staple pieces and focusing on layering. Elevate your classic wedding looks with statement jewelry pieces, a new wrap or a great pair of ankle boots! And, as always, make sure your look is fit for hitting the dance floor and celebrating the happy couple all night long!
Keep your closet stocked with help from Macy's and keep gift giving easy by shopping registries at RegistryFinder.com. Just like Macy's is a one stop shop for all things fashion, accessories and home goods, Registry Finder is a one stop shop for gift giving. Find all the registries of your fall weddings in one place by going to RegistryFinder.com today!
– Feature Image Courtesy of @HelloFashionBlog