The bride and groom gift exchange is a wedding tradition whose origin is a little fuzzy, but it's withstood generations of marriages and is still popular among modern couples today. It's an opportunity for the couple to have a private moment during their wedding day (or the night before) outside of the festivities.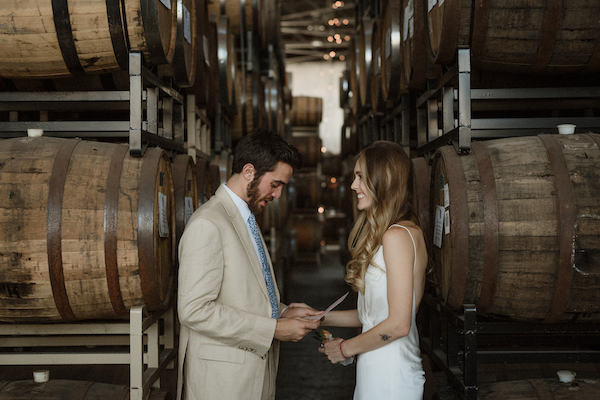 Not sure what to get your future husband or wife? Don't worry, we've got you covered! From the unique to the classic, you'll find 15 great gifts any bride or groom will love. But first, here are a few quick tips for your bride and groom gift exchange:
Set a budget. A wedding is already an expensive ticket, so don't feel pressured to go all out and splurge on a gift for your significant other. Decide on a price point you feel comfortable with and stick with it.
Include the exchange in your wedding day schedule. If you're waiting until the big day to exchange your gifts — rather than doing it the night before your wedding — the first look and the gap between the ceremony and reception are both popular times to duck out of everyone's attention.
There are no rules. Whether you go for a practical gift or opt for something totally indulgent, the most important thing is that it comes from the heart. You also don't have to do a gift exchange at all, so do whatever feels right for you as a couple.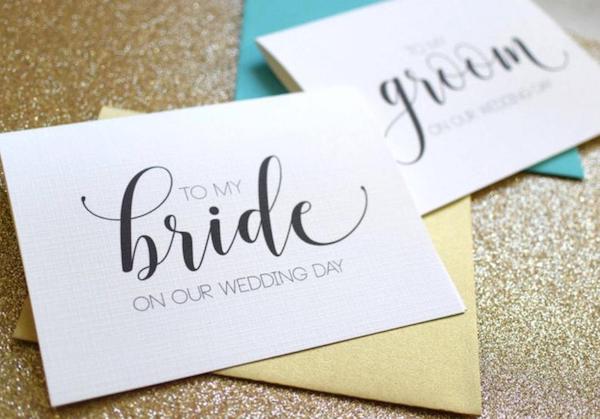 1. Handwritten Card or Note
Like we said, there are no rules to the bride and groom gift exchange, so if you prefer not to spend any money but still want to keep the tradition, keep it simple with a handwritten card or note. You can find sweet handmade options for brides and grooms on Etsy, or you could even try your hand at decorating one from scratch for a super personalized gift.
2. Frame Your Vows
This is a great gifting option if you plan to wait until after your ceremony to do your exchange. Your significant other — now your husband or wife! — will know everything that's in your heart because you'll have already said it, so there's no spilling any surprises when you gift them a special framed version of your ceremony vows.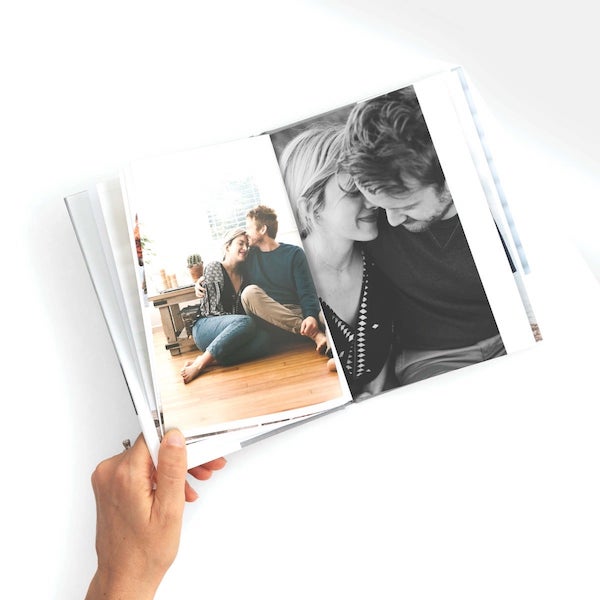 3. Custom Photo Album
Chances are, if you're getting married, you've already created a ton of memories together. As you create your custom photo album, it'll be hard not to be reminded of all the reasons why you fell in love in the first place, making it a gift that truly keeps on giving. Artifact Uprising makes it easy to add your personal images and design a one-of-a-kind gift.
4. Bottle of Special Alcohol or Champagne
Certain occasions call for a splurge, and if you've got a bride or groom with an affinity for high-priced fine spirits or bubbly, your wedding day is the perfect time to do it! If you want to truly go over the top, add a set of drinking glasses to your gift — who knows, you may get to share a private, pre-wedding cheers together if you play your cards right!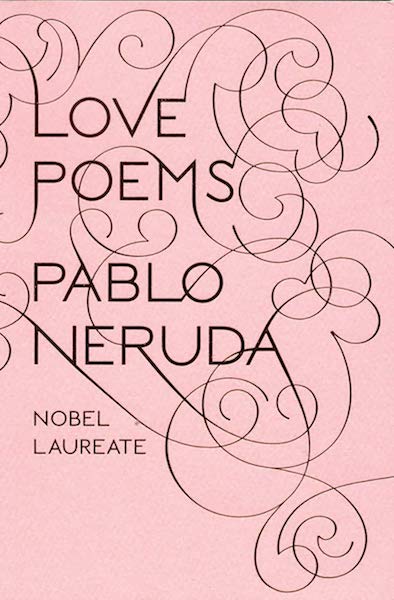 5. Book of Poetry
Let's be honest: not everyone has a way with words — and that's totally okay. We can't all be Shakespearean romantics, no matter how in love we may be. Luckily, there are plenty of poets who have figured out how to put the mystery of love into words, so go ahead and gift your bride or groom a book of poems that says what's in your heart.
6. Curated Keepsakes
Maybe you've collected all the ticket stubs over the course of your relationship. Or maybe it was fortune cookie fortunes or love notes. (For my husband and me, it's the sticky notes we write to each other on busy days.) Whatever they are, gather them for your gift: you can place them in a memento box, string them together, or add them to a scrapbook.
7. Wedding Performance
This gift idea is definitely a splurge! If you've got a big budget and connections, hire a special musical guest or entertainer for a surprise performance during your reception. If you're musically inclined or love to bust a move, you could write a song or choreograph a dance to perform for your bride or groom.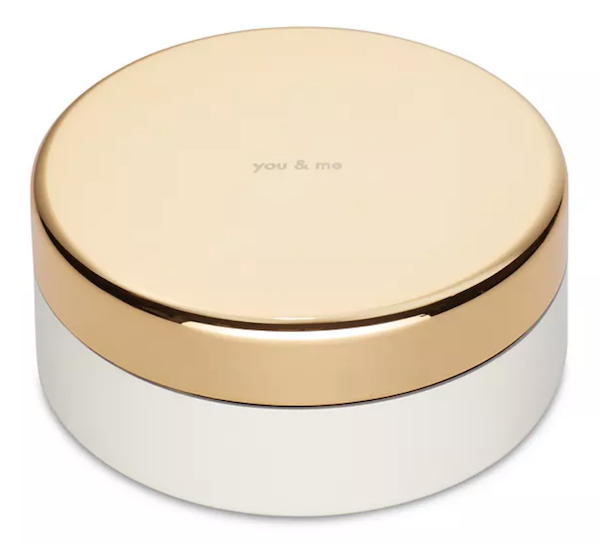 8. Box of Wishes
For brides and grooms who want to go a little more sentimental with their gift exchange, you can't go wrong with a box of wishes and promises for your life together. Cut paper into small squares, add a wish or a promise to each one, then fold them up and put them in a keepsake box your partner can always look to as a reminder of your love.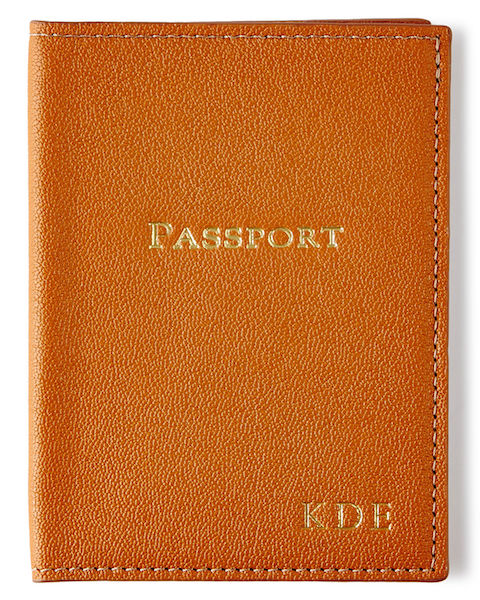 9. Personalized Passport Holder
Got an international honeymoon planned? A personalized passport cover sporting your bride or groom's new initials (hyphenating is a thing now, people!) is a great way to kick off the trip! If you're not a fan of monograms, skip the personalization and find something that reflects your significant other — Bloomingdale's has tons to choose from!
10. Luggage
Luggage is another great honeymoon-related gift exchange idea that's also incredibly practical, especially if it's time to upgrade or you need to add to your current collection. There are so many options for every need and price range at both Macy's and Bloomingdale's — because who wants to be limited in their wardrobe on their honeymoon?
11. Spa Treatment
It's no secret that planning a wedding can include its fair share of stress, so why not put a cherry on top of your wedding day with a couples' spa treatment? Pre-book an appointment for the two of you at your honeymoon destination, or extend your celebrations even longer and schedule your treatment for after you get back home to "real life."
12. Watch
A watch is a classic bride and groom gift exchange present, but it's typically reserved as a gift given to the groom. We can go ahead and modify that tradition to include gifts to the bride, which means if your significant other is typically seen with a timepiece, consider gifting your husband- or wife-to-be with a wedding day upgrade.
13. Jewelry
While jewelry tends to be gendered toward the bride, there's no reason why it can't be a great groom gift. Bloomingdale's has an extensive selection of men's leather bracelets, pendant necklaces, and cufflinks to choose from, so there's something for every style. For the bride, go with a complementary piece she can wear on your big day, or something for every day of the rest of your lives.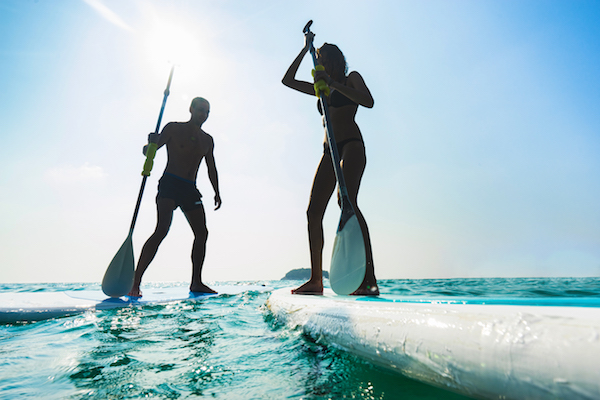 14. Book a Honeymoon Activity
If there's an opportunity for an excursion or fun activity on your honeymoon, book it ahead of your trip as a surprise to your bride or groom. It's up to you whether you keep it a secret up until your arrival or let them know during your gift exchange. Either way, you can deliver the fun message in a handwritten note or card when the time comes.
15. Ring Engraving
Getting your wedding bands engraved might take some scheming if your significant other pays too much attention to detail and would notice if they suddenly went missing before your big day. That said, it's a gift that will truly last a lifetime, so if you can manage it without any drama, do it! Add your names or initials and your wedding date to the inside of your bands for a beautiful surprise.
There really is no gift greater than love — and a stress-free wedding day if we're being completely honest — but there's nothing wrong with giving a little something special to your bride or groom as an added expression of love and appreciation. Looking for more ideas for your big day? You can find even more wedding day tips and advice on the Give It blog.