Gender reveals were virtually unheard of fifteen years ago, but today, they're everywhere! It all seems to have started with the gender reveal cake, which is what we decided to do with our firstborn. At our ultrasound, we told the doctor we did not want to find out what we were having but asked him to write our baby's gender on a slip of paper and seal it in an envelope. We took the sealed envelope to a bakery and explained that we would like them to fill the inside of cake with pink or blue icing. Later that day, in the presence of our friends and family, we cut the cake to reveal blue filling! It was one of the most memorable days of our lives, made extra special because we shared it with those we love most!
Many couples are choosing to host a gender reveal party, while others are opting for a gender reveal photo shoot. Photo announcements on Facebook or Instagram are also popular ways to announce your baby's gender. Pinterest is overflowing with great gender reveal ideas, but we've selected some of our favorites to share with you. We couldn't fit them all in this post, so be sure to check out our Gender Reveal Pinterest board for more inspiration!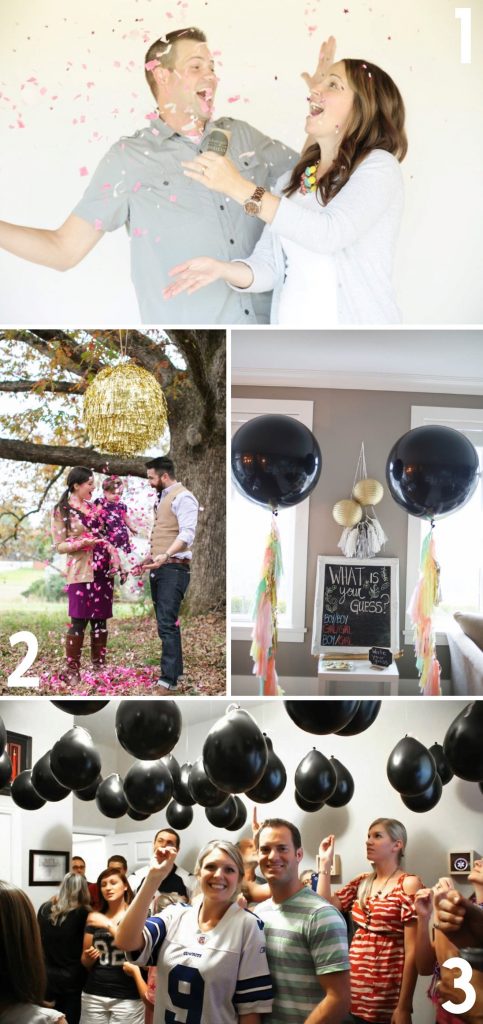 Use Confetti!
Confetti is included at many happy celebrations, so we think it's the perfect way to celebrate the newest addition to your family! Recently, the balloon pop has become a very popular gender reveal. If you want to get all of your guests in on the action (and don't mind a big mess!), fill balloons with confetti, blow them up and hang them from the ceiling. Instruct your guests to simultaneously pop their balloons!
An alternative to the confetti-filled balloon is confetti poppers or the pull string piñata, also filled with pink or blue confetti.
1. Confetti Poppers from Handmade Mood via Inspired by This
2. Confetti Filled Pinata from Funny/Beautiful.com
3. Confetti Filled Balloons from Kara's Party Ideas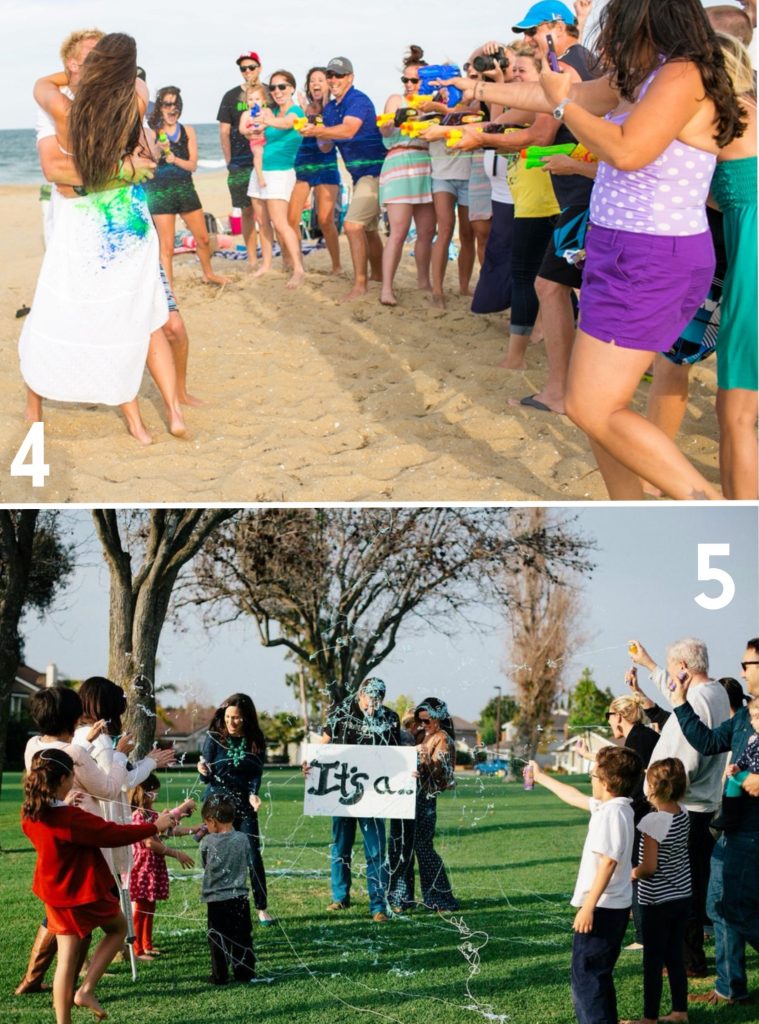 Get Your Friends and Family Involved!
We love the idea of getting friends and family involved in your reveal. And, if you're feeling adventurous, go for a messy gender reveal! First, give your guests silly string or squirt guns filled with paint. Then, stand with your honey, close your eyes, count to three, and prepare for the deluge. When you open your eyes, you'll know whether it's a boy or a girl.
4. Paint Filled Squirt Guns from Little Things
5. Silly String Reveal from Triplet Living
If you'd rather not get covered in paint, check out one of these fun ideas:
6.
Chris & Christina's Cupcake Gender Reveal
– Christina, a RegistryFinder blog contributor, used a unique twist on a cupcake reveal. Everyone received a cupcake, but only one cupcake was filled with pink or blue.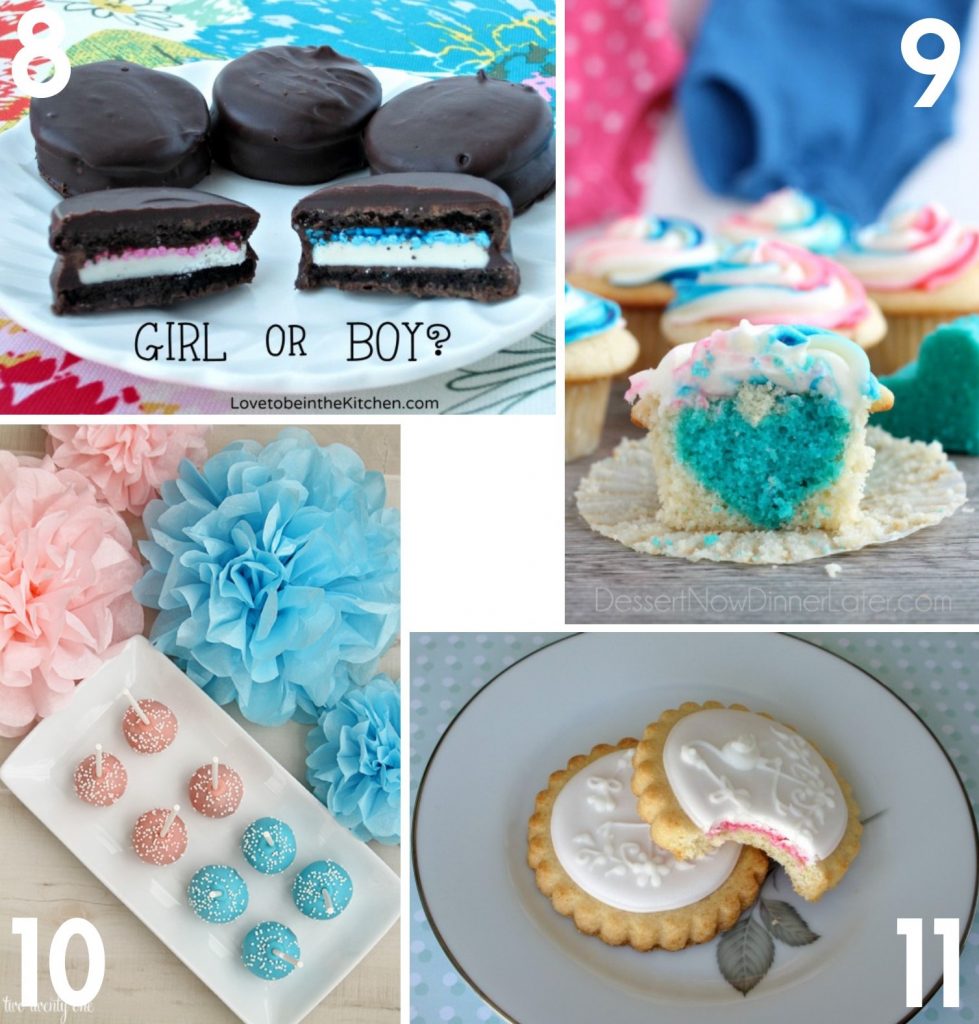 Share a Sweet Treat!
Like I mentioned earlier, the cake seems to have started the gender reveal phenomenon! But what about gender reveal cupcakes, cake pops, cookies, or Oreos? Have your guests bite into their treat all together- everyone will love joining in the reveal!
8. Gender Reveal Oreos from Love To Be In The Kitchen
9. Gender Reveal Cupcakes from Dessert Now Dinner Later
10. Gender Reveal Cake Pops from TwoTwentyOne
11. Gender Announcement Cookies from The Sweet Adventures of Sugarbelle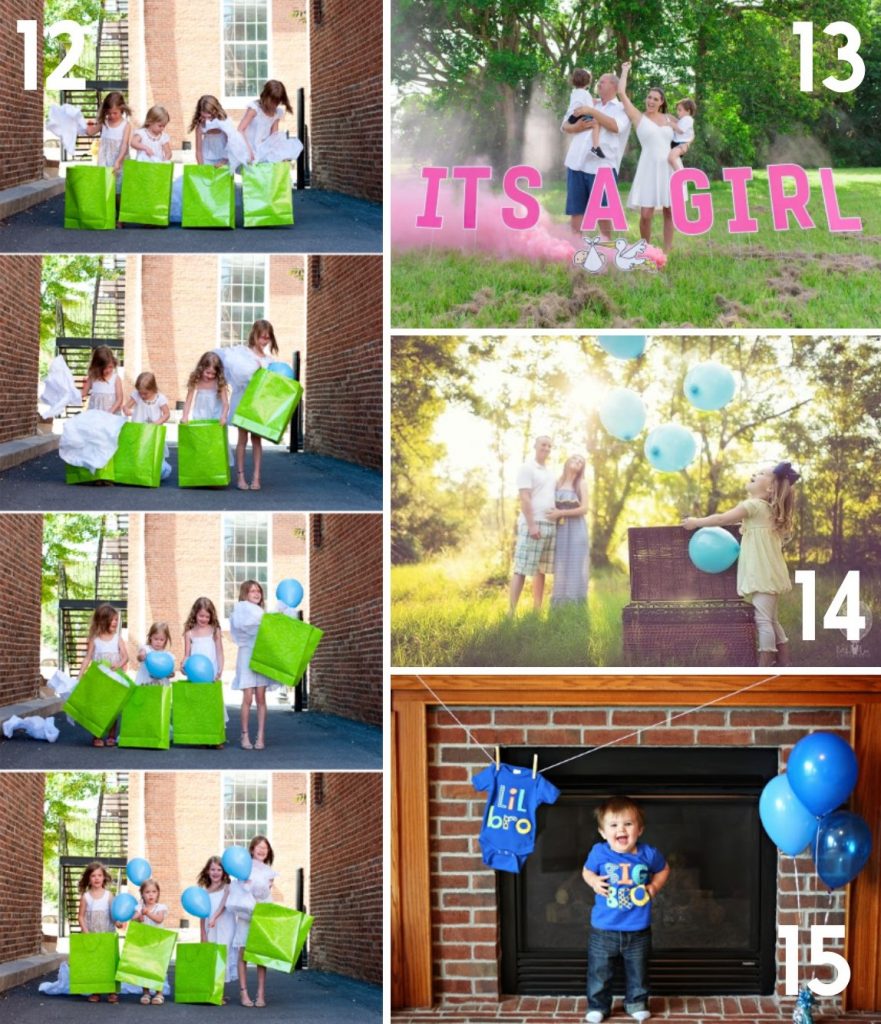 Include Adorable Older Siblings…
What's cuter than mom and dad revealing their baby's gender? Siblings doing it! We love all of these cute ideas to get older siblings involved and excited about the newest family member.
12. Balloon Reveal from Life Your Way
13. Event Yard Card Gender Reveal from Event Yard Card
14. Gender Reveal Photo Shoot from Beth Lee Photography
15. Big Bro/Little Bro Reveal from Simple Suburbia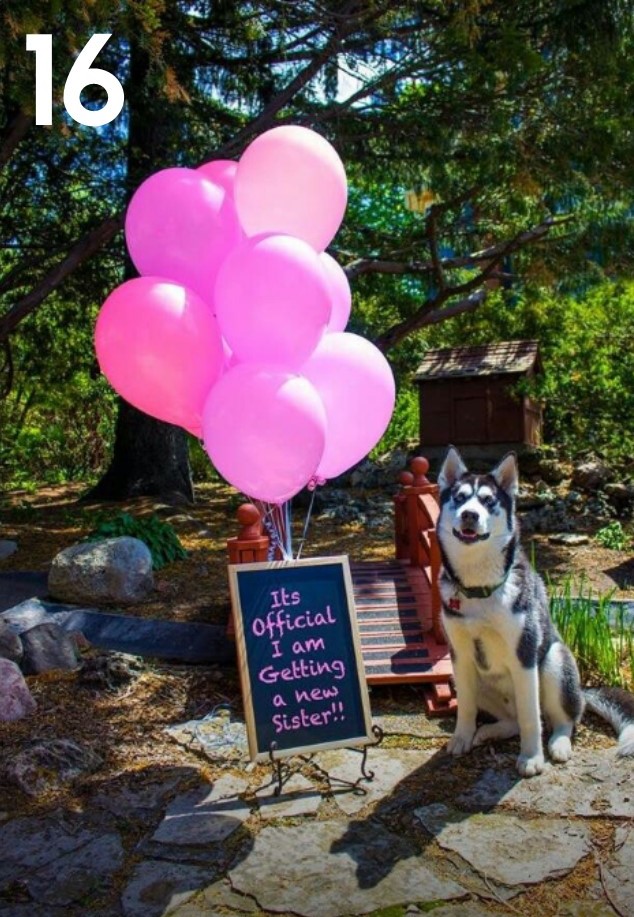 …Or Your Dog
We're not sure how you'd include your pet in a live gender reveal, but this is super cute if you plan to do a gender reveal photoshoot or social media post. After all, your pup was your first child, right?
Boy or Girl?!?
Whether you have a little boy or a little girl on the way, you'll want to get started on that baby registry! We have a lot of great information on our website to help you select the perfect items for your bundle of joy. Grab our baby registry checklist and read this post to get started with the basics. And check out our team of Real Moms, they're here to help with practical tips and advice for every step of motherhood!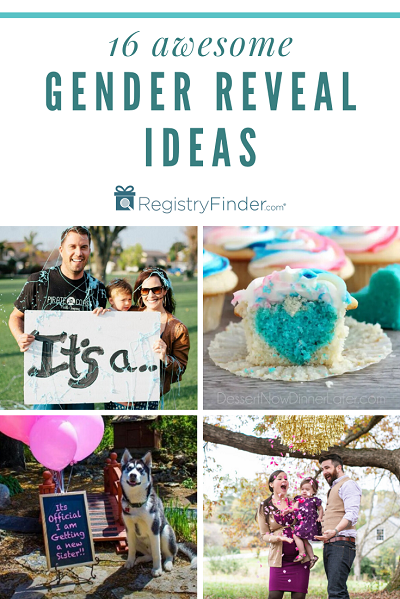 Feature image courtesy of Handmade Mood via Inspired by This..