Whether you're throwing a baby shower in honor of a family member or close friend, we know that you want to host a fun, meaningful event that will make your Mama feel loved and appreciated by her favorite people. Instead of being all about the baby, we've noticed that in recent years more baby showers are focusing on the new Mommy (and even Dad!) and often incorporate classy themes and practical or meaningful activities to help her prepare for the upcoming arrival of her little bundle of joy. Here are some of our favorite baby shower trends to consider for your next event!
The Sophisticated Shower
We all know that girls just want to have fun, right? So forget about the diaper pins and cute animals- this soirée is for mom! You can either plan a party at one of her favorite restaurants or host a stylish event at your home. Pick a theme and location that you know your guest of honor will appreciate. For the sweet, country gal, consider a rustic chic party and use lace, mason jars and burlap. If she enjoys a little glitz, be sure to decorate with glitter and gold accents. Serve a nice dinner or lots of fancy hors d'oeuvres. You can even create a signature cocktail and name it after your mama!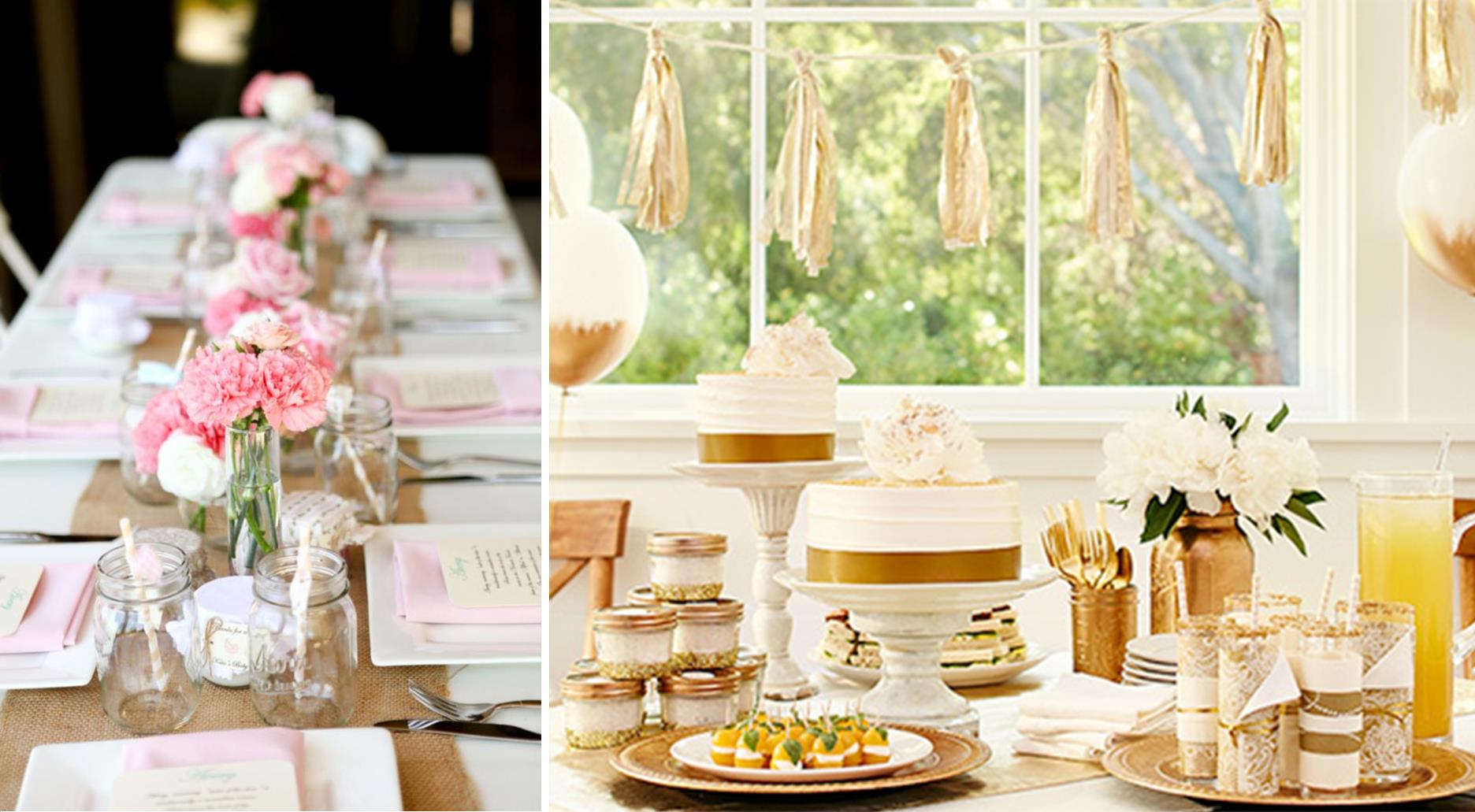 Source: Kara's Party Ideas and Pottery Barn Kids
The Spa Shower
Spoil the mommy-to-be with a beauty shower! This is perfect for the mom who is expecting her second child and already has most of the baby gear she needs. Invite a small group of close friends and plan something simple such as lunch and manicures. Or spend the day at a spa getting pampered and relaxing by the pool. You set a time to gather for lunch and gifts and invite each girl to choose the treatments they'd like. We know that any mom will appreciate the time to relax and rejuvenate with friends.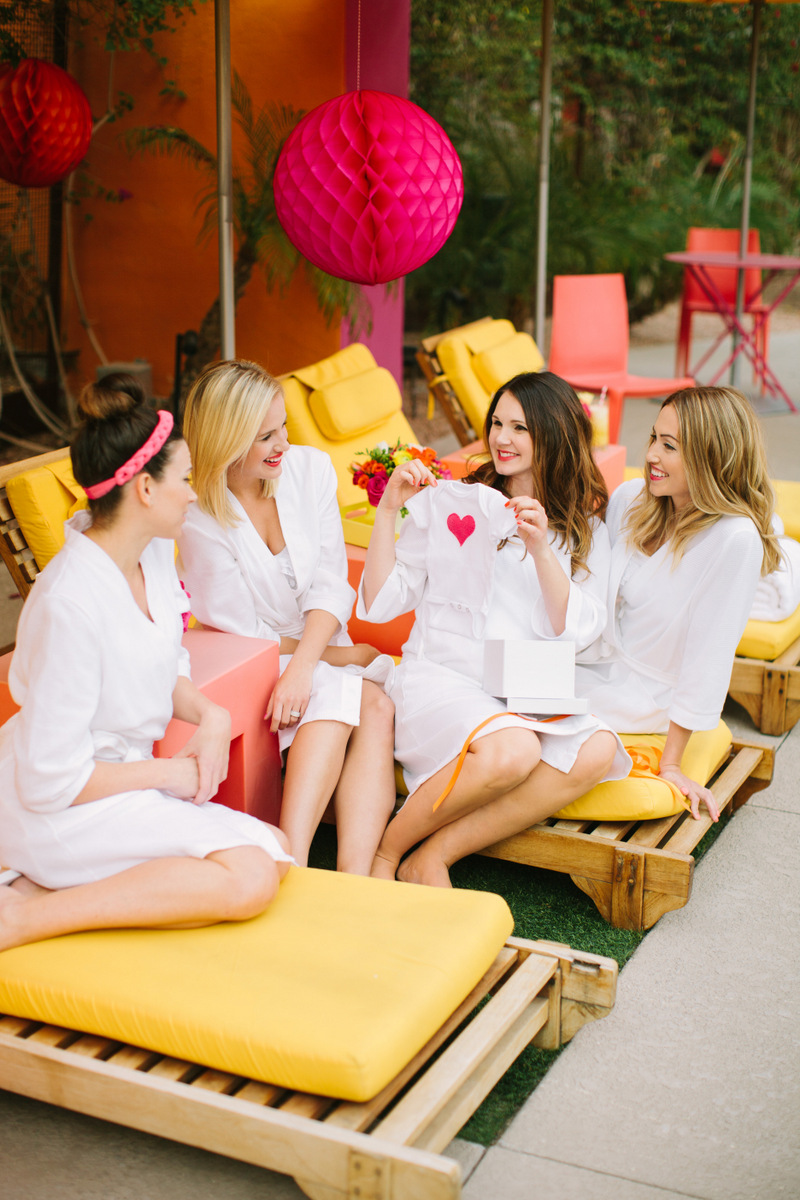 The Green Shower
If your guest of honor is a fan of natural childbirth, babywearing, and cloth diapers then you should definitely host a green shower! Skip the printable invitation and use a website like Evite or Punchbowl to create an online invitation and inform your guests that you're hosting an eco-friendly shower. You can even suggest that they wrap their gifts in brown paper bags or receiving blankets. Decorate your tables with potted plants and flowers (which can double as party favors!), make a cloth diaper cake, and pull out your best dishes and glassware instead of using disposable tableware. And of course, you can't forget about the food — create a delicious menu using local and organic ingredients!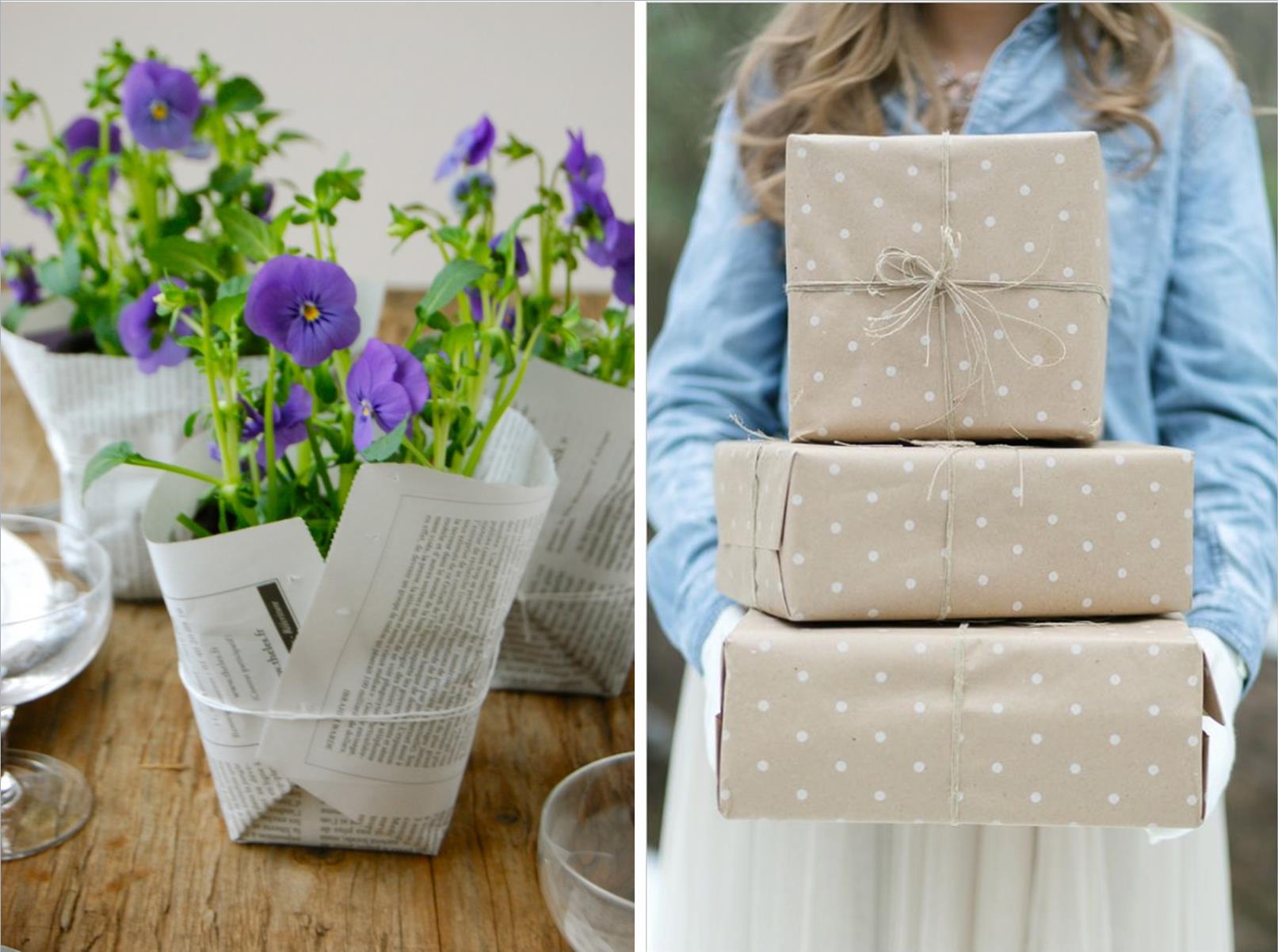 Source: Babble and Wedding Chicks
New Crafts and Activities
We've noticed that many guests have lost interest in the cheesy games that are often part of a baby shower. (Does anyone really want to taste baby food?) Fortunately, meaningful activities and fun crafts are replacing games and we expect this trend to continue for a long time! Some of our favorites are creating a birthday card time capsule for the new baby and decorating onesies or wooden blocks. For the full instructions and more great ideas, check out our blog: Baby Shower Games Your Guest Will Really Enjoy!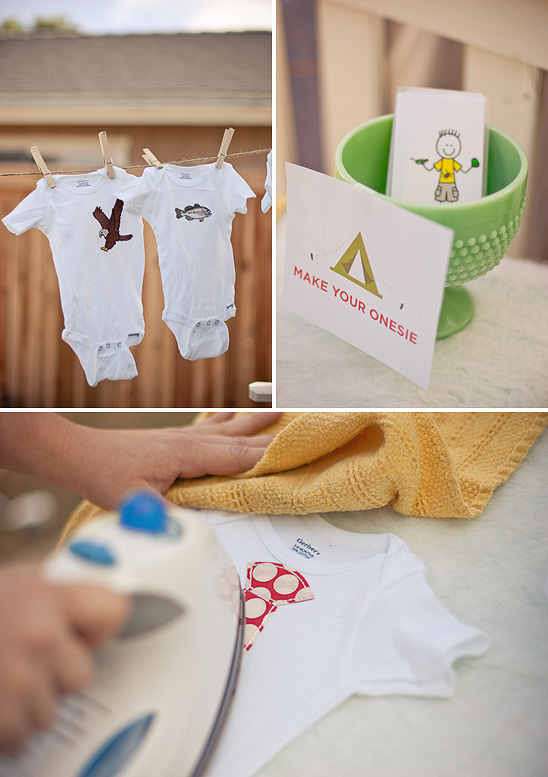 The Dad Shower
Yes, you read that correctly. These days' men are getting in on the action and they don't want to miss out on celebrating their new bundle of joy. However, the punch is swapped for beer, the dainty finger foods are replaced with BBQ or pizza, and traditional shower games get thrown out in favor of poker. The theme, "Diapers for Dad" is very popular for dad showers. Instead of bringing gifts, the invitees are asked to bring diapers.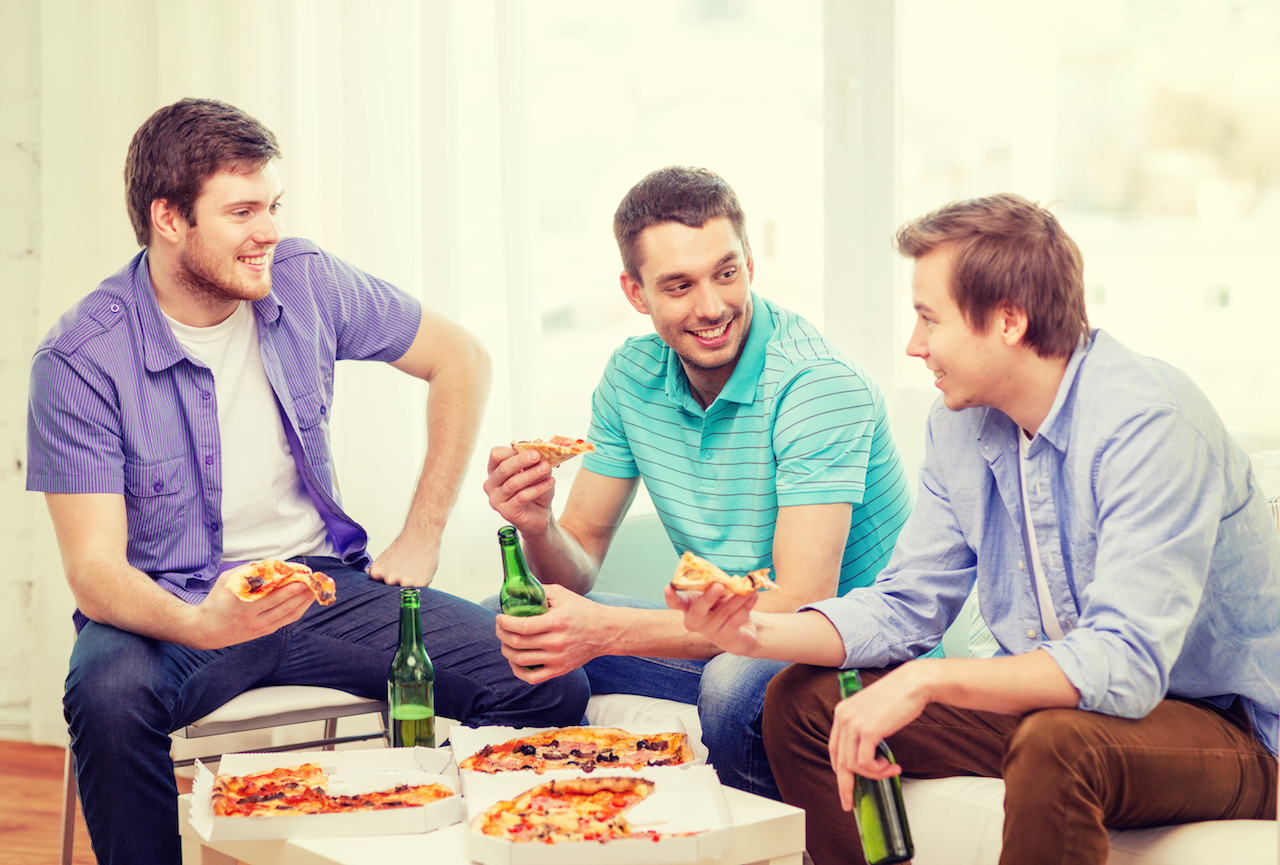 Shower in a Box
We expect this shower trend to grow because more and more ladies are living long distances from their loved ones. If your special mama can't attend a shower because of distance, consider sending a care package. First, pick a theme for your box- maybe bath time essentials or baby's first outing (a stocked diaper bag). Next, invite guests and ask them to bring a gift to add to the box. You can even host a drop-off and wrapping party! And though the gifts are important, always include something sweet and sentimental. Have guests write "Wishes for Baby" or contribute to a Birthday Card Time Capsule. We know that will be cherished more than any gift you could send!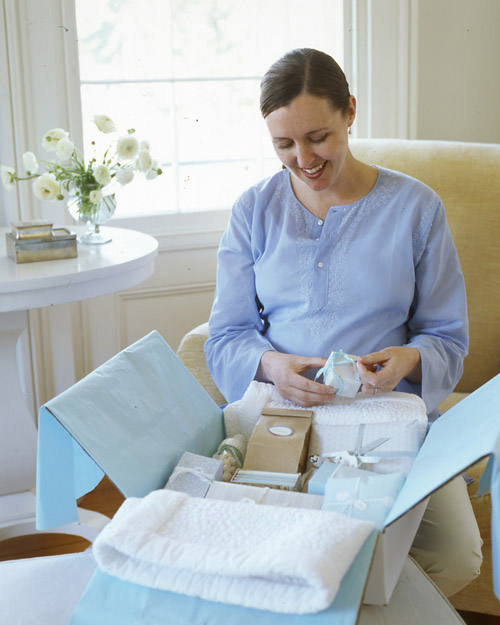 The Gender Reveal Shower
We're not surprised that "gender reveal" parties have become very trendy over the past few years. Wouldn't you rather learn the sex of your baby in the presence of your loved ones, instead of in a dark room with an ultrasound tech? This is a great theme for a co-ed shower with family and friends. As the host, you would be let in on the secret and are responsible for coming up with a creative way share the news. A cake can be cut by the parents to expose pink or blue filling. Or you could serve cupcakes filled with colored icing, and have guests take a bite simultaneously. Balloons are also a popular way to share the baby's gender. Fill a large cardboard box with lots of pink or blue helium-filled balloons. Have the parents open the box to release the balloons and unveil the much anticipated secret!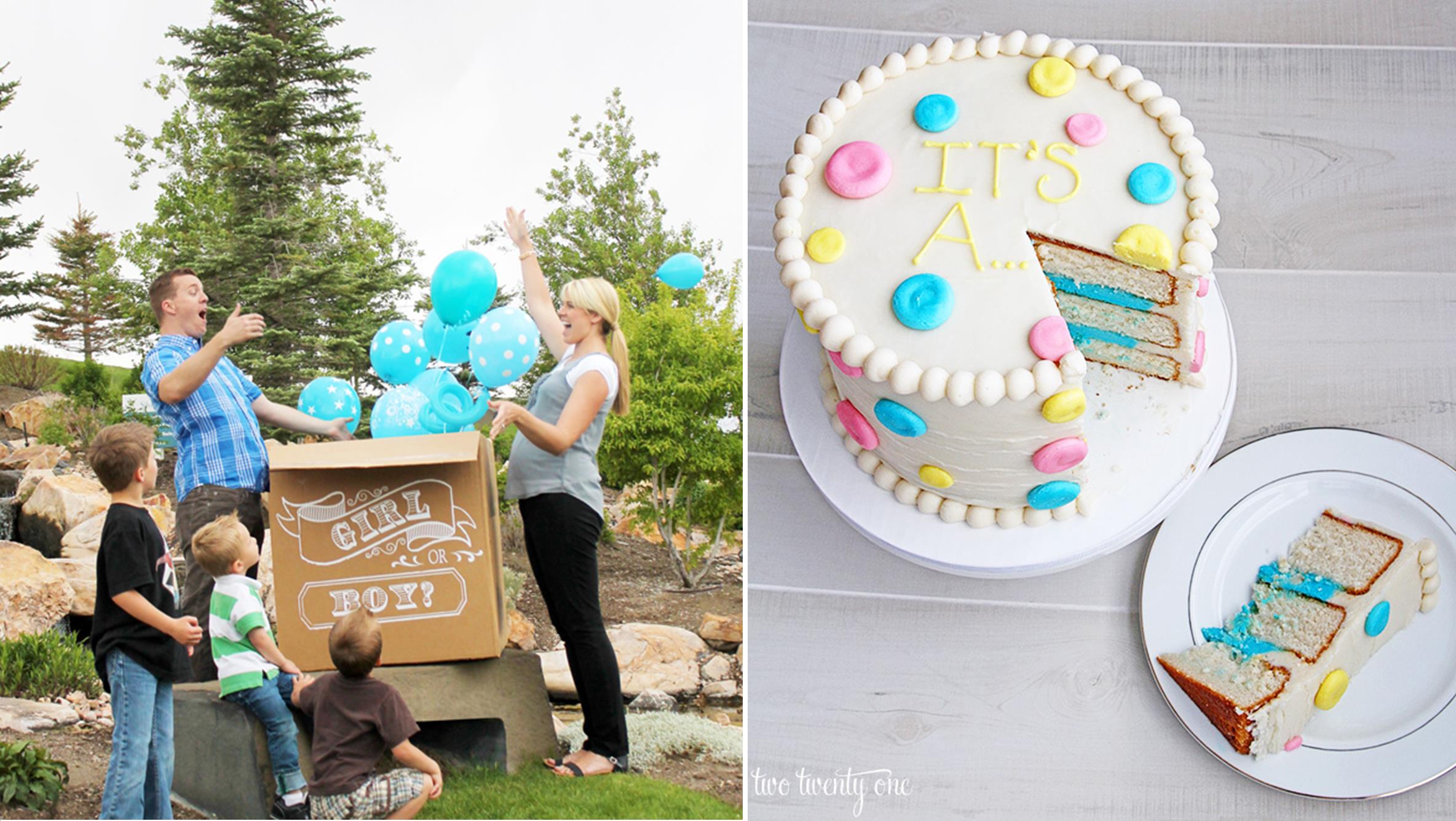 Source: Two Twenty One and Snickerplum
Be sure to keep in mind the interests and preferences of your mama-to-be and customize your ideas to her likes and dislikes. You want her to know that she is special and that you already adore her precious baby.
Good luck as you're planning your shower and don't forget to refer all your invitees to RegistryFinder.com when they ask about Mom's registries. To see more about the ideas above, check out our Pinterest board, 2015 Baby Shower Trends.