Today, we're partnering with our friends at Macy's to bring you 5 helpful tips for setting up your wedding gift registry. Follow these steps to build a successful registry full of beautiful, practical housewares that both you and your fiancé love!
One of my favorite parts of planning my wedding, was setting up my gift registry. However, I went into the process blindly and was completely caught off guard by the number of choices I had to make. I hadn't thought about styles and colors and patterns…or if I would even use a panini maker.
I ended up registering for and receiving several gifts I still haven't used (more than 10 years later!). Check out these tips for creating a perfect wedding gift registry. I wish someone had shared this with me when I got engaged!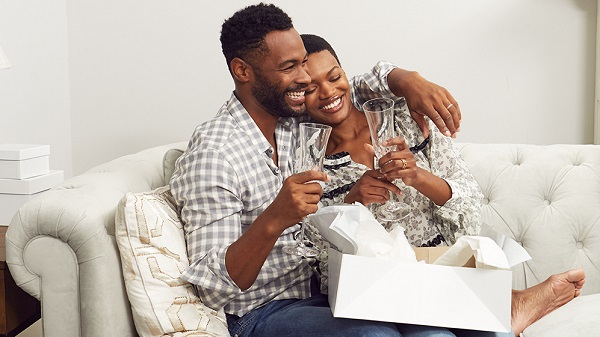 1. Evaluate Your Needs
Before you begin the registry process, take some time to evaluate your needs with your fiancé. Are you fully stocking your home or do you already have some items that you'd like to carry into your life together? Remember, this is the only time in your life you get to go "shopping" without paying for anything so enjoy it and register for everything you want for your new home. Even if you're combining homes, your wedding is a great opportunity to upgrade or replace well-loved items.
2. Think About Your Lifestyle
Next, take a few minutes to talk about your lifestyle as a couple. Do you like to bake cookies or mix cocktails? Is taco night your thing or will you be hosting fancy dinner parties? Do you prefer intimate gatherings or hosting the masses? Will guests be staying in your home occasionally? Will you be traveling frequently? Answering questions like these will help you decide what you should include on your wedding gift registry.
3. Choose Your Look- Style and Color Scheme
Selecting a style and color scheme for your home may not seem like a big deal, but remember you will have most of these items for many years to come. You want to make your home beautiful, but also appealing to both you and your fiancé.

4. Do Your Research
There are endless choices and options when you register so it's a good idea to have a working knowledge of various types of items you may find. For example: stoneware or porcelain dishes, percale or sateen sheets, non-stick or stainless steel cookware, single serve or drip coffee maker? Macy's has buying guides to help you learn about the many choices you will face when you register. You also want to be sure to register for quality items that will last many years to come so do your research- read reviews, ask friends for their recommendations, and check out the Wedding Registry section of our blog for helpful tips and our favorite picks.
5. Register for Many Items at a Variety of Price Points
We know you don't want to seem "greedy" so you may be tempted to "under register" by creating a small registry or leaving off high-dollar items that you would like to receive. However, keep in mind that your wedding guests love you and want to purchase a gift that they know you will like. A good rule of thumb is to register for 2 items per guest at a wide range of price points. This will give your guests many options that will fit within their personal budget. Also, monitor your registry over the course of your engagement and add more items if needed after your wedding shower.

Bonus Tip: Take advantage of Macy's awesome registry resources!
We love Macy's for many reasons, but one of our favorites is their Registry Advisor program. When you set up a Macy's registry, you get one-on-one help from your very own registry expert. Book an appointment online or contact your local store for more details!
Ready to get started? Grab our wedding registry checklist and head to Macy's to start building that registry!