Fishing poles, office supplies, board games, a $700 massage chair: what do these items have in common? I've seen them all included on wedding registries of friends and family within the last few months!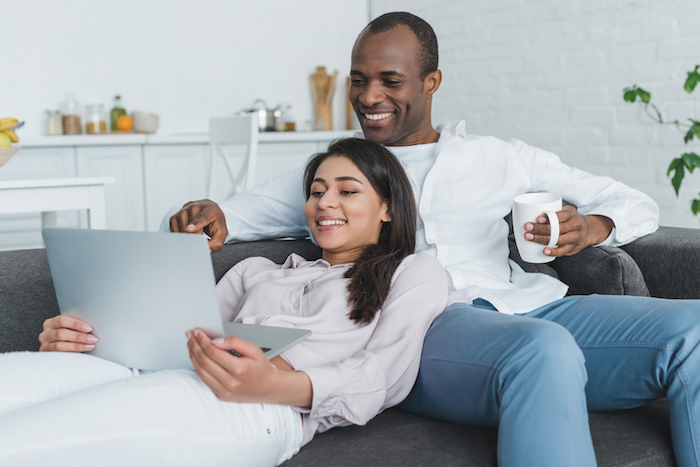 Why are these non-traditional items popping up on wedding registries? I can think of two reasons:
Online shopping makes it possible to register for literally anything you want. Once upon a time, registering for your wedding meant going to a store, grabbing a scan gun, and working your way through a checklist of household items like dishes, towels, and bedding. Generally, everything these stores offered was considered a "traditional" registry item, as in something couples would need to set up their new homes.
But with Amazon, Target, and other mass-category retailers now offering universal wedding registries, the options are endless! And now that you can add anything to your registry, the question becomes: should you add whatever you want to your wedding registry?
Couples don't need the registry to begin their homes. With many couples cohabitating and/or getting married later in life, many feel they have everything they need already, and are using the registry for their hobbies and "wants," not "needs." But is your registry an opportunity to fulfill whatever's on your wishlist?
Are there any "Registry Rules?"
Our etiquette expert Cheryl recently gave brides a guideline for their non-traditional registries, and it's filled with excellent tips. I'm still left wondering, though: what do real brides and their guests think? Are real-life couples paying attention to any registry rules? Or nowadays, is it "anything goes?"
What's the Most "Out-There" Item You've Seen on a Wedding Registry?
First I had to know that I wasn't alone in noticing some of the non-traditional items popping up on my friends' registries. I asked my Instagram following to share the strangest items they've seen on wedding registries, and their answers did not disappoint!
"A forehead thermometer"
"A stapler and filing cabinet"
"A camping tent and camping gear"
"An Apple watch"
"Board games"
"Furniture for different rooms of the house"
"Tickets to sporting events"
"Dumbbells and other gym equipment"
"A Playstation!"
"Batteries!"
Frankly, I was taken aback the first time I saw non-traditional items like workout gear and video games on a wedding registry. But I'm admittedly traditional. I had to know: how do other wedding guests feel?
So I asked…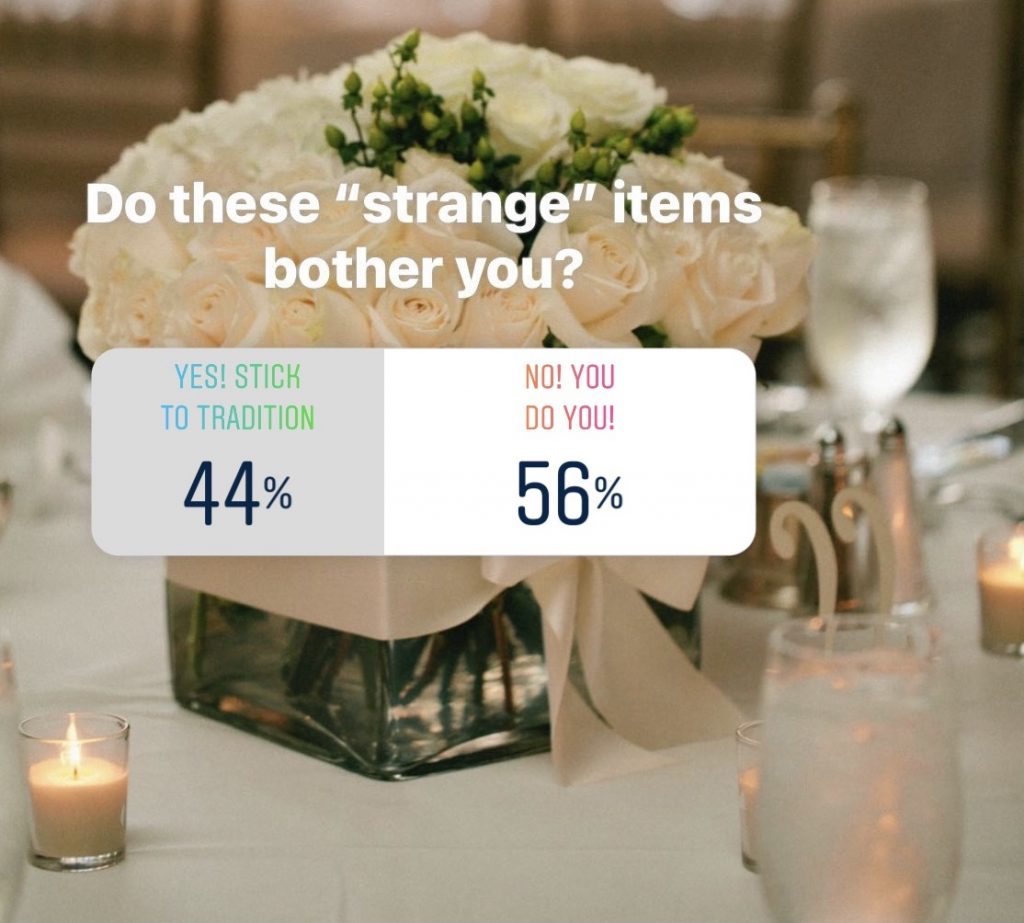 Turns out I'm in the minority! 56% of respondents feel like couples should register for anything they want: even office supplies, camping gear, exercise equipment, and video games. The sentiment is, as long as they want it, why not buy it?
That led to my next question. When given the choice between a traditional gift option and a non-traditional gift, which ones are guests buying?
Put another way, are couples actually receiving their non-traditional wedding gifts?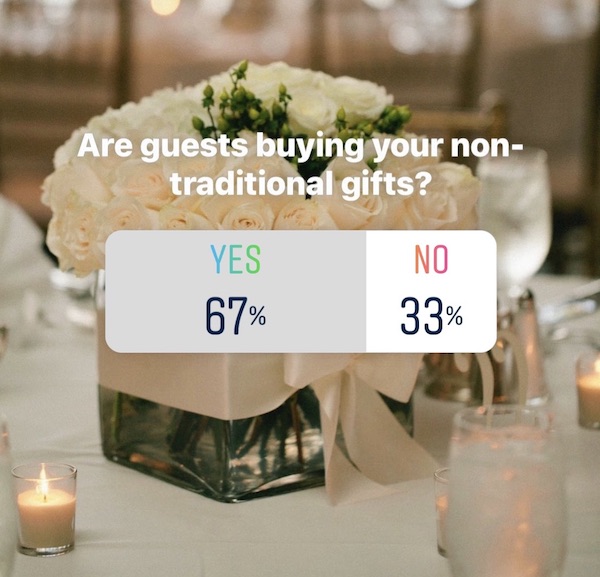 67% of couples say they got them, while 33% say no. So, if you are out there adding camping gear and tech items to your registry, know that you're likely to get them–but a third of your guests would rather buy something else!
The Bottom Line on Non-Traditional Items: Feel Free to Add a Few!
If you or your fiance are really wishing for a few "fun" items that speak to your personalities and interests, add one or two at a reasonable price point. But be sure to provide traditional options for guests who prefer!
And remember: traditional doesn't have to be boring. Find fun ways to incorporate what you love into your everyday home items! Love to fish? Register for nautical dishes instead of a fishing pole. Guests love to see things that reflect "you" on your registry!
How Pricey is Too Pricey?
Another thing I've noticed on registries recently: big ticket items. But what seems "big" to me might be normal to another person, so I asked our brides…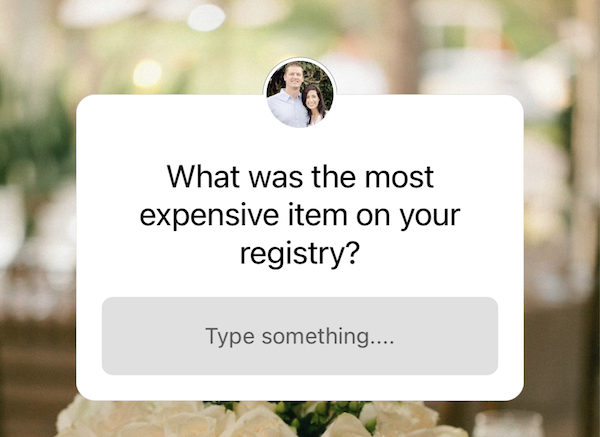 The majority of brides had the same response: their KitchenAid Stand Mixer, which rings up at around $400. Others mentioned cookware sets, knives, and china settings. And 100% of the brides I surveyed reported that they received the item with the biggest price tag.
But wait!
What about the even bigger items I'm seeing on registries, like the $700 massage chair I mentioned earlier? Or the couple registering for kayaks? Does this bother anyone, or is it just the new way of doing things? Once again, I turned to the modern arbiter of appropriateness: Instagram.
The results?
48% of respondents voted, "A," that couples stay around the $500 mark (which is in line with the responses from our real brides).
However, the runner-up answer was "C," with 42% of the vote!
Clearly, many people out there feel there's no limit to what couples can ask of their guests.
What to make of these responses? I see two groups represented here: the traditionalists who favor the old rules of household items at a realistic price point, and the modernists who feel "anything goes." I can only guess that the "C" voters are comfortable with gifts over $750 because of the group gift option offered by many online retailers, and the recognition that couples may register for a pricey item not just hoping to get it as a gift, but knowing they can use their registry discount on it later.
The Bottom Line on Price Points: Offer a Variety
This is one of those "no right answer" questions: only you can decide what maximum price point you feel comfortable requesting. Personally, I would recommend making your priciest option a traditional one; more like a KitchenAid and less like a kayak (here are some traditional splurge-worthy ideas)! And be sure to give guests plenty of options for choosing a meaningful gift, no matter what they can afford to spend.
A Wishlist, or a Registry?
Last Christmas, my mom gave our six year old daughter a toy catalogue and a marker and invited her to circle what she was wishing for for Christmas. As you can imagine, she went to town circling every toy that caught her attention, with no thought about what she already had at home, what she had just circled on the last page, or the price points of the items. She's only six, so her method is understandable, but it's one engaged couples should avoid: don't treat the registry as an opportunity to fulfill your every whim. Remember what wedding registries were intended to be: a helpful way for guests to help you fill your home and build your new life together.
As you and your partner create your registry, remember: your friends and family want to give you meaningful gifts you will enjoy. For some, that means a cookware set; for others, it's camping gear, and that is wonderful! Put thought into the items you select so that your guests feel they are giving you something special, and not like you're asking them to play Santa Claus.
No matter what kinds of gifts you register for and receive, one requirement remains for all couples: handwritten thank-you notes. No Instagram poll will convince me otherwise!
Have a Question for our Real Brides?
Let me know what topic you'd like us to tackle next! And if you're interested in learning more about etiquette, gift giving, and celebrating in style, be sure to subscribe to the RegistryFinder GiveIt blog for weekly posts on wedding etiquette, bridal showers, wedding trends, and of course, wedding registry guidelines and tips! And as always, be sure to refer your guests to RegistryFinder.com, where they can conveniently locate all of your registries in one place!