When it comes to wedding planning, everyone loves to share their advice and opinions, am I right? Some of that information is worthwhile, and some is, well…you probably know what I mean if you're soon-to-be married.
When preparing for my wedding, I remember that some of the best advice I received came from my Aunt regarding my wedding gift registry. And I've passed these valuable tidbits on to every newly engaged couple I know. Here's what she told me about my registry:
Do your research! My aunt suggested that I scour the internet and read ratings and reviews before going to the store. There are SO many options to consider, that doing this eliminated a lot of rash, on-the-spot decisions while I was at the store with a scanner in my hand. I've been married for over 8 years, and I'm happy to report that most of the products I selected have held up well and are still going strong.
Register for high quality items. Now is the time to choose high quality, well made items. You may think that you don't need to replace the blender you used in college or you may feel awkward selecting expensive products, but let me assure you- there is no time like the present. The people you love most are excited to help prepare you for married life. Also, you're not likely to spend that money on yourself once "life happens"… a home, kids, etc. (And hey, what's the worse that happens? You don't get the item you picked.)
You don't have to choose the most expensive item in every category, but when creating the gift registry for your wedding, there are definitely a few key splurge-worthy wedding registry items. They are the items you will use every day, making your life easier and more comfortable. Here are our top 6 wedding registry splurges:
1. Sheets & Bedding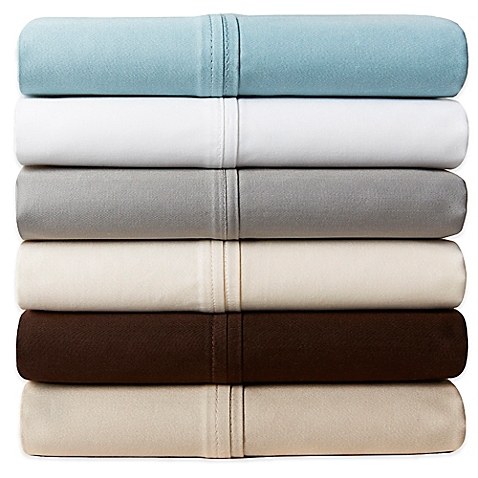 You spend about one-third of your life sleeping (depending on how long you live, that could mean over 25 years in your bed!) so it's important to have high-quality sheets that wash nicely and fit your mattress properly.
There are so many factors (material, weave, thread count, and color) to consider when choosing sheets, that it's guaranteed to make your head spin. So here's our advice – peruse this buying guide from Bed Bath & Beyond before stepping foot in a store to compile your wedding gift registry. Why? Sheets are usually treated with fabric enhancers or softeners so they're all going to seem soft and luxurious. It's best not to base your selection entirely on the way the sheets feel in the package.
 2. Knives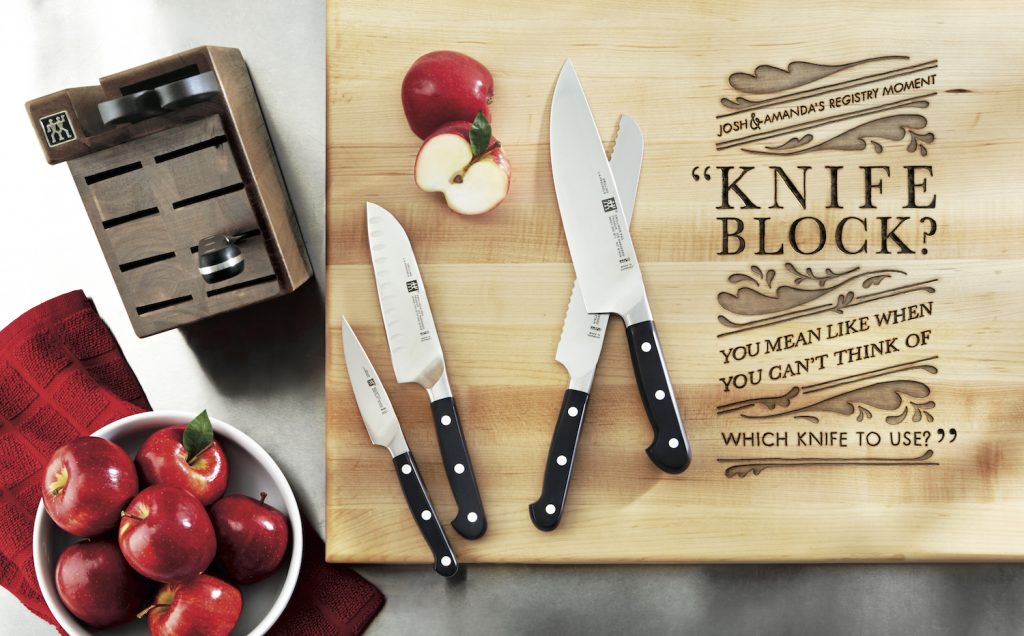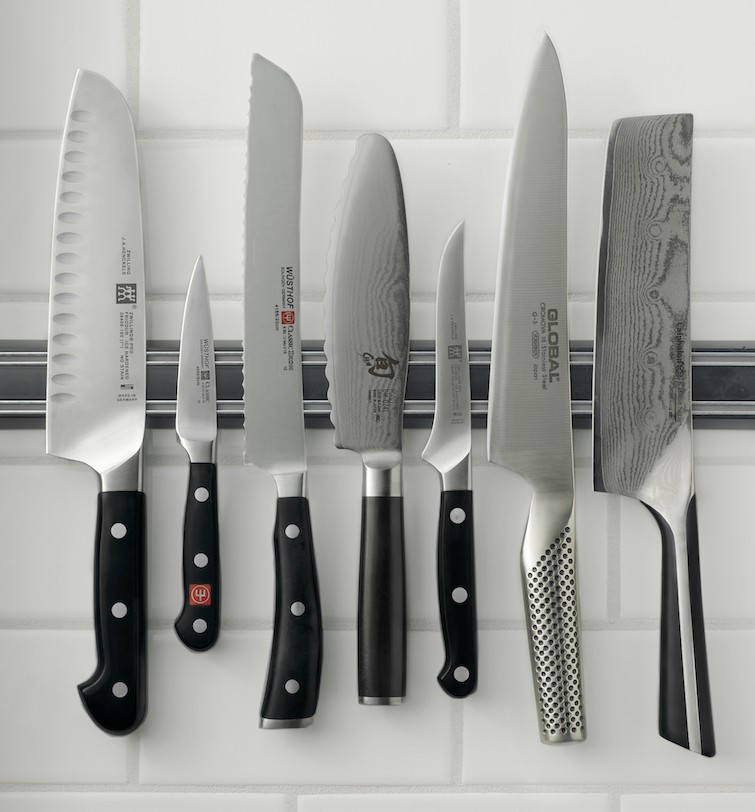 Let's cut to the chase – you want to pick out knives that are made from high carbon stainless steel with forged construction. (You can't go wrong with Henckels or Wusthof knives.) Beyond that, your selection is up to personal choice. First, go to the store and hold different knives to see which feels best in your hand. Next, think about how many knives you need. If you're not much of a cook, a starter set (containing a paring knife, chef knife and utility knife) may be enough. If you consider yourself a kitchen samurai or you like to have a knife for every task, registering for an entire set may be for you. Here's a more extensive buying guide from Bed Bath & Beyond.
3. Pots & Pans

Is good cookware really worth it? I would argue yes, mainly because it will last a lifetime and ensures even heating which means your food will cook (and taste!) better. High quality stainless steel (over an aluminum or copper core) is typically the most versatile cookware you can own. It is tough and durable, can easily go from stovetop to oven, gets a great sear on meats and poultry, and stays looking new with proper care. Once you've selected the material and construction of your pots, all you have to decide is whether you want a set or a few key pieces. Check out Bed Bath & Beyond's comprehensive guide to selecting your cookware to learn more about the different types of cookware. If you've been following this blog for any period of time, you know that we love All-Clad!
4. Small Appliances

You may already have a large arsenal of small appliances at your current residence and you may think that you can leave new ones off of your wedding gift registry. However, like we've mentioned before, now is the time to upgrade! At minimum, we recommend splurging on the following small appliances:
Stand Mixer:

Even if you don't consider yourself a baker, you'll find many uses for a stand mixer. The KitchenAid Artisan Stand Mixer is a staple on counters around the country and there's good reason why. It's versatile and powerful and has a variety of attachments that can be purchased, making this a workhorse in your kitchen!
Blender: This is especially important if you enjoy frozen mixed drinks or healthy smoothies. We suggest considering a Vitamix. Yes, they're pricey, but they can tackle any blending job (you can even make hot soup!) and they come with an excellent 5-7 year warranty.
Food Processor: The biggest kitchen tasks can be cut in half with an assistant….or a good food processor. The Breville Sous Chef, lives up to its name and includes a large 16 cup bowl, as well as accessories to slice, dice, shred, whisk and knead.
5. Vacuum Cleaner

If you live in a small apartment now, you may think that a cordless stick vac is enough to keep your house clean. However, there may come a day when you have more floors and you'll be thankful that you have a powerful upright vacuum. Again, don't forget to do your research! (Check out this great resource from Bed Bath & Beyond!) Find a vacuum cleaner that works on both carpet and bare floors, has good filters, and includes a variety of attachments. Then go to the store and try it out- make sure you like the way it moves, sounds and runs! The Dyson Ball Multifloor Upright Vacuum meets all of these criteria, and has over 1,000 five-star reviews so we know it's a good one!
6. Essential Serving Pieces
You may feel that fancy serveware is a waste because it won't be used on a daily basis. However, a few key pieces will become treasured heirlooms that you'll love using when entertaining friends and hosting holiday dinners. We love Nambe's timeless pieces crated from metal alloys and acacia wood. We suggest splurging on the "big four": serving platter, salad bowl, cheese board and chip and dip. They'll be part of many fond memories as you gather around the table with those you love!
Bed Bath & Beyond offers an extensive selection of housewares and many great registry features such as registry experts, exciting incentives and bonuses, and an excellent return policy, making it one of our favorite places to register. Head on over to the Bed Bath & Beyond Registry page to get started on your wedding gift registry or set up an appointment with an in-store consultant for a personalized registry visit. Good luck as you set up your wedding gift registry!
–Written by RegistryFinder.com contributor Rebecca Haar.