Throwing a fabulous dinner party is as easy as setting your menu, the mood, and the table!
Your dinner party's success comes down to proper preparation. Think back to the most memorable dinners you've attended in the past — your host likely seemed worry-free and able to juggle the tasks of entertaining guests, cooking up a delicious meal, and keeping the drinks flowing. Wondering how they get it all done? You're in the right place.
Once you've got your guest list figured out, it's time to get started on pulling your party together. Below, we've covered everything you need to host a memorable dinner party, from planning your menu to the moment your last guest leaves.
Step 1: Set the Menu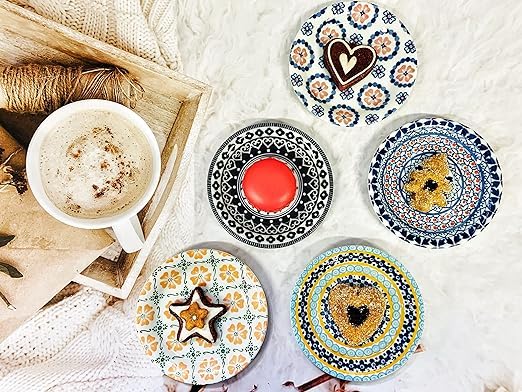 Appetizers
For me, every great dinner party starts with casual appetizers. As a guest, you don't want to be rushed right into the main event. Setting out some easy finger foods allows your guests to settle in and socialize. Not to mention, it keeps everyone's appetites at bay while giving you time to make any finishing touches to your dishes.
You don't have to do anything particularly fancy to impress — in fact, it often comes down to presentation. Here are a few easy appetizer ideas you can't go wrong with:
Charcuterie board on a two-tier server — Pick an assortment of hard and soft cheeses, cured meats, and other goodies like olives, grapes, almonds, and honey
Deviled eggs on a porcelain platter — Garnish with chives and paprika to amp up the flavor
Veggie platter with green goddess dressing on a triple divided serving platter — Use easy-to-dip veggies like baby carrots, sliced bell peppers, celery, and cauliflower
Sliced baguette with tapenade in a stoneware chip and dip bowl — Brush the baguette slices with olive oil and pop them into the oven at 350° for 20 minutes before serving
Bruschetta three ways on a three-step server — In addition to a classic bruschetta recipe, use whatever is in season to inspire your variations to keep flavors as fresh as possible
Don't forget to set out small plates, silverware, and napkins so guests can easily serve themselves — that way, you'll have more time to tend to any last-minute touches on your main dishes before they're ready for serving.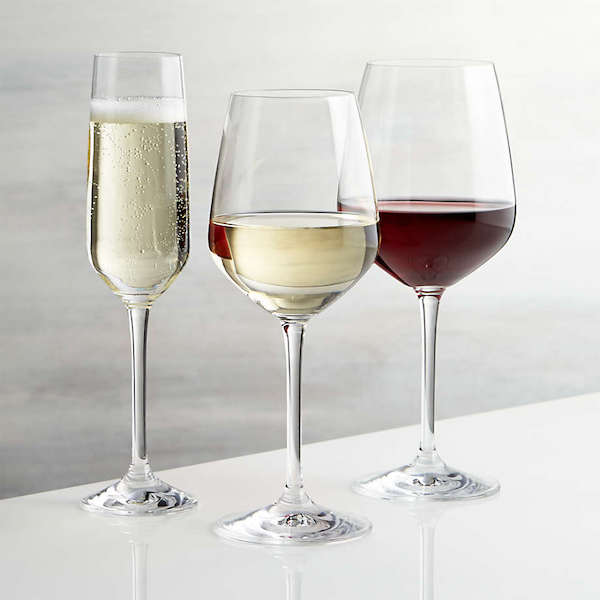 Main Dishes
While you may feel inclined to reach for an ambitious recipe for your dinner party, this isn't the time to test out a new dish for the first time. If you've got tried and true dishes that you're comfortable cooking, those are going to be your best bet. A good rule of thumb is to include a protein, a starch, and a vegetable or salad dish. Hosting a larger group? There's no shame in hiring a caterer to take care of your main event — again, it all comes down to how you put it all together.
One thing to consider regardless of who's doing the cooking is your wine pairings. A proper wine selection can elevate your guests' dining experience and will make you look like a total professional as a host. Don't forget the decanter! Here's a quick cheat sheet for pairings wines with proteins, plus links to the proper glassware to serve it in:
Lighter fish and seafood — For whitefish and other light seafood, go with a sparkling or dry white wine, like prosecco, sauvignon blanc, or pinot grigio.
Rich fish — If you're serving crab, lobster, or other rich fish dishes, pair it with a light red such as a pinot noir or gamay; or a rich white chardonnay or viognier.
Red meat — Beef, lamb, or veal pair excellently with both medium and full-bodied red wines, so you can't go wrong with merlot, cabernet franc, zinfandel, or syrah.
Chicken — White meats like chicken and pork pair with a wider variety of wines than most other proteins, so take your pick from chardonnay, oaky white wines, pinot noir, or merlot.
Roasted vegetables — For vegetarian or veggie-heavy dishes, go with white wines, such as a sauvignon blanc, pinot grigio, or chardonnay. You can also opt for a light red, like a pinot noir or gamay.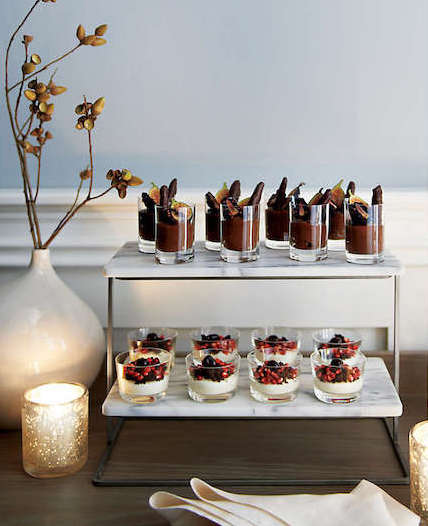 Desserts
The end of a dinner party is just as important as the beginning, so don't skimp on your final course! Bring your meal to a sweet close with a delicious dessert accompanied by fresh-brewed coffee with whipped cream. These small touches will make a big impression and confirm to your guests that you are truly the hostess with the most-est.
Here are some dessert ideas that everyone will love: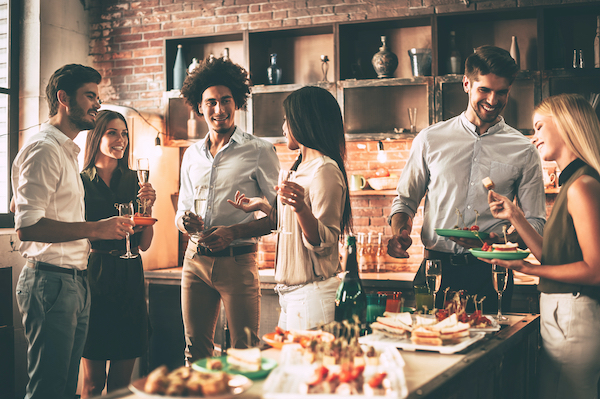 Step 2: Set the Mood
Once you've got your menu set, it's time to set the right mood for your guests. Aside from making sure your entertaining space is cleaned and organized, focus on creating an ambiance that matches the vibe you're going for.
Music — When creating a playlist (or finding one on your favorite streaming platform), play it on the safe side and select classic, feel-good songs that won't offend anyone (AKA, avoid curse words or sensitive content). Set it up to play through a connected home speaker and let the festivities begin!
Lighting — If possible, keep your lighting to floor lamps and pendants, careful to avoid harsh overhead lights. It will create a cozier ambiance and give guests a warm glow. Add an assortment of candles to bring a more romantic air to your space.
Temperature — There's nothing worse than being uncomfortably warm or cold when you're trying to enjoy yourself. Keep your home set to the perfect temperature with a Nest thermostat that allows you to discreetly adjust the settings through your phone, so your guests will keep comfortable and you won't miss a thing.
Welcome drinks — One of the best ways to make your guests feel at home is to hand them a welcome drink when they arrive. Serve a light white wine or a spritzer cocktail — nothing too strong — to get guests loosened up as they enjoy the appetizers you've prepared.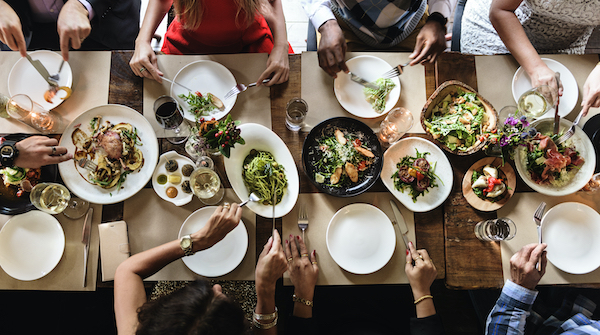 Step 3: Set the Table
Finally, it's time to set the table before your guests arrive. At this point, you understand the importance of making a visual impression, and this is your opportunity to pull out all the stops. During the day before your party, buy fresh flowers and arrange them in a vase to serve as your centerpiece. They're an easy way to add a beautiful touch to your tablescape — just be sure that they're set low enough that your guests can see each other across the table.
From there, consider your linens and table settings. For a more formal gathering, start with a tablecloth and a complementary table runner before setting the rest of your table:
Placemats — Placemats are especially helpful if you're not using a tablecloth, since they'll protect your table from any spills or stains. Choose a set that coordinates with your go-to dish and serving set to keep things cohesive.
Napkins — Linen napkins can instantly make a meal feel more grown-up and put together. Just like with your placemats, keep a color theme when picking out your napkins so everything stays coordinated. Watch this video for folding techniques!
Place settings — While not necessary, place settings can be helpful when gathering people who may not all know each other. Consider personalities and interests as you determine who will sit where.
Plates and silverware — A dinner party is a great excuse to have a second set of dishes and silverware strictly for entertaining purposes, especially if you'll be hosting more in the future. Pick something that matches your style and makes the right statement.
Now You're Ready!
If you've followed all our instructions, you're ready for a fail-proof dinner party that everyone will enjoy. With your menu, mood, and table set, all that's left to do is get ready for a fantastic gathering with your guests. Remember to have fun and enjoy all the fruits of your hard work — you've earned it!