So, I'm going to let you in on a secret about me – I'm super duper sentimental; like cry at the sappy commercials kind of sentimental. Also, I like to be super prepared, so something that kept me up at night after I first found out I was pregnant was being sad at how quickly my babies would grow up. Ridiculous, I know, but I decided if I could find ways to preserve their sweet memories ahead of time then I would free myself up to live in the moment and enjoy each stage as it came (and went)! I want to share with you my favorite finds for saving as many details and memories as possible. And to make it even easier, many of these can be started, and purchased (or added to your registry) as soon as you know you're pregnant, so you can get ahead of the game!
1. Capture Birth-day Photos
Those first few post-birth days in the hospital are a literal blur, but you will thank yourself for documenting all the sweet little details. If your budget allows, I highly recommend finding a photographer to come and do a "Fresh 48" shoot. Some photographers offer digital gift cards that you could add to your registry! But if that's not in the cards for you, have no fear, you can totally DIY this! Open the windows and let in all the natural light, grab your partner, a smartphone and get to snapping! Check out this post from Melissa Arlena Photography for great tips and a list of must have shots! Snag one of these adorable frames personalized with all of baby's birth-day stats!
2. Use a first hand & foot print kit
There is nothing sweeter than tiny, squishy baby fingers and toes, but they don't stay tiny for long! It's the best to be able to look back and remember just how itty bitty they were! This is another perfect memory maker to work on while you're in the hospital. It doesn't take a ton of time and doesn't need a lot of space and you get the bonus of capturing the true size of those teeny newborn prints! Decide if you want ink or clay prints – I love both of these kits and the adorable frames they come with to keep this memento around for years to come.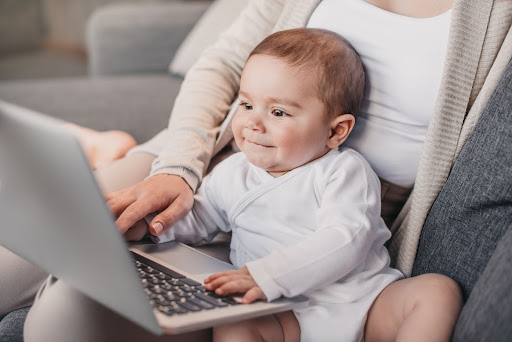 3. Set up an email & send letters and pictures
This one is super easy, free to do, and has multiple purposes – win, win, win! Use any email service (I like Gmail) and simply sign your child up for an email address! You can use it to create a virtual time capsule by sending them letters and photos of all kinds of memories and stories – from the beginning of your pregnancy all the way through forever! And as a bonus, you'll help your child to stay a step ahead; unique email addresses are getting harder and harder to secure, so as soon as you have a name picked out go ahead and see what's available! Try first name, last name, and birth year combos until you find something that works – and then, when they're applying for colleges, years down the road, they won't have to scramble to figure it out!
4. Take monthly photos using the same set-up
It is truly wild how much babies change from month to month during the first year. I cherish the monthly photos I took of all my children, but the thing I didn't figure out until I had my second was to use the same set-up every time to really highlight the changes! With my second baby I used a milestone blanket similar to this one from Etsy, and with my third I sat him in the rocker in his nursery with blocks like these from Pottery Barn. I also registered for the same onesie in sizes newborn to 18 months to use for these photos! It is so fun to look back at how much they grew by looking at all the photos side by side!
5. Fill a keepsake box
There are so many little mementos that you will want to keep (and keep safe) to share with your baby when they are all grown up. A great way to do that is to put them all in one designated place, and I highly recommend the Keepsake Box by Savor. Savor has thought of everything when it comes to keeping all baby's early memories and mementos safe for years to come. The box comes in beautifully custom-dyed fabric lined with acid-free paper and provides a safe all-in-one storage solution with 50 labels and spots to save everything from the first sonogram to the first lost tooth and everything in between!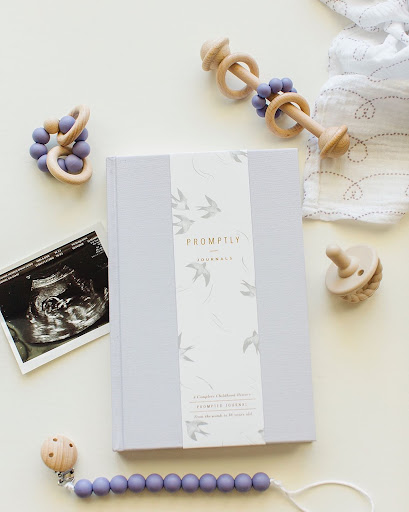 6. Write in a journal
Keeping a journal for your baby might seem like a daunting task, but have no fear – the Childhood History Journal from Promptly makes it super easy! In each of their beautiful, sleek journals, Promptly offers custom, tailored writing prompts for each phase of your child's life from pregnancy all the way through 18 years! The prompts will help you keep a quick but meaningful record of your child's growing up years – what an amazing thing to be able to look back on years later!
7. Make saving memories as easy as possible!
These days, we all have our phones within arms reach 99% of the time, and that makes Qeepsake the easiest way to save all your babies memories! Qeepsake seamlessly integrates into your everyday life through text or using their super easy app. They send you frequent texts with questions you can quickly answer about your pregnancy and child, as well as allow you to send photos, videos, and memories on the fly! Qeepsake then saves all your memories digitally for life and even allows you to print a beautiful heirloom memory book! They offer 3 different levels of membership from free to under $100 a year! Check out the Qeepsake website to decide what works best for you. The memberships can be gifted – so make sure to add it to your registry!
Find what works for you
The most important thing when it comes to saving your baby's memories is to figure out what's going to work for you, but not feel like work! Most importantly, savor those early days with your sweet new baby! And don't forget to add these helpful tools to your registries, and then send your family and friends to RegistryFinder.com to find them all in one easy place!