Navigating my first pregnancy has been easier thanks to the helpful world of social media. As a first time mom, I'm so thankful for the plethora of mom knowledge that Instagram and Facebook afford me and it was especially helpful when I was on the hunt for a good diaper bag. There are just so many options in about 100 different styles at 45 different price points.
How will I know what exactly I need before I have this baby? Moms to the rescue!
Before I started my registry, I asked my husband if there were any baby items he had a strong opinion about. The diaper bag was the only one!
He requested a backpack diaper bag that he could carry as well without it looking too much like a purse. It's the little things!
Here are a few things to consider when purchasing your diaper bag:
Are you nursing or bottle feeding your little one? You'll need space for a breast pump if nursing and a few more insulated pockets if you're planning on bottle feeding.
Will your baby be going to daycare or will you be staying at home?
Who will use the diaper bag? Mom and/or dad?
Are you a one bag kind of mom?  Will you want to combine your purse and personal items like laptop and books into your diaper bag? Then you'll need to consider a roomier bag with bigger sections and perhaps a few more pockets.
What kind of bags do you generally carry? If you're used to carrying a tote bag, you may want your diaper bag to look the same.
Consider how much you'll be able to do one-handed with your diaper bag. For instance, I decided I wanted a bag that zipped easily across the top instead of all the way around so I could open it with just one hand.
Add a few diaper bag accessories (like the ones at the bottom of this post) to make the bag you choose really work for you!
We've rounded up a few of our favorite and most recommended diaper bags below:
Backpack Diaper Bags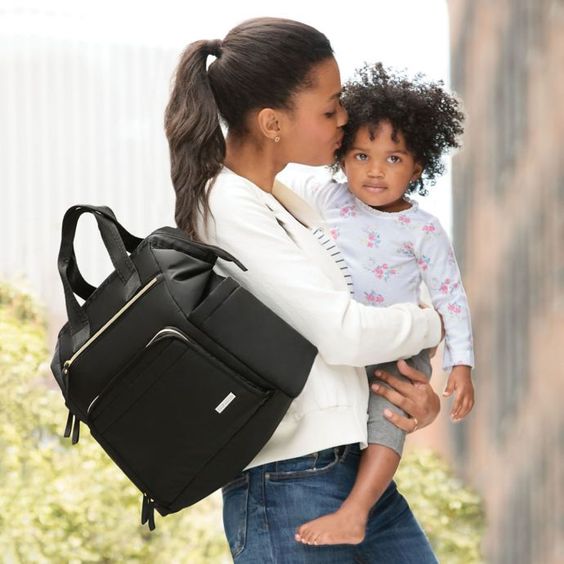 This backpack by SkipHop features a zipper across the top in addition to top carrying handles so you can wear it as a backpack or carry it like a purse. It's also sleek with its black polyester fabric (that's easily wipeable!) and gold zippers. This bag includes a cushioned changing pad, built in stroller straps and insulated bottle pockets.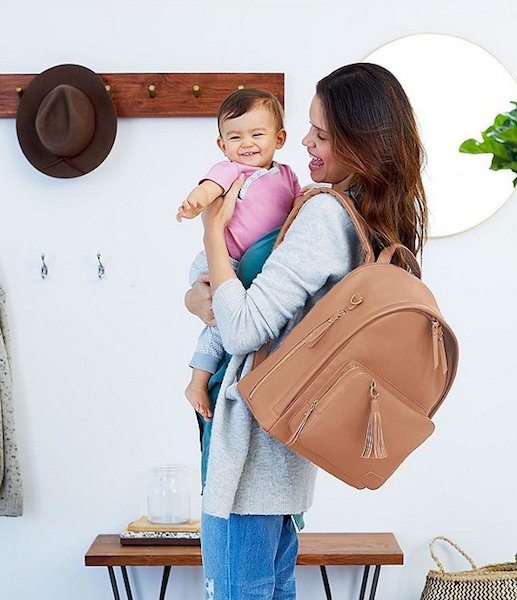 If you're a stylish mom-to-be, it'll be hard for you to resist the chic purse look of Skip Hop backpack. It's made of vegan leather that's spill resistant and gives off high end vibes with it's gold accents and tassels.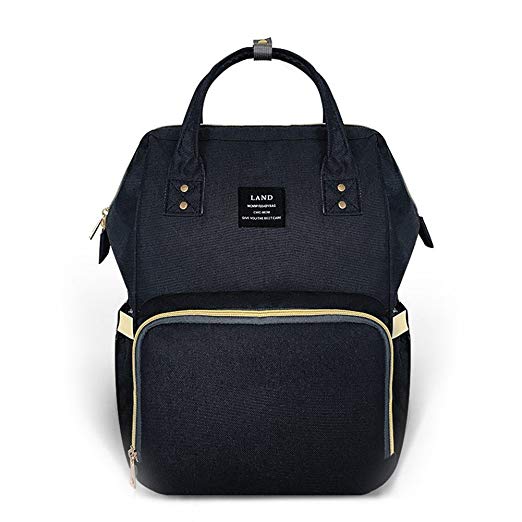 The perk of this backpack diaper bag is all of its different storage pockets. The entire front pocket is reserved for bottles and bottle making. No more digging around in a big bag for formula and bottles! There are also separate sections for diapers, clothes and mom's own water bottle! It also comes in a variety of colors to fit any mom's style!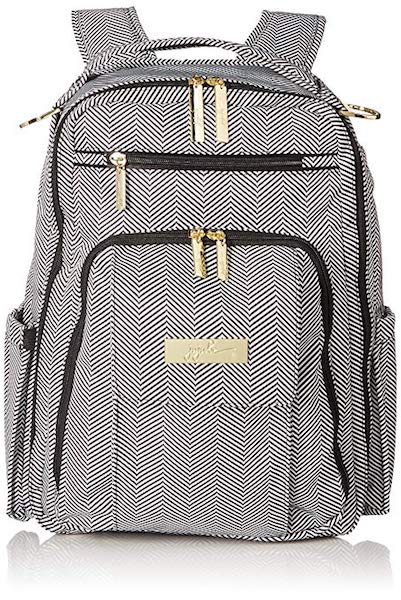 If you're looking for a more traditional backpack style bag, the JuJube bag is for you. It has multiple outside pockets, a pocket on the inside dedicated just for mom things and padded shoulder straps. The best part of all is that it's machine washable!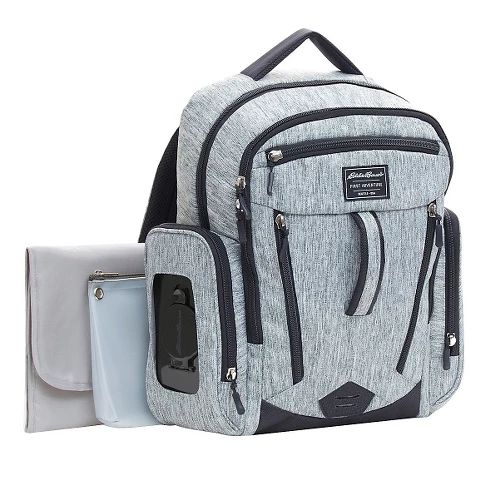 Eddie Bauer's diaper bag is a registry favorite at Target! It's water resistant, has a ton of space on the inside for all of baby's things and the shoulder straps are adjustable to fit both mom and dad. It also includes a changing pad and wipe dispenser built into the side of the bag.
Shoulder Diaper Bags
The brand you've loved for duffel bags, purses and make up bags has created the ultimate baby bag. Vera Bradley's shoulder bag comes with a multitude of pockets, the option of going from shoulder to cross-body and a polyester lining for easy cleaning.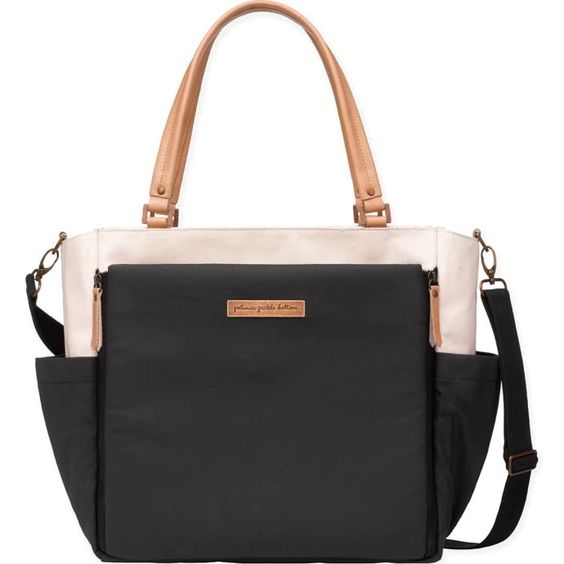 Petunia Picklebottom offers style and convenience for moms-on-the-go with a built-in changing pad that zips out from the back of the bag. It can easily go from a tote bag to a cross body and offers multiple outside and inside storage pockets.
Diaper Bag Accessories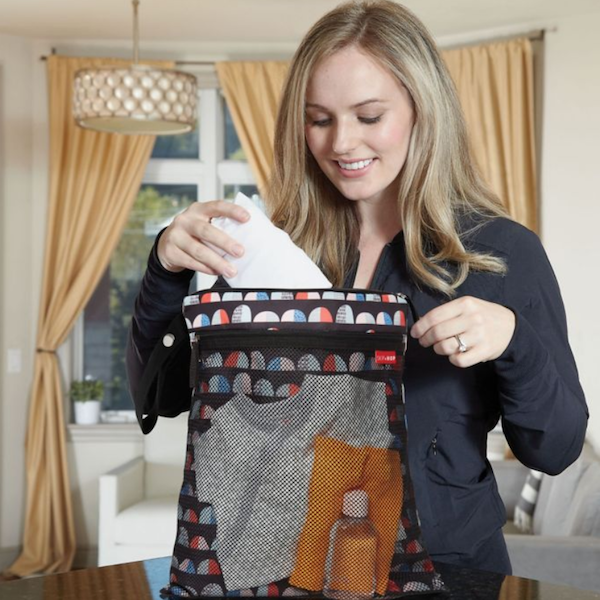 This Wet Dry Bag by SkipHop contains baby's clothes and accessories neatly inside your diaper bag. With two different sections, it separates wet or dirty clothes from the clean and dry ones so you're always prepared!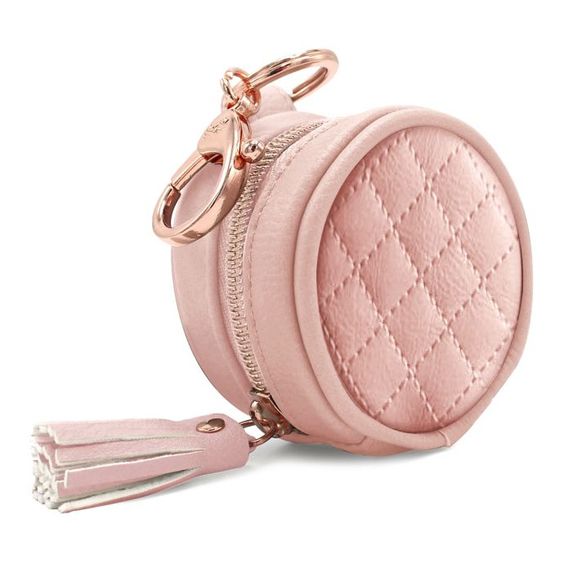 A charm pod is the diaper bag accessory you never knew you needed. Not only is it cute, but it also clips onto your diaper bag zipper to make the things you reach for most easy to find! Stick a pacifier, your keys, chapstick or small baby item inside the charm pod to keep it always within reach.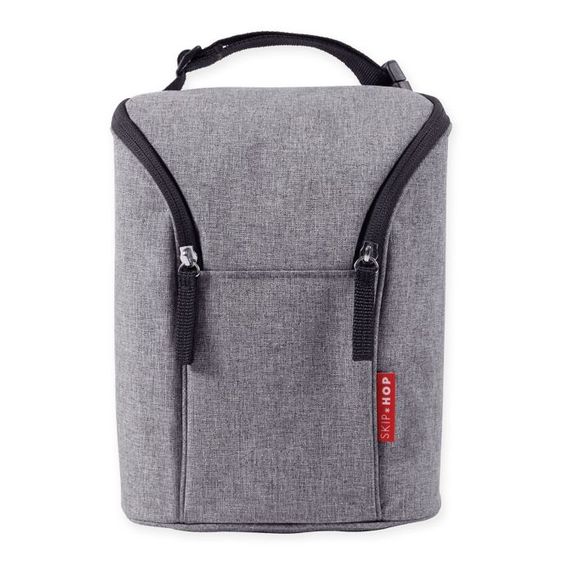 In addition to the insulated pockets in your diaper bag, you may also want one of these on-the-go bottle bags. It comes with a freezer pack to keep cold cups cold and has enough room to keep 2 bottles or sippy cups warm or cold for up to 4 hours. With its straps, it can also easily attach to any stroller or bag.
Find the Perfect Diaper Bag
Just like with most baby items, we always suggest trying before you buy. Head to your local baby store and try on a few of these diaper bags. Unzip all the zippers, count the pockets and have the dad-to-be try them on for size too.
Once you've completed your registry with the perfect diaper bag, don't forget to point your friends and family to RegistryFinder.com where they can find all your registries in one spot. And if you're a mom-to-be looking for more tips about the best products for your little one, you can find more great resources on our GiveIt Blog.