When I was planning my wedding last year, I didn't expect many of the decisions I ultimately faced. Sure, there were the typical, unavoidable tasks of selecting dinner plates, chairs, floral arrangements, and lip color. But when it came time to consider whether to allow our guests' phone usage during the ceremony, I thought it was a no-brainer: that we wouldn't do it.
Of course, when the time came for me to voice my opinion, I was met with some agreement (which I expected), and some contention (which I didn't). My husband didn't see a problem with letting people snap away, and many of our family and friends agreed. I eventually opted to refrain from an "unplugged" ceremony, thus giving in to the pressure (and avoiding an argument in the interest of future leverage down the road).
Almost a year since we said "I do," I'm still happy that I didn't put my foot down. We wound up with some beautiful close-up ceremony shots from our guests that we wouldn't have otherwise, and it made us feel so special to know they were eager to share those captured moments. Even the handful of phones that made it into our professional photos showcased the collective excitement in the room—not a symbol of distraction as I had expected.
My experience is far from unusual; every couple planning their wedding contends with the question of whether to allow guest photography in one way or another. For some, it's practically reflexive. For others, we take a bit more time and convincing to come to a final choice.
What I'm trying to say is, there is no right or wrong way to go, as long as you're happy with the end result. There are merits to either option, whether you go with keeping things unplugged or getting guests involved in the action.
Here are some factors to take into consideration as you're planning your own wedding: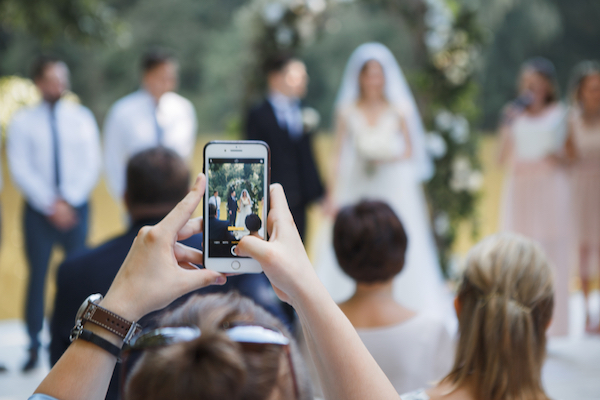 An unplugged ceremony is a great option for your wedding if:
You want your guests to be 100 percent in the moment without any tech distractions
You want to keep your wedding off social media until you receive your professional photos
You don't want any cell phones to show up in your professional ceremony photos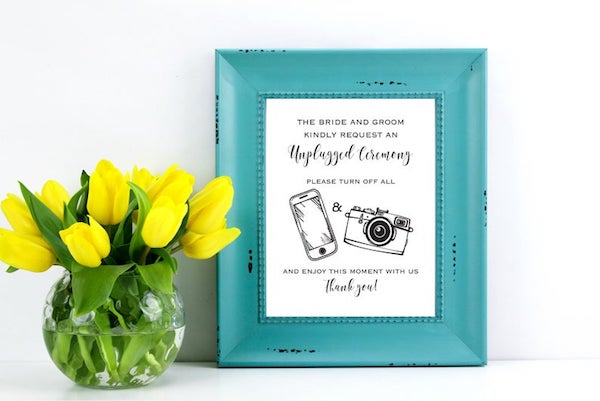 You can easily communicate your desire to keep cell phones out of your ceremony without turning the request itself into a spectacle. You can respectfully ask that people refrain from cell phone usage with fun decor, and even add a note to your invitation that the ceremony will be "screen-free" if you want to include an extra reminder. Display a sign in your venue where guests can see it as they arrive for your ceremony.
Of course, while you can do your best to set expectations, you may still find that one or two guests "never saw" any aforementioned requests. At the end of the day, just remember, it'll all be okay.
Then again, you may not mind a few pesky phones popping up as you look out at your guests—that's completely fine, too! Getting your closest friends and family members involved in capturing your special day can result in some great pictures.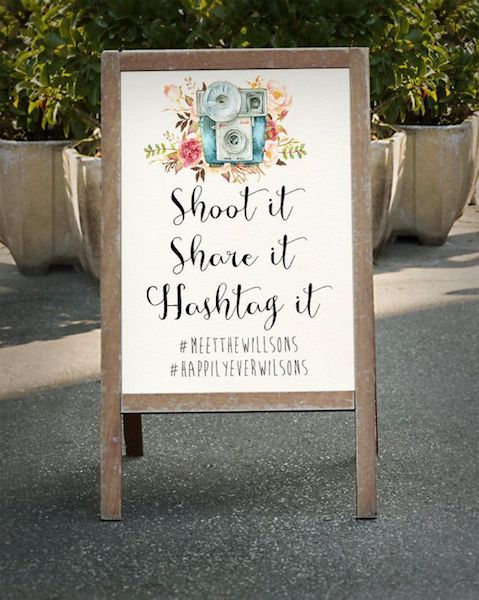 Let your guests snap away if:
You don't mind a few cell phones making an appearance in your final shots
You have a wedding hashtag
You don't have a specific preference or vision as to how people "should be" enjoying your ceremony
You want to capture the unique perspectives of your guests—and potentially end up in some great, yet unexpected, snapshots
When it comes to communicating the "rules" to your guests, less is more. Offer gentle encouragement with a few scattered signs reminding guests of your unique hashtag, or with a simple message letting them know it's okay to share in the moment. Personally, I find it hard to not reach for my phone during life's special moments—including those of others. Strangely enough, limiting people's natural response to the magic of the ceremony may take them out of the experience.
Including or limiting cell phones during your wedding ceremony is your choice, and it's one that will be respected by your guests, especially with a few helpful reminders in your venue. If you find yourself a guest at an "unplugged" wedding, keep in mind that as much as you may want to snap some photos in the name of posterity, it's just as valuable to honor the wishes of the people you're there to celebrate. As tempting as it may be to take out your phone, it can be refreshing to experience the full event sans screen.
Planning a wedding in today's modern world can open up more questions than ever before. If you're wondering about your own wedding, send your questions to [email protected]. We're here to help!
---