Let's be honest: from the moment you get that positive pregnancy test, you start dreaming up your baby's nursery. At least, that was the case for me. I couldn't wait to paint, decorate and spend time creating a special room for our new little one.
But, as it tends to go in the world of baby products, it feels like there are about 500 options for every item you need to purchase. As a first time mom, I was grateful for all the choices, but I wasn't sure where to allocate my budget. Did I need to spend a ton of money on a fancy crib or mattress? Was it worth it to put most of my budget towards a big rocking chair or glider? What about electronics like a monitor or sound machine?
If you've got the same kinds of questions, we have a few answers in today's edition of Ask a Real Mom. Thanks to the wonderful world of social media, we asked our team of Real Moms which items were worth the splurge for baby's nursery. They were happy to fill us in on their favorites and we're sharing those with you today!
Nursery Furniture
Furniture felt like the most obvious category to start with since it requires a significant investment and you may pass these pieces down to the rest of your babies. If that's the case, you'll want high quality, durable furniture that will last for years to come.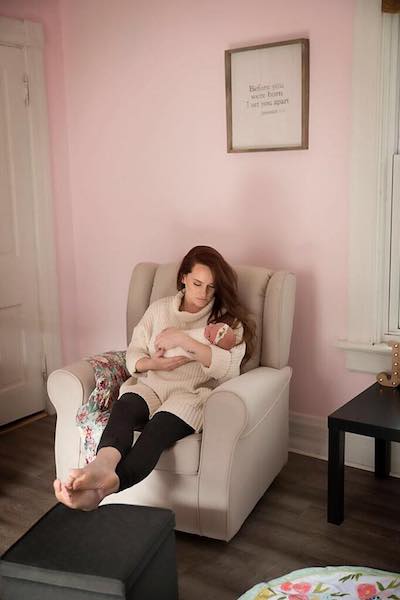 Where will you be spending a lot of your time once baby moves into the nursery–specifically in the middle of the night? In a big comfy chair! Our Real Moms agree: a comfortable glider is a necessity that's definitely worth the money!
Before we were pregnant, my sister-in-law advised me to get a glider with a high back so I could rest my head during those middle of the night feedings. And boy, am I glad we splurged! My glider met all my criteria: it's comfortable, it looks like a real chair, and it perfectly matches our nursery decor.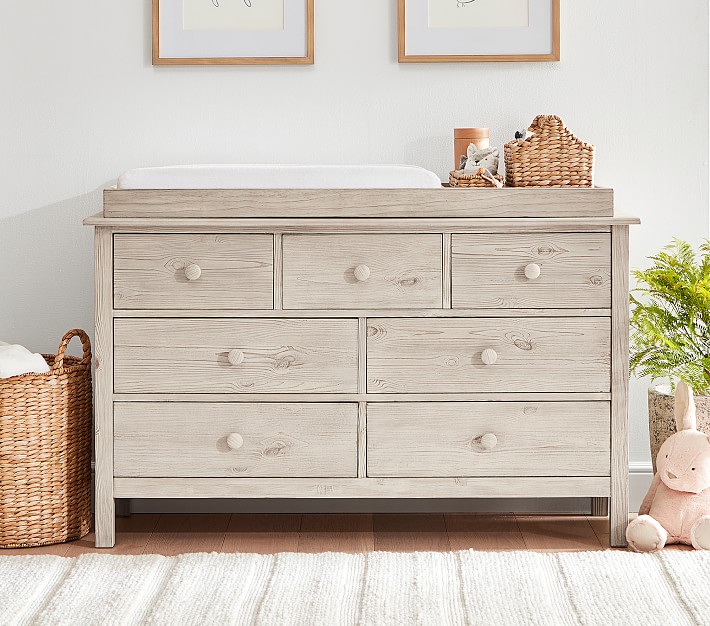 Real Mom Sarah E. recommends a dresser that will stand the test of time.
"Our PB Kids dresser moved from our son's nursery into his big boy room!"
That's how you know a splurge is worth it! It's not just for a year or a season of life, but it will have many uses and can grow with your child and your home. While the dresser may start out as a changing table – housing diapers, wipes and 400 burp cloths – it will eventually be the staple piece of your child's bedroom with plenty of room for their growing wardrobes.
We love the Nursery Dresser and Topper Sets from Pottery Barn Kids– each set includes a dresser topper that can be used as a changing table and then removed once a child has outgrown the need for a changing table.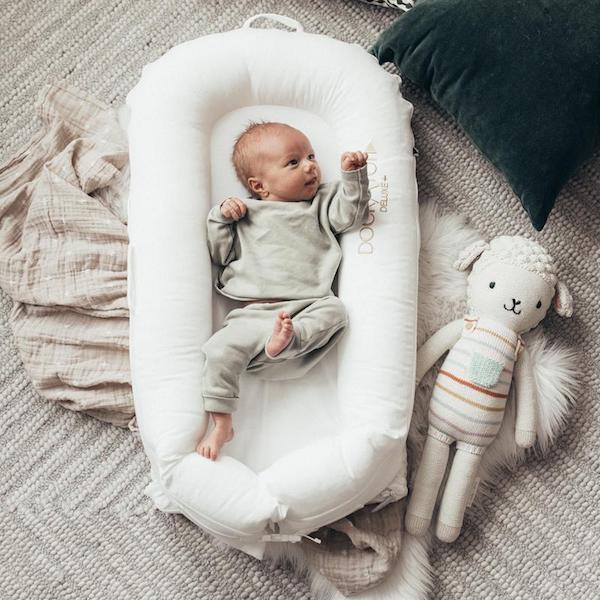 "I was so skeptical, but glad I splurged!" -Real Mom Christina P.
If we count the DockATot as nursery furniture, our Real Moms agree that it's an item worth its price tag. And I couldn't agree more! We'd be lost without our Dock, a cozy place we've laid our son in since we brought him home from the hospital. In the same vein, Real Mom Portia says she's glad that the one baby item she splurged on was the Snuggle Me organic.
Custom Nursery Decor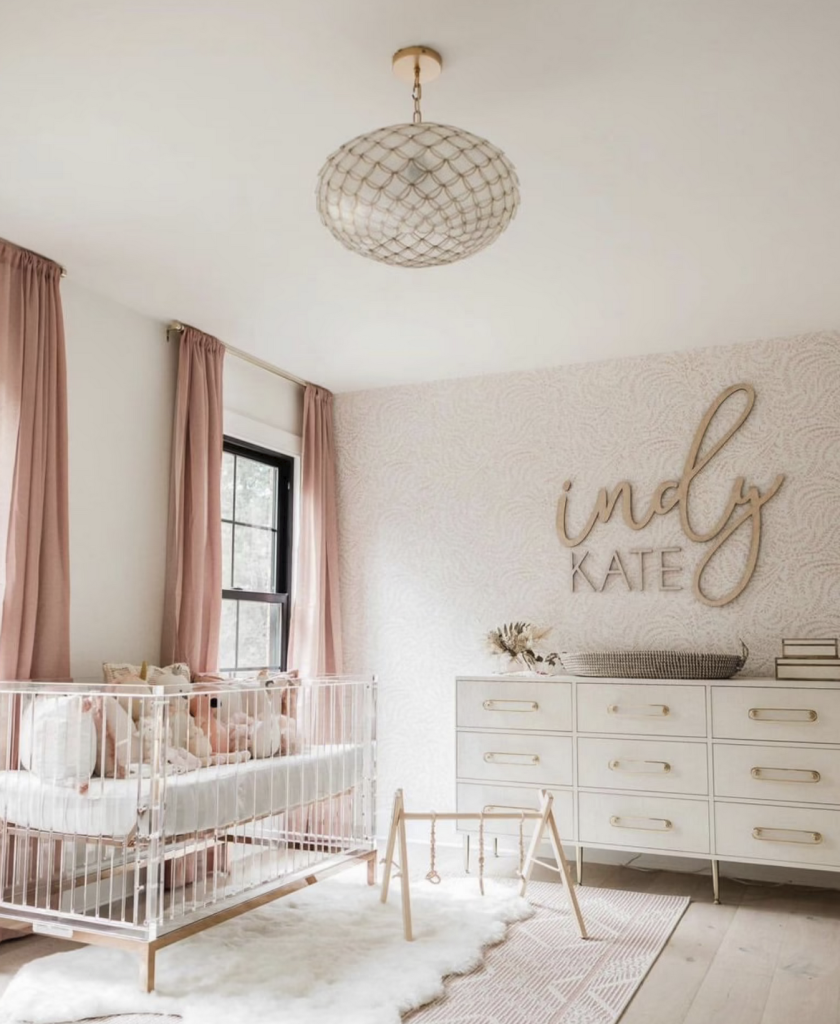 Thanks to Etsy, it's become easier than ever to personalize your baby's space. It might feel like a splurge, but a custom made, personalized sign is a sweet way to make your little one's new room feel like home. Real Moms (me included) love the personalized name signs like this one from Etsy seller, ModWoodCo.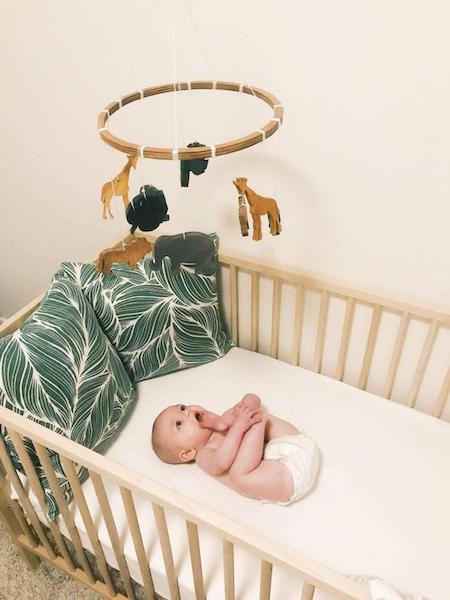 "When we were in Scotland before our first son was born, I basically forced my husband into buying a hot air balloon mobile. It was $80, but now we both love it and so do our boys. I'm so glad we splurged on it. It's the focal piece of our nurseries and it's gender neutral." – Real Mom Molly K.
Molly sums up some of our best tips for deciding what to splurge on in your little one's nursery: something memorable and meaningful to you and/or your spouse, something that's unique and something that can be passed down to your next child. A piece like the mobile can make a unique statement in the nursery without being too over the top, while still keeping the room fun and focused on your baby. We love this handmade mobile by Etsy seller TheLittleTableau.
Nursery Tech
What about all the little things you could fill that nursery with? Real mom Amy P. says "Not a design feature but a really good video monitor is so helpful! I would spend money on it again and again." You can set it up in baby's room and watch from wherever you are in the house–perfect for nap time, especially if you live in a two story home.
Which features are key in a video monitor? We suggest a color picture, high range camera with two way talk back (especially as those babies grow into toddlers!) such as the Infant Optics DXR-8 Pro. For a real splurge, check out the Miku Pro Smart Baby Monitor which tracks baby's breathing, sounds and sleeping patterns in addition to being a 2-way video monitor.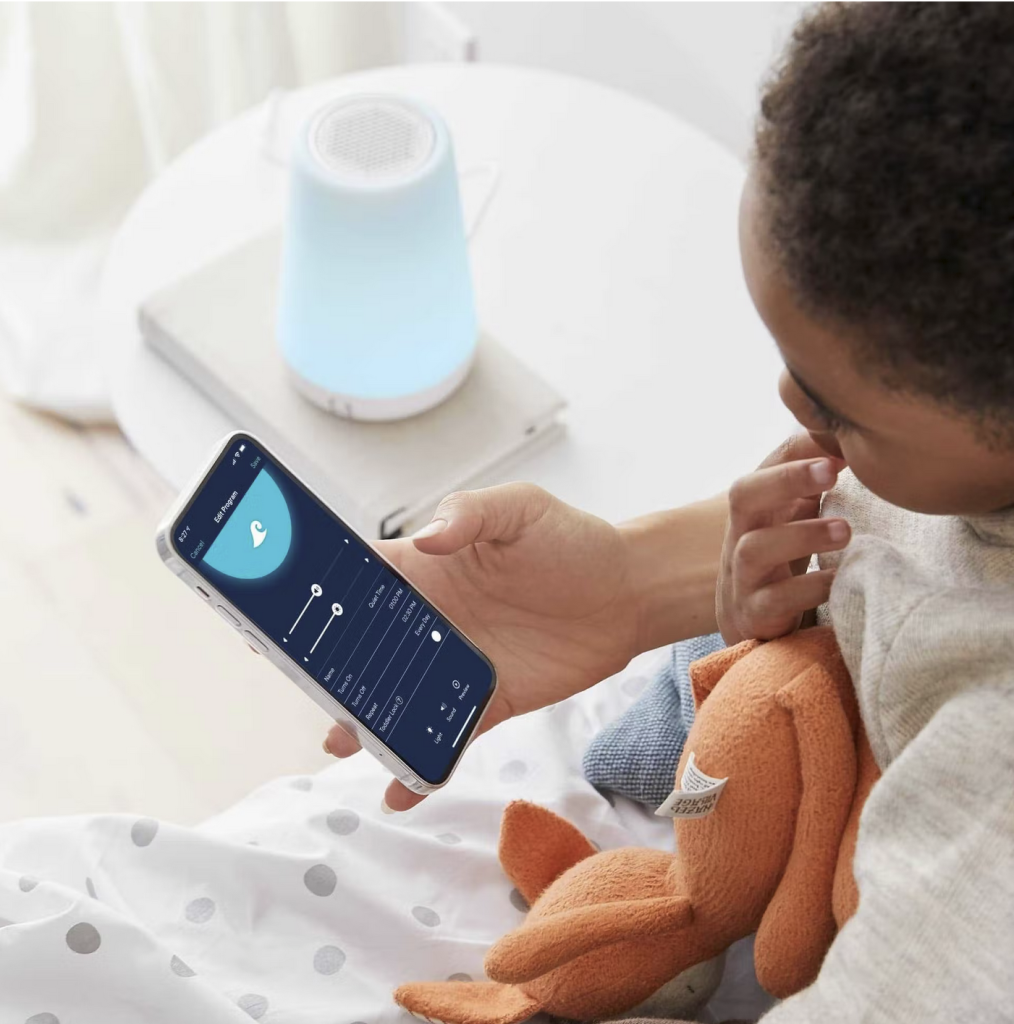 A good sound machine is a nursery must-have, according to Real Mom Kelly B. We love the app-controlled Hatch Rest which includes 11 soothing sounds, a customizable nightlight, and a time-to-rise light that will come in handy when your baby transitions to a bed. If you'd rather skip the extras and have a simple noise machine, we suggest the Hatch Rest Mini which has 8 soothing sounds.
Nursery Organization
"Lots of extra crib sheets!" – Real Mom Alivia J.
Real Mom Alivia J. voiced the necessity of splurging on lots of extras and we couldn't agree more! Stock your nursery with extras of any item that you may need to change during nap or nightly sleep: crib sheets, mattress protectors, swaddles, blankets and burp cloths. Trust us on this one- it's worth registering for extra nursery necessities for the sake of your middle-of-the-night sanity.
And where will you house all those extras and baby necessities? Real Mom Sarah M. says she's so glad she spent money on a cube closet organizer with labels for her daughter's nursery. I've love having a hanging closet organizer like this one with room for burp cloths, bibs and blankets.
And Real Mom Christina P. agrees. "I'm thankful I bought lots of baskets and drawer organizers to rein in all the stuff." Consider flexible drawer organizers or removable dividers that can grow with your baby. These dividers by OXO can move and adjust to create space for bigger items in those dresser drawers.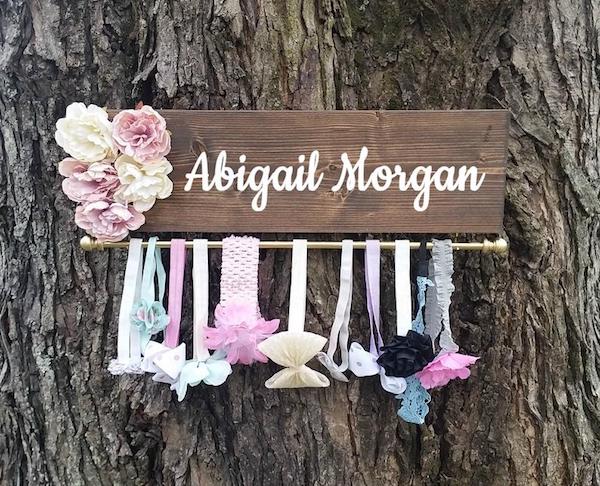 If you're the mom of a baby girl, consider even more specific organizers. Real Mom Kelly B. says she's glad she has a bow organizer to handle all the cute hair pieces for her little one. We love this personalized one by Etsy seller, HandmadebyPennyMay.
Splurge with a Labor of Love
Splurges don't always require spending large amounts of money. Sometimes, they look like a labor of love and time. For me, the biggest splurge we did was painting a striped wall in our nursery–TWICE!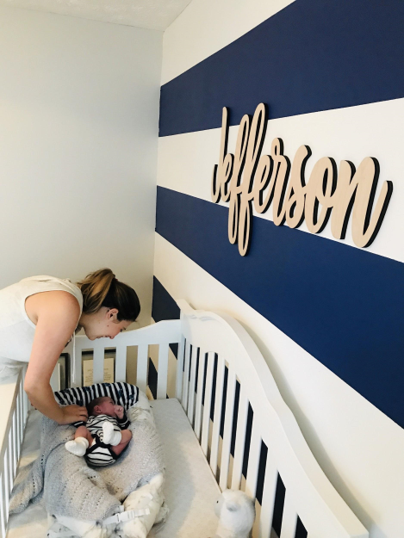 When I was first pregnant, my husband painted the navy and white striped wall of my dreams in our home. We decided to move when I was 8 months pregnant, and he willingly and lovingly, painted the striped wall AGAIN in our new home. It's my favorite part of our son's nursery!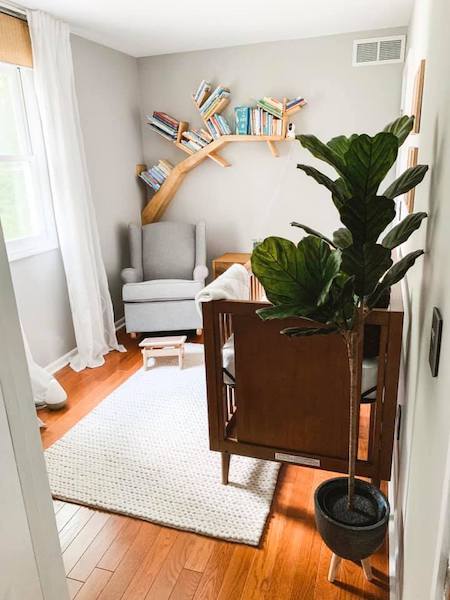 Real Mom Hannah K. agrees that labors of love are often the biggest and best splurges. The tree style book shelf in her son's room was made with love by his great grandpa. It's not only beautiful, it's functional and practical as well.
To Splurge or Not To Splurge?
Real Moms also agree there's a way to create your dream nursery without blowing the budget or splurging on anything! Real Mom Emily P. says "I didn't splurge on anything and I don't regret it!" And Portia says "I don't think we splurged on anything! We got hand me downs, thrifted or bought from friends! Even our crib/dresser had been in a staged home so they were basically brand new and they sold them to us for basically nothing!"
Add your nursery splurges to your baby gift registry
Don't forget to add your nursery splurges to your baby gift registry; you may or may not receive a larger item as a gift. But remember that most stores offer group gifting or a discount on remaining registry items that you choose to purchase for yourself! And at RegistryFinder.com, all of your registry wish lists are conveniently displayed, so that family and friends can find the perfect gift (be it splurge or everyday essentials) to welcome your newest family member!