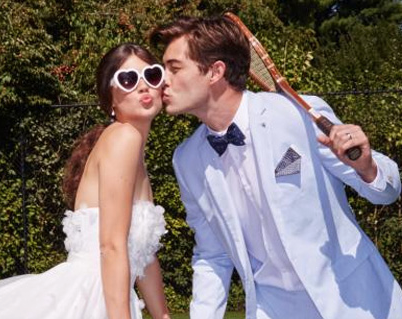 He asked and you said yes…let the wedding festivities begin! Not quite that easy, right? There's a lot of planning to be done and one of those key parts is creating your wedding gift registry. You're choosing the most important pieces that will fill your home, while making gift giving easier on your guests. With so many options out there, this is a task that is easier said than done.
In a recent blog post, we highlighted some of our favorite places to create a registry. Macy's is one of the world's largest department stores and carries just about everything you need to stock your home and prepare for wedded bliss. They offer excellent registry services and resources, both in-store and online. If you're not sure how to begin building your wedding gift registry, we suggest heading to your nearest Macy's. But first, check out this list of the best products to include on your registry!
Best Products to Add to Your Wedding Gift Registry for:
EVERYDAY DINING
Everyday Dishes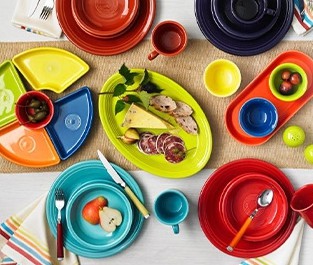 Your everyday dishes are the canvas on which you display your culinary creations so select ones that you love! If you're looking for dishes that are fun and colorful, then the Fiesta Dinnerware Collection is for you! It's available in 16 bright colors to mix and match to create the perfect set. If you prefer white, check out the Martha Stewart Whiteware Collection (pictured above), which comes in square and round styles. Though it's just two of you right now, we suggest that you register for 10 to 12 place settings. Keep in mind that you'll probably have guests from time to time, and before you know it, you may even have a one or two little mouths to feed.
Everyday Flatware
Now that you have your plates and bowls, don't forget to register for a high quality set of stainless steel flatware. Whether classic or contemporary, select a pattern that reflects your style and register for service for 12, plus a hostess set, which includes several serving pieces.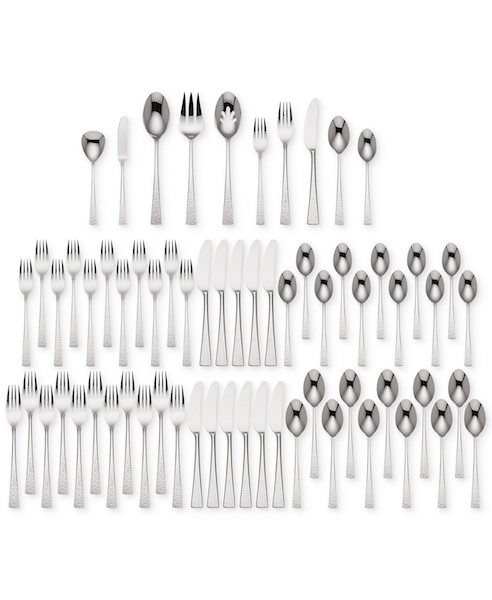 Everyday Drinkware
The last piece of your everyday table is drinkware. Register for at least 12 glasses of each -double old fashioned (10-12 ounces and great for juice and cocktails) and highballs (16-18 oz. and perfect for an everyday water glass). I would even suggest registering for a few extras of each size. Glasses seem to have the highest casualty rate in my home due to slippery fingers, stray elbows, and the notorious overstuffed dishwasher. You could register for large glassware sets such as The Cellar Serene or smaller sets of 4 like the Luigi Bormioli Classico Highball Glasses.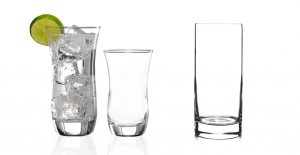 Casual Stemware
In addition to everyday glassware, we recommend adding at least one set of stemware, such as a classic red or white wine glass. Wine connoisseurs, we know one set it not enough and that you'll want various wine glasses! We love the Lenox Tuscany Collection that features timeless stemware to enhance the color and aroma of different varietals.
COOKING TOOLS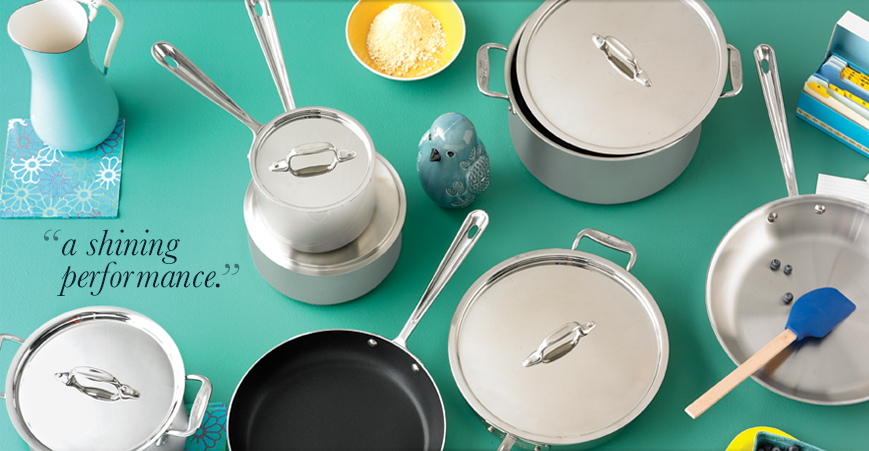 Cookware
Whether you're planning to boil pasta or have your sights set on coq au vin, you'll need a high-quality set of pots and pans. The best bang for your buck is often found in an 8-12 piece set or you can register for individual items to build a custom set. If you favor nonstick cookware, we suggest the Calphalon Contemporary Nonstick. If stainless if your choice, look no further than All-Clad (pictured above). If you're not sure what you need or want check out this helpful guide to cookware from the Registry Team at Macy's.
Knife Set
Good tools make all the difference in the kitchen so keep your kitchen game on point with good sharp knives. Just like cookware, you can register for a complete set or build your own to suit your cooking style. To find the best fit for your style, we recommend you check out Macy's Guide to Cutlery.
Kitchen Utensils
Peel, scoop, mash and more with the tools in this OXO Utensil Set. It contains 15 handy gadgets which all fit in a brushed metal utensil holder so you can be ready to make the magic happen every day!

Oven to Table to Freezer Bakeware
Corningware French White Bakeware has stood the test of time. The classic, durable stoneware in this 18-piece set can go from oven to table to fridge or freezer which allows you to cook, serve and store your mouthwatering meals in a single dish.
BAKING SUPPLIES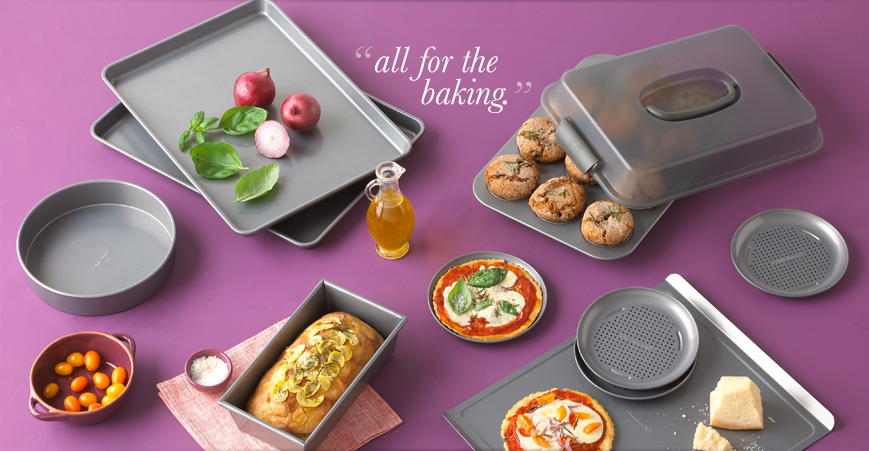 Non Stick Bakeware Set
Be ready to whip up delicious breads, pizzas, cookies and more with a good bakeware set. The Calphalon Nonstick 10 Piece Set (pictured above) features a heavy gage steel core to ensure even heat distribution and a nonstick surface for quick and easy removal of your yummy treats.
Mixing Bowls
Good mixing bowls are essential for baking, as well as kitchen prep work in general. Ensure you have the right bowl for every task with this 10-piece glass set from the Martha Stewart Collection.
Measuring Cups and Spoons
Precise measurements will ensure perfect culinary creations each time you step in the kitchen. Equip yourself for every baking occasion with both wet and dry measuring tools. For dry measuring, we recommend a stainless steel set of cups and spoons. The OXO Angled Measuring Set is a great choice for portioning liquids.
SMALL APPLIANCES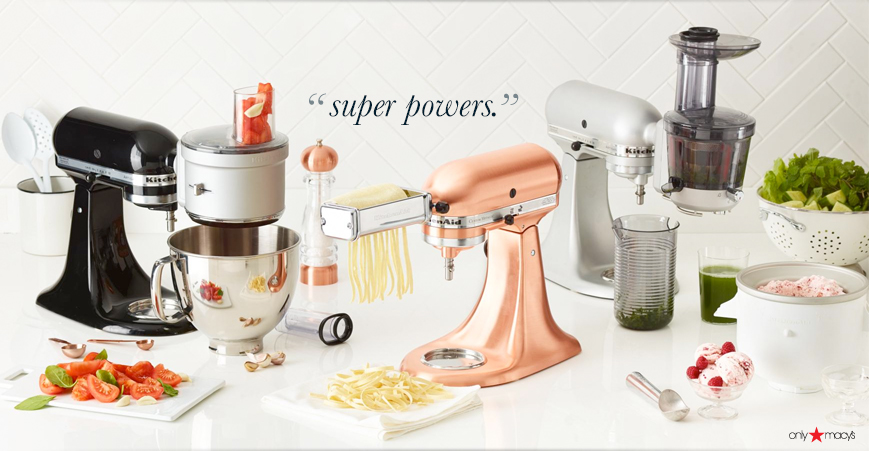 KitchenAid Artisan Stand Mixer
The KitchenAid Artisan Stand Mixer (pictured above) is a staple on kitchen counters across the country. And it's no surprise since it's available in 29 gorgeous colors and can easily handle all of your culinary needs. Not convinced yet? Juice, shred, slice, spiralize and even make ice cream or pasta with the mixer attachments.
Food Processor
You may not realize it now, but your food processor will save you countless hours of prep work and will become your kitchen BFF. This KitchenAid Architect Food Processor will chop and slice your veggies, shred your cheese, and knead your pizza dough all with the push of a button.
Coffee Maker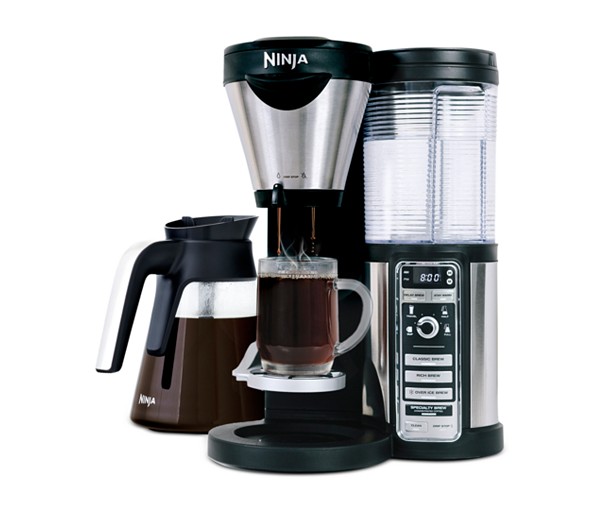 If you start your engines each morning with a delicious cup of coffee, don't forget to add a coffee maker to your wedding gift registry. (If you don't drink coffee now, just wait until you have children!) The new Ninja Coffee Bar is the perfect option if you and your fiancé have different coffee preferences. With this all-in-one coffeehouse on your countertop, you can brew a cup or a full carafe, and make everything from hot or iced coffee to specialty drinks with the various options available.
IN THE BEDROOM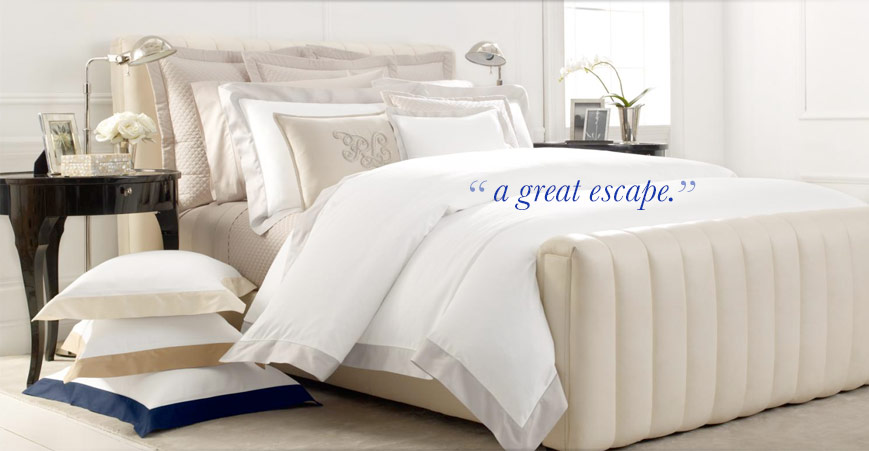 Comforter or Duvet Set
Stay warm and cozy with a comforter or duvet for your master bedroom. The options are endless when it comes to bedding so you may want to take your fiancé's opinion into consideration. Whether you like fresh florals, modern patterns or sophisticated style, Macy's offers something to fit every couple's taste and personality.
Sheet Sets
Once you've selected your comforter or duvet, it's time to get between the sheets. Remember, you spend a lot of time in bed, so take your time and pick a set you love. A good option is the Charter Club Damask Collection, made of soft, luxurious pima cotton and available in solids or stripes in a wide variety of colors.
STOCK YOUR BATHROOM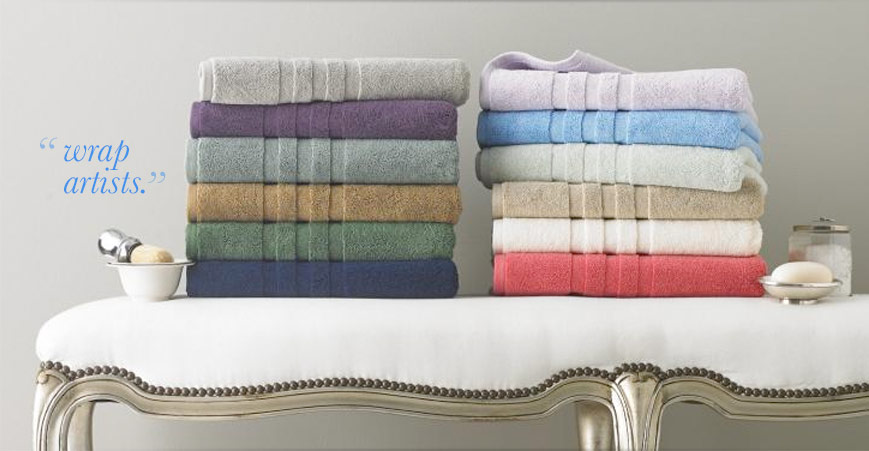 Bath Towels
Take your everyday shower routine from "blah" to "spaaaah" with fluffy bath towels, hand towels, and washcloths. Add at least six of each to your wedding gift registry. The Lauren Ralph Lauren Westcott Collection comes in over 20 colors so you're sure to find one perfect for your home.
---
This list should get you started on your journey to create the perfect Macy's Wedding Gift Registry, but don't stop now- there's still a lot to add. For more registry inspiration, check out our Pinterest Board: Best Macy's Products for your Wedding Registry. And be sure to refer to this helpful registry checklist from Macy's and take advantage of their in-store registry specialists!