I'll never forget those first few moments after delivering my son last September. The nurses laid him on my chest, he looked me in the eyes and it was one of the sweetest moments of my entire life. Soon he was whisked away to be weighed and cleaned up and I was stitched up and wheeled into a post-op recovery room where another nurse promptly brought in our fresh baby and taught me how to get him to latch.
Thus began my breastfeeding journey. It was unceremonious and felt mostly like a shot in the dark. I knew our insurance company would send us home from the hospital with a pump. I knew I had registered for a Boppy breastfeeding pillow. I knew all the benefits of breastfeeding. But I knew little else. I'm so grateful for the incredible postpartum nursing staff at our hospital who showed me how to hold our son when feeding him and gave me tips and tricks for keeping him awake and eating consistently.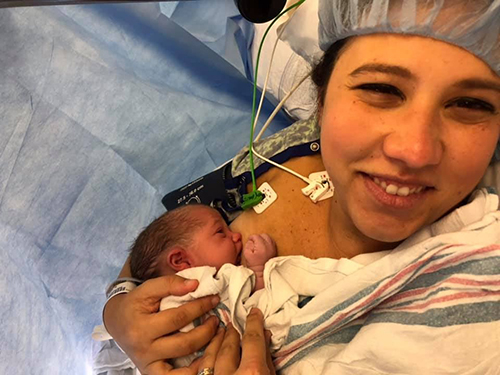 Then we went home. And it was all up to me. And I was overwhelmed. (Aren't we all in those first few days with a new little one?) Thankfully I had lots of helping hands, a great lactation consultant at our pediatrician and a baby who loved to eat (what felt like every 30 minutes!).
I recently reached out to our Real Moms and asked them what they're thankful they had on their breastfeeding journey. If you're a mom to be with questions about breastfeeding, we've hopefully got a few answers for you today from some of our best: 
Pumps
Electric Breast Pump
Real Moms Jessica E. and Katie P. say a good electric breast pump is a must have for breastfeeding. Like I mentioned above, our insurance company provided us with a breast pump and all its parts before we left the hospital. As your due date draws closer, be sure to call your insurance company to confirm they will provide this for you. If not, you can add one to your registry. Do your research, consider where you'll be pumping most (home, work, on the go, etc.) and decide which features will be important to you.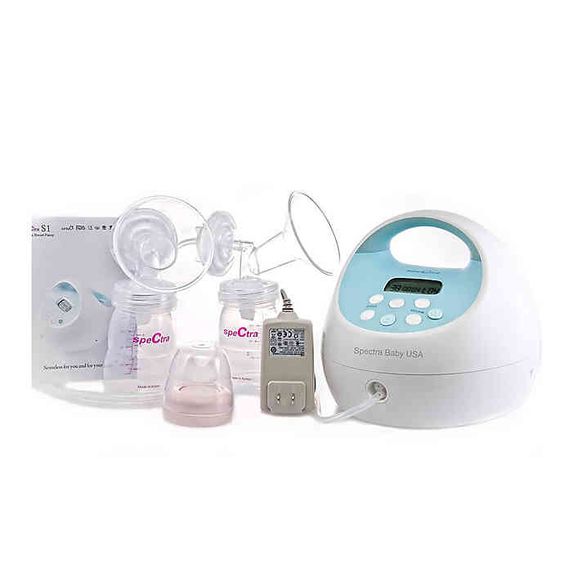 The electric Spectra breast pump is also battery operated so an outlet isn't needed which makes it ideal for pumping in a small space at work. Real Mom Jess R. recommends the Tommee Tippee pump and go bag and bottle set that allows you to pump from any pump right into the storage bags and save yourself a little extra cleaning. The Elvie wearable breast pump allows you to pump wherever you are–at home tidying up, at work or on the go.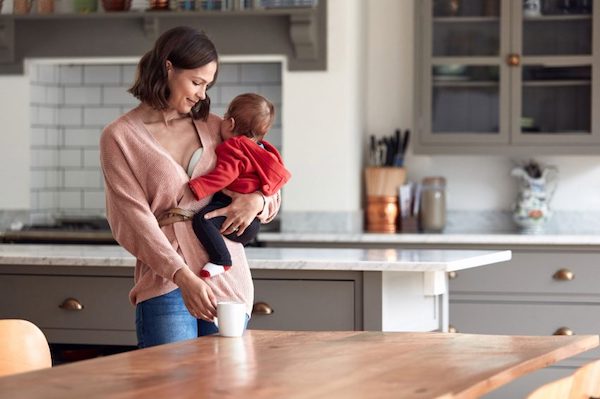 No matter which breast pump you choose, if you plan to pump at work or outside your home you'll want a carrying bag and a cooler bag for pumped milk. Keep your bag stocked with a bottle brush, travel dish soap and towel for cleaning and drying your pump parts and breast milk storage bags, like these Lansinoh bags recommended by real mom Ellen W.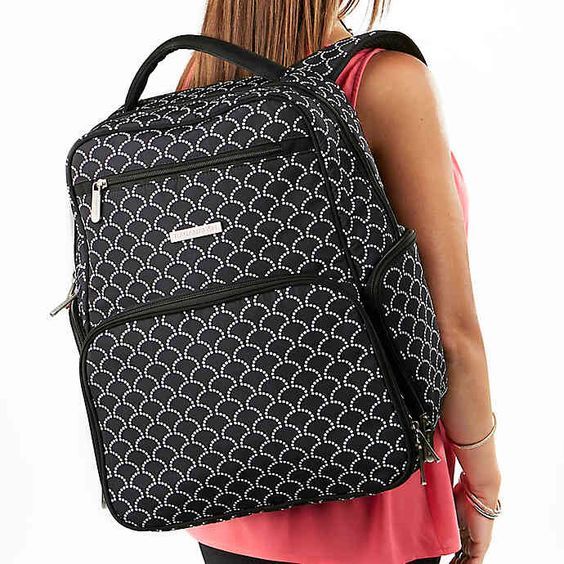 Manual Breast Pump
My friend and real mom Alivia J.'s electric breast pump just quit on her one day. Now she recommends every mom keep a manual breast pump on hand for moments like that! She also says it was easy to take the hand pump to work since there wasn't always a designated space for her to plug in her electric pump and pump in peace. 
Haakaa
Far and away, the Haakaa was the most recommended breastfeeding essential by our real moms. Real Mom Hannah K. says she tells all her new mom friends this is the one thing they need for breastfeeding! Real Mom Bethany C. says it's especially essential if you have oversupply of milk.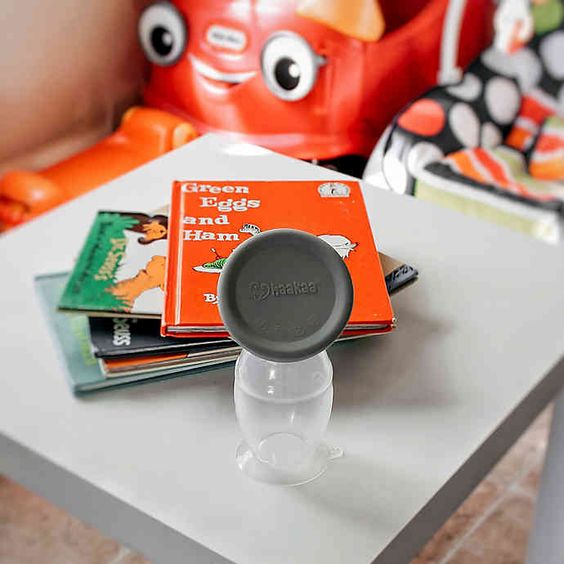 The Haakaa allows you to catch the letdown of milk from your other breast while baby nurses on the opposite side. Real Mom Trisha W.  says you don't even know how much good milk you're missing out on until you've tried the Haakaa. Real Mom Hannah T. also says it relieves pressure when baby starts going longer stretches between feeds, especially at night. 
Furnishings/Pillows
The Right Sized Rocker or Recliner
My sister-in-law and Real Mom Natalie M. suggests that moms take the time to find the right sized rocker or recliner for baby's nursery. You'll want a glider or chair that has good back support and that's high enough for you to lean your head back during those late night feedings. You may also want one that offers a foot rest or that you can add an ottomon too–I always found it more comfortable to nurse with my feet up.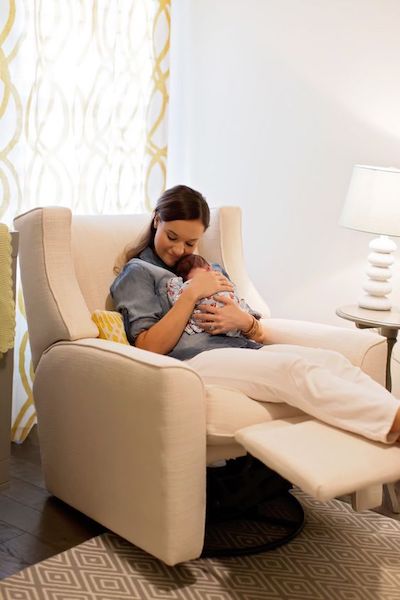 Buy Buy Baby has so many options and many are set up in the store ready for you to come in and try out. Make sure you sit in multiple chairs and note that you'll be spending a lot of time in it! 
Pillow and Blanket
Real Mom Jana R. suggests a big pillow for your back while nursing, especially if you're doing so while propped up in bed in the middle of the night. I used my pregnancy pillow all throughout breastfeeding during the nighttime feedings. It had head and arm rests that kept me sitting upright and comfortable.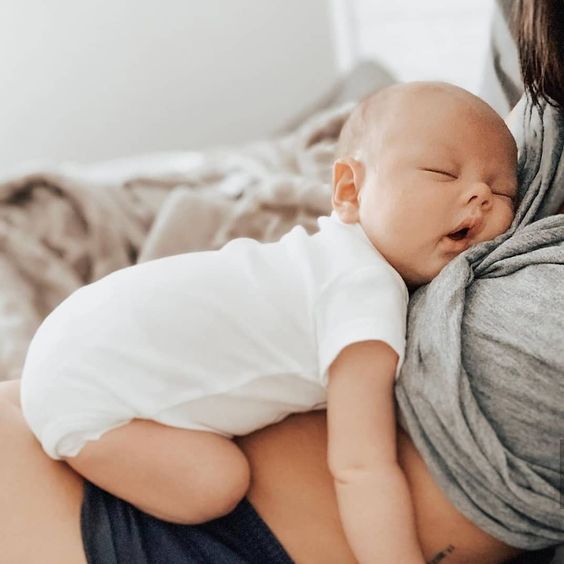 Jana also recommends finding a big, cozy blanket and keeping it nearby wherever you nurse for those moments where you find yourself and your baby drifting off to sleep. 
Boppy
Real Moms unite again over the Boppy breastfeeding pillow. The pillow is perfect for positioning your baby at the right angle and keeping both mom and baby comfortable during nursing. It offers relief for mom's arms and back and keeps posture straighter than trying to breastfeed without it.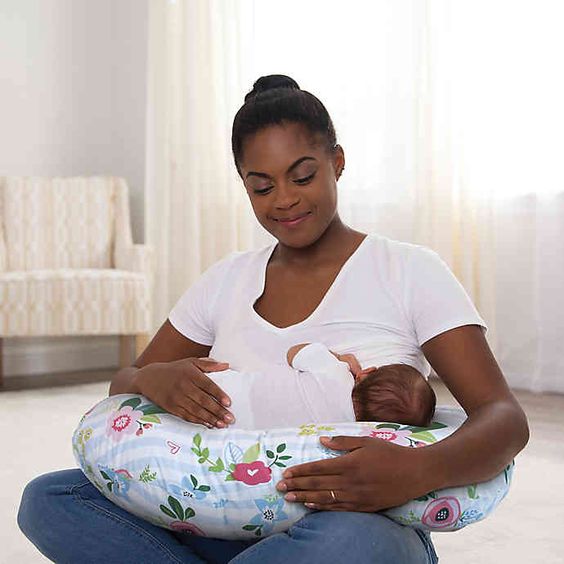 Bonus: it comes in a ton of cute patterns and all covers are machine washable and dryer safe for those inevitable spit ups! Real Mom Liz R. suggests a Boppy for every room and says her family owns five of them for extra nursing convenience! 
My Breast Friend
Like the Boppy, My Breast Friend is a breastfeeding pillow designed to keep mom and baby comfortable. Real Mom Ellen W. says she much prefers it to the Boppy because of the built in backrest and support it offers.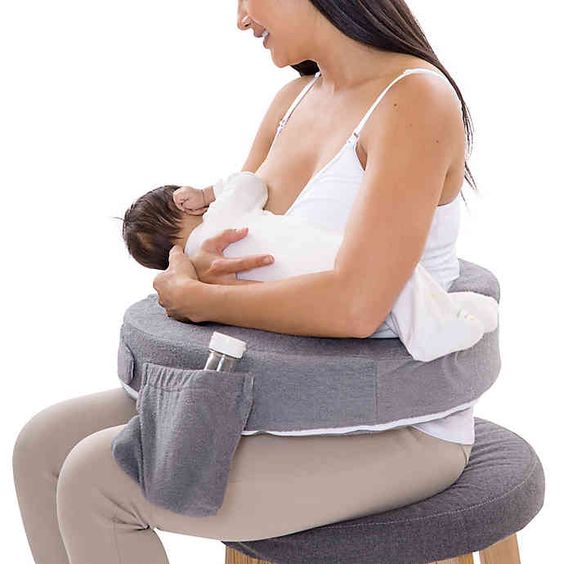 My Breast Friend also has a pocket, perfect for keeping water and burp cloths nearby. It offers arm and elbow rests for moms and keeps baby positioned right for nursing. 
Twin Z Nursing Pillow
For moms of twins, Real Twin Mom Rachel P. recommends the Twin Z Nursing Pillow. She says it allows her to feed her twins at the same time while keeping them all comfortable.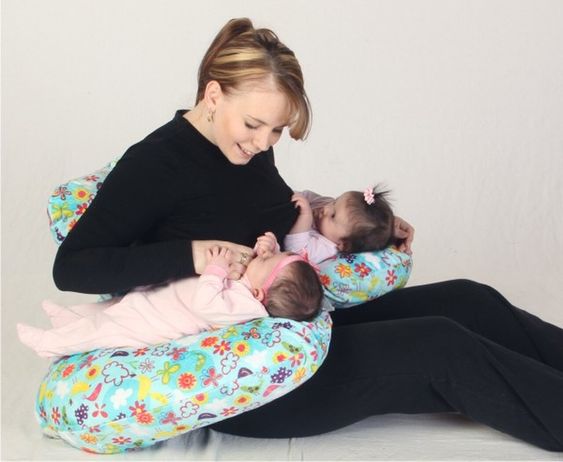 Accessories
Nipple Shields
If you're having latch issues with your baby, Real Mom Madison H. says nipple shields are the solution. Whether baby won't latch due to tongue tie or nipple inversion or size of breast, nipple shields will help! Because of their soft silicone design, these shields by Lansinoh provide maximum skin contact thus not disrupting the breastfeeding process.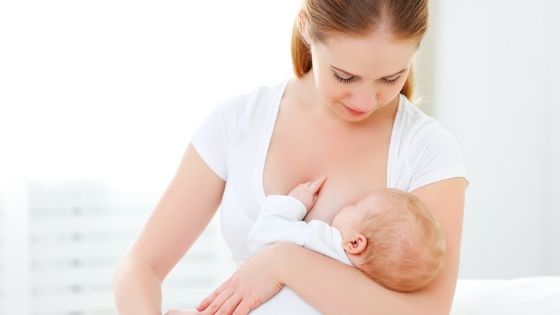 Nursing Pads
Leakage is a real issue when you're breastfeeding and it can be helped by nursing pads. Choose disposable nursing pads or ones that can be washed and reused, either way Real Mom Abby F. says they're a total necessity whether nursing or pumping. Real Mom Rachel P. also adds that they're helpful to wear for your own comfort so bras won't rub on irritated nipples.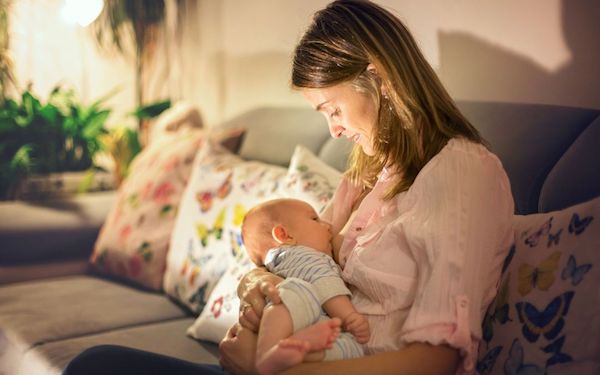 Cooling Gel Pads
Real Mom Abby F. recommends cooling gel pads for relief, especially after pumping. These gel pads by Lansinoh  relieve sore nipples and are absorbent. You can continue to reuse them for up to 72 hours and multiple pumping or nursing sessions. They'll also prevent rubbing from bras and provide healing to irritated areas. 
For Mom
Nursing Bra
I tell every new mom in my life to pick up multiple seamless nursing bras like these. They are the most comfortable bras and they make breastfeeding easier with the strap/clasp design. I wore mine all throughout pregnancy as they were stretchy and grew with my ever changing body.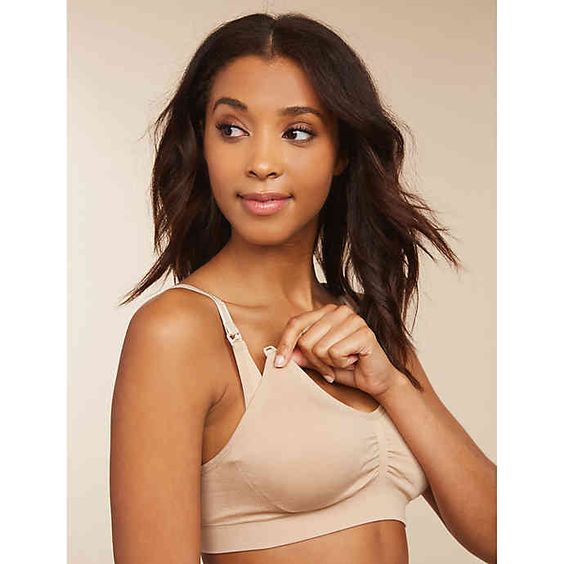 Pumping Bra
Real Mom Jessica W. says a pumping bra is necessary, especially if you'll be exclusively pumping. A bra like this one allows you to pump hands free and nurse at the same time if you need to. It also offers support with its patented "no holes" design, making it easy to transition from pregnancy to breastfeeding.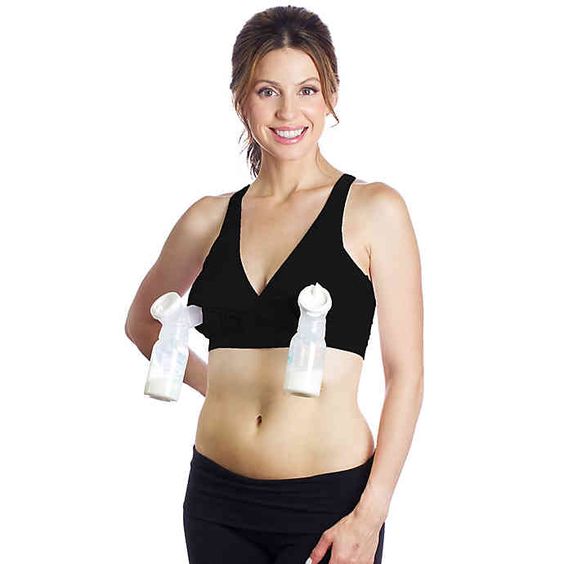 Nightgown
I wore this Motherhood Maternity Essential Nursing Nightgown on repeat the first few weeks of my son's life. First, it kept me cool during those middle of the night hot flashes. Second, it has the same strap/clasp design as my favorite nursing bras and made nighttime feedings easy and quick.  Plus it was lightweight, stretchy and comfortable! 
Water Bottle
Those postpartum hot flashes are no joke! Real Mom Jana R. recommends a water bottle that will keep your water cold all night, especially for those middle of the night feedings when you find yourself beyond thirsty. Keep it close by at all times so you can remember to stay hydrated, thus keeping your milk supply healthy.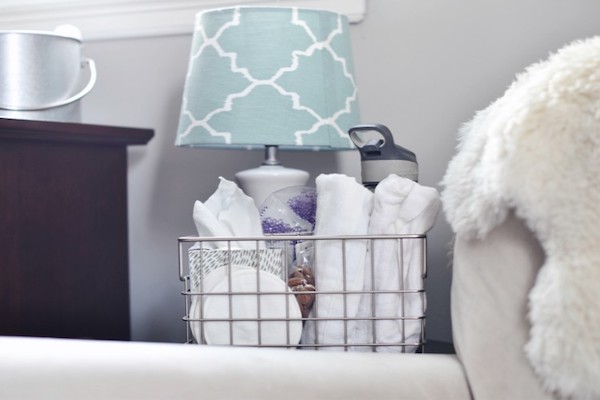 You Won't Find It At the Store
So many of our moms offered practical tips for breastfeeding essentials. In addition to these great products (many that I myself have used and loved along our breastfeeding journey), our real moms also offered tips for things you won't find at the store.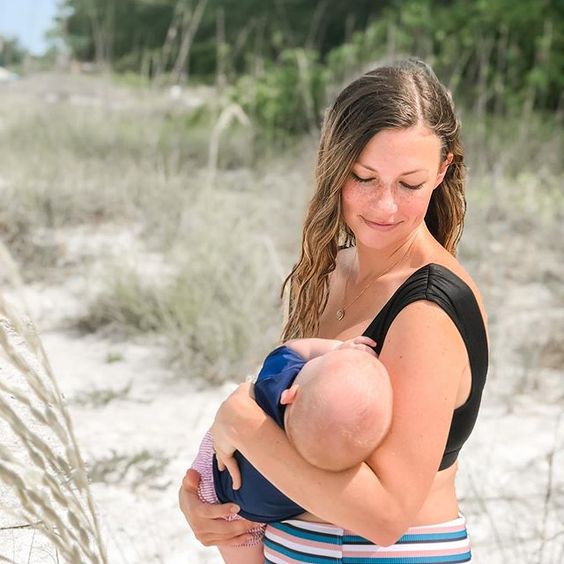 Real Mom Natalie M. says her mom was essential as she figured out breastfeeding. She was a support system, someone she could ask questions and she was great as an extra set of hands in the early days of figuring everything out. Real Mom Katie B. agrees: "Determination and someone to help support you along the way. The lactation nurse at my pediatrician's office was the best!"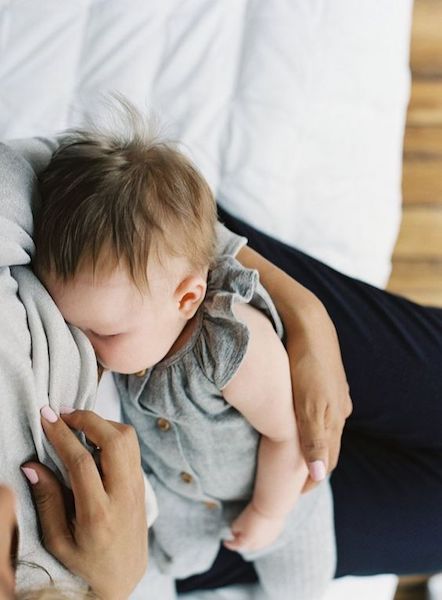 Real Mom Christina P. says: "Patience. Encouragement. Help. Wisdom to know when to persevere and when to quit. Every baby is so different and I felt so different with each one!! Breastfeeding wasn't my favorite and I did it for a shorter amount of time with each child, but I'm thankful I did and also very thankful for formula and bottles." To which Real Mom Rachel P. added: "Yes and I'd add an open mind. I made up my mind with the twins that I was going to feed them no matter what and not feel like a failure."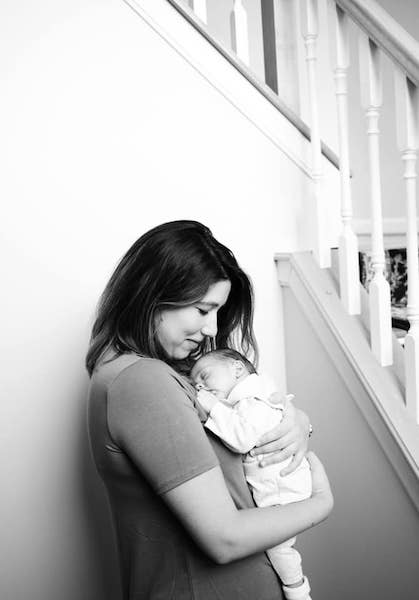 My breastfeeding journey hasn't been easy–and the more I spend time with moms, the more I realize no one's is. It's not a one size fits all experience and it definitely has a lot of emotions tied to it. I never thought I'd become attached to breastfeeding or love the bond it brought between my baby and myself, but I did. I'm so glad for all who supported me, for the tools and tips that I was equipped with (many from the list above) and for a baby who loves to eat!
You can add all of these amazing breastfeeding essentials to your Buy Buy Baby registry here.  Just getting started? Have no fear! Creating a Buy Buy Baby registry is simple and it can all be done online. 
Head over to https://www.buybuybaby.com/ and click on the Registry tab at the top of the page. Once you're there, select Create a Registry and let the fun begin!  As soon as it's complete, let your family and friends find all your baby registries in one spot at RegistryFinder.com. 
Want to hear more from our Real Moms?
Good news! They're answering some of your most asked questions like What Should I Pack In My Hospital Bag? and more, over on our GiveIt Blog!