Today's question is from a reader that is confused about being invited to a co-ed couples shower, but not invited to the wedding. Are co-ed showers taking the place of a wedding reception?
Dear Cheryl,

We've received a couple of "couples shower" invitations. In both cases, it was when a destination type wedding was happening. In one case, we were not invited to the wedding.

What is this new tradition? It is being touted as a "chance to celebrate with those who can't make the wedding." In our day, these might be the people you sent out wedding announcements to after the fact. I was raised with the understanding that it was tacky to invite someone to the shower and not the wedding! And I liked that often a reception was held afterwards for a destination wedding.

These couple's showers are becoming what I used to call a wedding!

I also have another question. We had a situation that took my fiancé and me by surprise. His ex-wife (20 plus years) was invited and attended his nephew's bride-to-be's wedding shower. We weren't given a head's up and "awkward" is the best word to describe it. Your thoughts? His sister was miffed when my fiancé asked about it.

Thanks! Any insight would be helpful.
Dianne
---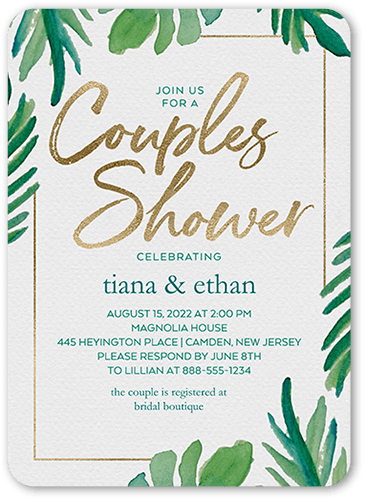 ---
Hi Dianne,
Thank you for writing! I understand your confusion and think many people are a little confused as well. The current popularity of destination weddings is certainly starting to alter our traditions.
I can tell you that it is still considered rude (or tacky) to invite someone to a wedding shower (co-ed or not) if they are not invited to the wedding. That "rule" has not changed.
A family that wishes to have a party for those that "cannot" be invited to the wedding, should call it a wedding reception or wedding celebration, not a wedding shower. If a party is being described as "a chance to celebrate with those who can't make the wedding," then it's a reception. You can simply decline the invitation if you feel awkward attending without a gift. The hosts are the ones being rude, even though they may not realize it.
And you are correct, announcements are traditionally sent to those that you want to inform of the wedding, but do not make the guest list. The announcement does not carry the obligation of a gift.
In addressing your other issue — I assume from his sister's actions that she is still friendly with the ex-wife and there is a relationship there. His sister should have known that it would make you both uncomfortable. And yes, she should have given you the heads-up. Siblings can be the least sensitive to our feelings (family dynamics are complicated). However, there is no fault on the part of the ex — she was invited and attended. I think it would be best to forgive and put it behind you, knowing that the ex may also be at the wedding.
---
If you have questions or comments about this post, or about gift giving, bridal shower, baby shower, or wedding etiquette, please comment below or email [email protected].
Questions in this column are received from readers. They may be edited for spelling, length and grammar, or to remove sensitive information. However, we are careful not to alter the intent or content of the question.
Cheryl Seidel is an etiquette writer and the founder of RegistryFinder.com, an intuitive search engine that helps gift givers quickly and easily find online registries for weddings, baby showers, graduations and more.