As the hostess of a recent baby shower, I have to admit that I was taken aback when the mother-to-be emailed me a guest list with 63 names on it! At first I was going to ask her to consider cutting down the list. However, once I thought about it more, I decided to just go for it. After a crazy year of dealing with the pandemic, we were all looking for a reason to celebrate, and what better way to re-enter "normal" life than to celebrate a sweet baby!
So, after a little bit of research, I decided that offering a "drop-in" shower would be the best way to manage the large amount of people. A "drop-in" shower is similar to an open house where guests can come and go within an allotted time frame. This gives visitors flexibility and the mother-to-be time with each guest. Here are a few tips I have to offer if you find yourself in the same situation.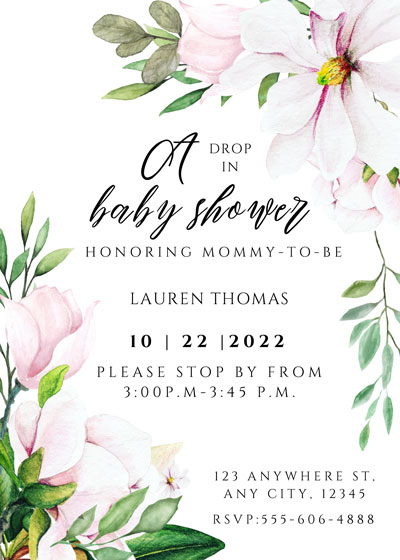 Design the invitation with assigned times for arrival.
I wasn't sure how this was going to work, but I was so happy with the outcome, I would probably do it again! I divided the guests into 3 groups with about 20 people in each group and assigned them "drop-in" times in 45-minute increments. I ordered 3 sets of invitations, each set had specific time slots for the guests to come. Everyone seemed to understand the concept without a lot of questions and were happy to stop in, eat some appetizers, spend special time with the mom-to-be and go on their merry way. It was nice for the guest of honor because she had time to talk with people individually and give them one-on-one attention.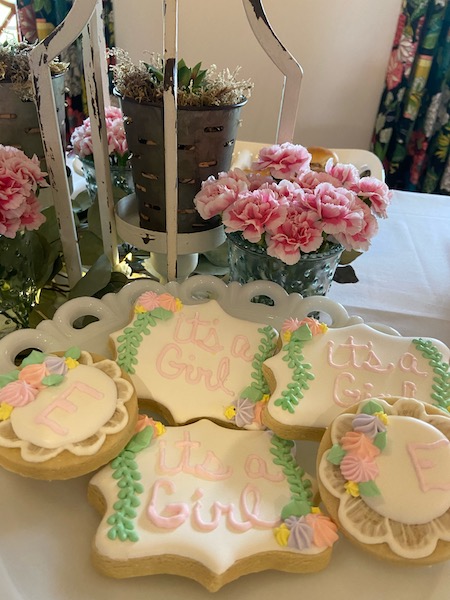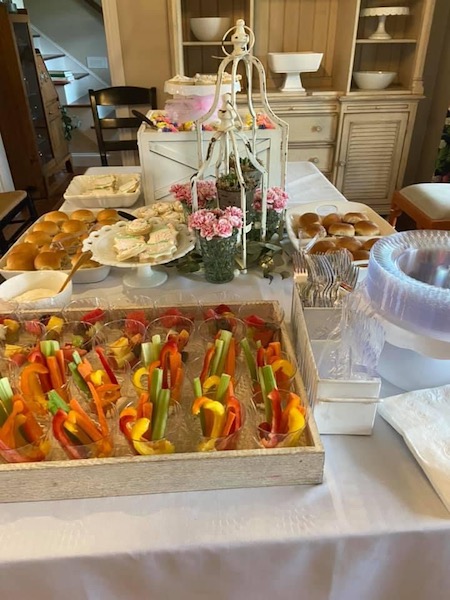 Keep the food simple and transportable.
My goal for the food was to keep it simple and easy to eat on the go. With that in mind, I decided that it was easier to serve food in individualized cups because I knew exactly how many to prepare. My menu included veggie cups with homemade ranch dip, fruit cups with fruit dip, custom-designed sugar cookies, country ham and biscuits, and pink lemonade to drink.
Just because your menu is simple doesn't mean your table arrangement has to be! I like to layer my food on different levels of the table. My motto is "use what you have" so I repurposed a white wooden box that I've used as a Christmas tree stand and layered the decorative cookies on the box in the center of the table. Then I added a variety of platters and cake stands for the other food item. I tied pink tulle around the base of the cake stands to add an easy, but special touch. Drinks look prettier served in a glass dispenser. I also added pink and white straws to the cups for an extra touch.
I always like to use the same color serving dishes and accent pieces. White is my color of choice for almost any occasion because it's so easy to work with and creates a classic, monochromatic look.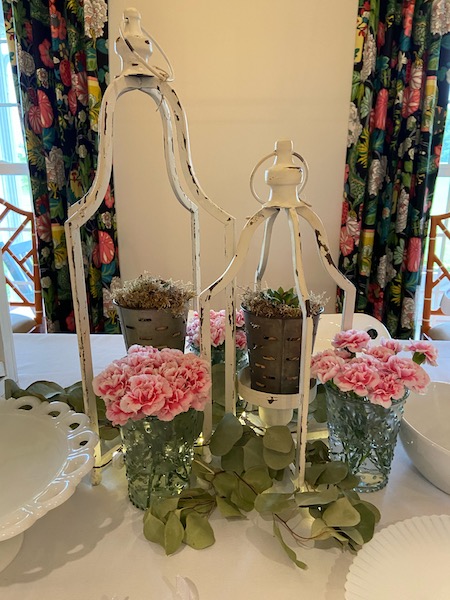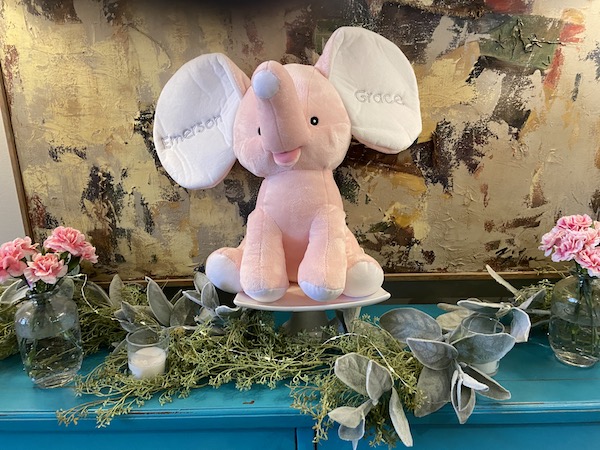 Flowers and balloons go a long way.
Since we were celebrating the upcoming arrival of a little girl, we went all out with pink and white for our color theme. To keep your decor simple, plan on using fresh flowers, lots of balloons, and votive candles (even during the day).
I found some inexpensive pink baby carnations at my local Costco, bought enough to fill my containers, and placed them on all of my tabletops. To save on flowers, I also used imitation greenery that looks real (a lamb's ear garland) and mixed in magnolia blooms and hydrangeas from my yard.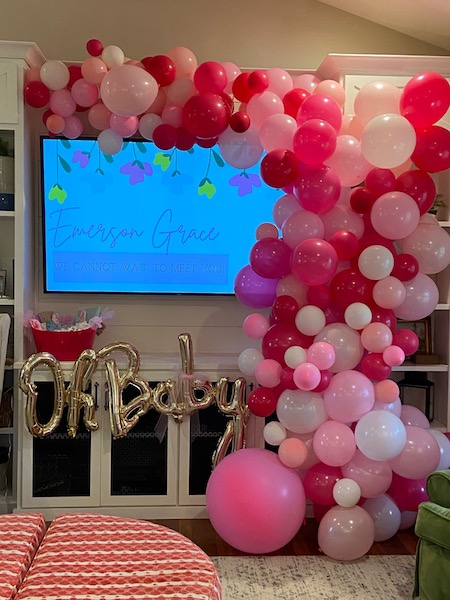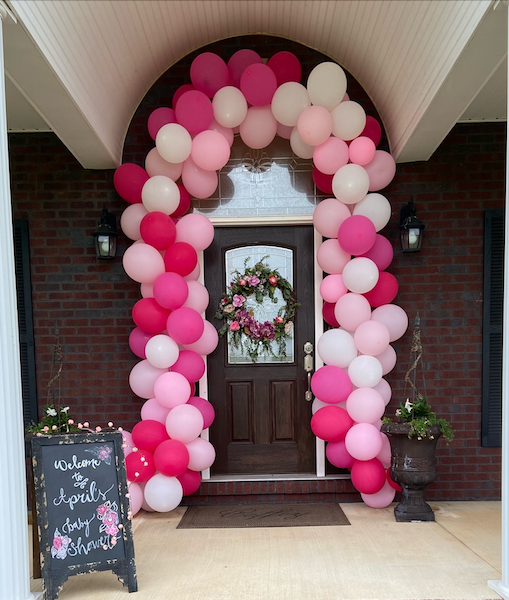 Never forget that balloons give you a big bang for your buck. Now that balloon arches are so popular, you can wow your guests even more with your stunning decor. They aren't as hard to assemble as they look. You just need to make sure you purchase a balloon kit as well as an electric pump to blow up your balloons. Once you have the necessary supplies, the balloon arch possibilities are endless.
Skip the games, but consider a cute party favor.
With a "drop in shower" the focus should be on the fellowship. And with limited time, don't worry about planning a game. This allows for more of an opportunity for presents to be opened and admired.
Want to send your guests home with a parting gift? Consider giving miniature succulents wrapped in pink or blue tulle with a catchy saying such as "watch me grow", or a bag of popcorn that says "ready to pop".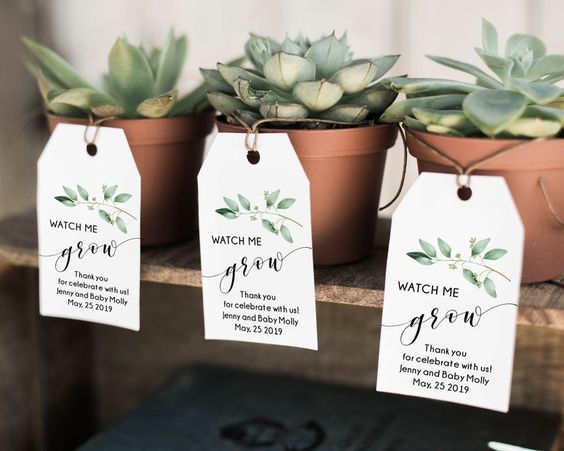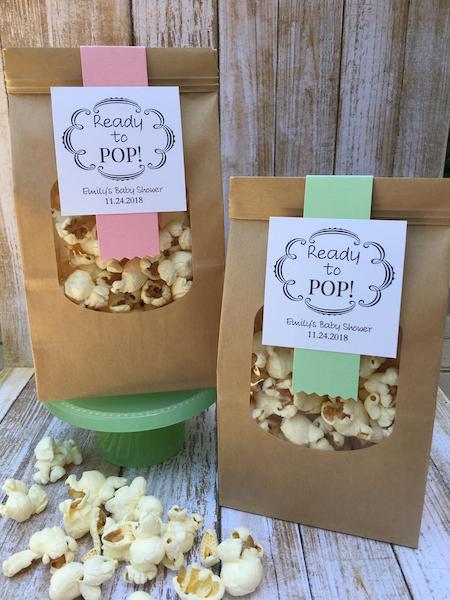 Take time
It's important to me that I take the time to pour in to the people who pour in to me. In this case, the parents of the mother-to-be are great friends of mine. They have been supportive of me during difficult times and I wanted to show my love and appreciation by hosting a shower for their sweet daughter and soon-to-be grandbaby. I'm glad I didn't let the stress and worry of having a large guest list discourage me. It turned out to be such a special day!