When you're preparing and registering for your new baby, it's easy to focus on newborn diapers, clothes and accessories. It's hard to imagine, but that little one will grow way faster than you expect!
After my first baby shower, I wanted to exchange the only 12-month outfit I received for a smaller size. Luckily my mom advised against it. The idea that my unborn baby would be large enough to fit in a toddler-sized outfit within a year seemed crazy to me… "she will always be tiny"! Sure enough, she inevitably grew out of those three month outfits, and I was grateful to have a few things left in my daughter's closet!
Kara F. says, "I had about a half-a-dozen unused outfits with tags on them from the 0-3 month size because we couldn't get through them all, and then I was starting from scratch once we hit the 9 month mark! I wish I had planned better!"
I can tell you from experience this isn't just the case with onesies, but all baby gear and gadgets. Be sure to register for a variety of items that will carry you through the baby's first year of life! To guide you, we will break down the best baby items by age range, so you will be prepared when you create your baby registry. As always, our recommendations come directly from our team of Real Moms!
0-3 Months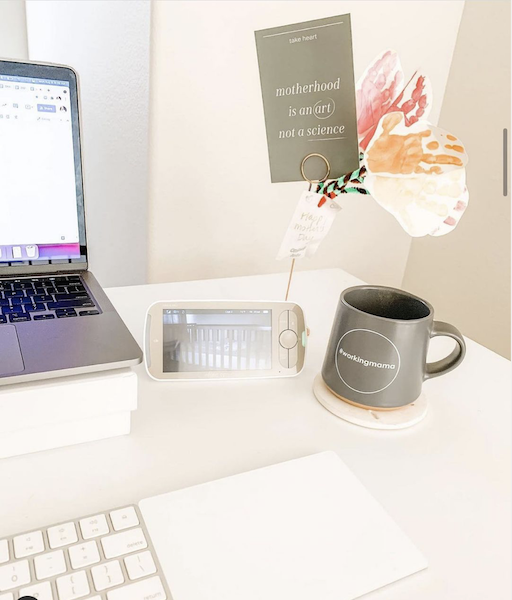 Baby Monitor
Baby monitors are not all created equal. As a second-time monitor purchaser, I can tell you not to skimp on this purchase. I was never convinced that I needed a camera so clear that I could see my baby's eyes flutter in the night, so I chose a no-name brand which did the job. It worked well for the first 7 months or so, but the battery was shot after that, and I was forced to start over with baby number two. The Infant Optics DXR came highly recommended from many mom friends, as a durable, reliable and affordable option. It's simple to purchase additional cameras for multiple rooms, and doesn't require wifi (aka, Mom doesn't have to worry about creepy hackers!😅) This monitor also has a 360 degree rotating camera and zoom functionality.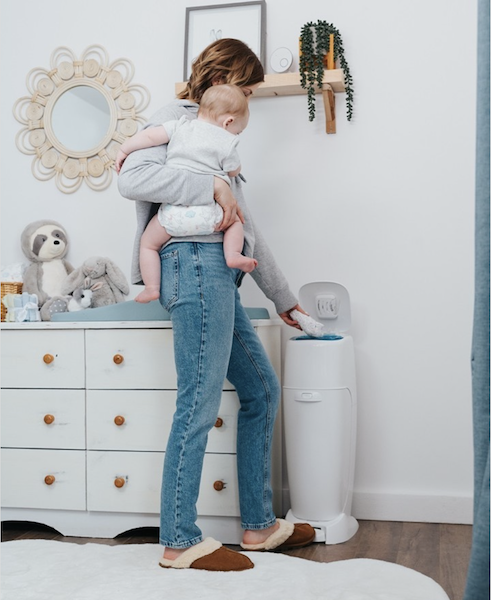 Diaper Pail
If you're a Friends fan, you must watch "The One with the Baby Shower", where Rachel made me feel a little less clueless as a first-time mom. Her mother explains the need for a diaper genie, and it's truly hilarious. If you're a mom-to-be that's debating the need for a pail, take it from us veterans, you'll need one! Not only will it prevent you from taking a million trips to the outside trash/dumpster as Rachel's mom points out, but it'll also help mask the smell. 🤭 Plus, your hubby will thank you, as it is clean and easy to take out when it's full! …Oh, the joys of parenting!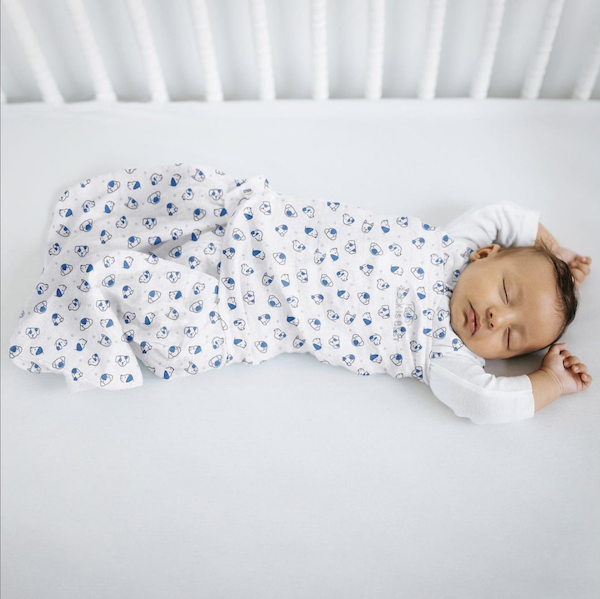 Sleep Sack
My kids loved to sleep with their hands up near their faces since they were in the womb. It was difficult for us to swaddle them in regular muslin blankets because they'd squirm until they (easily) came loose! The Halo Sleep Sack was a perfect solution for our family. The velcro on the sack guarantees your baby will stay warm and safe in a tight-fitting blanket, and with the option to swaddle with their arms out, your little one has some freedom to position herself. Of course, you can choose to swaddle your baby the traditional way (with their arms down)!
Halo Sleep Sacks are also a great way to transition to a blanket from a swaddle. A good time frame to initiate this change is around the four-month mark, when your baby starts to roll over. I recommend the velcro sleep sacks and wearable blankets from birth until nine months!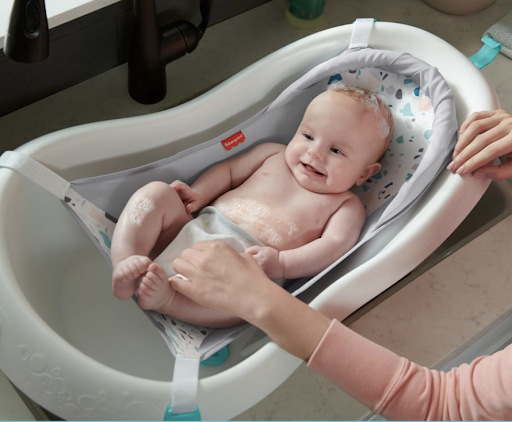 Baby Bath
"We loved our [Fisher-Price 4-in-1 Sling 'n Seat Bath Tub] that came with the infant sling. It was really comfortable for our newborn, but also transitioned well with the baby booster seat." -Taylor W.
"I originally purchased a different baby tub and hated it. My newborn daughter was constantly slipping down into the water and the tub also pressed into her back, marking her up. I finally purchased the [Fisher-Price 4-in-1 Sling 'n Seat Bath Tub] when she was about 3 months old. I should have done it much, much sooner. This tub is amazing. I have been using it for almost 5 months now." – Melissa N.
A baby bath is a necessity, but don't forget to register for bathtime accessories too! From bath toys to towels, (especially the adorable animal bath wraps), and washcloths (I personally love the Burt's Bees Baby line!)
4-9 Months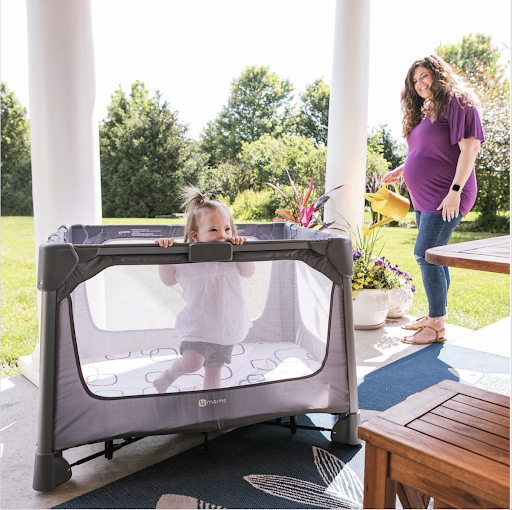 Travel Crib/Pack-n-Play
When my daughter was 6 months old we had a pipe leak in our home that forced us to relocate for two weeks. It was such a pain to leave our precious baby gear behind and cram into a small hotel room. When I look back on that time, I'm so grateful we purchased an upgraded travel crib for my baby. Whether you're using the playard for an extended period of time such as a long vacation, or during your daily routine, the 4Moms Breeze Plus Playard will fit the bill. It's incredibly easy to set up/tear down, it's light and portable, and my baby seemed to sleep comfortably. What more could you ask for? Oh yes, in addition to being a playard, it also comes with a removable changing table and bassinet! You have to love consolidating babygear!
"I love the ease of setting the pack-and-play up! We travel a lot, so the ease of setting up and taking it is great! High quality product!" – Jade G.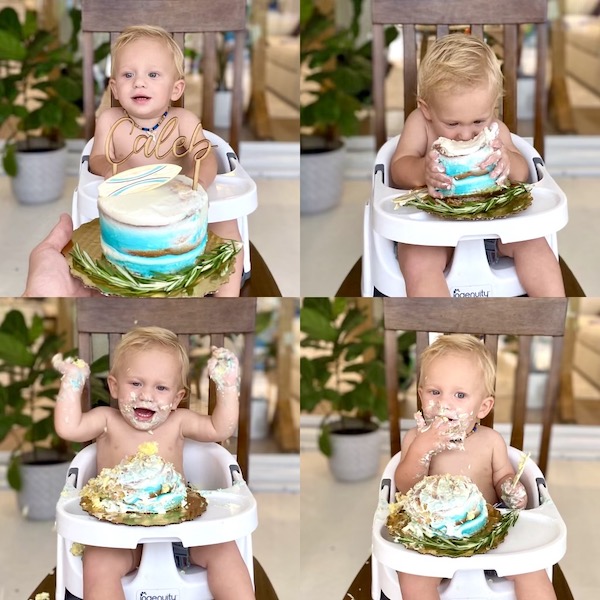 High Chair Base
Your baby will need some sort of a high chair when they start eating solids. This timeline varies per child, but typically occurs around 6 months of age. He should be able to sit up independently and continue to be hungry after breastfeeding, according to the American Academy of Pediatrics. There are dozens of high chair options to choose from, but many moms recommend high chair toppers or boosters, which save space and easily fit on any chair.
Here are some photos of my son Caleb in our Ingenuity Baby Base on his first birthday. I was very grateful I could just stick this high chair tray in the dishwasher after he devoured his smash cake!! This boy loves dessert!
"This booster seat is so easy to move around, store, and clean! It's light, and compatible with any chair so we can conveniently bring it along to a friend's house or a restaurant. When we weren't using the seat, we could easily store it in our garage unlike a normal, hefty highchair." -Karly R.
Another seat my friends and family love is the Inglesina Fast Table Chair, which fits securely to our kitchen island! It's also incredibly light and easy to travel with. It's nice to have multiple options!
"We have traveled all over with our Inglesina seat. I love that it collapses and fits well into any suitcase." -Kim D.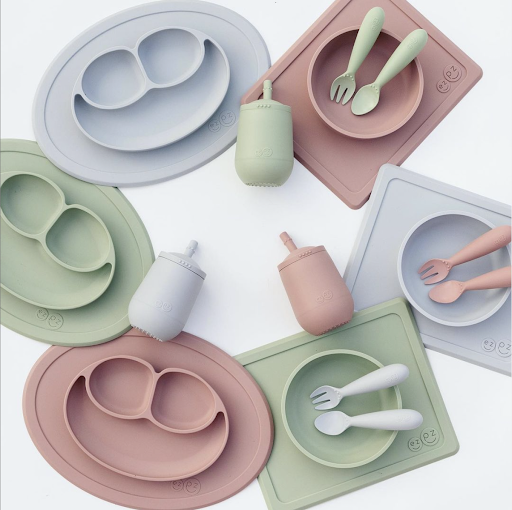 Simple add-on gift: silicone place mats! We love the ezpz Happy Mat (discovered on Shark Tank!), because it doesn't move around and works with any surface! Easy to use, easy to clean. "Created by a mom; perfected by experts," and makes independent eating a little smoother.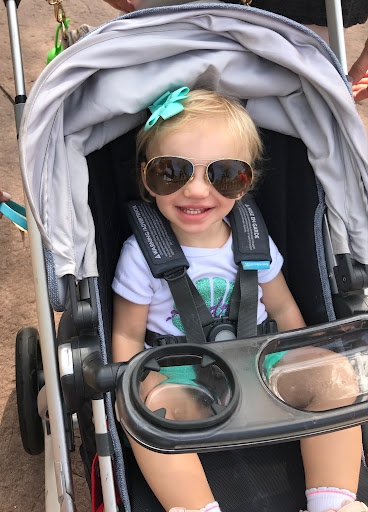 Snack Tray
It's amazing how much and how frequently little ones can eat! I'm constantly getting snacks out for my kids. A snack tray that's compatible with your stroller is such a must-have. We have the Uppababy Vista stroller so I highly recommend the compatible snack tray. Baby Jogger strollers have their own version of a child tray, and you can also find Chicco's Stroller Cup Holder and Tray at Buy Buy Baby!
"The stroller snack tray is just a no-brainer accessory. We use it daily on our adventures!" -Cristina G.
9-12 Months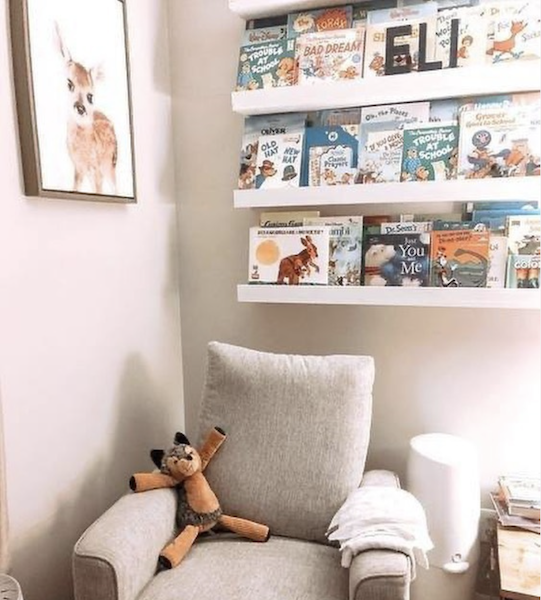 Books
Books are great to add to your registry, as people are always looking for little add-ons for their presents. Kiddos especially love engaging books with flaps and texture. This Disney "100 First Words" Lift-The-Flap Book checks off all the boxes! It will expose them to great vocabulary, exciting pictures, flaps and of course all your favorite characters!
"We loved the Goodnight Moon book growing up. My grandkids now request it at bedtime; it's fun to see the kids enjoy it through the generations." -Barbara F.
BuyBuy Baby has it all, from the latest top-selling authors like Karen Katz or the Usborne line, to the classics by Dr Seuss and Eric Carle.
"A classic my kids have enjoyed is Pat the Bunny by Dorthy Kunhardt! Truly timeless." -Chelsea B.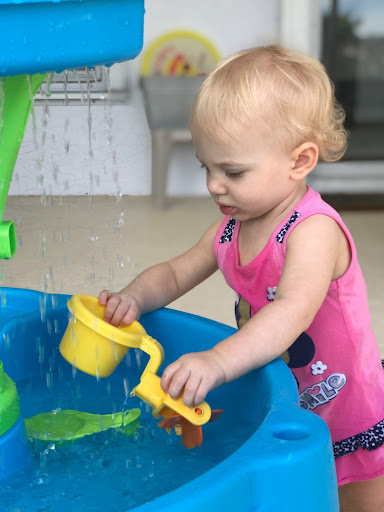 Water Tables
"Children love water tables! It is perfect for kids once they start standing, and it's hours of entertainment! Plus, it's a great outdoor toy with lots of sensory exposure. We've also put water beads or sand in ours to switch it up." -Alexis B.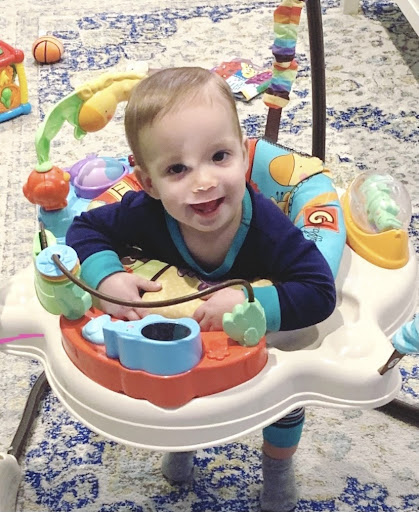 Bouncer
Bouncers are big-ticket items that everyone forgets to register for. They're so convenient and useful but not suitable for children under six months, so as a new mom it didn't occur to me to add it to my registry. However, when your baby starts to wiggle and move, it's a must-have! The Baby Einstein Neighborhood Symphony Activity Jumper is a popular bouncer, but buybuy BABY carries a huge variety of jumpers and walkers! Whichever you choose, use your 20% off BBB coupon for additional savings!
"My baby always wants to keep up with his big sister, so he loves using both his walker and bouncer! He could be mobile while staying safe when I had to get some bills paid. I highly recommend our Baby Einstein Jumper!" -Marietta R.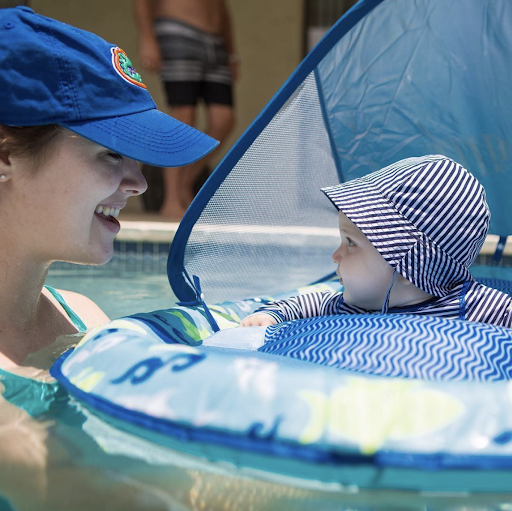 Baby Boat
"We had lots of fun in the sun with our infant pool float. My son had a blast splashing around, and we had peace of mind knowing he was safe, not only from the water, but from the harsh sun thanks to the canopy! -Sarah F.
Especially during the summer, it's fun to enjoy water "sports" with your kids from an early age. Check out the Aqua Leisure BabyBoat which has a convenient retractable canopy and adjustable seat. It's a great way to introduce your baby to the water and get them acclimated to the pool or ocean!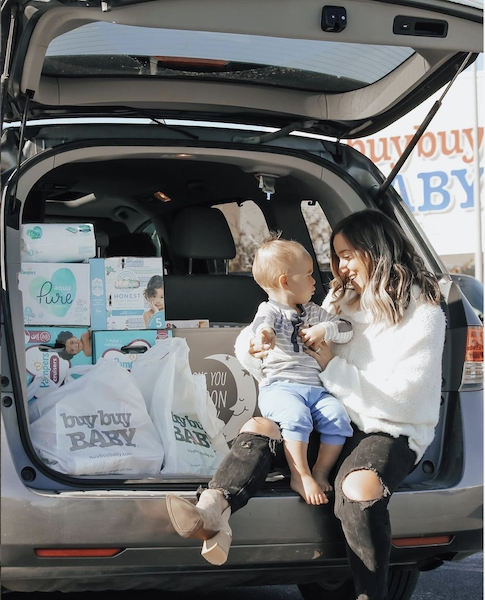 You'll be surprised how quickly your baby's interests change; they'll vary by the week! Your little one will need toys to grow with him and cater to his changing skill set so when you register, remember to pick items for each stage throughout your baby's first year. It's also smart to hold on to gift cards you receive and save them for down the line. And be on the lookout for items that are adaptable and convertible- gear and gadgets that are described as "4-in-1" or "multistage".
Luckily, buybuy BABY® has everything you need to keep up with these active kids! 😂 Start your registry today with an in-store or virtual consultation. BuyBuy BABY offers 15% completion discount, (plus, frequent 20% off coupons) price-matching, gift tracking and hassle-free returns so you can shop with confidence and convenience long after your baby arrives! Refer to this Registry Checklist so you don't miss any important items you'll need during the first year, and check out some other valuable RegistryFinder blogs with more helpful advice!