Transform your bathroom into a zen-like oasis with products that cater to all your senses.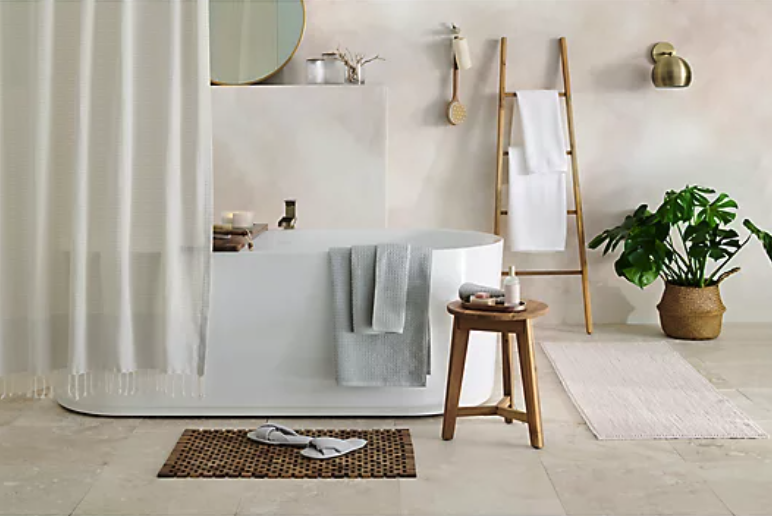 When you think of a spa, words like tranquil, serene, pampering, and relaxing might come to mind. But what about when you think about your bathroom? If you would only use only a few — or none — of those words to describe your bathroom's current state, let me be the first to tell you that it doesn't have to be this way.
No matter the size, any bathroom can be made to feel like a spa — it all comes down to setting the right mood and finding the right products to get it there. Below, we've outlined our top tips and items to breathe new life into your space and turn even the most basic bathroom trip into a spa-like experience. The best part? You can find it all at Bed Bath & Beyond!
When it comes to making your bathroom feel more welcoming, just keep your senses in mind. Think about it: every spa greets you with a fresh aroma, tranquil sounds, and ultra-soothing textures. When you keep smell, sound, touch, and sight in mind, success is guaranteed. Keep reading to discover our favorite Bed Bath & Beyond products that will take your bathroom from regular to ritzy.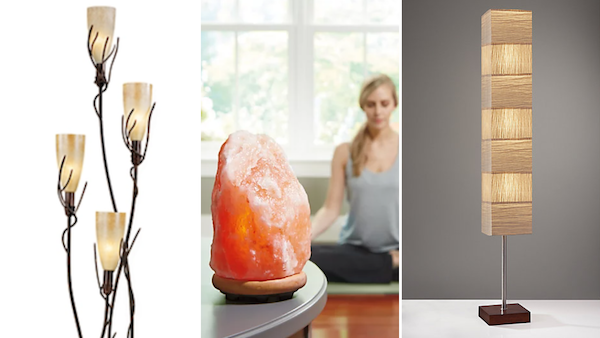 Mood lighting
Start your bathroom-to-spa transformation by adding some mood lighting to your space. The key to achieving a spa-like atmosphere is to go for dim, non-overhead fixtures that create a mellow vibe. Think column floor lamps, subtle uplighting, and salt lamps (which also boast health-boosting benefits).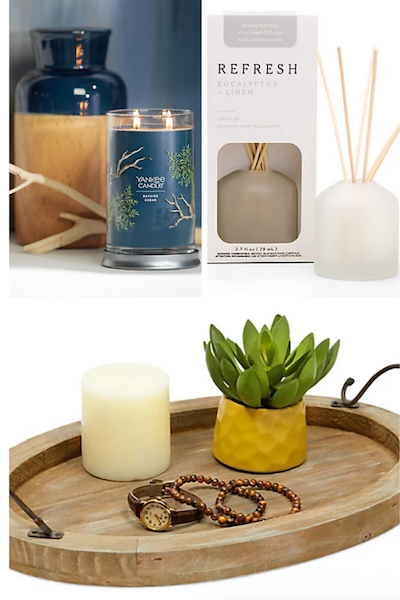 Aromatics
Creating a memorable spa experience is all about tempting all the senses, and smell is an important one. Whether you prefer a revitalizing, citrusy aroma; a calming jasmine scent; or the smell of fresh-cut trees, be sure to include a diffuser and scented candles in your shopping list. For presentation points, you can arrange them all with a fresh bouquet of flowers on a small tray on your bathroom counter.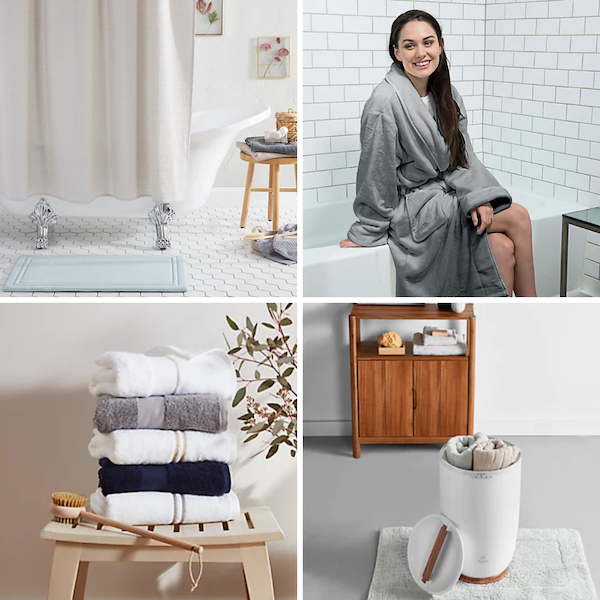 Plush fabrics
Another sense you can't neglect is your sense of touch. Keep your skin feeling ultra-pampered from head to toe with memory foam bath mats, hotel-quality Egyptian cotton towels, and a fluffy robe and slippers to slide into. We recommend choosing a cotton option to maximize softness! Roll your towels up and keep them in a handy towel warmer to keep up the spa-like atmosphere and truly pamper yourself.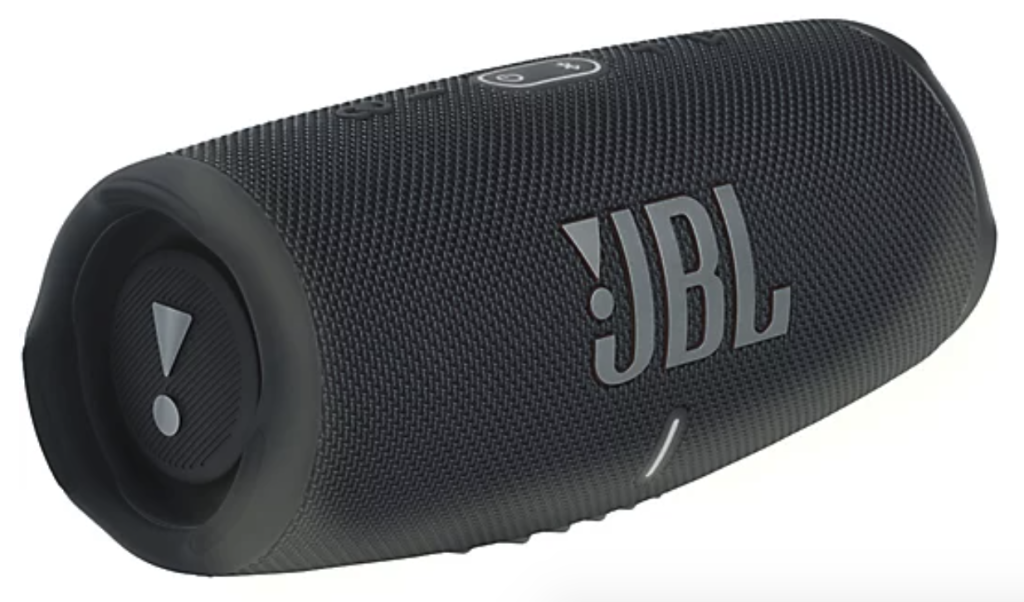 Pleasant sounds
If your idea of a relaxing time means complete silence, then you can go ahead and skip to the this section. For those of you that are still here, it's time to pamper your earbuds! Amplifying your preferred calming soundtrack all comes down to the right electronics. Grab a totally waterproof speaker that can go anywhere you're being pampered, or opt for a noise machine programmed with relaxing, natural sounds.
Greenery
In my personal experience, any room can get an instant facelift with the addition of a plant or two (or three). Add a pop of color and a touch of life to your space with a plant in a pretty planter (for smaller spaces, a wall planter is a great option). Even if your bathroom has minimal light, plants like a monstera, a ZZ plant, and a snake plant will grow without any trouble.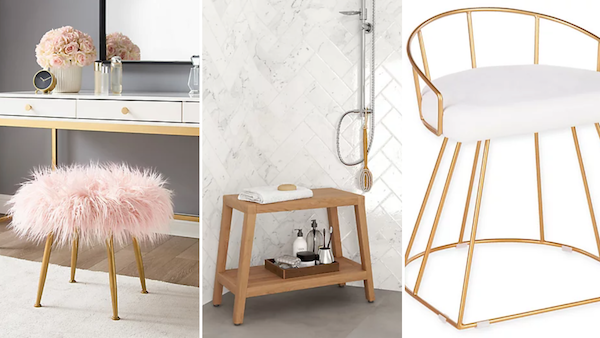 Seating
If you have room for it, adding some comfortable seating to your bathroom is the ultimate spa accessory. From a simple vanity stool (faux fur, anyone?) to a sleek shower bench, there's an option for any space and style.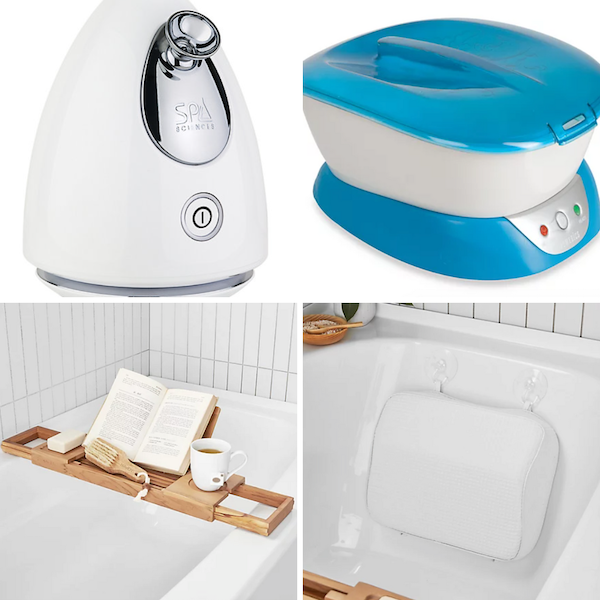 Accessories
Once you've transformed your bathroom into a spa environment, the final step is adding the accessories. You can pamper yourself with at-home spa treatments using a paraffin wax kit, facial steamer, and a memory foam bathtub pillow. And you can't forget a bathtub tray for nights when you want to soak while catching up on your favorite shows with a glass of wine!
Bring a spa-like atmosphere to your bathroom
There you have it — everything you need to bring a spa-like atmosphere to your bathroom. Believe me, by the time you're done adding all these items to your space, it'll feel so relaxing you won't want to leave. In fact, it might just become your favorite room in the house, all thanks to Bed Bath & Beyond. Happy pampering!