Serve up an unforgettable — and delicious — gift for Mom this Mother's Day!
Much like everything else in our lives, Mother's Day is looking a little bit different this year. With the difficulties imposed by the necessary social distancing measures, even the thought of celebration can be anxiety-inducing. But, it doesn't have to be that way!
Just like any other year, the point of acknowledging Mom on Mother's Day is to show her how much she's loved and appreciated. While you can't give her the big hug you wish you could in-person, there are still plenty of ways to send her some comfort. What better way than with a delicious recipe accompanied by a thoughtful gift to show her how much she means to you?
Whether she's got an unrivaled sweet tooth or she tends to lean towards the savory, we've combed through Food52's most popular, Test Kitchen-Approved recipes and their best gifts so you can mix and match your way to an unforgettable, delicious Mother's Day celebration, even if you can't be there yourself.
Sweet Treats
Irish Coffee Cupcakes in a Carrier & Dessert Plates
They may have originated for St. Patrick's Day, but these Irish Coffee Cupcakes are too delectable to resist! Brushed with a little whiskey after baking, they're just the right balance of sweet and spirited — just like Mom.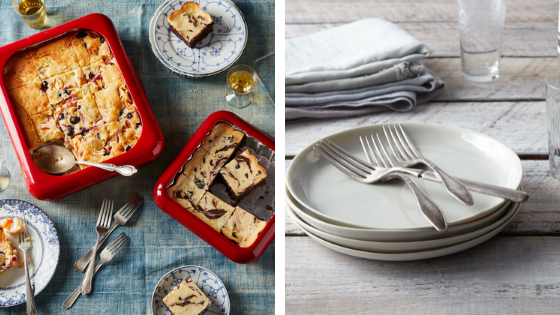 Pop a batch in a convenient Travel Casserole Carrier, drop it on her doorstep with a set of handmade Watercolor Dessert Plates wrapped up with a bow, and you're good to go!
Perfectly Sliced Angel Food Cake & Glass Cake Stand
What cake is more airy than an Angel Food Cake? Trick question — there isn't one, which is why this impressive cake is the perfect one for Mother's Day.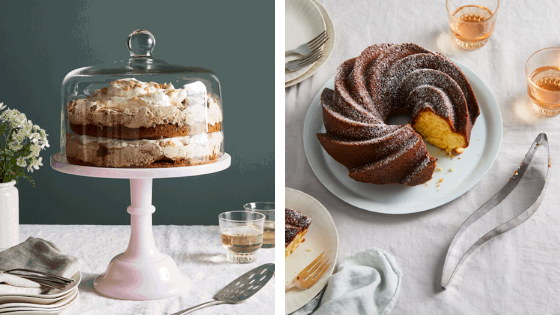 Once it's ready to go, set it on a beautiful, handmade Glass Cake Stand with some fresh berries and cream in travel containers for serving. Top it all off with the Perfect Cake Slice Server for a perfectly sweet Mother's Day treat for Mom.
Best Apple Crisp Served in a Coupe With Dessert Spoons
This Best Apple Crisp is described as "apple pie, minus the drama," which is how all recipes should be, in my opinion. It also makes for a low-stakes endeavor with immense payoff that's so incredibly satisfying, Mom will be so proud.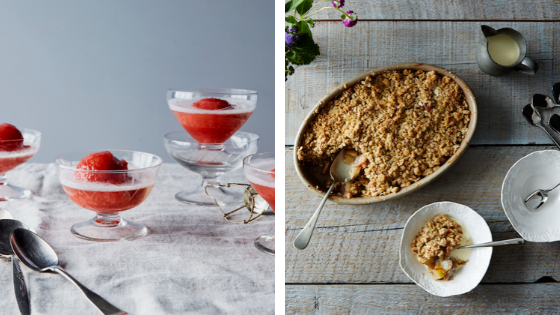 Tie it together with a set of Eclectic French Coupes for serving and shovel-inspired Dessert Spoons that guarantee an indulgent Mother's Day bite.
Crème Brûlée, Vintage Spoons & Porcelain Ramekins
Any occasion that Crème Brûlée gets served always feels a little more decadent — it almost makes me feel downright royal. This Pistachio and Honey version is subtle, sweet, and looks beautiful simply served in cute little Porcelain Ramekins before a generous firing under the flame.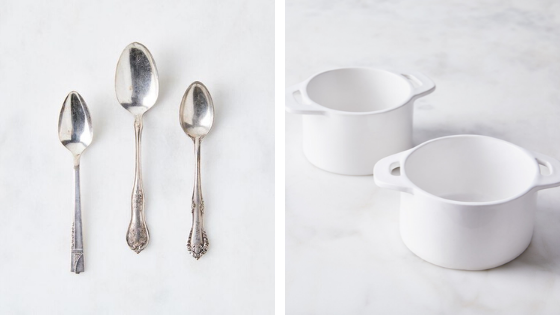 Make it an extra sweet treat for Mom when you add in a beautiful set of Vintage Demitasse Spoons to enjoy them with!
Key Lime Pie Served With Love
Maybe it's because I'm from Florida, but I just can't find anything not to love about an authentic slice of Key Lime Pie. The sweet tangy filling combined with a crunchy graham cracker crust never fails, which is why I think it's a perfect pie to whip up for Mother's Day.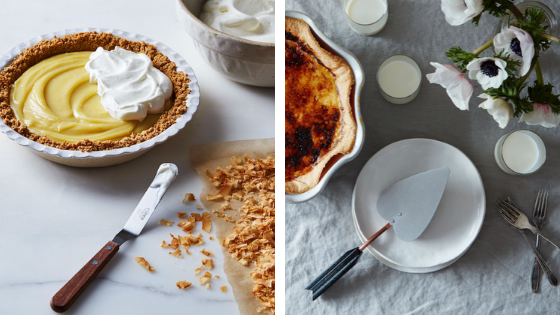 A Pie Plate doubles as a baking dish and a transporter, and when you gift her this Heart Pie Server, Mom will always be reminded of just how much you love her.
Savory Bites
Mediterranean Dip Ready for Entertaining
Baked Olive, Tomato, and Feta Dip might sound fancy, but the beauty of this particular recipe lies in its simplicity.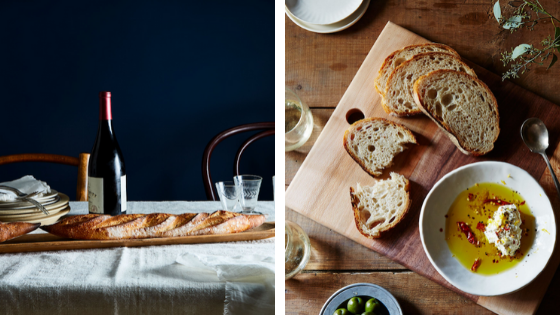 The delicious Mediterranean flavors come together in 15 minutes — when it's all done, wrap it up with a set of Unfiltered EVOO and a Baguette Board (plus a baguette, if time and resources allow!) to set Mom up with an inspired Mother's Day snack. Bonus: the dip can be easily reheated for double the enjoyment!
Mother's Day Clam (or Mussel) Boil Made Easy
If you want to take things up a notch, set Mom up for her very own seafood boil using the recipe for Clams (or Mussels) With Lime-Butter Sauce.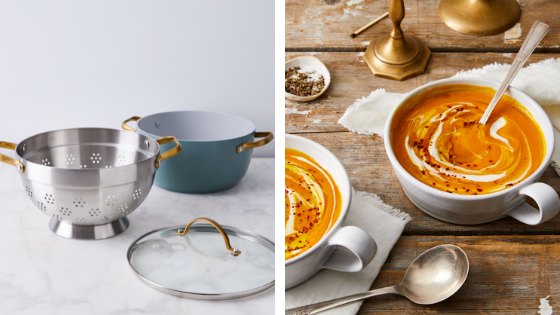 Since it's best enjoyed immediately, you can whip together all the ingredients before bringing it over in a gorgeous Stock Pot for the final simmer on Mom's stove. Add in a set of Soup Mugs for serving, and she'll be ready for a delicious Mother's Day meal.
White Lasagna & Decanted White Wine
I love that this recipe for White Lasagna with Swiss Chard, Leeks, and Gruyère is referred to as an elevated mac and cheese and can be made however you feel most comfortable: as a lasagna or a casserole. It's a vegetarian dish, which makes the leftovers especially yummy for breakfast.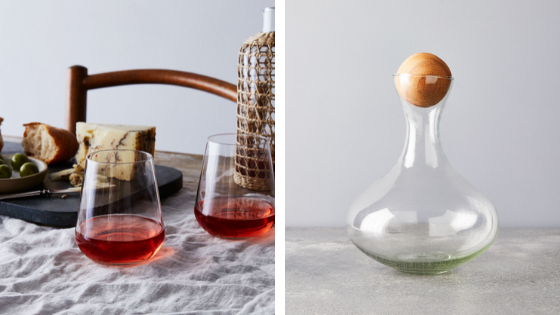 However, to complete Mom's Mother's Day dinner service, grab a favorite bottle of white wine for her to pour into her new Glass Decanter and serve in chic Stemless Glasses.
"I Fall to Pieces" Beef Stew: Good to the Last Drop
It doesn't get much more comforting than a warm bowl of hearty stew, and this particular recipe for (no kidding) "I Fall to Pieces" Beef Stew promises to deliver big time — making it a Mother's Day winner!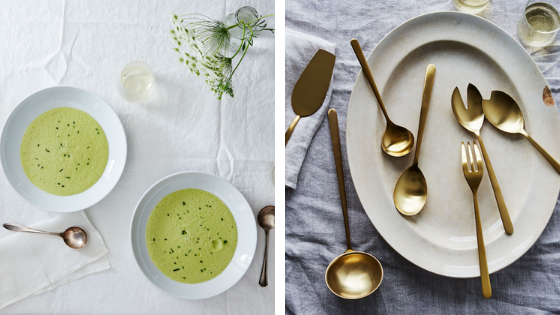 To guarantee Mom enjoys every one of those tender, flavorful ingredients (including the gravy), set her up with a 7-piece set of Italian Serveware and some shallow dishes that are the perfect blend of plate and bowl.
Empanadas for Mom, Anytime
There's something about empanadas — making them and eating them — that's just so satisfying. So, once your Mother's Day Smoky Turkey Empanadas are ready for the oven, pull half to ¾ of them to the side and pop them in a freezer-safe container. T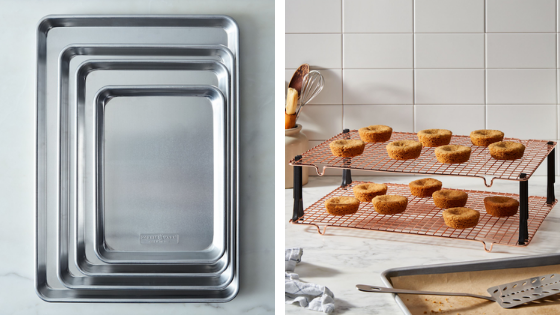 hat way, Mom can enjoy them even longer; all she's gotta do is pop them in the oven on her new Baking Sheet complete with a Nonstick Baking Mat, then let them cool off just enough to take a bite on this Stackable Cooling Rack.
Believe me, I know there's nothing like spending time with your mom, and no recipe (no matter how delicious) can replace that connection. If anything, now is the time to show her just how strong you both can be in the face of the unknown while you celebrate the number one woman in your life. If you can't physically deliver the goodies, that's okay! Send her gift in the mail and include a recipe that you can both make from your own homes and "share" together. Regardless of your form of celebration, she'll be so appreciative of the thought and love you've put into making her a homemade treat, and she'll have a built-in gift to be able to look back on Mother's Day 2020 for years to come.