As it is with so many things in the baby world, there seem to be about 85 fantastic choices for baby transportation. The stroller section at your local retailer takes up half the store and even with the chance to try them out and push them around, how can you really know which one is the best?
Just like I did when it came to researching diaper bags, I reached out to the seasoned moms in my life for their tips on what to look for in a stroller.  As I suspected would be the case, many recommended finding a stroller that would close easily with one hand, be lightweight, fold down as compactly as possible to maximize trunk space and have the ability to expand to a double stroller for future babies.
If you're a new mom or mom-to-be like me, here are a few stroller buying questions to ask yourself before you make a selection:
Are you looking for a travel system or are you interested in a specific car seat that can match up with different strollers?
Are you planning on having multiple kids close together in age? Then you may want to look for a stroller that can expand to a double (or even a triple!) carrier.
Where do you live? Are you near trails or a beach or rougher terrain that you may need bigger, more durable tires for? Or are you in a city where you'll need a lightweight and compact stroller with lots of storage for baby's things?
A few other things to consider before choosing a stroller are:
Can you close the stroller with one hand?
Is it lightweight enough to get in and out of the trunk of your car?
How easily does the car seat clip into place?
What kind of storage does the stroller have? What accessories do I need to add on? (See more about those at the bottom of this post.)
To get you started on your hunt for the best baby stroller, let's take a look at some of the strollers most often recommended:
Full-Size Strollers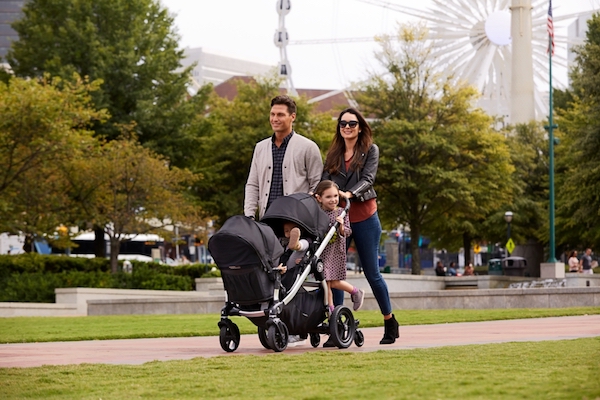 One of the best features of the Baby Jogger strollers is their compatibility with multiple kinds of car seats. Choose the car seat you like then choose the adapter that fits on the Baby Jogger and you've created your very own travel system. Another perk of the City Select model is it can grow with your family. Add on an additional seat to create a double stroller and add on the glider board for a third, older child. All the fabrics are removable and machine washable and Baby Jogger has patented its one-hand Quick Fold Technology to make closing up your stroller a breeze!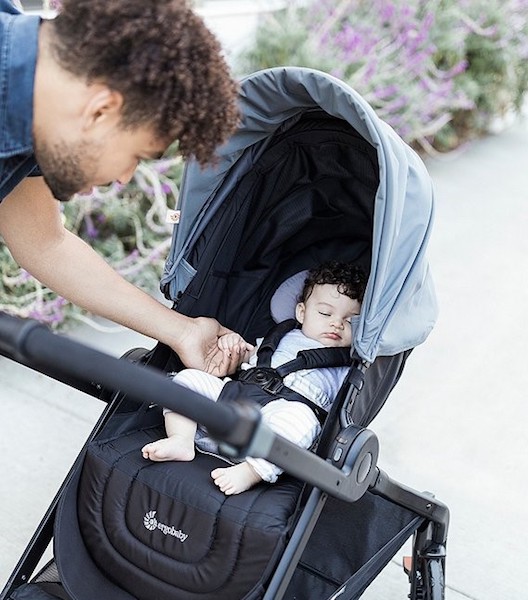 From the makers of the longtime favorite baby carrier comes the Ergobaby 180 Reversible stroller. Compatible with Graco and Chicco car seats, it's perfect for transitioning with your baby from infancy to toddlerhood. The reversible handlebar allows the baby to face you or the world! It offers plenty of under-stroller storage and folds with one hand into a compact piece that easily fits in your trunk.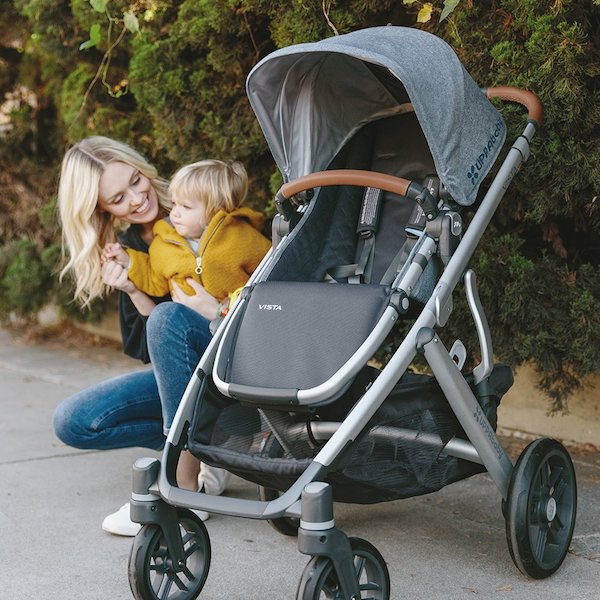 Not only will the UppaBaby Vista stroller easily connect with the UppaBaby Mesa car seat (without the use of an adapter or base), but it includes the baby bassinet. The bassinet is perfect for newborns and strolls through your neighborhood where you won't need to lug out your car seat. It is also compatible with several other car seat brands including Maxi-Cosi and Nuna. The Vista can expand to become a double or triple stroller and comes with a rain shield and bug shield.
Travel Systems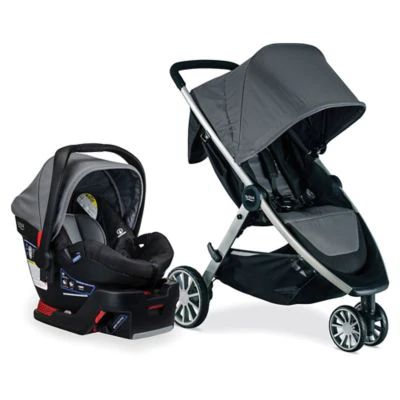 Buying a Britax travel system will include not only a stroller, but also a car seat. For years, Britax has been known as the top performer in car seat safety, mostly due to their impact stabilizing steel frame. Paired with its matching stroller, it makes traveling easy. Simply click and go with the car seat for infants and you're on your way!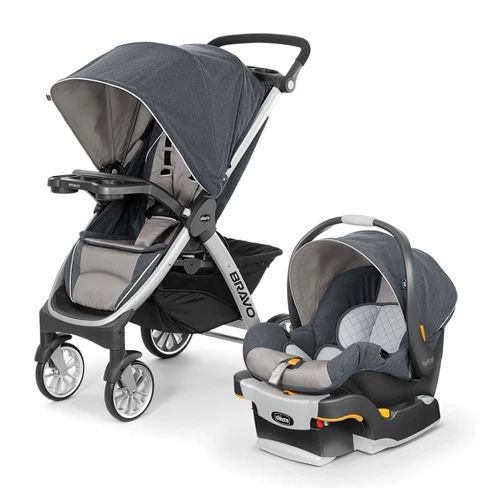 The Chicco KeyFit car seat is a fan favorite when it comes to baby registries and this stroller travel system is compatible with that car seat. It features a multi-recline seat for maximum comfort for your toddler as they grow into this stroller. The handle is adjustable to fit anyone pushing the stroller and it closes quickly and easily in one swift step.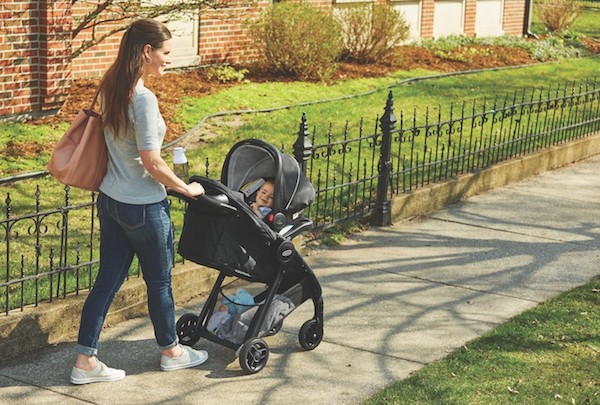 With its easy car seat installation, one-second one-hand compact fold and top-rated car seat, the Graco Fast Action travel system is a great choice for your baby's transportation. It also includes a folding child tray and a parent tray with two cup holders.
Stroller Accessories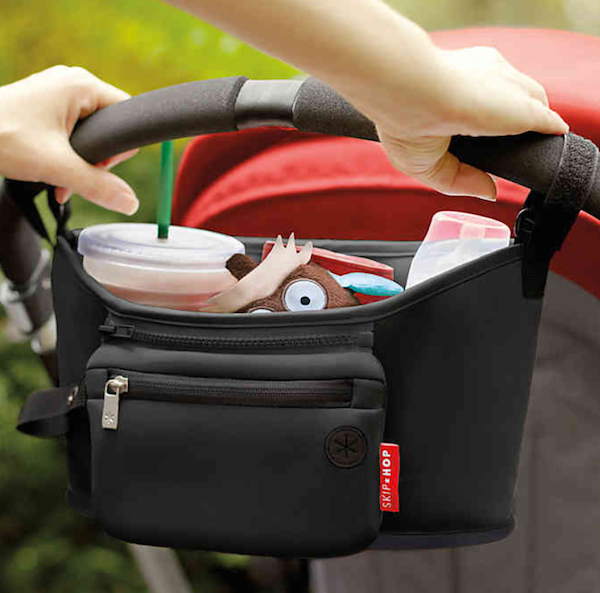 This SkipHop Stroller Organizer fits most standard handles or stroller bars and it's perfect for all your essentials. The caddy is insulated and ready to be filled with your on-the-go drink of choice. The front wristlet zips off so you can take your wallet and phone with you if you need to park the stroller somewhere.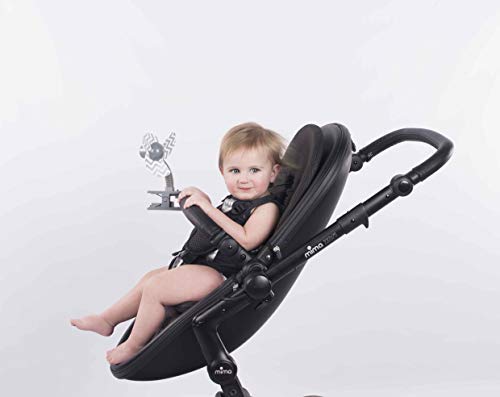 Help baby beat the heat with this battery operated clip on fan. Simply attach to the side railing of the stroller and baby will stay cool in the summer!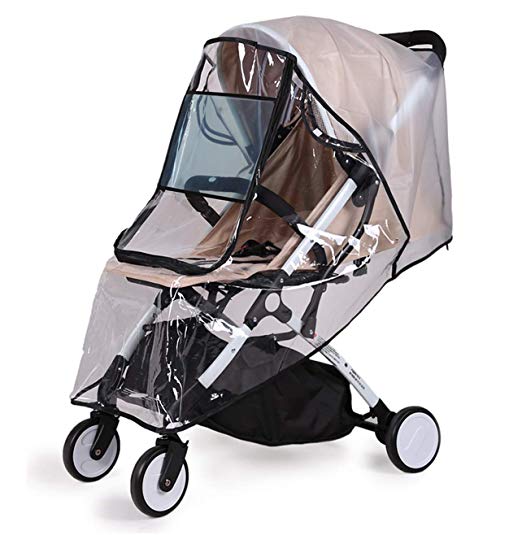 If you live in a rainy city or you love the outdoors, choosing one of these dual purpose rain and mosquito stroller covers will be a lifesaver! This one by Bemece is a universal size to fit any stroller and has a large see through window so your baby can still take in the sights and sounds around them.
After spending several hours chatting with the awesome moms in my life and "test driving" strollers at my local retailer, I chose the UppaBaby Vista stroller and UppaBaby Mesa car seat for our baby coming this fall. It is easy to maneuver, lightweight, can expand to include our future children and looks sleek while doing it all. I love that a separate adapter or base isn't necessary to attach the car seat and that the handlebar adjusts to be comfortable for my much taller husband. (It's the little things!)
Baby Items
If you're a first time mom looking for tips on other baby items where the options seem endless, don't miss any of our posts on our GiveIt Blog! As you continue to add to your registry, point shower guests, friends and family to one convenient location where they can find everything at registryfinder.com.
Featured image courtesy of @buybuybaby, photo by @kristakmcrae