If you're a bride currently planning her bachelorette weekend, this is your sign to step back, take a deep breath, and honestly ask yourself: am I planning a girls' trip or a guilt trip?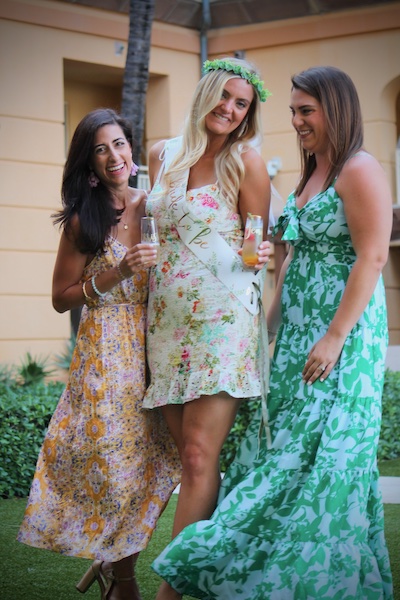 Since I've been writing about weddings for nearly 8 years, people love to tell me their wedding stories–and I love hearing them. One of the wedding events I hear most about is the bachelorette weekend, something that wasn't nearly as trendy when I got married ten years ago. Back in my day (said as I adjust my lumbar pillow and sip my peppermint tea), most of us had a lingerie shower and a night out bar hopping. But a weekend extravaganza has become the new norm!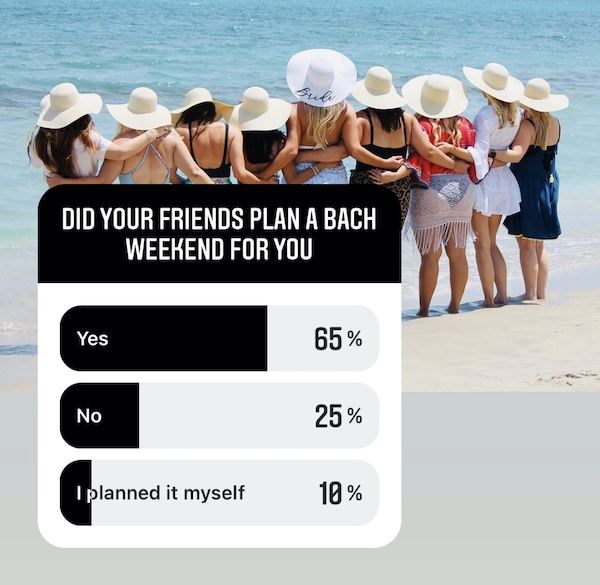 Having attended a few and planned one for my sister-in-law, I've learned that for every bride planning her bach weekend, there are a handful of girls complaining about it in a separate group text. And while the #bachwknd Instagram posts are all picture-perfect, there's usually some drama that plays out off-camera about the planning, the destination, and most of all, the expenses.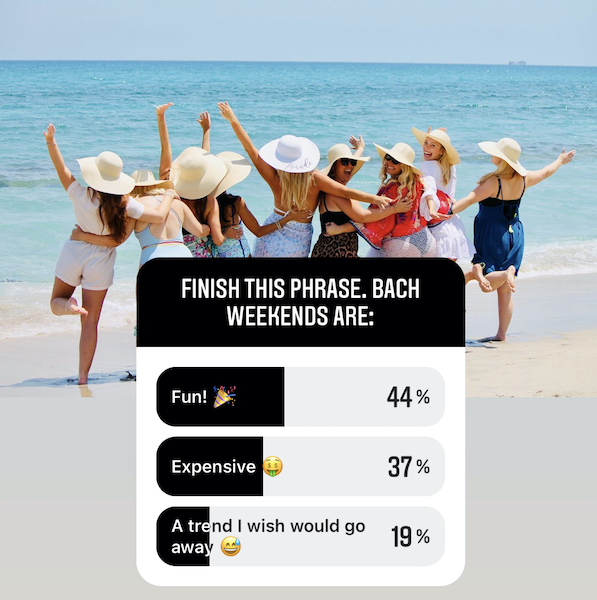 Hearing all this backstage bridesmaid drama left me wondering: Is it possible to plan a bach weekend that's as fun IRL as it looks on Instagram? Our real brides (and many bridesmaids) weigh in with tips and advice on planning a trip your bridesmaids enjoy, with minimal complaints in the group text you weren't invited to join.
How to Plan a Bach Weekend that Your Bridesmaids Actually Love
1. Set a date and choose the location
The two aspects of the weekend that the bride should help plan are where and when. It's not necessary for the entire bridal party to weigh in on the destination or to find a date that works for every single person. As long as the bride, maid of honor (MOH), and a few of your besties are free on a particular weekend, go ahead and pick it! Anyone else who can come is a bonus!
When it comes to where you should have your bach weekend, keep your bridesmaids' budgets and stage of life in mind. A group of twenty-somethings might enjoy splitting an AirBnB ten ways and playing their favorite college drinking games, while an older, more established group might be willing to spend on a luxury hotel and day at the spa. While bachelor and bachelorette weekends are traditionally a "last hurrah" for the bride or groom before they tie the knot, not everyone wants to go out and party.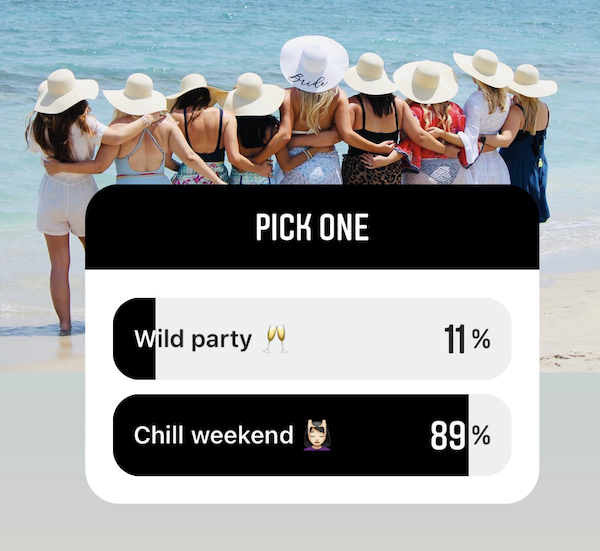 No matter what type of bachelorette weekend you want to have, you might not have to travel very far to achieve it. A "staycation" that's only a car ride away from most of your bridesmaids might make it possible for more girls to attend, or to pop in for a portion of the weekend.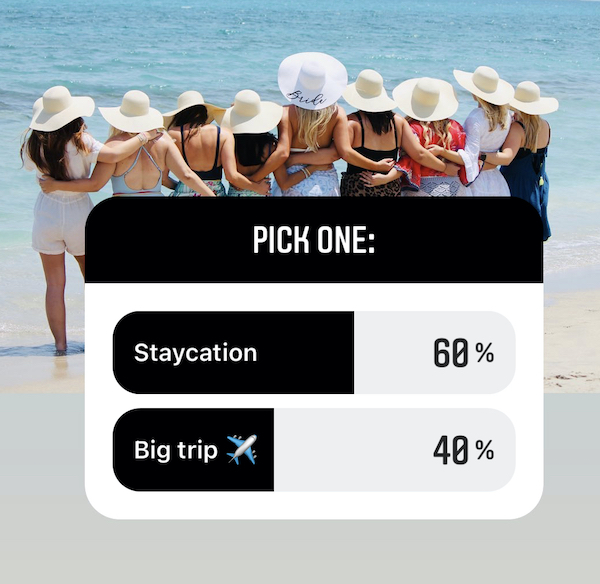 Know your crowd, make a choice, and commit. No need to run it by every member of your group!
Once the "where" and "when" are established, the bride's duties are done. She can sit back and wait for the weekend to arrive–it's time for the maid of honor to step in and handle the rest!
"I pitched an idea to my maid of honor, but I left all the details up to my bridesmaids to plan." –Tiffany P.
"I gave my general preferences and then gave the "OK" to my bridesmaids for the plans." –Lisa F.
"I wasn't involved in the planning at all!" –Irene P.
"I didn't really do anything other than pick the dates and the invite list." –Megan T.
2. Send a printed invitation
I know it's old school, but trust me: the maid of honor should send a physical invite with the dates, location, and instructions to RSVP (to the maid of honor) by a specific date. Giving an overview of the weekend activities is helpful for a few reasons: it will give your girls an idea of the expenses involved (flights, hotels, activities), allow them time to research and budget, and encourage them to make a decision about whether they will attend or not. Also, seeing the details in writing helps put a sense of finality to the decision-making process: the date, location, or plan aren't up for discussion or debate!
Here's the invite I sent out in advance of my sister-in-law's bachelorette weekend. I found the design on Etsy and customized the front with the basic weekend info, and the back with all the details of the weekend. I even re-used the design for gift tags, place cards, and other elements throughout the weekend (I clearly love a theme).
3. Set Up a Way to Communicate
Once the girls have responded to the physical invite, the maid of honor can set up a way to communicate with the group. This is where the MOH can share specific details about booking flights and hotels, answer questions, and share how expenses will be split.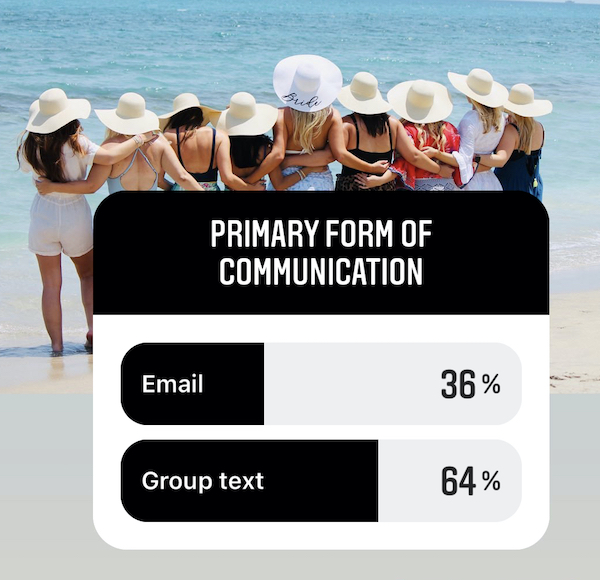 While most prefer a group text, beware: there WILL be a spinoff group text with running commentary on everything that's happening in the original group text. Check out this landslide: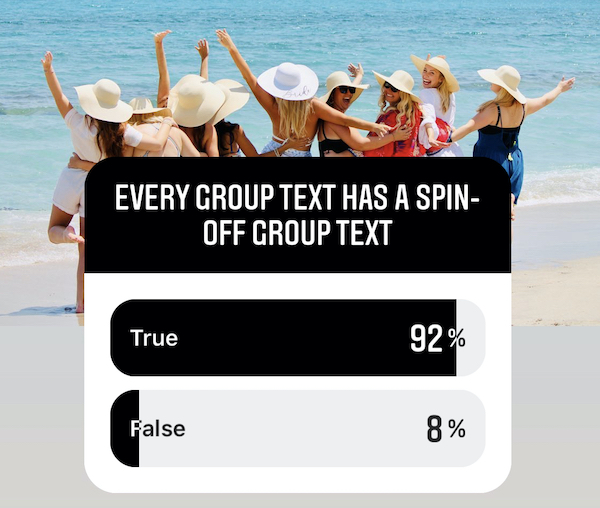 That's a lot of notifications to handle! Some find email to be less confusing and easier to follow.
4. Make a plan for expenses!
The maid of honor should make sure everyone on the trip has Venmo or Zelle, and understands which expenses will be split and who they need to pay. How you do this is up to you!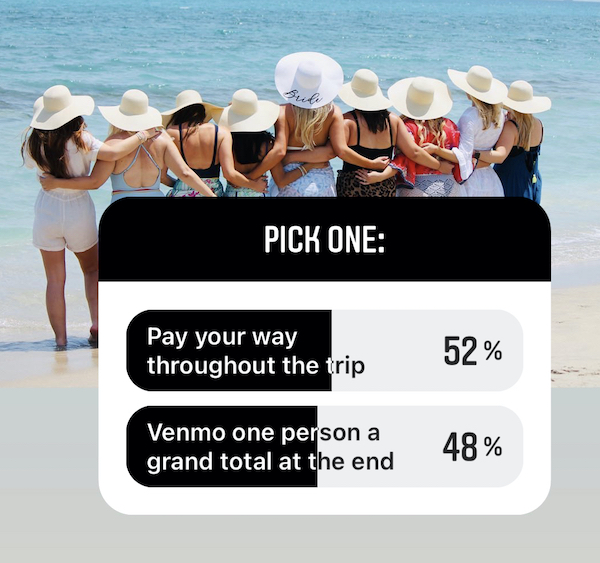 As you can see, some bridesmaids prefer paying their own way for every meal, Uber ride, bar tab, etc, while others like to pay one person back for the grand total at the very end. One way to combine these two approaches is to follow the advice below:
"Pay one person for all the activities and the house upfront, and then pay for drinks and food on your own." –Savannah T.
The MOH should handle these details and leave the bride out of the number crunching.
5. Nail down the details
When it comes to making reservations, planning meals, and booking activities, the maid of honor is in charge (not the bride). Taking time to think through these details will allow everyone to enjoy the trip, with no surprises or stress!
"Making an itinerary and having everything planned beforehand, like dinner and spa reservations, makes it more fun for everyone." –Tiffany P.
6. Cut down on the number of line items you ask friends to buy
"Don't try to make your bachelorette weekend a Pinterest dream." –Jess W.
Social media feeds and the styled photoshoots that flood them put extra pressure on everyone. "Extras" like decorations, specific wardrobe items, and other accessories add up on top of the big ticket items your girls are already purchasing just to be there. In my experience, these "extras" are usually the breaking point for the bridesmaids: "I'm paying $300 for a flight to Nashville, AND I have to pitch in for matching white cowboy boots and a monogrammed koozie?"
The maid of honor should either purchase these items on her own, or wait for someone else to offer to bring them. If no one does, it's really ok. I promise your weekend will be complete without pictures of the groom's head on a stick.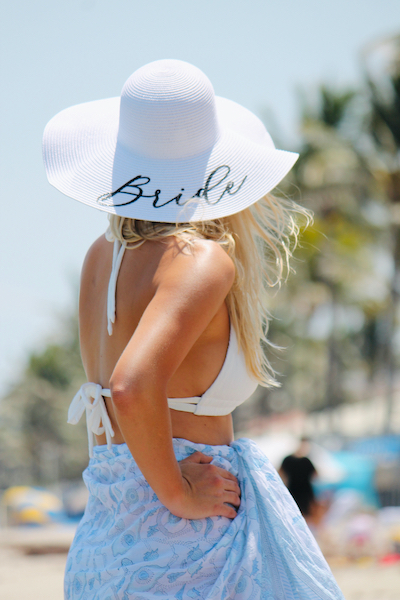 7. A Gift from the Bride
Your girls will most likely cover your portion of the lodging and pick up your bar tab. Offering to pay for your meals is gracious and thoughtful. But since they most likely won't let you pay for anything all weekend, find something that you can gift your girls: champagne for the weekend, beach hats, matching pajamas, or personalized drinkware (with their monogram, not your wedding date or the word "bridesmaid") is a cute way to say thank you to them for making the trip!
A note to bridesmaids:
Ever since Bridesmaids hit theaters, girls have been swapping wedding horror stories and wearing them like a badge of honor. While these stories can be funny, they don't have to be inevitable!
Remember:
1. It's ok to say no!
If a trip just isn't part of your budget, decline! There's no need to stress yourself out or go into credit card debt because you feel obligated to go to a friend's bachelorette weekend. And if you're the maid of honor trying to navigate your bride's big vision, honestly share your financial limits and plan a fun, cost-effective staycation, a local lingerie shower, or a night out instead!
2. Be realistic about what a weekend costs
Most people associate bachelorette weekends with being expensive. That's because traveling and dining out IS expensive, so don't go into sticker shock when you find you're spending hundreds to go on a bach weekend. If you can't afford it, say no (see above). If you're going, don't lead a revolt (or separate group text) against the people in charge. They're doing their best, and criticizing their decisions just isn't polite. It's better to bow out than attend with a bad attitude.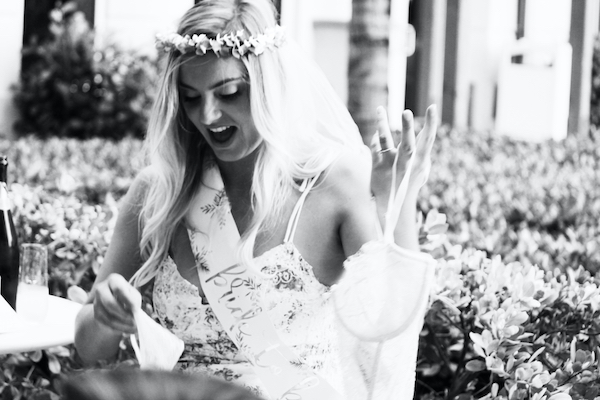 3. Never, ever whine to the bride.
"Don't complain to the bride if you don't like parts of the bachelorette weekend!" –Gabriella W.
No matter how over the top you believe the bachelorette weekend to be, don't bring those complaints to the guest of honor. She likely had little to do with planning, and this is her weekend to enjoy!
And a final note to Brides…
The most important thing you can do for your bachelorette weekend is to relax and enjoy. Don't stress about the Pinterest-perfect details or who isn't coming. As much as you want all of your bridesmaids to attend your special weekend, keep in mind that it just won't be possible for everyone, and their reasons for coming probably have nothing to do with how much they love you and value your friendship. Even if you're disappointed by how things go down, don't resort to guilting your girls into coming or spending more than they can: a fun getaway should never become a guilt trip. Enjoy the ones who can be there, and soak up this last trip with your friends before you say "I do!"
Have a Question for our Real Brides?
Let me know what topic you'd like us to tackle next! And if you're interested in learning more about etiquette, gift giving, and celebrating in style, be sure to subscribe to the RegistryFinder GiveIt blog for weekly posts on wedding etiquette, bridal showers, wedding trends, and of course, wedding registry guidelines and tips! And as always, be sure to refer your guests to RegistryFinder.com, where they can conveniently locate all of your registries in one place!