When your children are little, especially during their first year, the holidays are extra special. It's incredible to see the joy of Christmas in your toddlers eyes! Most families have their own unique Christmas traditions that have been passed through the generations, but creating new traditions with your children is priceless! They'll always hold on to these memories and might even pass the traditions down to their own family!
Some holiday traditions have been reinvented, such as Baby's First Ornaments, and some newer trending Christmas activities like the "Elf on the Shelf", are instant classics! Learn more about the top holiday traditions for your family to experience, all of which will help you capture the Christmas spirit and enjoy your precious family time! These activities will prove that it's the most wonderful time of the year!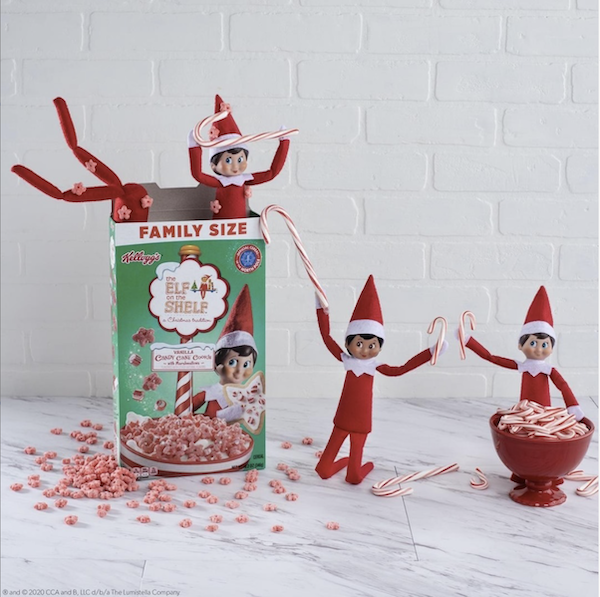 Elf on the Shelf
If you're expecting your first child, you may not have heard of The Elf on the Shelf. Your family's elf, (ours is creatively named "Elfie"), arrives a few weeks before Christmas and helps Santa watch the children to see if they're minding their manners and such at home. As a parent of toddlers, this has been a fantastic tool to keep my kids in check, reminding them that they want to stay on Santa's "Nice List"!
Parents around the country have gotten pretty creative with the concept. Each night your elf will return to Santa's workshop to fill him in on the kid's behavior, and then return to the house in a different location…kids love to look for their elf each morning. Sometimes your elf will appear in unique places, and with friends, (aka, my daughter's other dolls have joined in on the fun!) My favorite set-up was of an elf being quarantined! It's a fun and engaging activity for the whole family. Check out Pinterest for endless creative ideas!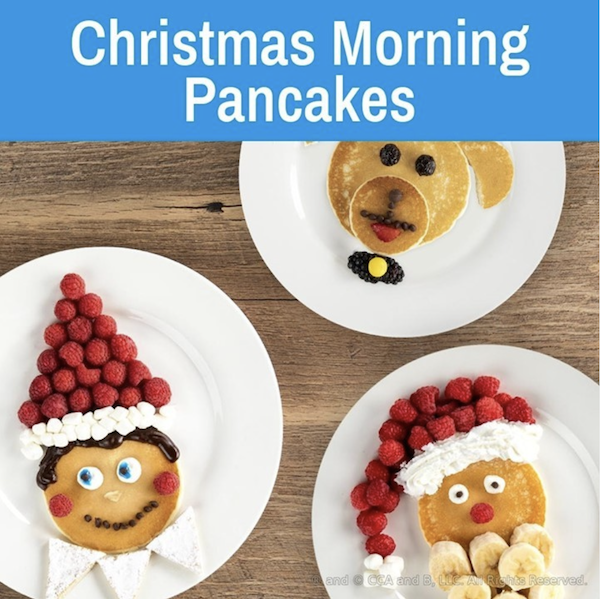 Christmas Morning Pancakes
"We love to make Christmas cookies every year and special pancakes on Christmas morning! It's a fun and sweet tradition!" -Mel K.
Pinterest has many ideas for delicious Christmas morning breakfasts! It's fun to have something to look forward to after the presents have been opened. Our family enjoys breakfast casserole and egg nog; now I can't wait to add some snowman pancakes to the list!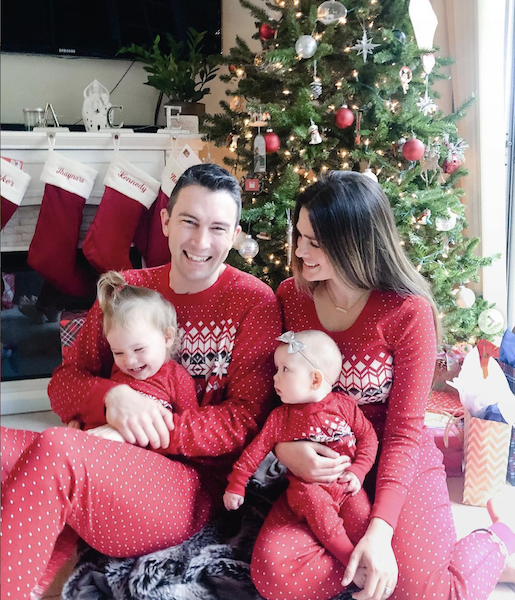 Matching PJs
Families in the US have been wearing matching pajamas since the 1950's, but this reinvented trend has become much cuter since those old Sears catalogs! The options are endless; check out Target or Hanna Andersson for adorable and comfortable jammies!
"I love to see our friends post their adorable matching Christmas pjs on Instagram!" -Karly R.
"Dressing up is so fun and festive! Burt's Bees pajamas are thin, which is perfect for where we live in Florida… even on Christmas it's warm and sunny outside!"
PRO TIP! "When I order family pjs, I purchase a few sizes for my son, so we can wear them all again in upcoming years!" – Cristina G.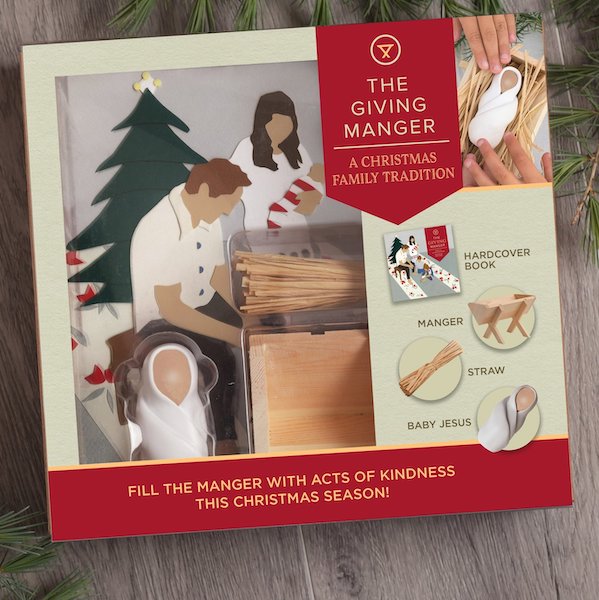 The Giving Manger
If your family is looking to keep your Christmas season Christ-centered, The Giving Manger is an excellent way to stay focused on giving, and remind ourselves to live like Jesus through the holidays.
As their website explains, "The Giving Manger helps families shift the focus of Christmas back to giving. A piece of straw is placed in the manger for each kind deed or act of service performed. On Christmas Day, the Baby is placed in the manger filled with service and love. As your family works together to give gifts of service you will find your hearts and home filled with more joy during the holiday season than ever before."
"I love that The Giving Manger keeps our family engaged on what the season is truly about. When we are constantly bombarded with sales and promotions, it helps us take a step back daily, and remember that selflessness and compassion are what this holiday is all about." -Katie F.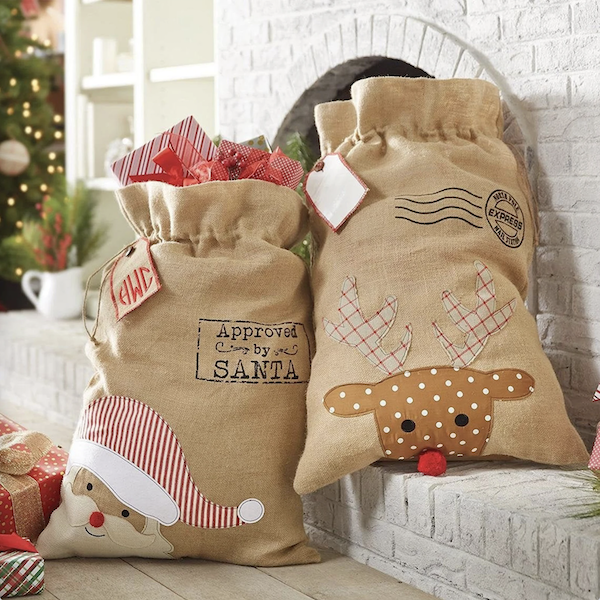 Personalized Santa Sacks
A fun new tradition our family adopted was setting out personalized Santa sacks on Christmas morning! The kids feel so special seeing their name on a sack filled with toys. Ours were specially made by Bows By Brittany, and we will use them forever. It's just another magical touch from Old Saint Nick! 🎅❤️ Plus, they serve as a fantastic photo prop! 😉
Handprint Crafts
Christmas handprints were definitely trending in the 90's; I think my mom displayed my handprints all over our house growing up. Through the years, these crafts have become more creative. I found many printables on Pinterest and Etsy for framable handprint-art, that well, actually look like art!
"I am overcome with nostalgia when I see these little handprints, especially now that my kids are grown! What a precious keepsake!" -Barbara F.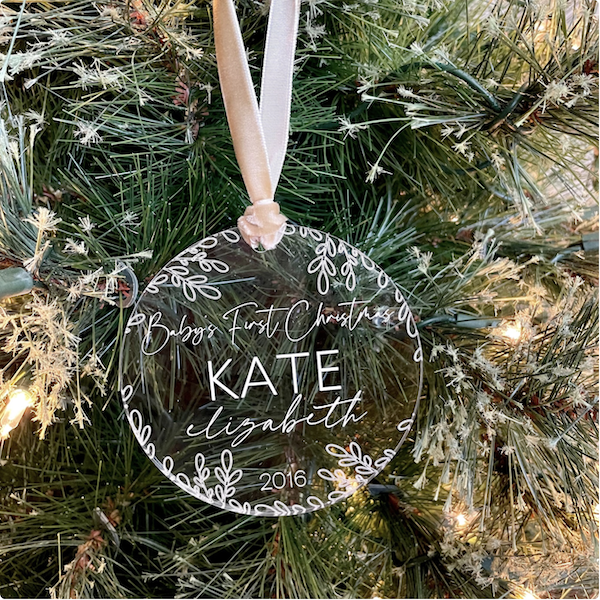 Personalized Ornaments
Another Christmas must-have for your kiddos are personalized ornaments.
As kids, we always got to pick out our annual ornament, that usually signified what we accomplished that year; whether it be a ballerina when I did dance, or a graduation cap during my senior year of highschool! I love passing this tradition down to my own kids, who find just as much pride and sentiment in the ritual as I did.
Our family has a "formal" decorated tree and an "informal" tree upstairs in the den where we put all the "fun" ornaments… one's from family traveling or that are sentimental to each of us." -Annemarie C.
Thank you Hallmark and Etsy for providing an infinite number of customizable ornaments! Make sure to place custom-orders early, especially Baby's First Christmas ornaments, which are so special to hang Dec 24th!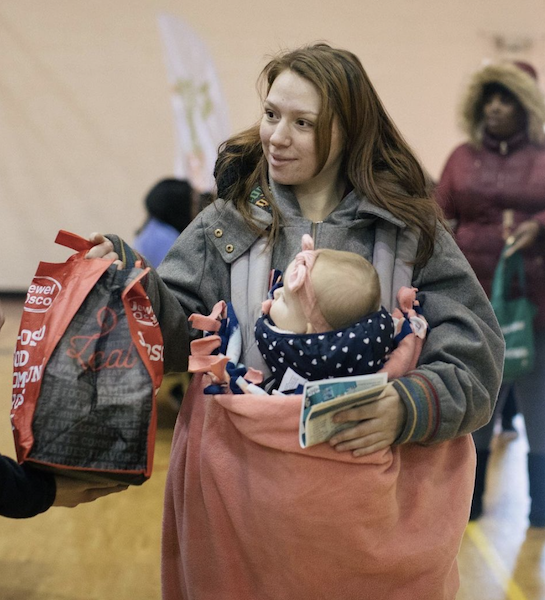 Serve at a Local Food Bank or Church
Take your family to serve at your local soup kitchen. Meet others in your neighborhood, help those in need, and reflect on your blessings. What a wonderful way to end the year! Check out Feeding America to find your local food bank.
"Thank you to everyone who has helped put a holiday meal on the table for families in need today – your support has made all the difference for our neighbors who face hunger this Christmas." -Feeding America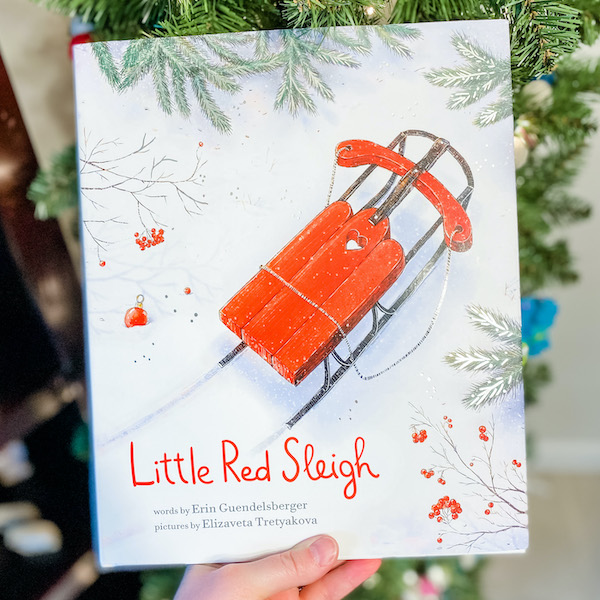 Christmas Stories
It's hard to top The Night Before Christmas, How the Grinch Stole Christmas, or The Nutcracker… ok, that's quite impossible. But there are some great new stories to share with your family during this holiday season!
"Absolutely the best Christmas book I have ever read is the Little Red Sleigh! It's like the Little Engine That Could meets The Polar Express with this book." -Emily H.
"A sweet book I read to my little guys is Bear Stays Up for Christmas. It's a sweet and festive story perfect for toddlers!" -Alexis R.
"We love the Little Blue Truck series, so of course the Little Blue Truck's Christmas is a favorite in our house!" -Grace T.
"My Dad always leads a Bible reading Christmas morning, and also does a fun kid's version too with the kid's Illustrated Bible."
Beginning to look a lot like Christmas
Well, it's certainly beginning to look a lot like Christmas with these holiday activities! ❄️ We hope you enjoy quality time and making memories with your little ones, with the help of these festive new traditions for your household. The holiday season is the perfect time to gather together and hold tight to those you love the most. Have yourself a merry little Christmas!
Happy Holidays from the RegistryFinder Family!