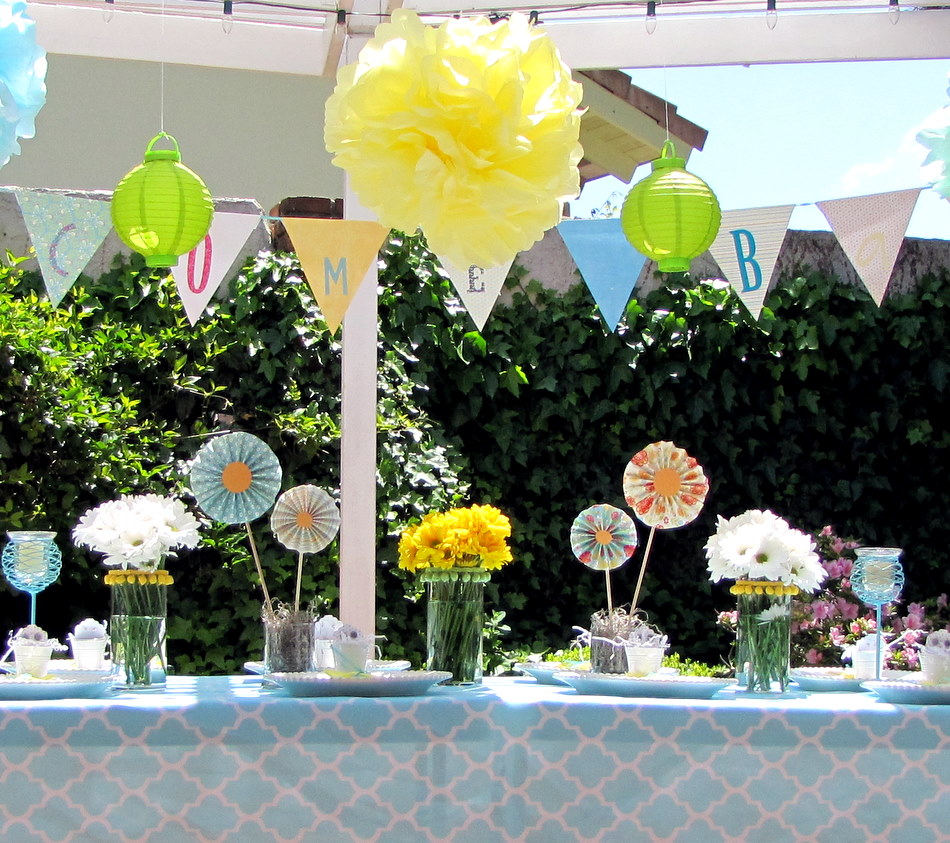 A baby shower is the wonderful way for your mom-to-be to relax and have fun with family and friends. After all, there will be very little relaxing for mom after her sweet baby arrives! So whether this is the first or third child for your guest of honor, it's time to celebrate! We're here to help you plan a party that will be special and memorable for both mom and her guests. We've created a simple, but stunning menu that incorporates lots of bright, colorful fruits and vegetables- perfect for a spring baby shower. Most of these dishes can be prepared ahead of time, eliminating stress and allowing you to truly enjoy the time with your guests.
Chicken, Strawberry & Pecan Salad
You've probably had salad chicken salad at a baby shower once or twice. Well, we wouldn't want to completely break that tradition, we just want to change it up a bit. Meet the new main course chicken salad — it's not only pretty to look at, it's also hearty and delicious. Oranges, strawberries, blueberries, chicken and pecans are tossed in a light poppy seed dressing. You can make your dressing and prepare most of the ingredients ahead of time, and then combine everything in minutes before your party begins. And for a vegetarian crowd, you can omit the chicken, or serve it on the side.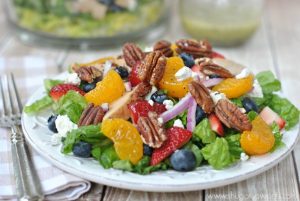 Source: ShugarySweets.com
Apricot Brandy Baked Brie
The mouthwatering combination of apricot jam and brandy make this brie absolutely delicious! Prepare the brie and jam a day ahead and heat just before serving. The best part about this recipe is that you can use this method, but swap the apricot for any fruit jam you desire. (You can also leave out the brandy.) Serve this lovely appetizer with crackers and sliced apples.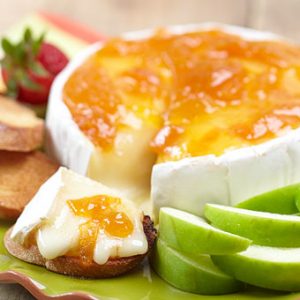 Source: The Stonewall Kitchen
Ham and Asparagus Bites
A baby shower menu just wouldn't be complete without some kind of sandwich. This show stopping "sandwich" will wow your guests. The best part about these beauties is that they come together in a snap. And you can make them one day before your shower and just pop in the oven before serving.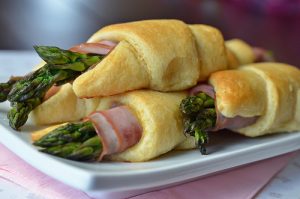 Source: Seed at the Table
Classic Bruschetta
Bruschetta is always a delicious addition to any menu. We love this recipe from The Pioneer Woman because she uses both yellow and red tomatoes, which makes it really pop!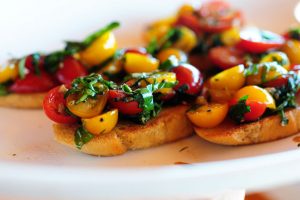 Source: The Pioneer Woman
Cheesecake Fruit Tarts
Aren't these adorable? They're filled with a luscious cheesecake mouse and topped with fresh fruit. If you're feeling ambitious, follow this recipe step-by-step. If you're looking to save some time, you can find mini phyllo cups in the freezer section of your grocery store.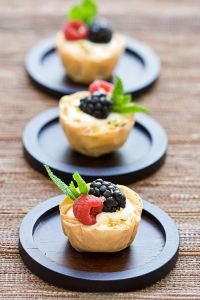 Source: Baking Obsession
Peach Raspberry Lemonade Spritzer
It seems that along with the guest of honor, there are always several pregnant mamas at every baby shower. So we decided to add this light and refreshing mocktail to our menu. (But with a quick splash of vodka or bourbon you can turn it into a delicious cocktail!) Filled with peaches, raspberries and lemons- this spritzer practically screams spring!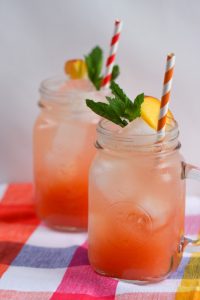 Source: Food n' Focus
We thought you might also need a few decorating ideas. Here are a few of our favorites from around the web!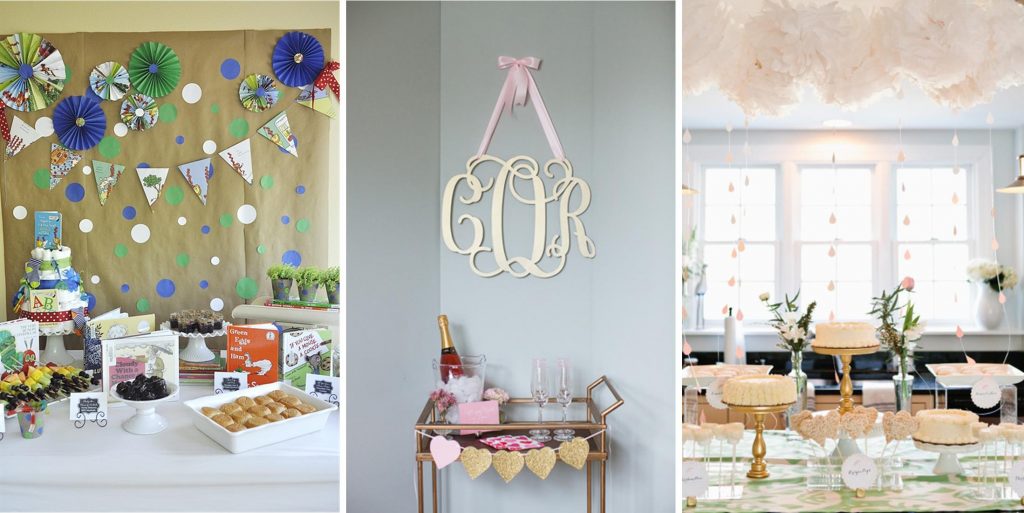 Sources: Your Home Based Mom (A Storybook Baby Shower), Style Me Pretty, and Style Me Pretty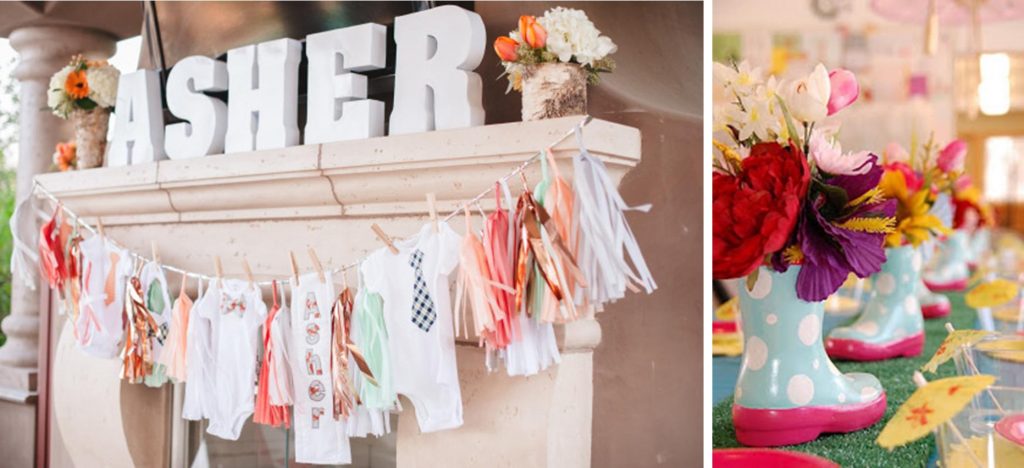 Sources: Style Me Pretty and A Party Style
Every baby shower needs some kind of entertainment, right? Check out our recent blog, Baby Shower Games Your Guests Will Really Enjoy to find unique ideas for enjoyable games, humorous activities, and memorable crafts that will add the perfect touch to your baby shower.
If you're looking for more baby shower inspiration, check out our Pinterest Board- Spring Baby Shower Menu. And don't forget to refer your shower guests to RegistryFinder.com, where they can locate all of Mom's registries in one place!